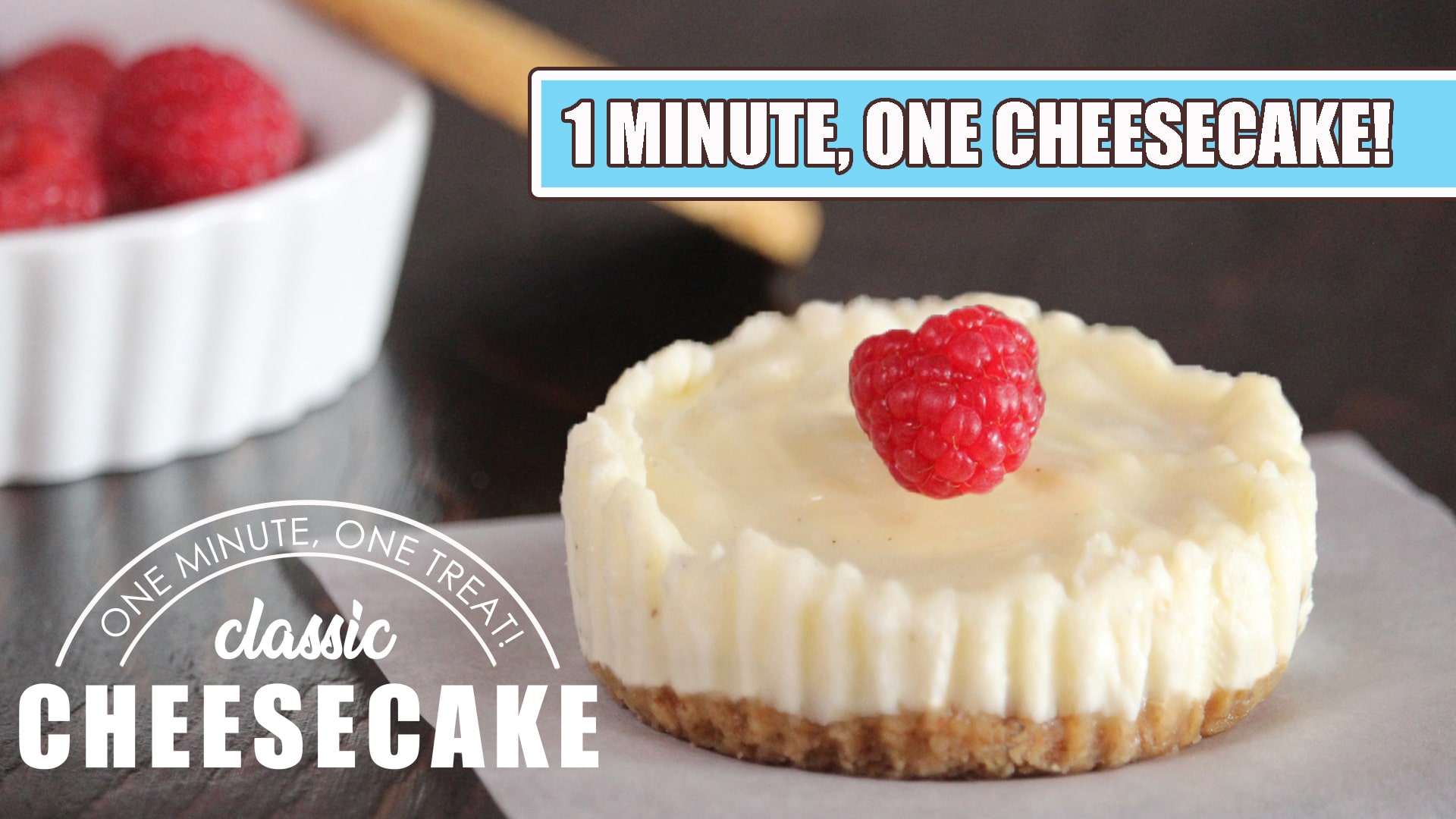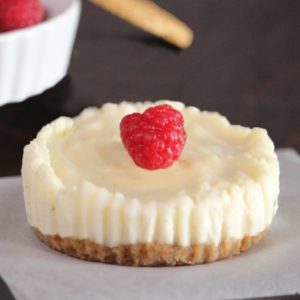 1 MINUTE, ONE CHEESECAKE - SINGLE SERVE RECIPE
This One Serving Classic Cheesecake recipe is the perfect way to get a mini classic Cheesecake, only for you, in just 1 minute!
Eggless and made without waterbath and oven, it's ready in only one minute in microwave. Creamy and rich like a classic oven-baked cheesecake, it features a crispy Digestive cookie crust and an irresistilbe smooth cream cheese filling.
The perfect treat to satisfy your sudden cheesecake craving!
Ingredients
Crust
(14 g)

1 Digestive cookie

or other cookies

7 g

(1/2 tbsp)

unsalted butter

melted
Cheesecake Filling
60 g

(4 tbsp)

cream cheese

chilled

15 g

(1 tbsp)

unsweetened plain yogurt

1/8 tsp

cornstarch

20 g

(1+1/2 tbsp)

white sugar

1/4 tsp

vanilla extract
Instructions
Crust
Place the cookie into a ziplock bag and crush it into very fine crumbs using a rolling pin.

Add the crumbs into the melted butter and mix well until evenly moistened.

You can make this single serve cheesecake into a muffin paper molt or directly into a mug. In the first case, place the paper mold into a ramekin or into a mug and press the crumbs into the bottom. If you want to make it and eat it directly into a mug/ramkin, just press the crumbs in the bottom of your mug/ramekin. Set aside.
Cheesecake Filling
Mix together cornstarch with sugar and set aside.

In a small bowl, place cream cheese, yogurt, the sugar-cornstarch mix, vanilla and mix until smooth and well combined.

Place che cream cheese mix over the crust and spread evenly the top.

Cover with plastic wrap because while cooking cheesecake in microwave, it will splash!

Cook in microwave at 800 W for 30 seconds. Check: it started bubbling a bit. Cook for 30 extra seconds and stop it: it splashed a bit and keep on bubbling but the top is still very runny. Cook the third time for extra 5-10 seconds: it's done, the top is thick creamy.

Consider that every microwave is different: If you have a microwave with higher/lower wattage, you have to reduce/increase the cooking time for few seconds.

Do not cook for 65-70 seconds without stopping, or the cheesecake filling will splash completely!!

You can also bake in classic preheated oven at 160°C-320°F for some minutes, until the sides are firm but the center still jiggling: if you bake in classic oven, do NOT cover with plastic wrap!

Slightly cool down at room temperature then put in refrigerator for about 45 minutes or until chilled and firm. Do NOT eat immediately, it's very hot!
Video
Notes
You can store in refrigerator for about 5 days.
I make this Mini Cheesecake in a muffin paper mold to easily unmold it from the ramekin to show you better the result, but you can make it directly in a ramekin or a mug and then eat it directly from your mold!
It's essential you cover it with plastic wrap because the cheesecake filling boils and splashes a lot while cooking in microwave. 
Of coures, if you bake it in classic oven, you don't need to cover it.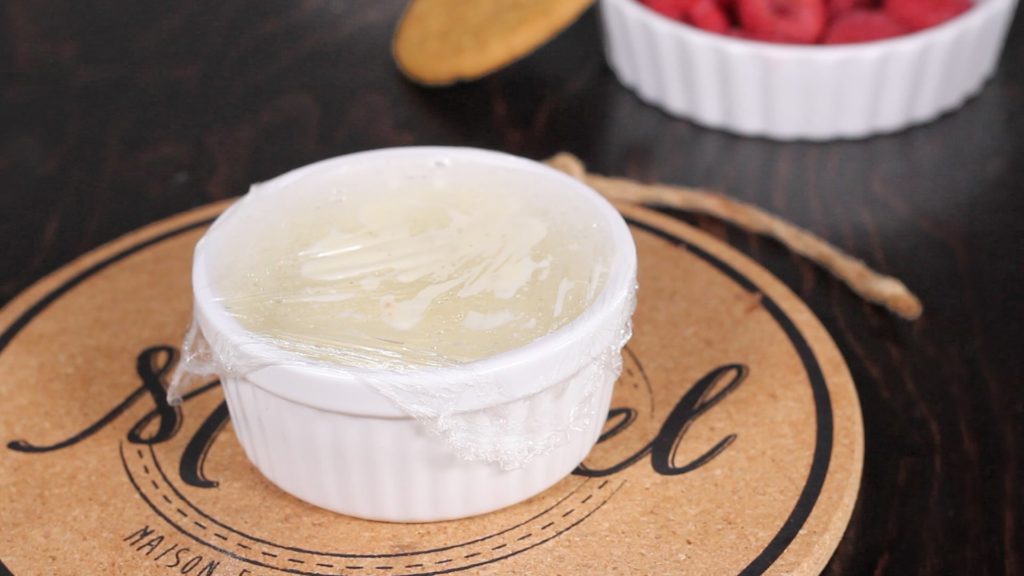 Since the cheesecake filling bubbles in microwave, the top won't turn out smooth but it looks a bit lumpy: this is only an aesthetic issue, because the cream cheese filling is very smooth!
You can immediately spread the top to evenly smoothen when still hot, or as I did, ignore it because it's only for you anyway 😛