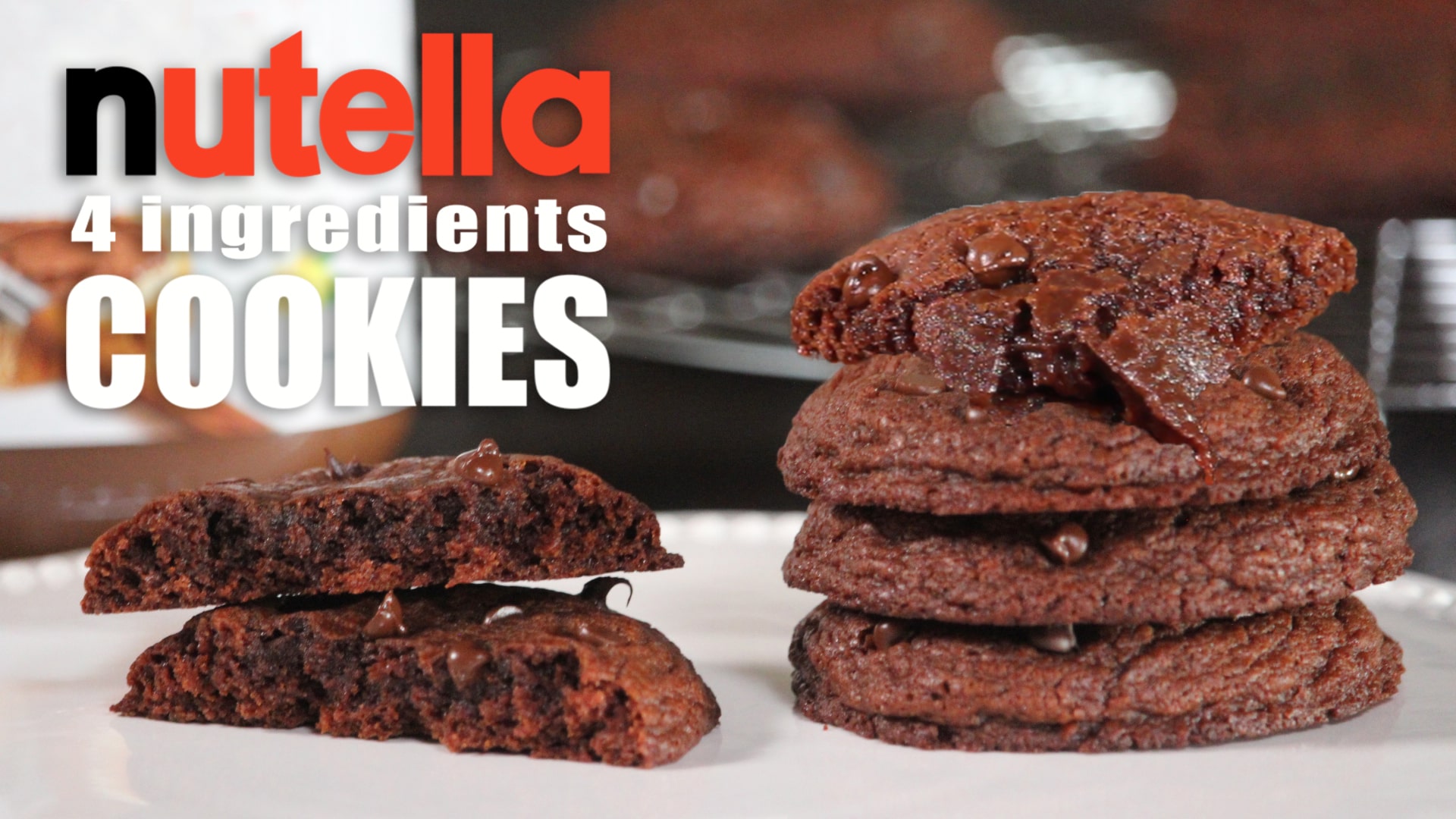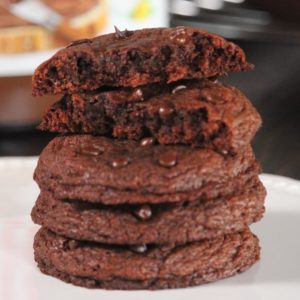 4 INGREDIENT NUTELLA COOKIES
You just need 4 simple ingredients to make these incredible easy Nutella Cookies! In few minutes you'll get slightly crispy outside and soft/chewy center Nutella cookies.
Since Nutella is very sweet, you don't need any additional sugar in this recipe. You just put together the ingredients, form your cookie balls and that's it!
I suggest to form quickly your cookie balls, mostly if you live in a hot climate, and not touch too much the dough since Nutella tends to become very greasy if you warm it up too much with your hands.
After you make your cookie balls, you need to place them in freezer before baking them until they completely frozen (about 30 minutes), or your cookies will spread too much in the oven while baking, so don't skip this step. Of course you can store your cookies in freezer for up to 1 month and bake when you need them.
They taste like a crunchy Nutella bite with an irresistible chewy center, simply amazing!
Ingredients
300 g

(1 cup)

Nutella

room temperature

1

egg

room temperature

70 g

(1/2 cup + 1 tbsp)

all purpose flour

2 g

(1/2 tsp)

baking powder

Chocolate chips

optional
Instructions
In a large bowl, place Nutella, add the egg and mix until combined.

Incorporate sifted all purpose flour, baking powder and gently mix with a spatula until well combined (don't over mix).

Use a 4 cm - 1,5 inch ice cream scooper and scoop cookie dough: you'll get about 12 cookie balls. Roll quick the balls since the dough could become greasy, mostly if you live in a hot climate.

Place every ball in a baking tray lined with parchment paper and put in freezer for at least 30 minutes (or until completely harden).

Bake 5-6 cookies at a time in preheated fan oven at 180°C-350°F for about 10 minutes: they are ready when the center are still soft if you touch it and the sides are firm.

Remove from the oven and place some chocolate chips on top when still hot (optional).

Don't remove cookies from the baking tray for about 10-15 minutes, since they are very soft when still hot.

When they become firm, transfer them on a wire rack and cool down completely.
Video
Notes
Store in a tin cookie box at room temperature for about 5 days.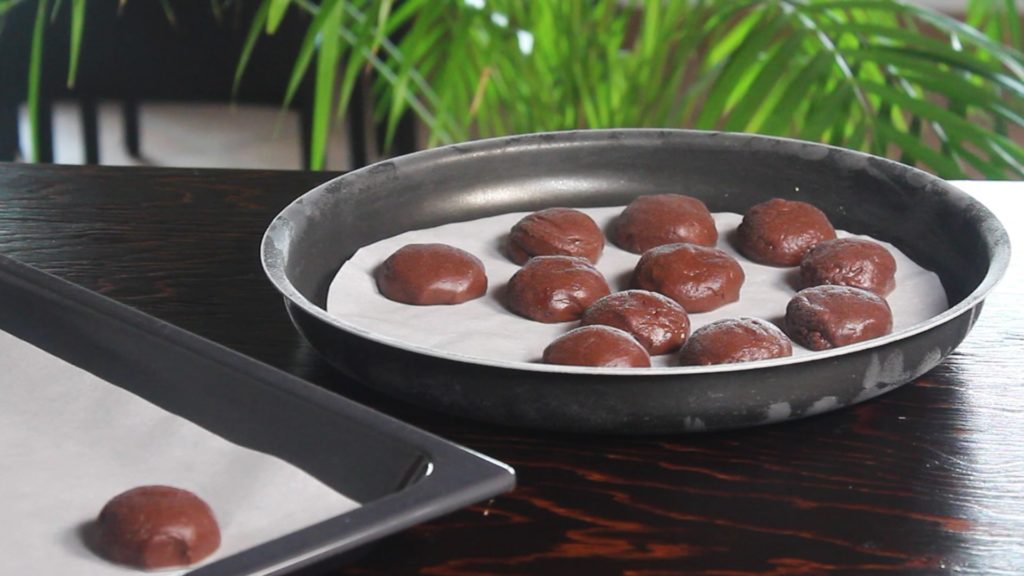 Nutella features a generous amount of oil, so if you don't roll your cookies quickly, the dough become easily greasy, mostly if you live in a hot and humid climate. For this reason is very important to put your raw cookie balls in freezer until completely frozen (at least 30 minutes) before baking.
If you skip this step, your cookies could turn out very flat after baking, so don't skip the chilling time!
Remember that cookies bake fast, so they are ready when the sides become crispy and slightly dark brown, but the center is still very soft! 
I baked my cookies for 10 minutes at 180°C – 350°F in a classic electric oven with fan option. Every oven is different, you may need to bake from 8 to 12 minutes, but remember to not bake them too much!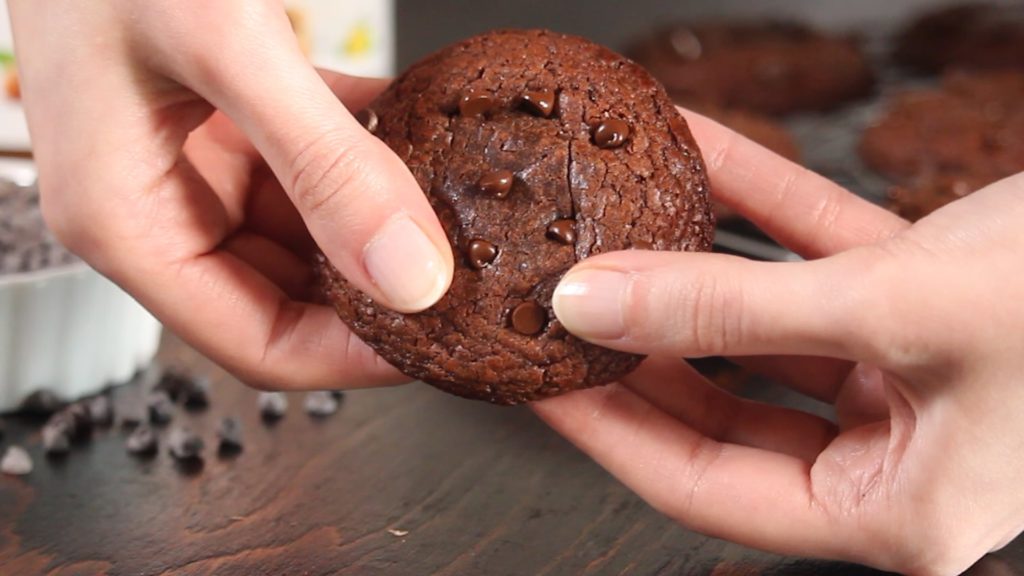 Before placing your cookies on a wire rack to cool down after baking, remember to wait about 15 minutes before remove it from the baking sheet. The center is very soft when the cookies are hot, so you have to wait they cool down a bit before touch it or you could break them up!
These cookies have a pretty chewy center, so they taste better after they cool down completely: be patient, they will cool down quickly and I prefer them when completely cooled down. They are perfect dipped in cold milk!