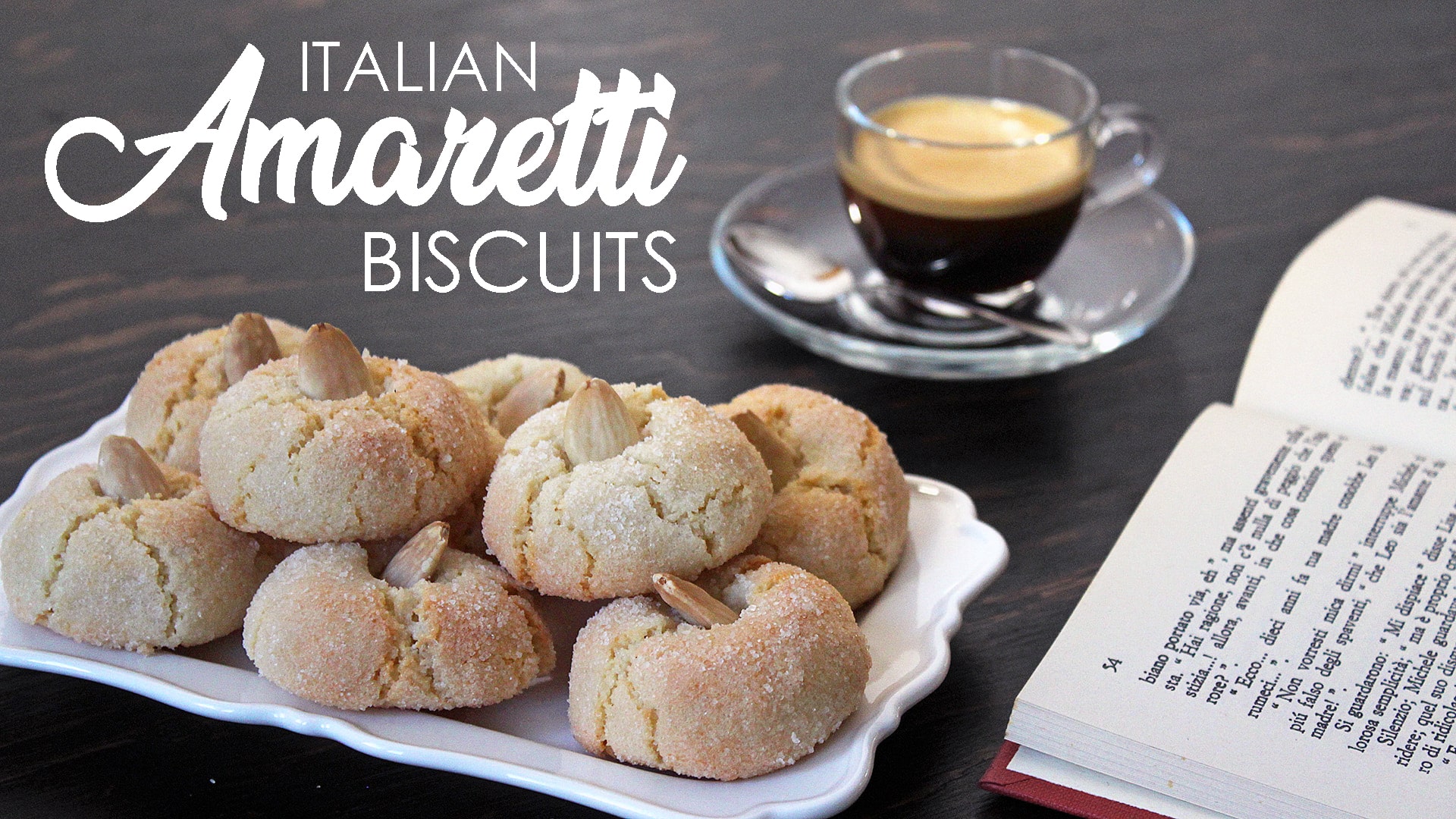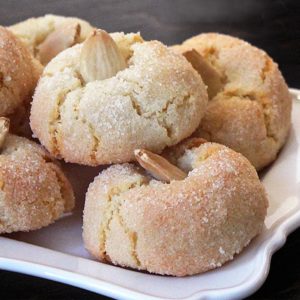 AMARETTI - ORIGINAL ITALIAN COOKIES RECIPE
Amaretti are traditional Italian Cookies: gluten free and made with almonds, they are crispy outside and soft inside...absolutely irresistible!
In Italy we have many types of Amaretti cookies, almost every southern region has its own recipe: we have soft Amaretti and crunchy ones, but all the traditional Italian Amaretti are made with the flavor of bitter almonds! If you want to learn more about bitter almonds and where you can get them, read my TIPS below the recipe.
My Amaretti recipe is from Sardinia region and with this recipe you'll get soft Amaretti cookies with an irresistible crispy crust!
Italian Amaretti cookies are famous all over the world and they literally melt in your mouth: they can't be missing on your Holliday and Christmas table!
Ingredients
220 g

(1+1/2 cup)

raw peeled almonds

or the same amount of almond flour

10 g

raw bitter almonds, also known as apricot kernels

If you can't find bitter almonds, you can substitute them with 2 tsp of bitter almond extract. Do not skip bitter almond or you can't get typical Amaretti flavor. PAY ATTENTION: do not eat raw bitter almond! Read the tips below for more info.

200 g

(1 cup)

white sugar

you can use granulated or caster sugar; not icing sugar.

2

egg whites, medium-small size

room temperature

Pinch of salt

Few drops of vanilla extract

(optional)

Granulated white sugar

for coating

14

raw peeled whole almonds

as decoration
Instructions
Place almonds and sugar in a food processor and grind until you reach a fine meal: don't process for too long time to avoid almonds overheating, stop every 5 seconds or use the "pulse" mode.

In a medium size bowl, whip the egg whites with a pinch of salt until foamy. Add bitter almond extract (skip it if you use bitter almonds) and few drops of vanilla extract (optional). Be careful that vanilla should not overwhelming bitter almond flavor!

Incorporate in two times the almond-sugar meal until a sticky thick dough is formed.

Wet your fingers in water, scoop the dough and roll into about 14 balls (about 30 g every cookie ball).

Roll the balls into white granulated sugar and place on a baking sheet lined with baking paper.

Place an almond in the center of every balls and refrigerate for at least 2 hours. Do not skip refrigerating time, it's needful to create a dry crispy crust on top of Amaretti.

Bake in preheated oven at 160°C-320°F for about 20 minutes or until the edges become pale golden but the center is still soft if pressed.

Slightly cool down Amaretti for about 15 minutes on the baking sheet. Then cool down completely on a wire rack.
Video
Notes
You can store for weeks in a dry place at room temperature.
If you store them in a tin cookie box they will turn out more crispy otside; if you use a plastic box they will stay more soft.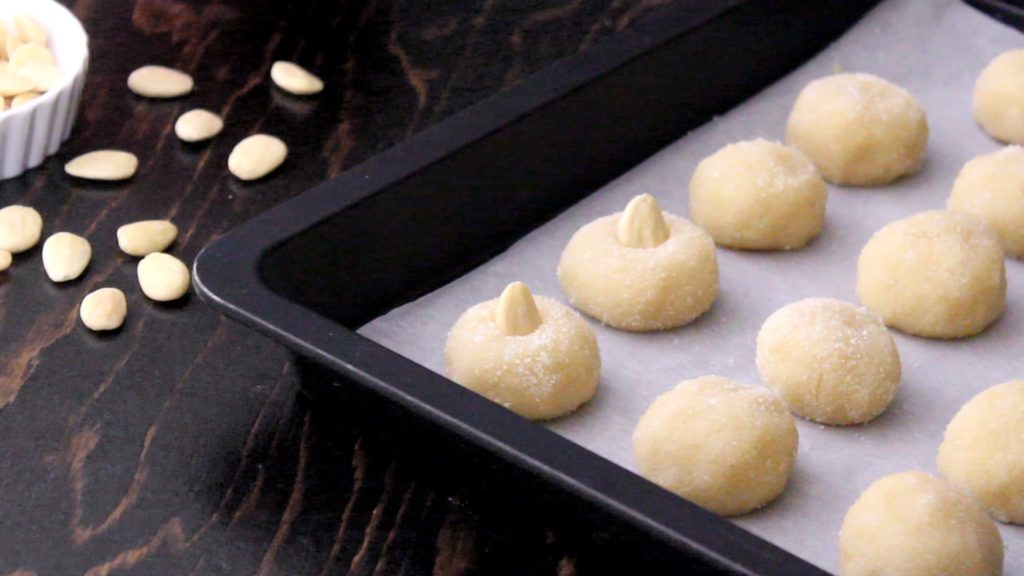 Traditional Italian Amaretti are not only made with normal almonds, but also with a small amount of bitter almonds too!
Yes, in Italian the word "amaro" means "bitter", that's why if you make these cookies only using normal almonds, you're not making Amaretti but what we call "paste di mandorla" (still declicious almond pastries, but not Amaretti).
Bitter almonds are apricot kernels, you can often find them on Amazon but if you can't find them, you can use bitter almond extract instead.
PAY ATTENTION: bitter almond CAN BE FATAL if you eat a significant amount raw. do not leave them available to children, even if thanks to their extremely bitter taste, it is difficult to ingest a lethal quantity.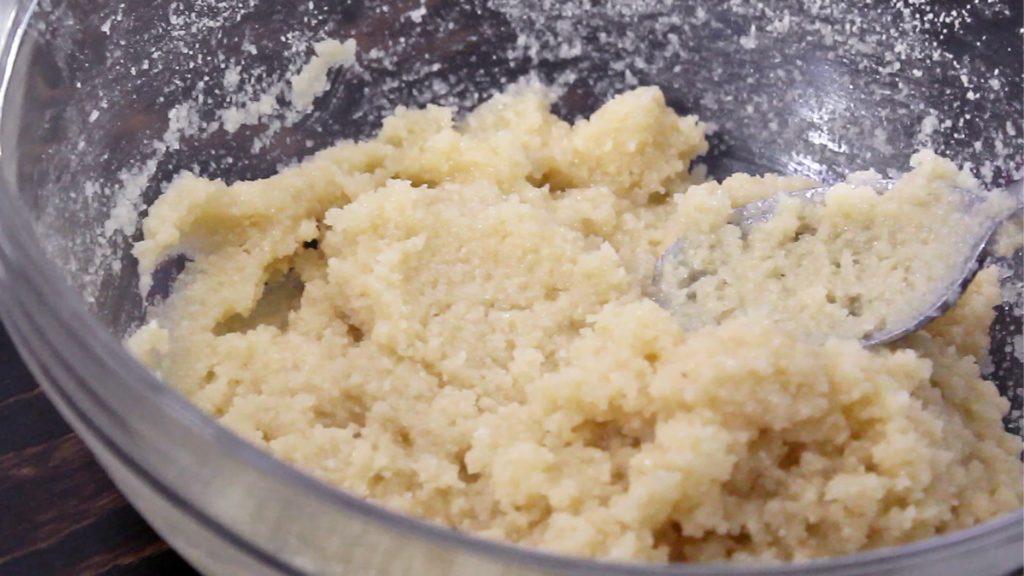 The consistency of the dough could vary a bit depending on the size of your egg whites. You should get a thick sticky paste. If your dough is a bit too runny, just add a bit of extra finely ground almond meal.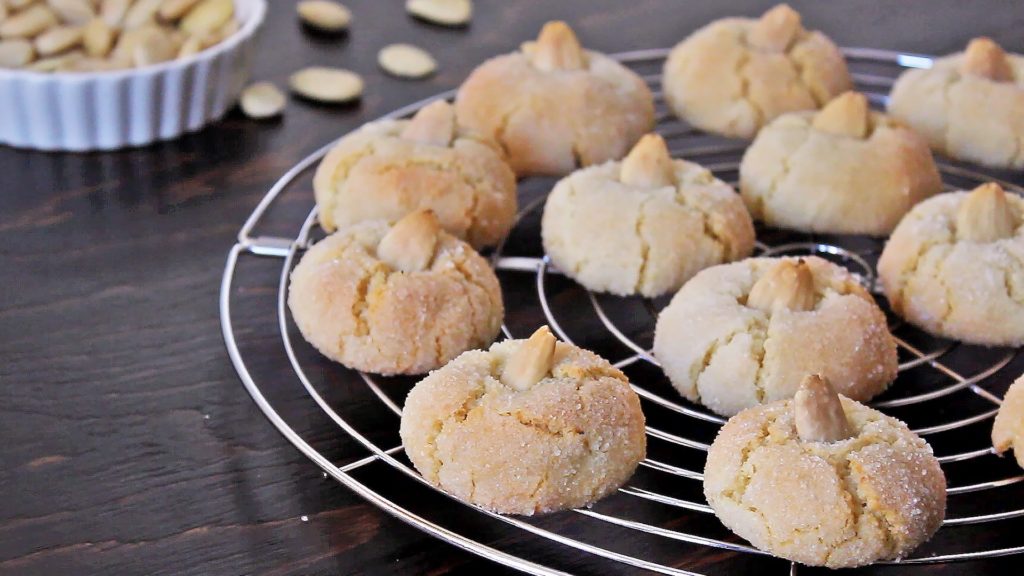 You can also use almond flour instead of grinding raw peeled almonds. In this case, you just need to well mix caster sugar (that is a very fine granulated white sugar) with almond flour.