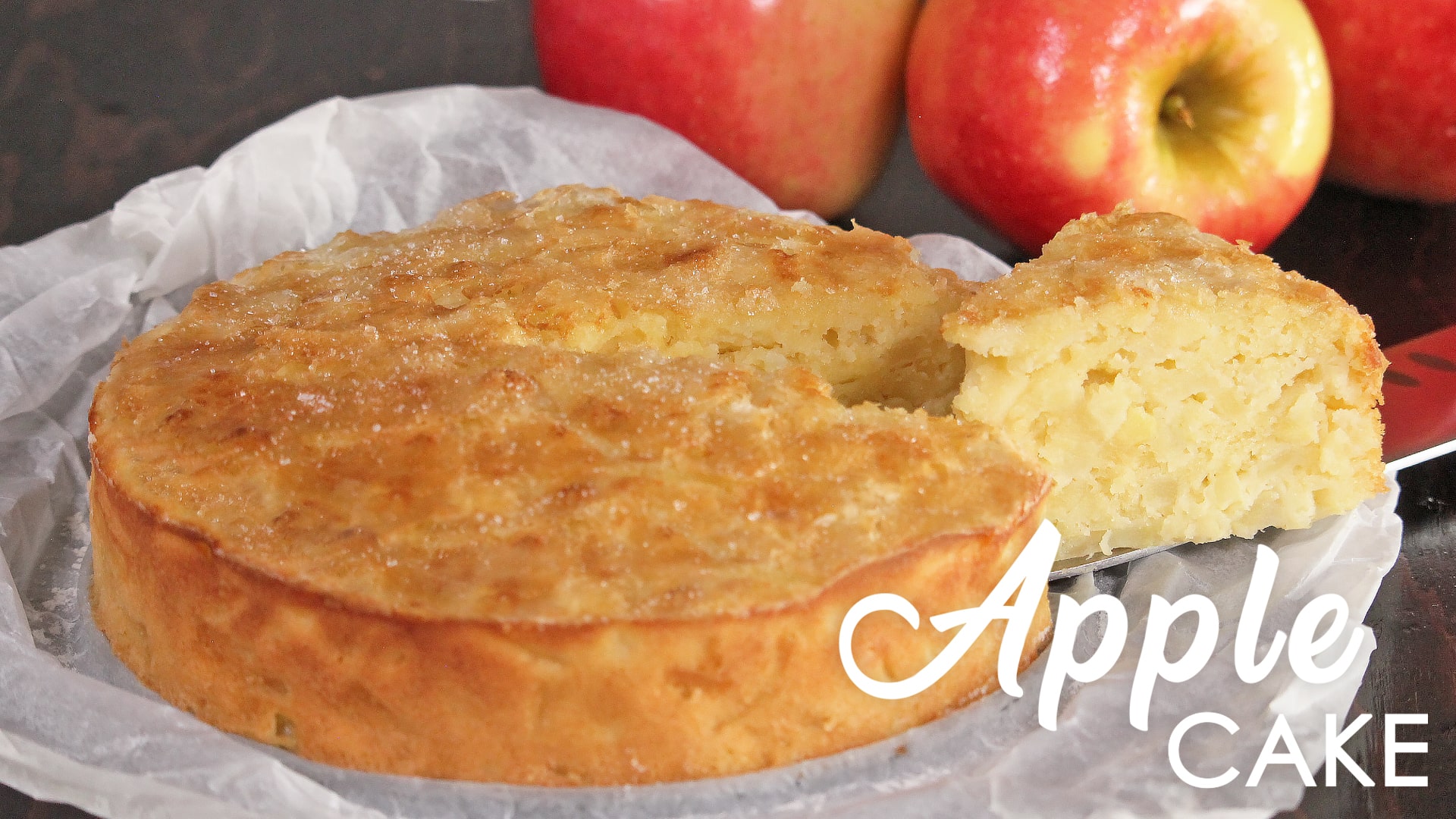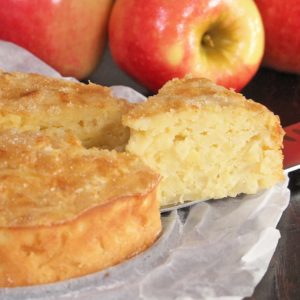 APPLE CAKE - EUROPEAN STYLE
Beyond easy and delicious Apple Cake made with a huge amount of apples and less dough like we do in Italy! The inside is incredibly creamy and the crust is slightly crispy thanks to sugar.
This cake is made with very few ingredients: in totally you need 8 ingredients, but consider than one is water! Yes, water gives such a great moisture to this cake, that it literally melts in your mouth!
I made this cake in a 20cm-8inch springform pan, but in the TIPS below you can find the recipe for a 23cm-9inch pan too.
Topped with vanilla ice cream and cinnamon is simply irresistible!
Ingredients
4

apples

medium-small size, or 3 large apples. I suggest to use crispy sweet apples like Honeycrip, Gala...but you can use your favourite apple type.

The juice from 1/2 lemon

2

eggs

medium-large, room temperature

110 g

(1/2 cup)

caster sugar

or granulated sugar, or brown sugar

60 g

(1/4 cup)

unsalted butter

melted

200 g

(1+2/3 cup)

all purpose flour

7 g

(1+1/2 tsp)

baking powder

80 g

(1/3 cup)

water

room temperature

25 g

(2 tbsp)

granulated wihte sugar

for the sugar crust on top
Instructions
Peel the apples, remove the core and chop in small cubes. If you don't like to chop apples, you can use a mandoline and get thin slices ot grate with a grater.

Drizzle the lemon juice on the apple cubes to prevent turning brown because of oxidation. Set aside.

In a large bowl beat the eggs with sugar using a whisk until well combined and slightly foamy on top but still runny.

Incorporate melted butter.

Sift in all purpose flour and baking powder: starts to gently incorporate it with the whisk and alternate with water when the batter becomes thick. Do not overmix, stop mixing when you get a smooth batter.

Put the chopped apples into the batter and gently fold with a spatula until the apple cubes are completely coated with the batter and all is well combined. Do not overmix to avoid apples releasing their juice.

Transfer the batter into a greased and bottom lined 20cm-8inch springform pan.

Sprinkle the top with 2 tbsp of granulated white sugar.

Bake in preheated oven (fan on + upper and lower heat) at 175°C-345°F for about 40 minutes or unti the top is golden and a skewer comes out dry. If you use a no-fan oven you can bake at 180°C-350°F and you may need some minutes more.

Slightly cool down in the pan than cool down completely on a wire rack.

You can serve it slightly warm or cooled down with some vanilla ice cream and cinnamon on top.
Video
Notes
Store at room temperature for 2-3 days.
If you store it in refrigerator, bring it to room temperature before serving, or you can slightly warm it in the oven. In refrigerator you can store it for 5-6 days.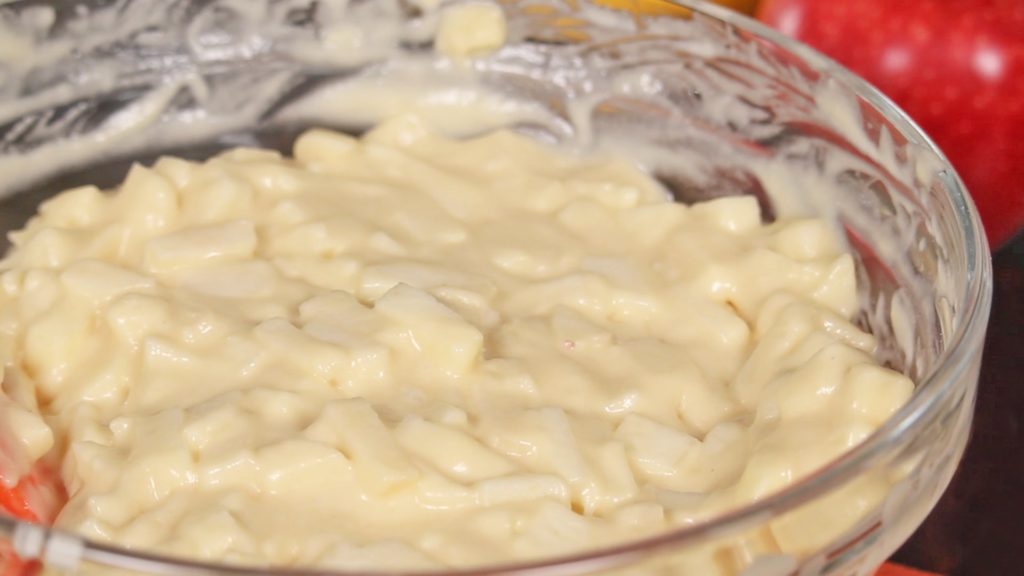 For this recipe I suggest to use crispy apples like Gala or the American Honeycrisp or Italian Ambrosia. You can surely use your favourite apple type, but with a crispy sweet apple type it will be amazing!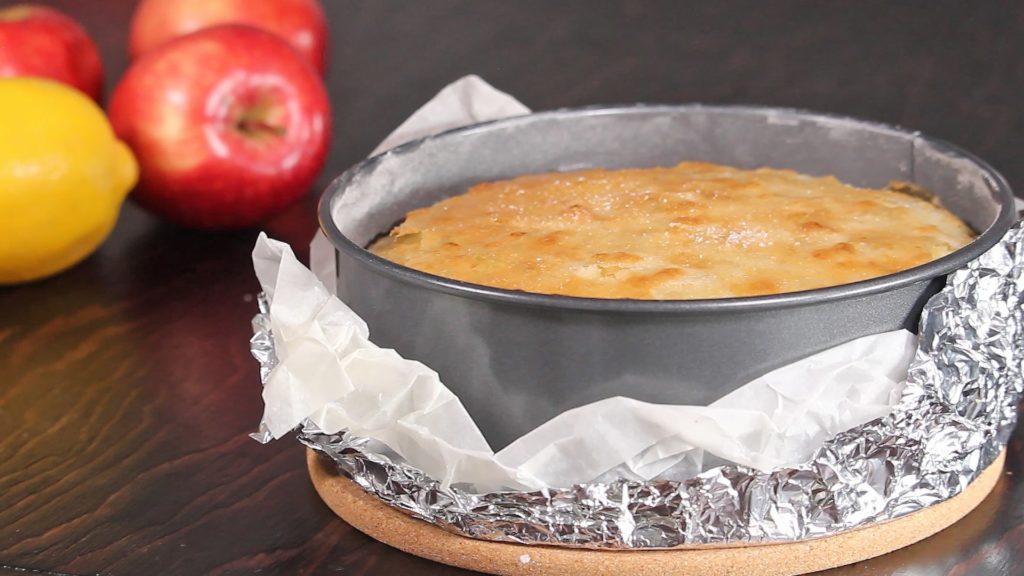 I made this cake in a 20cm springform pan (precisely mine was 19,5cm-7,5inch). If you have a 23cm-9inch cake pan, this is the recipe amount that perfectly fit this larger pan:
5 apples
About 3/4 lemon juice
3 eggs
150 g caster sugar
100 g unsalted melted butter
300 g all purpose flour
2 tsp (10 g) baking powder
about 120 g water
40 g granulated white sugar for the top
To get the perfect crispy sugar crust, you have to use granulated white sugar and not caster sugar. White sugar is better to get golden crust. You can use a granulated brown sugar too but the color of your cake should turn out little too browny.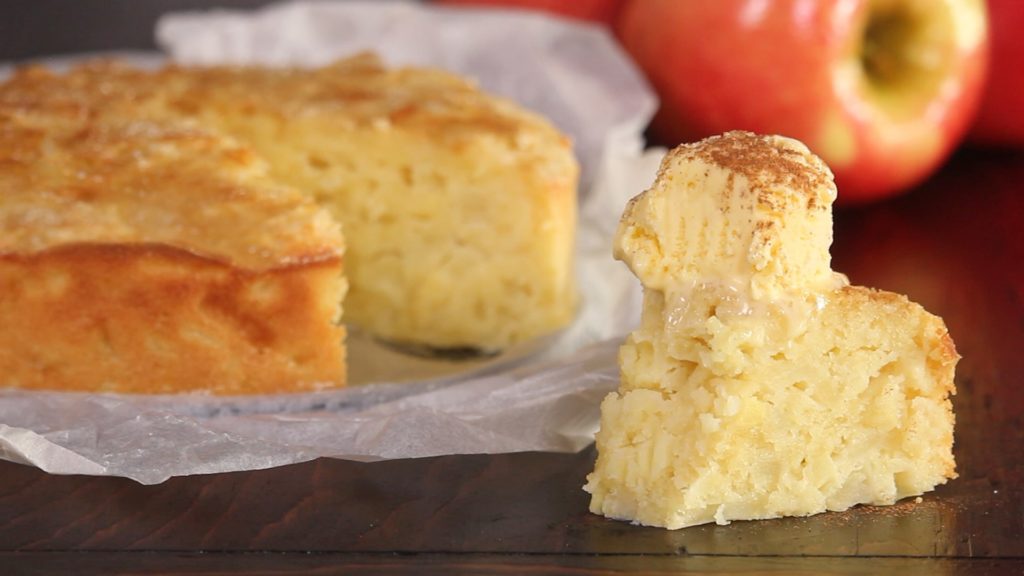 You surely noticed that this cake is made with water. Many of you would ask: "Why not milk?!"
That's the point: milk gives extra fat that gives less creamy but more thick and dense cake texture. Don't worry that the cake will be very rich in flavor thanks to butter, eggs, lemon and apples of course! And using water you'll get a perfect creamy Apple Cake that melts in your mouth!