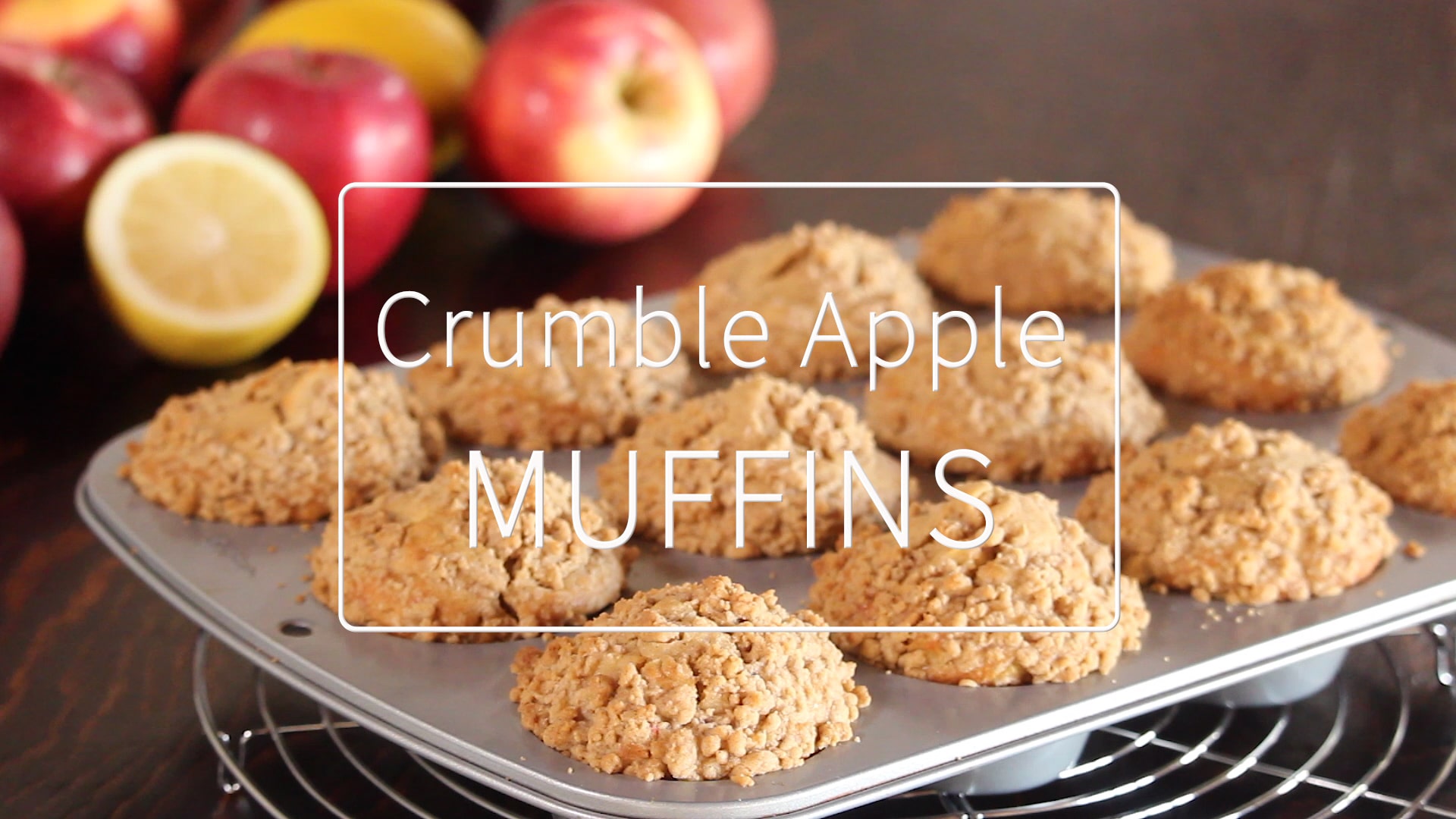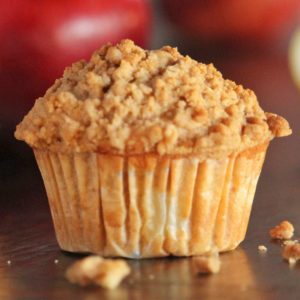 APPLE CRUMBLE MUFFINS
Apple Crumble (Streusel) Muffins are one of the most amazing muffins ever! With a buttery and soft center, they are bursting with warm juicy apples in every single bite and enriched with brown sugar and cinnamon flavor.
The top makes a great contrast with the center because it's made with a very crispy crumble. They are perfect served with a cup of tea or coffee.
One of the best easy Fall recipe you can make!
Ingredients
Crumble
40 g

(1/3 cup)

all purpose flour

25 g

(2 tbsp)

light brown sugar

1/2 tsp

cinnamon powder

Pinch of salt

25 g

(2 tbsp)

unsalted butter

chilled and cut in small cubes
Muffins
220 g

(1 + 3/4 cups)

all purpose flour

6 g

(1 + 1/2 tsp)

baking powder

2 tsp

cinnamon powder

Pinch of salt

80 g

(1/3 cup)

unsalted butter

room temperature

120 g

(1/2 cup)

light brown sugar

2

eggs

room temperature

1 tsp

vanilla paste

or extract

110 ml

(1/2 cup)

milk

(1/2 tbsp)

vinegar

200 g

(7 oz)

apples cut in small cubes

(from about 2 apples)

2 tbsp

fresh lemon juice

1 tbsp

cornstarch
Instructions
Crumble
In a medium-size bowl place flour, sugar, salt, cinnamon and mix to combine.

Add the cubed chilled butter and cut it with a fork and knife, or a pastry cutter, until the butter is evenly distribute.

In the end use your fingers (chilled your hands with cold water if you have warm hands) and form fine crumbs. Set aside (you can store in refrigerator if you live in a hot climate).
Muffins
Mix together milk, vinegar and set aside.

In a medium size bowl mix together flour, baking powder, salt cinnamon and set aside.

Peel the apples and cut into small-medium cubes.

Place cubed apples in a bowl, sprinkle with lemon juice, cornstarch and toss until combine.

In a large bowl mix butter, vanilla and sugar until creamy.

Add the egg one at a time and mix until well incorporated.

Add flour mix and milk until combined (don't overmix).

Incorporate apples with a spatula.

Divide the batter into 9 lined muffins molds.

Sprinkle the crumble mix on top of each muffin.

Bake in preheated oven at 180°C (350°F) for about 20 minutes until slightly browned.
Video
Notes
Cover and store at room temperature for 1 or 2 days.
You can store in refrigerator for 4 days especially if you live in a hot climate.
When you make crumble, it's very important using chilled butter and don't touch butter with your hands to not overheat it. That's why I use fork and knife to "cut" chilled cubed butter into small pieces until it is evenly distribute in the flour mix. You can also use a pastry cutter.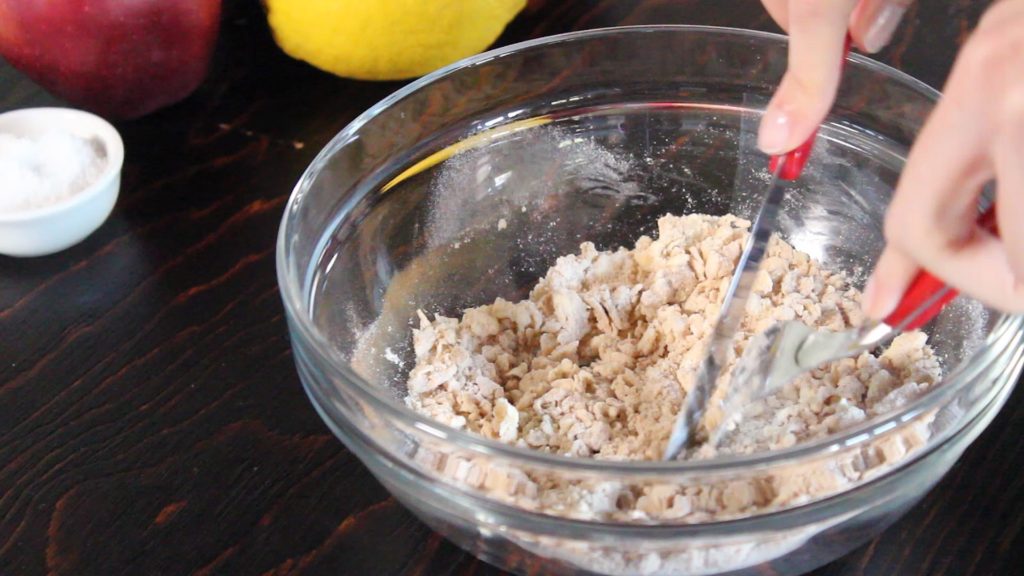 You can also prepare your crumble with a mixer (food processor), but you have to follow some simple rules. Place the dry ingredients into a food processor and mix until combined. Then add chilled cubed butter. When you process it, use the pulse function or stop every 20 seconds to avoid that the food processor blades overheat the butter. Stop mixing when you reach evenly crumbs.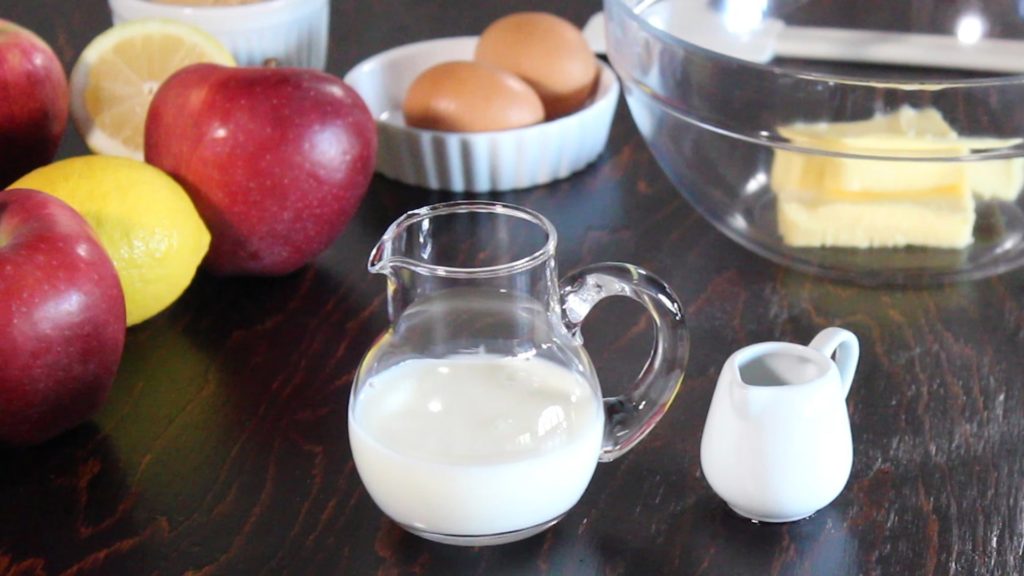 In this recipe I mixed milk and vinegar because I can't easily find buttermilk in my Country. Buttermilk makes very soft batters, but if you can't find it, you can easily prepare it at home! You just mix whole milk with vinegar and let it rest for about 10-15 minutes until curdle.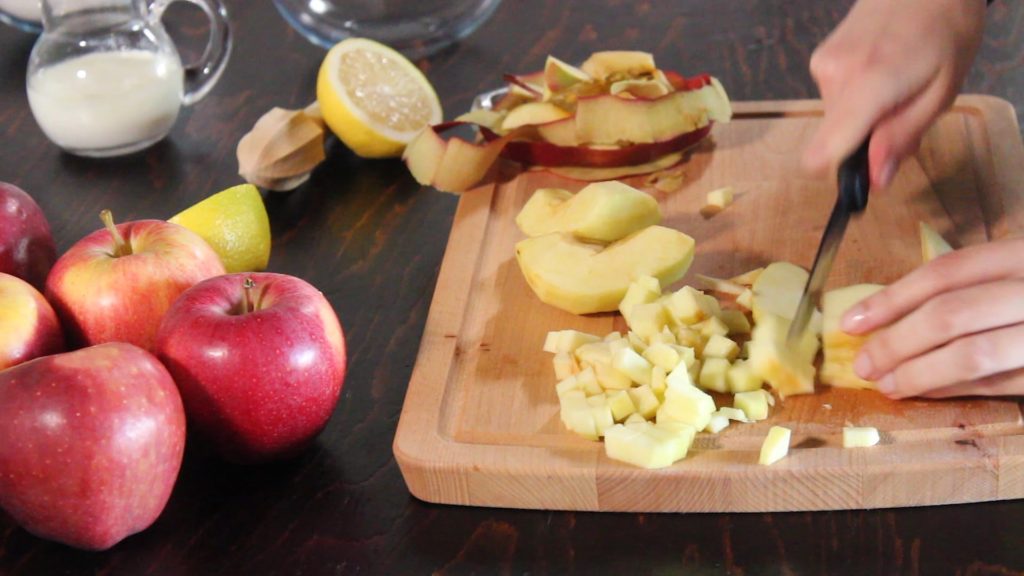 You can use your favourite apple type for this recipe, you can also use too ripe apples that leftover in your pantry. I used Ambrosia apples but you can also use Pink Lady, Granny Smith, Red Delicious, Gala, Honeycrisp…choose your favourite! 
When you are chopping apples, you can sprinkle them with lemon juice to prevent browning. It is full of ascorbic acid (Vitamin C) and it has an acidic PH level that counteract the oxidation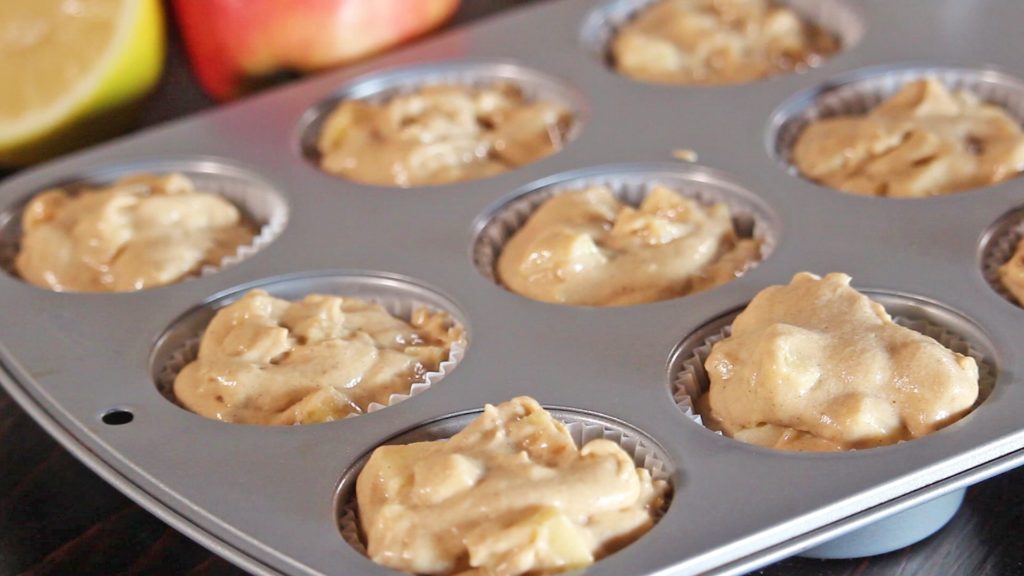 To get a lovely bakery-style muffins with a huge dome, I suggest you to completely fill with the batter muffins molds until the edges.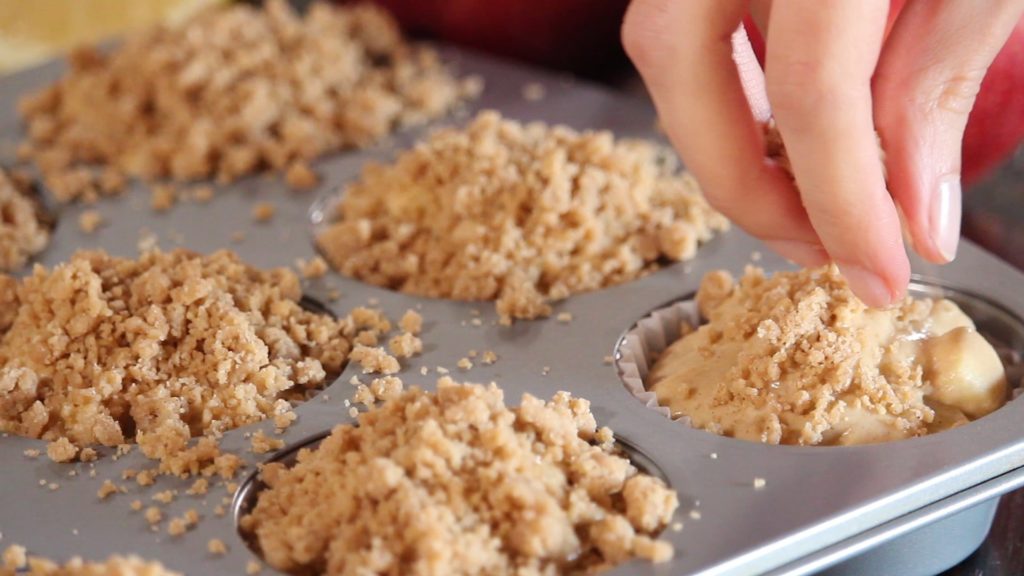 This muffin batter is very quick and easy to prepare, you don't need a stand mixer or a hand mixer, just a spatula and a whisk.
Remember to not overmix the flour, so you'll get a super soft muffin texture!