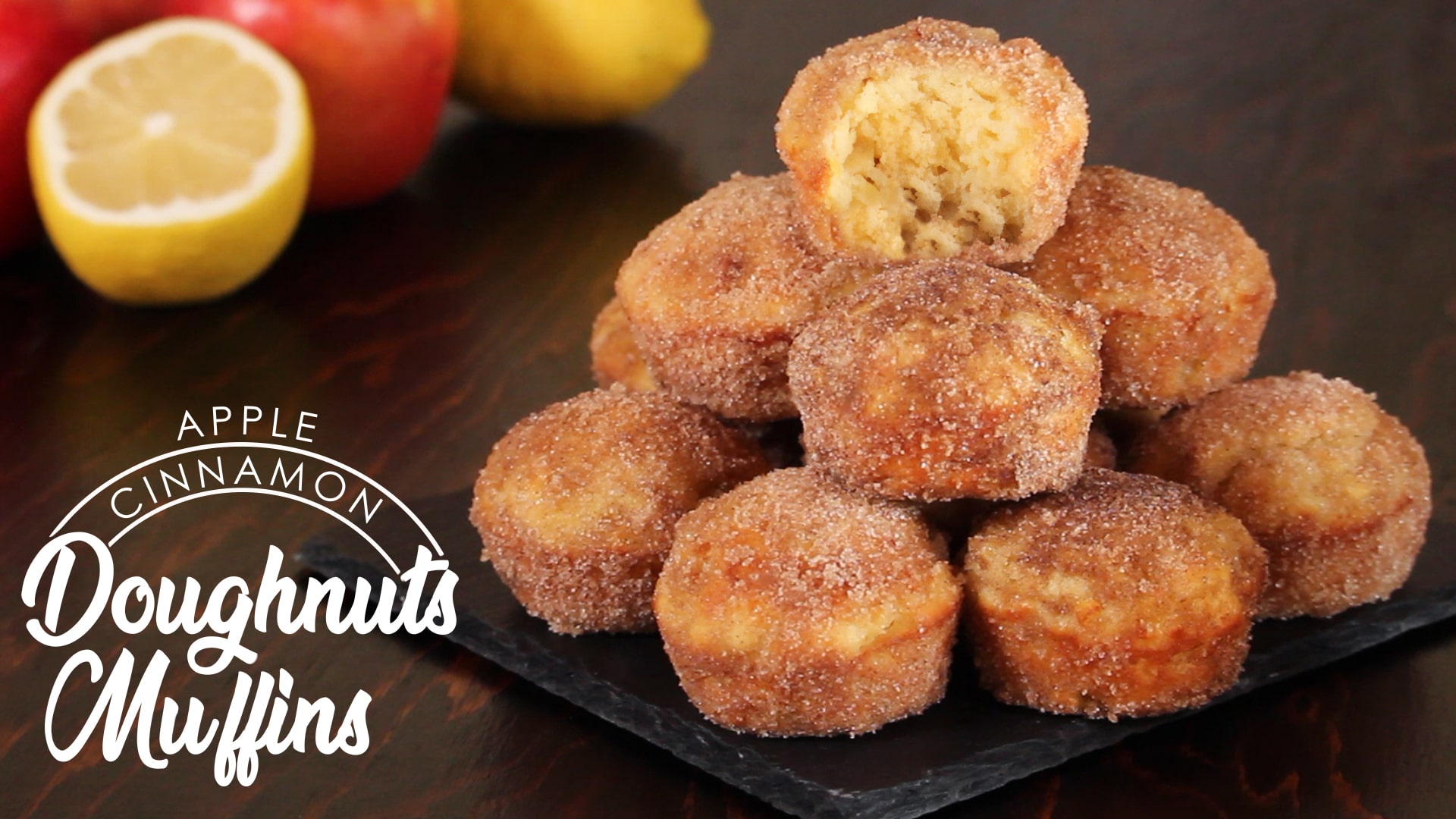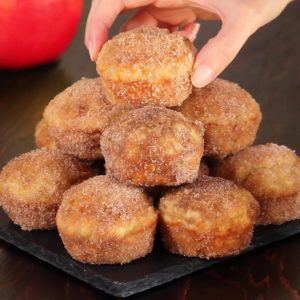 APPLE DOUGHNUT MUFFINS
Can you believe you can make Muffins that taste like Doughnuts?!
If you want to make Doughnuts in few minutes without yeast, kneading, rising time and without deep frying, this is the recipe for you!
These muffins are incredibly easy to make, super soft thanks to the juicy apples, they taste like deep fried donuts even if they are made with a special muffin dough-batter and baked in the oven.
Thanks to a buttery cinnamon-sugar coating, they look and taste like delicious doughnuts.
The dough is made with water (no milk), but they are incredibly rich, fluffy and feature a light texture that will melt in your mouth.
No one could resist!
Ingredients
Apple Doughnut Muffins
300 g

(2+1/2 cups)

all purpose flour

pinch of salt

75 g

(1/3 cup)

sugar

6 g

(1+1/2 tsp)

baking powder

increase + 1/2 tsp if you make it eggless

90 g

(1/3 cup+1 tbsp)

unsalted butter

melted

3

eggs

room temperature; or 150-170 g applesauce + 1/2 extra tsp baking powder

60 g

(1/2 cup)

water

lukewarm

2

apples

about 290 g - 10 oz peeled, cut out the core and chopped apples

about 1 tsp

lemon juice
Coating
110 g

(1/2 cup)

granulated sugar

1 tsp

cinnamon

55 g

(1/4 cup)

unsalted butter

melted
Instructions
Apple Doughnut Muffins
Grease a muffin pan or 12 muffin molds with butter.

Peel and chop the apples in small cubes. You will get about 290 g-10 oz of cubed apples.

Sprinkle the apples with lemon juice and set aside.

In a large bowl mix flour, salt, baking powder and sugar.

In a medium size bowl mix together eggs, water and melted butter.

Well combine the egg mix into the flour mix using a spatula.

Add the chopped apples and mix until combined.

Divide the batter into 12 greased muffin molds and bake in preheated oven at 200°C-390°F for about 17 minutes or until slightly golden on top.

Remove from the oven and prepare the topping.
Coating
In a large dish mix sugar and cinnamon.

Dip a warm muffin into the melted butter and roll it into the cinnamon sugar mix. Pay attention to coat muffins when still pretty warm or the coating won't stick to them.

Repeat the coating for every muffin and serve it.
Video
Notes
You can store them at room temperature for about 1 day, in the refrigerator for about 1 week or you can freeze them for about 3 months.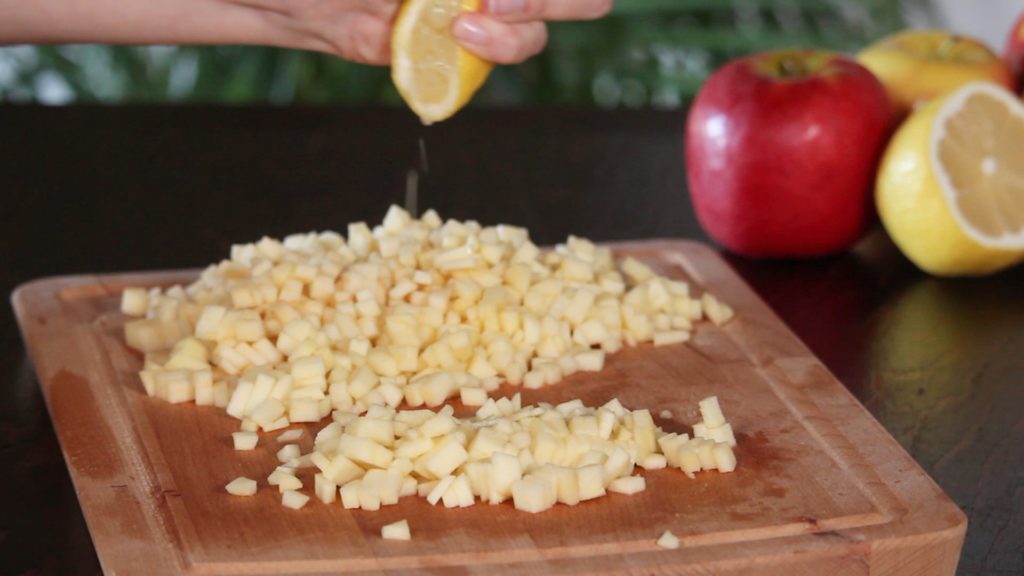 Apples are very important in this recipe: they add moisture to this doughnut muffins, so they don't dry out in the oven but turn out incredibly juicy, soft and moist for days!
Chop your apples very finely and add lemon juice to avoid the apple's oxidation process, so they won't become darker in color.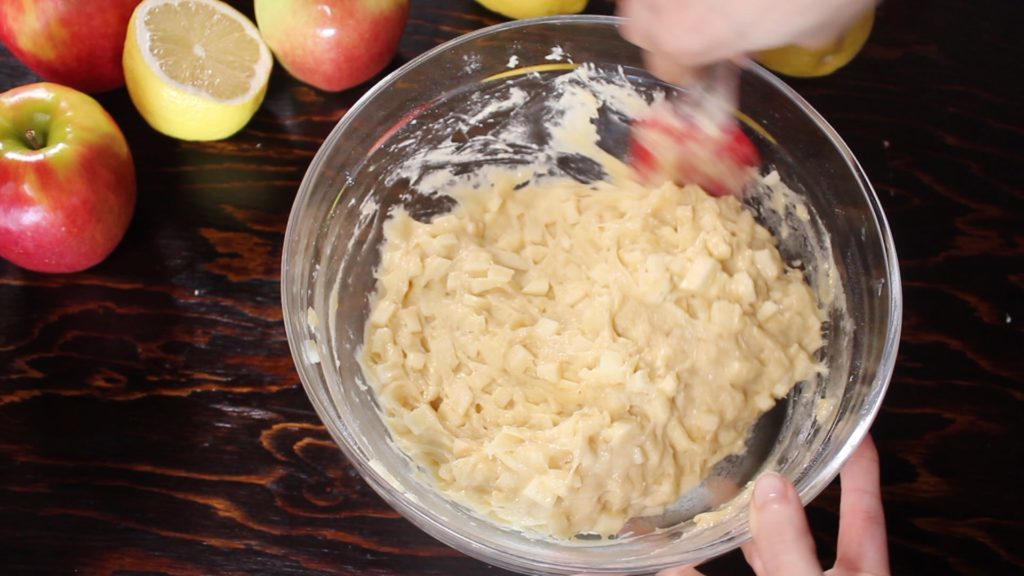 The dough is made with water, like a classic yeast dough (but here there is not yeast but baking powder!). Water gives moisture without adding extra fat, this helps the texture to rest fluffy for days without dry out.
You can also made this recipe without eggs. Substitute the 3 eggs with about 150-170 g of applesauce and add 1/2 extra tsp of baking powder.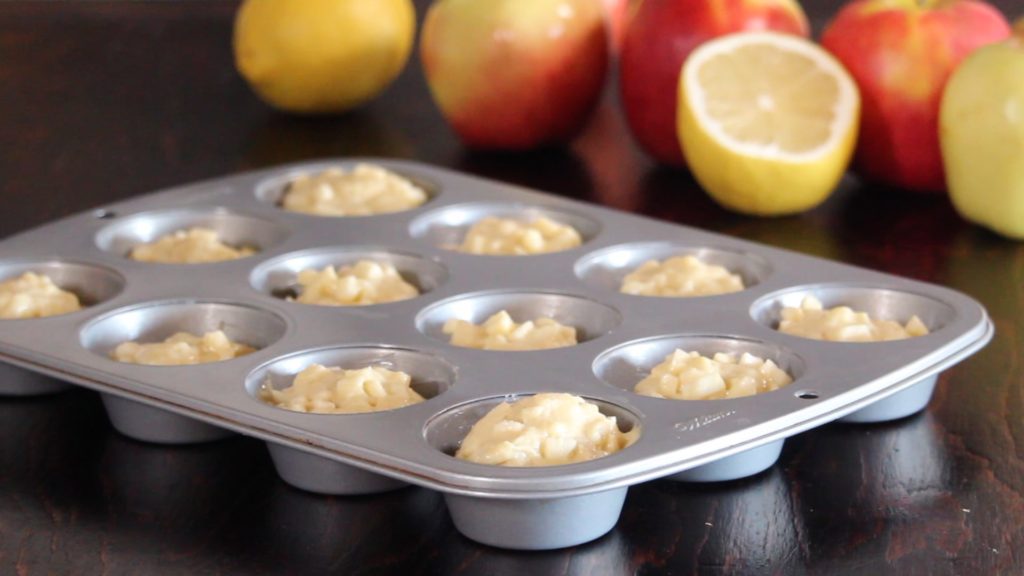 I used a muffin pan, but you can also use single serving muffin molds. Since the dough is pretty sticky, I suggest to grease very well your molds to avoid the Doughnut Muffins sticking to the pan.