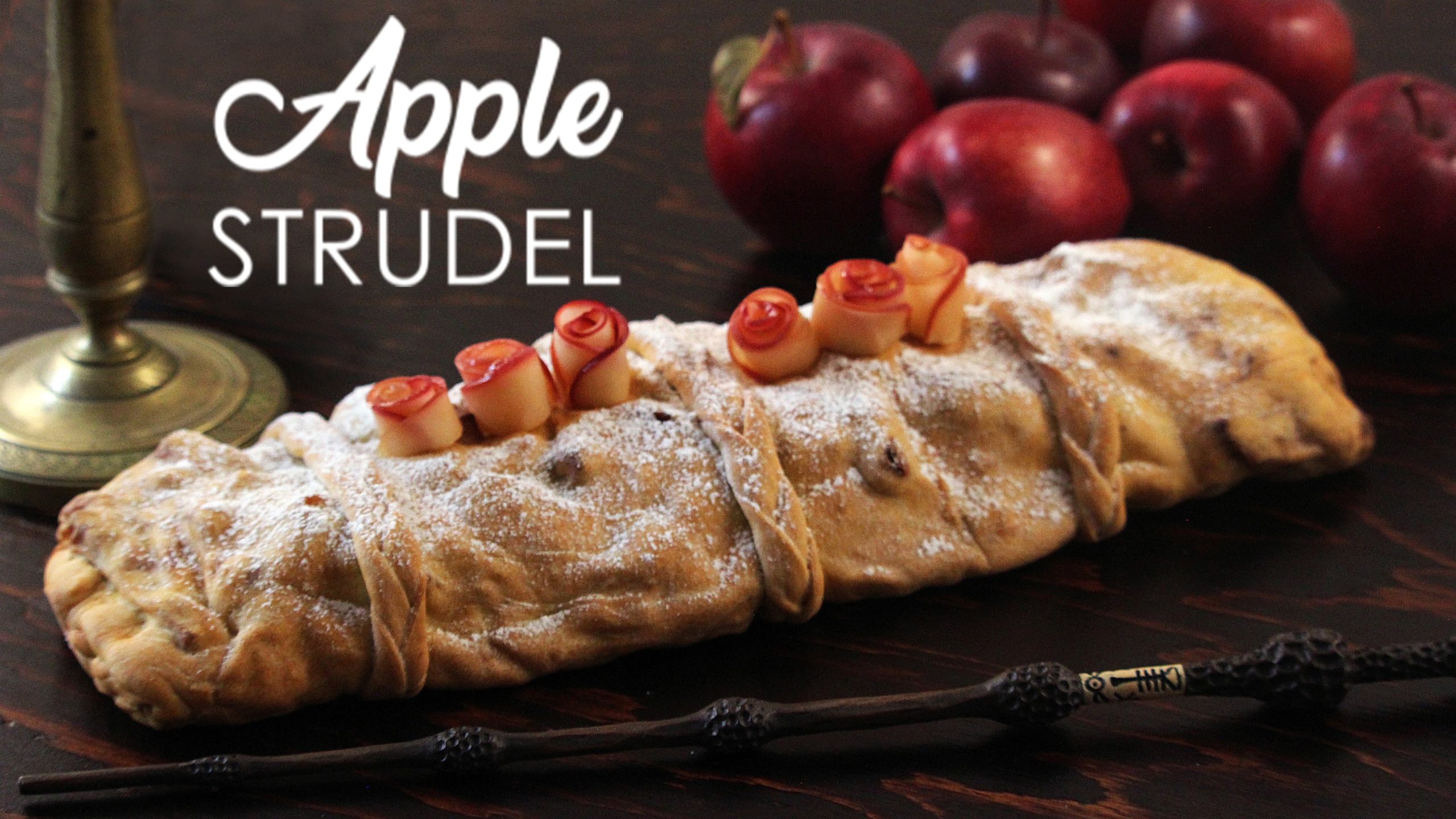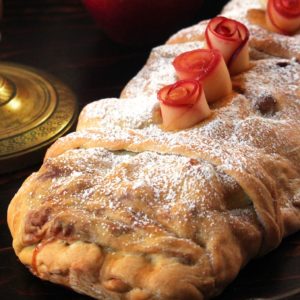 APPLE STRUDEL
Apple Strudel is a delicious cake originated from the northern Italy (the region called Trentino Alto Adige) and made with a very thin homemade light pastry crust stuffed with a apple filling.
My grand mother came from that beautiful Italian region and she always made me this Apple Strudel!
For the look of this treat, I was inspired by the movie Fantastic Beasts (if you know Harry Potter Wizarding World I'm sure you watched the movie!) where Queenie made a delicious Strudel that looks like this one, for the dinner with Jacob.
If you're faimiliar with Apple Pie, you could say this cake it's the same but in a different shape...but not quite. The crust is very different, made without butter, it is unsweetened, very thin a mix between crunchy and crispy. It's a bit similar to phyllo dough.
The filling is made with apples, cinnamon, pine nuts (or walnuts), raisins and crumbled cookies (in some recipes you can substitute cookies with bread crumbs). a bit dryer than the classic apple pie filling.
The recipe video I shot, is totally inspired by Fantastic Beasts, but if you're not a fan of this franchise, don't worry! Because the recipe is absolutely delicious and traditional, I'm sure you will love it!
Ingredients
Dough
250 g

(2 cups)

all purpose flour

pinch of salt

1

egg

18 g

(1+1/2 tbsp)

vegetable oil

about 60 ml

(1/4 cup)

water
Filling
5

(850g - 1,8 pound)

apples

I've used the Red Delicious

about 2 tbsp

lemon juice

from 1/2 lemon

50 g

(1/3 cup)

raisins

50 g

(3-4 tbsp)

pine nuts

70 g

(3 tbsp)

sugar

1+1/2 tsp

cinnamon powder

70 g

(2,5 oz)

cookies

smashed into small crumbles

unslated melted butter

for brushing the dough
Decoration
1

red apple

slice into thin slices

some drops

lemon juice

unsalted melted butter

for brushing

powdered sugar
Instructions
Dough
In a big size bowl, combine flour and salt.

In a small size bowl, mix the egg and the vegetable oil.

Add the egg mix into the flour mix and combine.

Add the water little by little until reach a dough (not sticky).

Knead the dough for few minutes until smooth and shape it into a ball.

Grease the ball dough with vegetable oil and let it rest in a greased bowl, covered with plastic wrap, until prepare the filling.
Filling
Soak the raisins in lukewarm water for about 15 minutes, or until soft.

Meanwhile peel the apples, slice them into medium thick slices, place them in a big size bowl and irrorate with the fresh lemon juice.

Add sugar, pine nuts, drained raisins, crumbled cookies, cinnamon and combine. Set aside.
Assembly
Cut out ¼ of the dough, roll it into a rectangle (long about 12 inch- 30 cm), then cut 9 long strips. Braid the strips to create 3 braids for final decoration.

Roll out the leftover dough over a baking paper into a very fine rectangle: the dough sheet has to be almost transparent.

Brush it with melted butter.

Place the apple filling along the side of the dough (leaving 2,5cm-1inch to the edge). Fold in the sides to avoid the filling getting out during rolling.

Roll the dough around the filling, seal the edges and place onto a baking sheet.

Attach the braids to the strudel and brush with melted butter.

Bake in preheated oven at 210°C-410°F for 15 minutes, then reduce to 170°C-340°F and bake for about 25 minutes.

Cool down on a wire rack.
Decoration
Soak the slices into a water and lemon juice mix, then microwave for 3 minutes.

Make Apple roses by overlapping the slices and rolling them as I show in the recipe video below.

Place the apple roses over the strudel.

Dust with powdered sugar and serve it warm or cold.
Video
Notes
You can store it at room temperature for 1-2 days or in refrigerator for 1 week or in freezer for up to 3 months.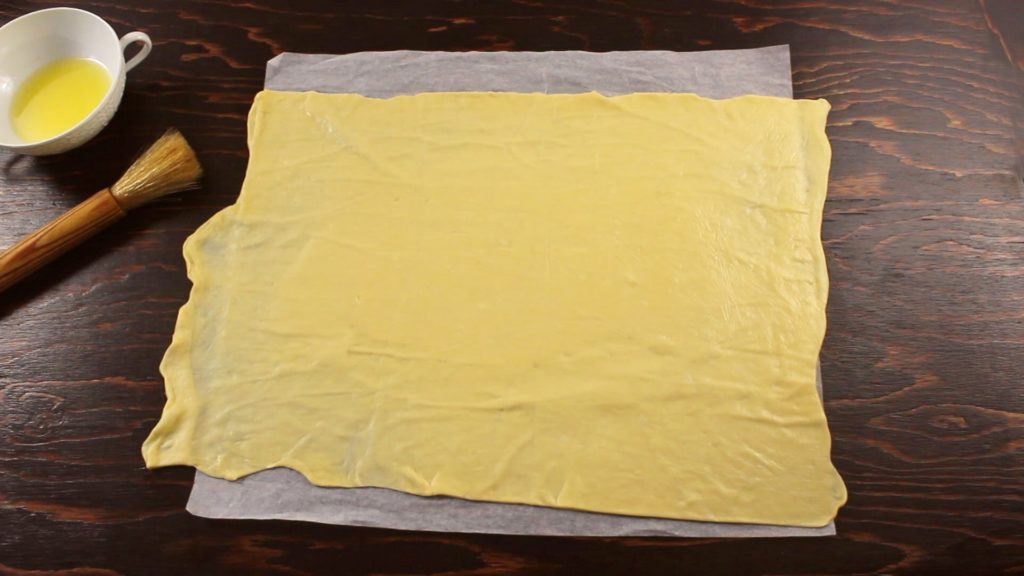 This cake is pretty easy to make but if you make it starting from scratch as I did, you should pay attention when you rolling the dough.
The crust should be very thin, almost transparent, so you should pay attention to not break it when you roll it!
The more thin your crust will be, more delicious your Strudel will turn out!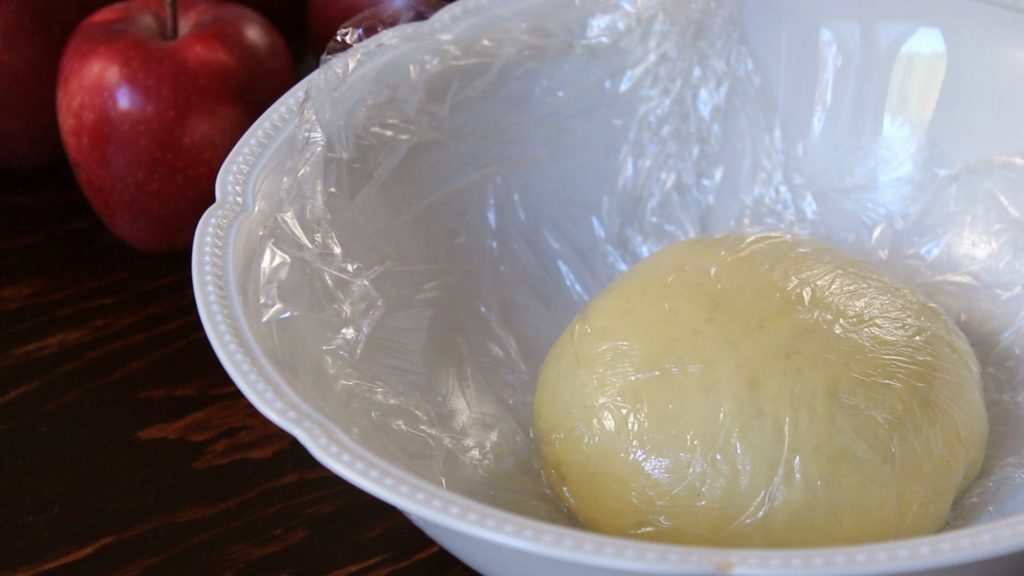 If you don't want to make the crust from scatch , you can buy frozen or fresh Phyllo dough and use it as Apple Strudel crust.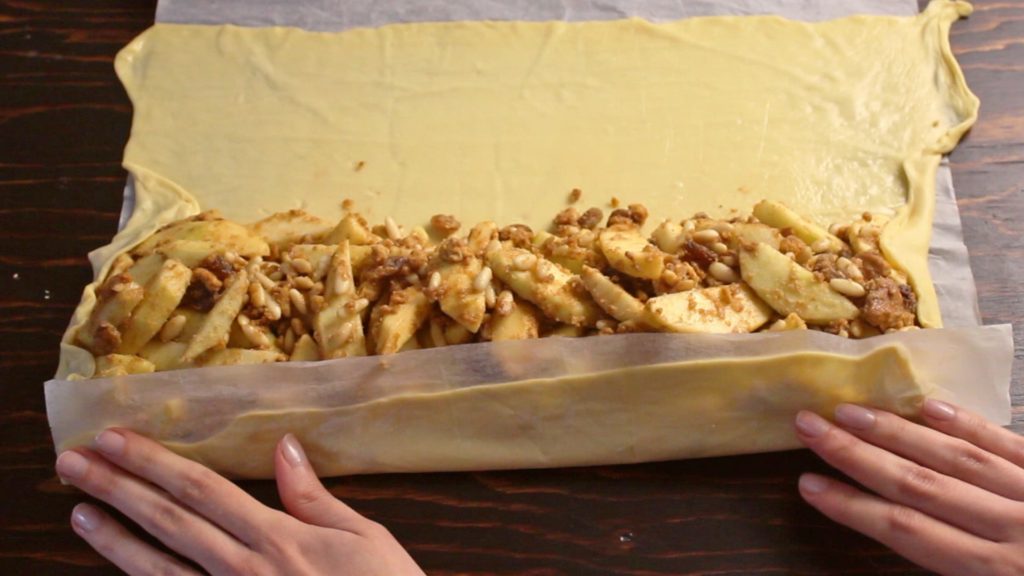 Rolling the dough is a very delicate step, it could break it if you don't be gentle and don't pay attention.
I suggest to use the parchment paper while rolling, it's very needful!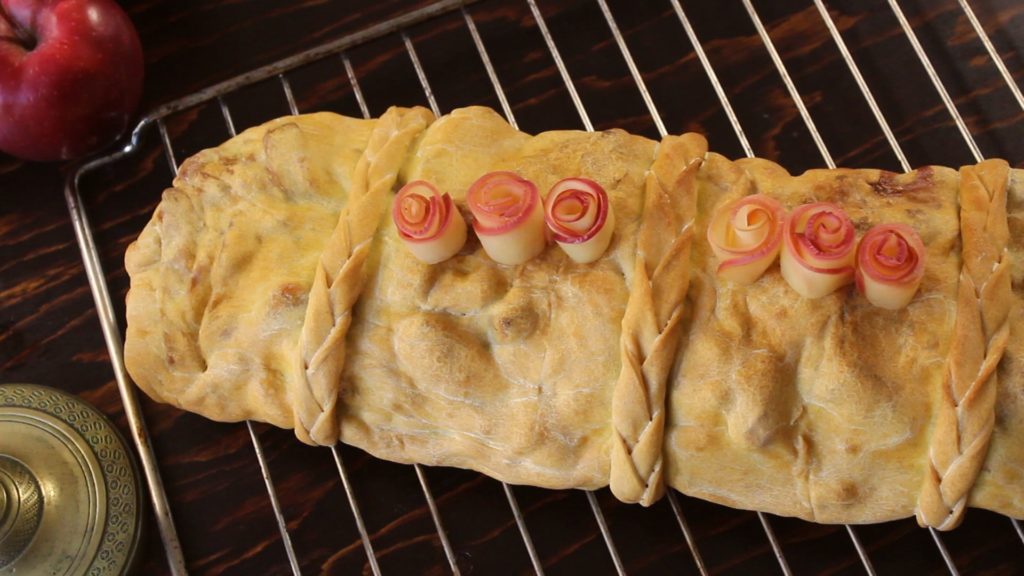 The decoration with the roses made with apple slices and the braids is inspired by Queenie's Apple Strudel from Fantastic Beasts and Where to Find Them, but you can decorate it as you prefer!