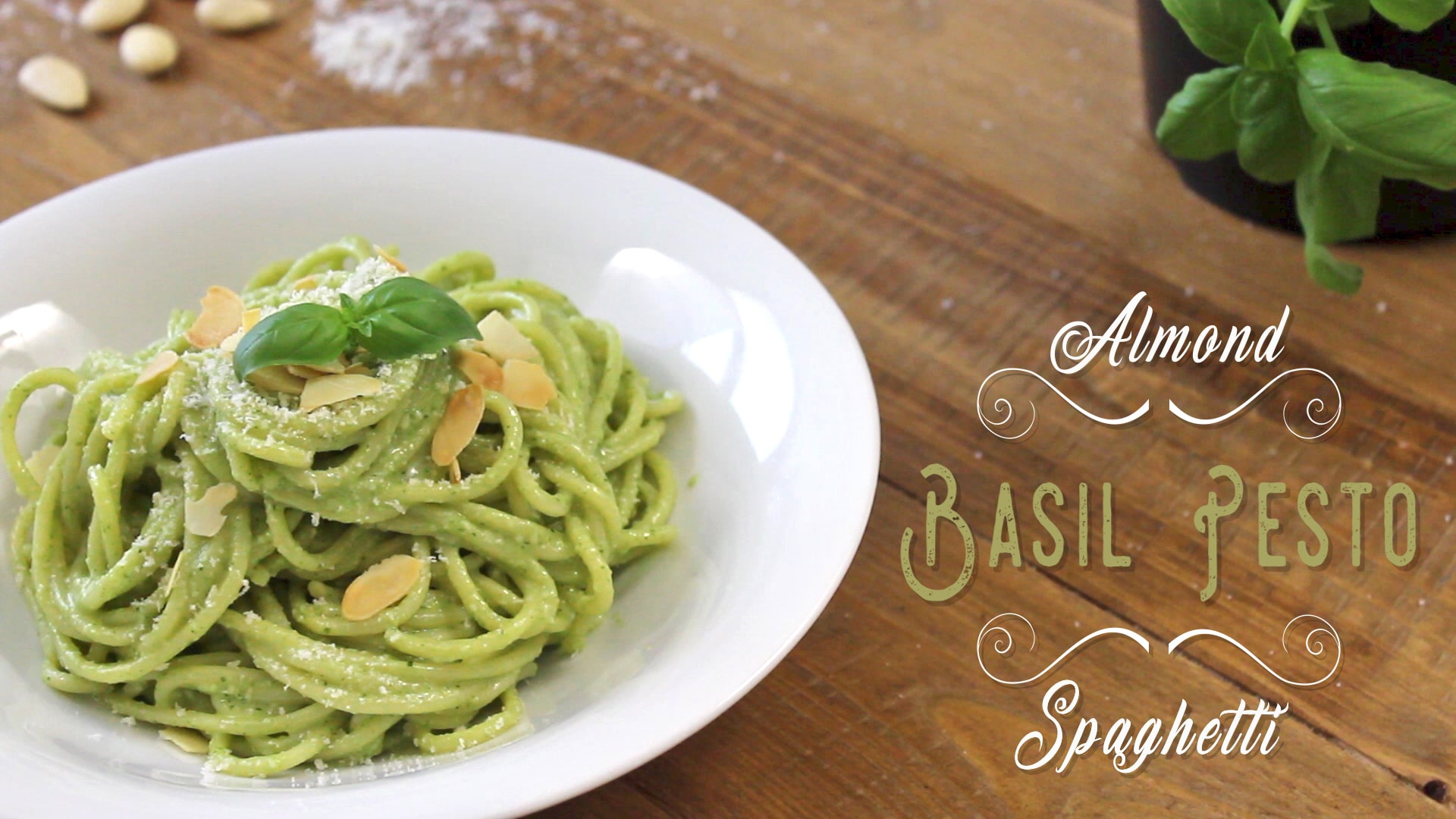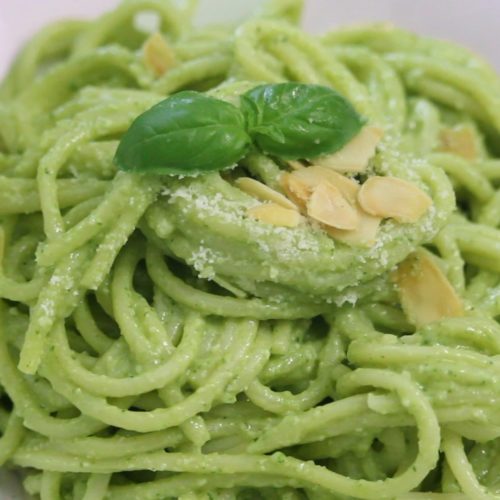 BASIL PESTO PASTA
If you want to prepare a perfect Italian pasta in few minutes, you have to try this fantastic Almond Basil Pesto!
This Pesto is a variant of the famous "Italian Genovese Pesto" made with garlic and pine nuts. The garlic's lack and the add of the almonds instead of the pine nuts, make it extremely dainty and refined.
If you like Italian dishes, you can't miss this recipe, it will be a great main dish for your guests and you can also boast to get the recipe from a true Italian cook!
Ingredients
20 g

(1,5 oz)

fresh basil leaves

washed and dried

50 g

(1/2 cup - 2 oz)

peeled almonds

30 g

(1/3 cup - 2 oz)

Parmigiano Reggiano (or Parmesan)

grated

60 ml

(1/4 cup)

extra virgin olive oil

about 3 g

1/2 tsp

salt

300 g

10,5 oz

spaghetti pasta

or your favourite pasta

15 g

2 tbsp

almond slices

for topping (optional)
Instructions
Place fresh basil leaves, salt, almonds, grated Parmigiano Reggiano and olive oil in the bowl of your food processor.

Process for few seconds until everything is well combined. Pesto has to be creamy, if it's too dense add some more extra virgin olive oil.

Cook spaghetti to al dente stage in salted boiling water. Stir often to avoid spaghetti to stick together.

Toast some almond slices in a non stick pan over high heat until they become golden brown (optional).

Reserve some of pasta's cooking water, then drain spaghetti.

Place immediately the pasta in a hot pan, add pesto and a splash of reserved water to reach the desired creamy consistency and stir it.

Serve immediately with some freshly grated Parmigiano Reggiano cheese and toasted almond slices.
Video
Notes
You can keep your Pesto in the fridge for some days or you can freeze it up to 3 months.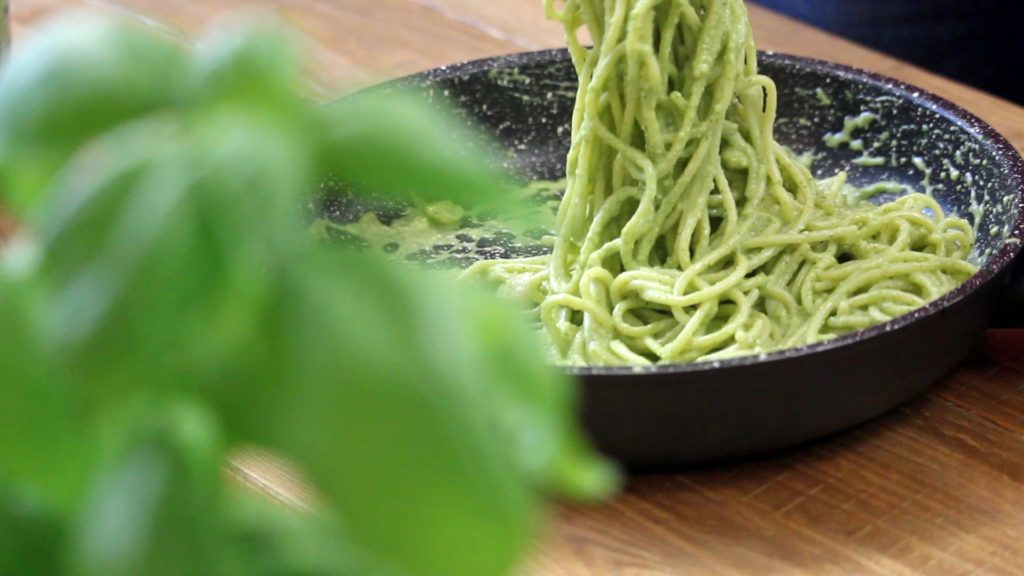 One of the traditional italian secrets to make a great Pasta dish, is to always reserve some pasta's cooking water and add it while you're sauce your pasta: your pasta will turn out creamy and never dry!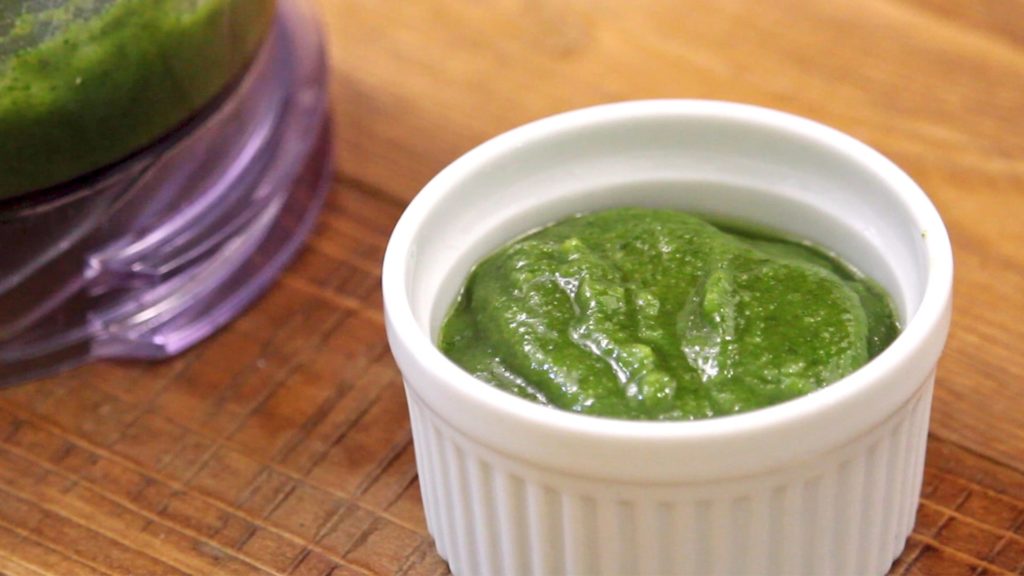 You can make a classic Genovese Italian pesto adding some garlic, substituting almonds with pine nuts adding some grated Pecorino cheese.
Don't add olive oil to your pasta boiling water! You just need to stir your pasta while is cooking to avoid that it sticks together: I usually stir it about 3 times while cooking.