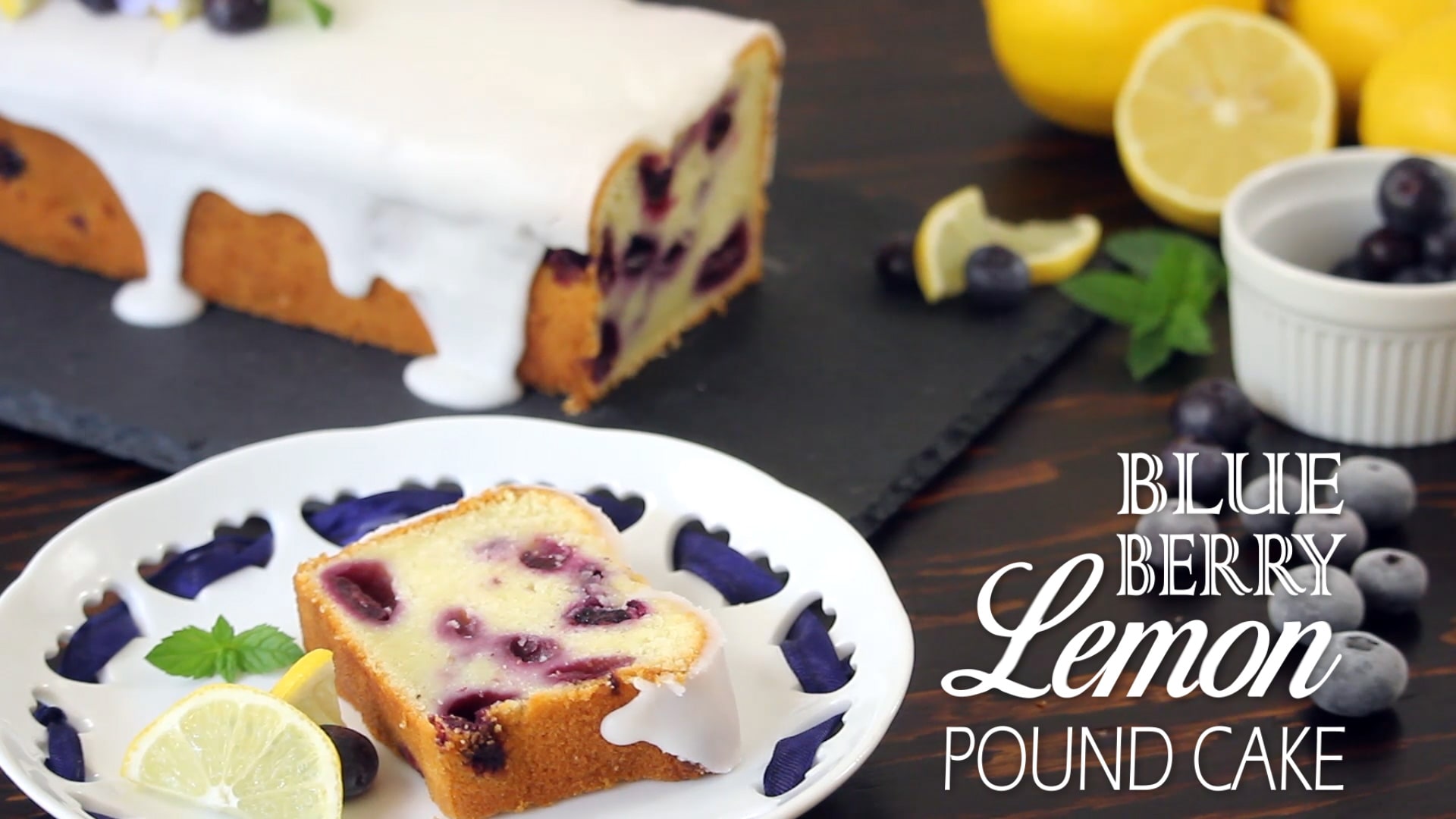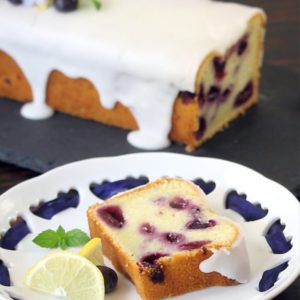 BLUEBERRY LEMON POUND CAKE
Blueberry and lemon are the perfect summer match for a refreshing cake!
If you complain that your pound cake becomes dry quickly, this is the perfect recipe for you. The batter litterally melts in your mouth and the blueberries make the cake so moist! Thanks to yogurt and a hint of baking powder, the cake will stay soft and moist for days and it's lighter than a classic pound cake.
Frosted with an irresistible lemon glaze, this cake is so delicious and easy to make. You will love it!
Ingredients
Pound Cake
100 g

(1/2 cup)

unsalted butter

softened at room temperature

190 g

(1 cup)

caster sugar

2

lemon

the zest

3

eggs

room temperature

300 g

(1 cup)

unsweetened plain yogurt

1+1/2 tbsp

fresh lemon juice

60 ml

(5 tbsp)

flavorless vegetable oil

sunflower seed oil

300 g

(2 cups)

all purpose flour

3 g

(1tsp)

baking powder

150 g

(1+1/2 cups)

blueberries

frozen
Lemon Glaze
250 g

(2 cups)

vanilla powdered sugar

2 tbsp

fresh lemon juice

About 2-3 tbsp

water

add little by little until get a thick and not runny glaze
Instructions
Pound Cake
Grease a rectangular pound cake or loaf pan 10-12 inch 26-30 cm, dust it with flour and line it with parchment paper.

In a large bowl, mix butter with sugar and lemon zest at high speed for few minutes until light and fluffy.

Add eggs, one at a time, beating until pale and well incorporated.

Add yogurt, lemon juice and vegetable oil just until combined.

In a small bowl, whisk flour with baking powder and sift in two times into the cake batter: start to incorporate with a spatula, then you can use the electric mixer to completely incorporate the dry ingredients, but don't overbeat the batter, mix just until well combined!

Place frozen blueberries in a small bowl and coat them with one teaspoon of vegetable flavorless oil, then add 1 teaspoon of flour and toss until coat them.

Gently fold the blueberries into the batter.

Pour the batter into the prepared mold, add some extra blueberries on top and cover them with the batter.

Bake in preheated oven at 180° C - 350° F for about 70 minutes, or until a toothpick inserted into the center of the cake comes out clean. After 40 minutes of baking, you can cover with an aluminium foil to prevent burning.

Remove from the oven and allow to cool in the mold for about 15 minutes before inverting it onto a wire rack.

Let cool completely at room temperature.
Lemon Glaze
In a medium size bowl, combine powdered sugar with lemon juice.

Add the water little by little until reach a thick and not watery glaze.

Frost the cake and decore it with some fresh blueberries, lemon slices and edible flowers.
Video
Notes
You can store the cake covered with plastic wrap at room temperature for about 2-3 days.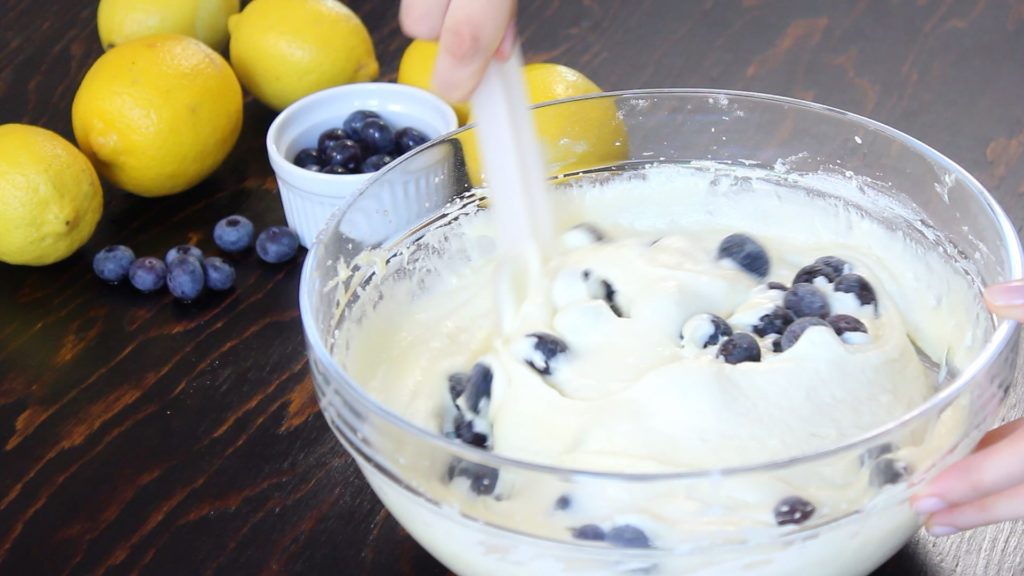 Pound Cake original recipe doesn't need baking powder or yogurt, but I prefer to add just 1 tsp of baking powder and some yogurt to get a lighter cake and the slightly sour taste of yogurt perfectly matches with lemon!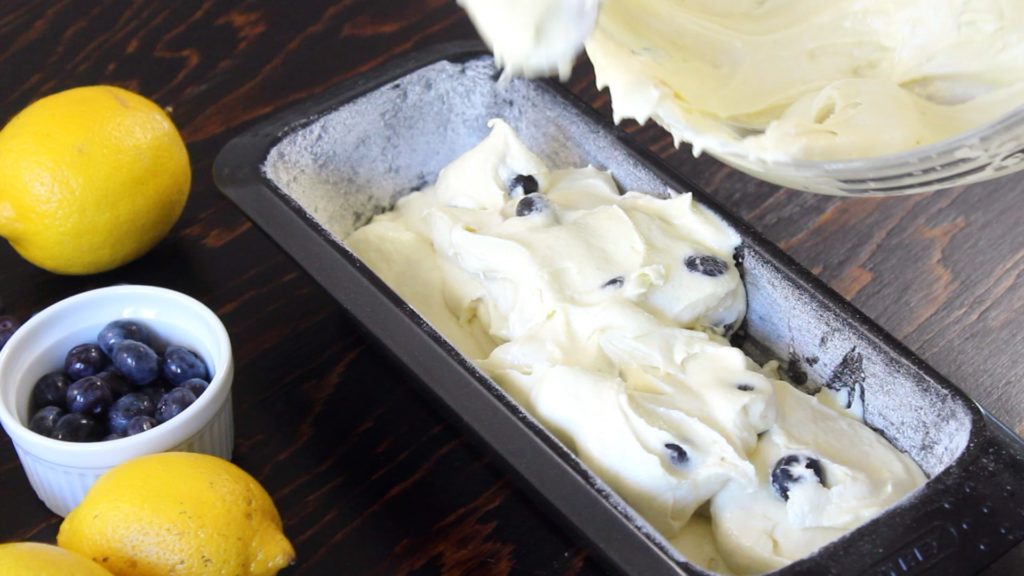 Since this recipe has a very little amount of baking powder, you have to mix butter and sugar for some minutes to incorporate air and get a lighter cake.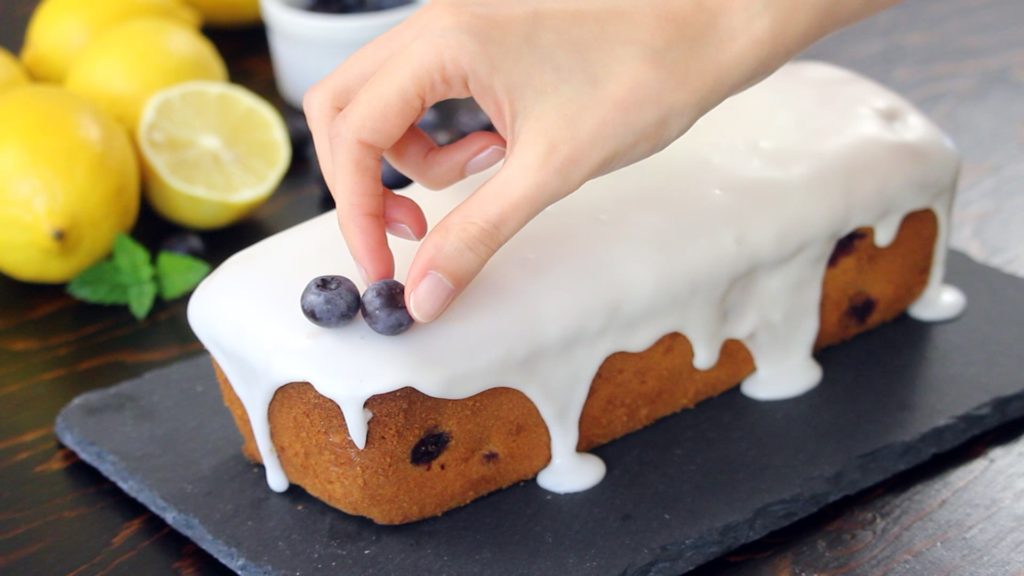 I've used fresh Blueberries, then I've frozen them before use them. You can use fresh Blueberries, but if you freeze them, oil and dust with flour, they will not sinking to the bottom of the cake.