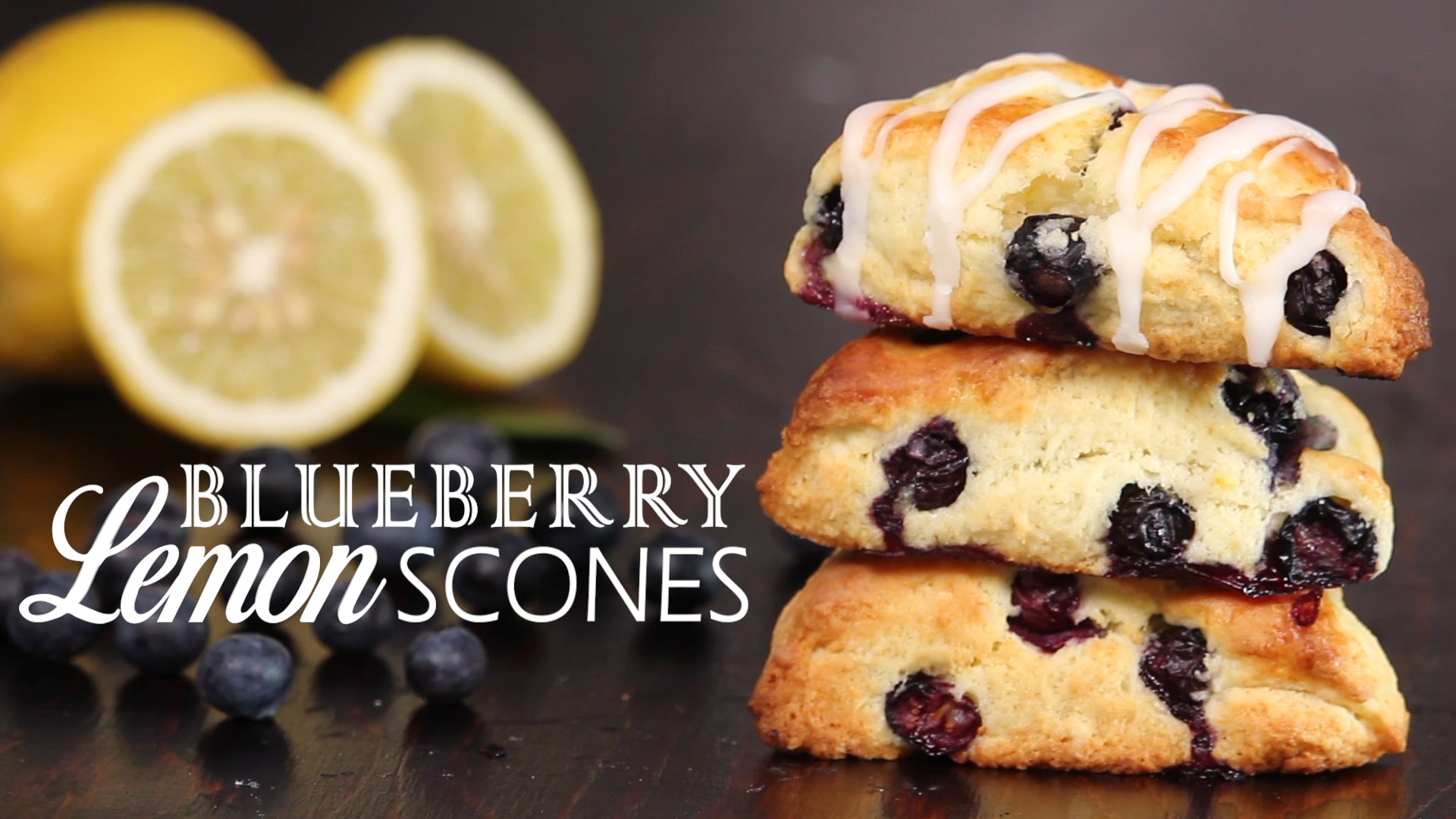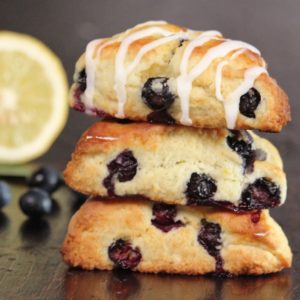 BLUEBERRY LEMON SCONES
Forget flat scones! With this recipe you'll get TALL, flaky, moist and tender blueberry Scones that melt in your mouth!
In this recipe I'll show you all the tips to always get tall and thick scones with many flaky butter layers. If you complain for your flat scones this recipe is perfect for you!
Full of butter and juicy blueberries, these scones aren't too sweet so they are perfect topped with a delicious sugar lemon glaze.
The batter is flavored with lemon zest, but you can also skip lemon and bluberries and make simple scones to spread with butter and your favourite fruit jam.
Remember that any type of flour absorbs liquids in a different way, so you may need a bit of extra milk or a bit less, it depends on your type of flour.
For this recipe you need chilled ingredients, so use chilled butter, egg and milk. Also remember you should work the dough as little as possible (do not knead it like a pizza dough!) with chilled hands: if you have very hot hands, chill them in cold water then dry them well.
Read the recipe below to find out all the tips to always get tall scones!
Ingredients
Blueberry Lemon Scones
240 g

(2 cups)

all purpose flour

55 g

(1/4 cups)

sugar

the zest from 1 lemon

1/4 tsp

salt

2 tsp

baking powder

1/4 tsp

baking soda

110 g

(1/2 cup)

Unsalted Butter

chilled and cubed

1

small egg

chilled

about 60-80 ml

(1/4-1/3 cup)

whole milk

chilled; you can substitute it with buttermilk, just skip vinegar if you use buttermilk

1/3 tbsp

white vinegar

or lemon juice

130 g

(2/3 cup)

blueberries

fresh or frozen
Lemon Glaze
60 g

(1/2 cup)

powdered sugar

lemon juice to get a thick glaze (about 2 tsp)
Instructions
Blueberry Lemon Scones
In a medium size bowl mix milk, vinegar and set aside for about 5-10 minutes. If you use buttermilk, skip vinegar.

In a large bowl sift and mix together flour, salt, sugar, baking powder, baking soda and lemon zest.

Add chilled butter and use fork and knife (or a pastry dough blender/pastry cutter) to reduce butter into medium-small pieces and start incorporating with the flour mix.

Now use your fingers to get almost evenly crumb mix: you'll get a heterogeneous crumb mix with some larger chunks of butter and fine crumbs. Your hands should be chilled when you touch the butter and you should work quickly to avoid melting the butter.

Incorporate one small egg to the milk mix and mix until combined.

Add little by little the milk mix into the butter-flour mix and combine with a spatula.

You should get a soft but not sticky or wet dough, so stop adding the milk mix if your dough mix become too wet, it doesn't matter if you have some milk mix leftover. If your dough tunrns out too dry, add a bit of extra milk.

Gently incorporate blueberries: be careful to not mash them.

Invert the dough onto a well floured work surface and gently press the crumbs together to get a small rectangle (do not knead or heat the dough with yout hands, it doesn't matter if your dough is not smooth or completely combined).

Laminate your dough folding the rectangle for 3 times: fold the 2 rectangle sides and bring them into the center, then rotate the rectangle 90° (place some flour on top and below if needed), gently press to form into a rectangle and repeat the folding-rotation for 2 times. Watch the recipe video where I show how to make this lamination process.

Form your folded rectangle into a 18cm-7inch circle (about 2,5cm-1inch thick).

Cut the circle in 8 equal triangle slices, like a pizza.

Place the scones slices onto a lined tray and put in freezer for at least 15-20 minutes. Meanwhile preheat the oven at 200°C-390°F.

Brush the top of the scones with some egg and milk mix.

Bake your almost frozen scones in preheated fan oven (upper and lower heat) at 200°C-390°F for about 12-13 minutes or until evenly golden.

Cool down slightly onto the baking tray (they are very fragile when hot), then cool down completely onto a wire rack.
Lemon Glaze
Place powdered sugar into a small size bowl then add some lemon juice drop by drop until get a very thick glaze: pay attention to not get a too runny glaze.

Drizzle your chilled scones with the lemon glaze, wait a bit to settle the glaze, then serve them.
Video
Notes
Store at room temperature for 2 days.
Store in freezer for up to 3 months.
You can also store in freezer the raw scones and bake them, still frozen, when you need them: just add some extra minutes to the baking time.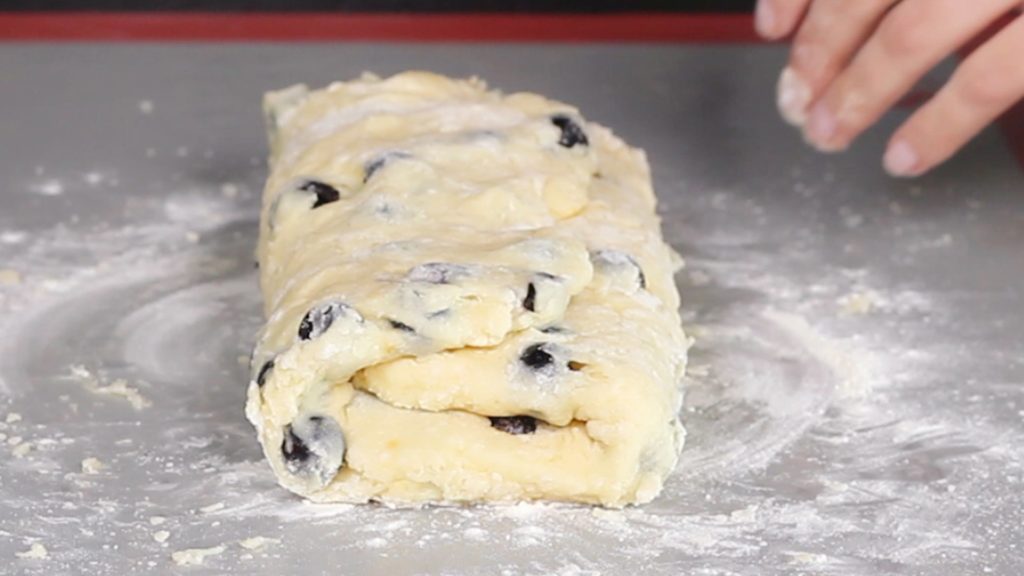 Lamination by folding the dough is a very important step to get tall scones, so don't skip it! 
If you work the dough as little as possible and leave some largest butter chunks in the dough, the lamination/folding steps will help you a lot to get tall scones with many buttery flaky layers. It's the same principe that making croissants, but in this case you don't need to place butter between the layers, just take advantage to the butter into the dough.
I've folded the dough 3 times and every time I rotate the dough, so the next fold is in the opposite way. I suggest to watch the Youtube recipe video abouve to see how I make the lamination. 
The second tip to get tall scones is to put them into freezer for at least 20 minutes before bake them. In this way the butter will perfectly chill. Of course you can also completely frozen your scones and bake them directly from the freezer for up to 2-3 months.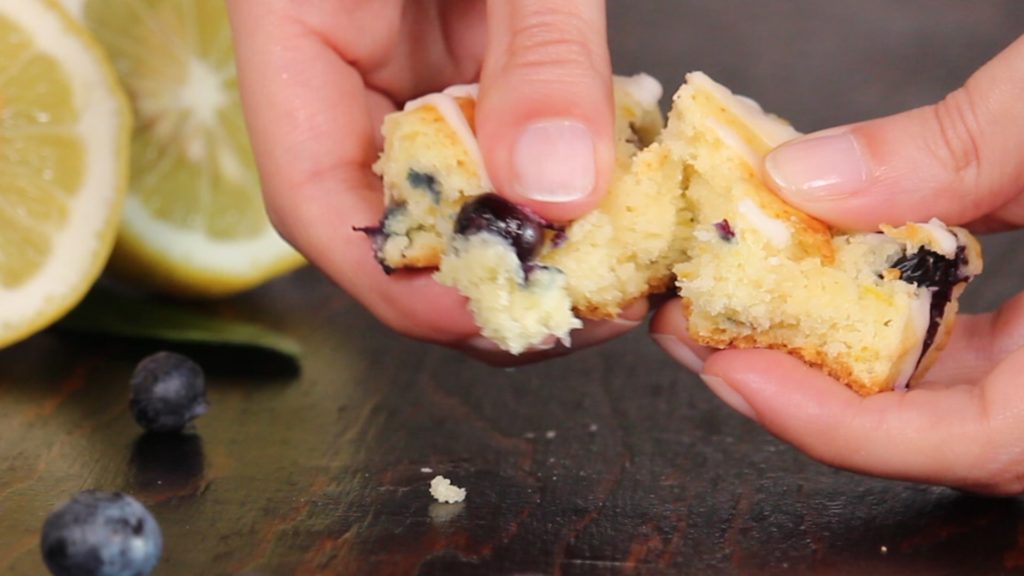 Baking powder is also very important to get tall scones, so don't reduce the amount.
Buttermilk (or homemade buttermilk as I did with milk+vinegar mix) is acidic and matched with the baking soda in the recipe, it reacts giving extra rise to your scones. So do not skip to add vinegar into your milk or use store-bought buttermilk.
The Last tip is to work the dough as little as you can: leave some larger butter chunks into the crumbs mix and be gentle when you make the lamination.
Remember also that your dough should not be sticky or too wet: if you add too much milk, your scones become more flat after baking.