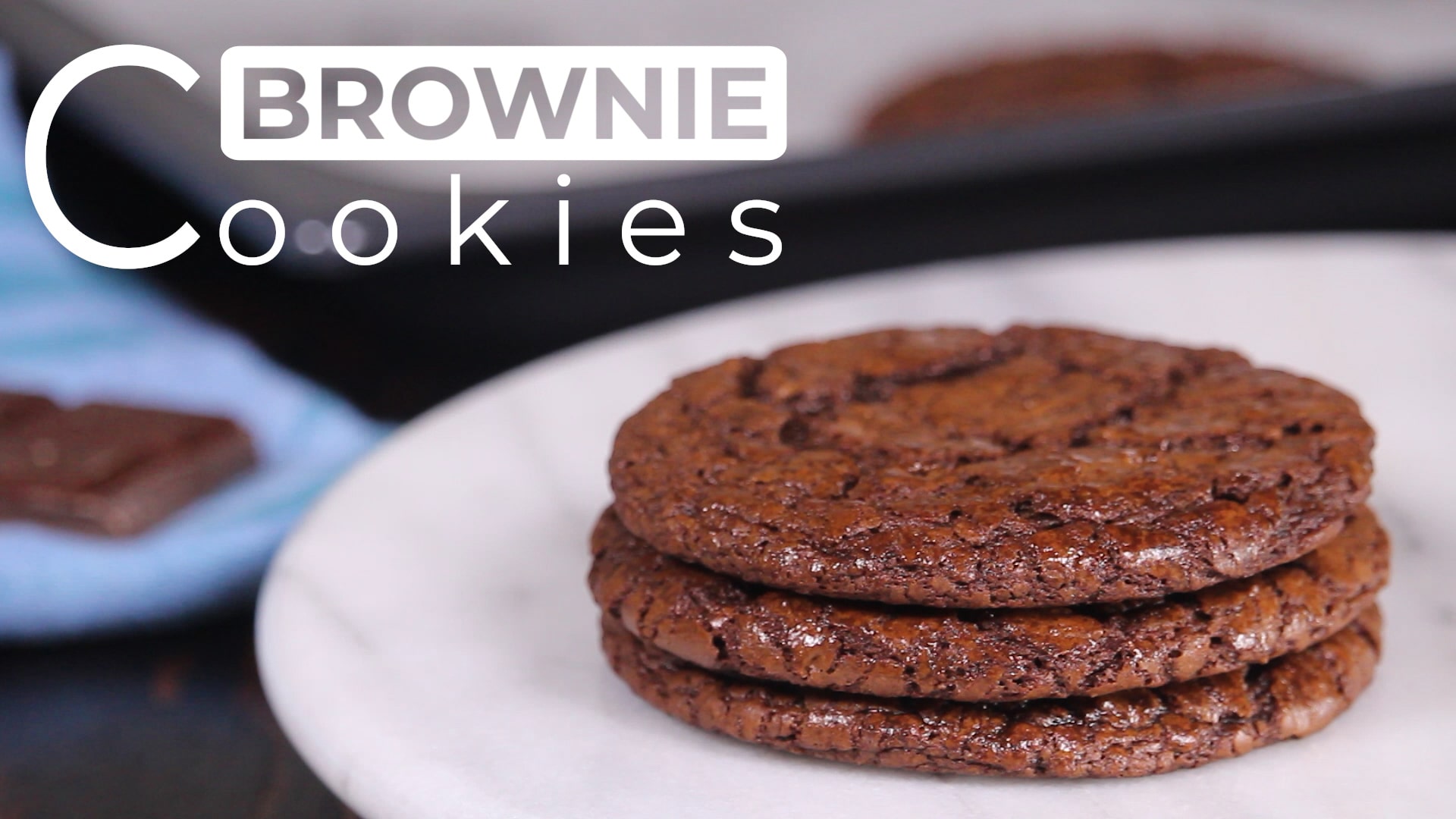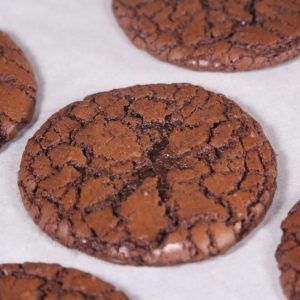 BROWNIE COOKIES
With this recipe you'll get in few minutes the most rich and fudgy Chocolate Brownie Cookies ever!
With a crispy crinkle crust and an irresistible melt in your mouth brownie inside, they match the best parts of brownies and cookies together!
Incredibly quick and easy to make, they don't need resting time, conversely, I suggest to bake them immediately to get that adorable crinkle pattern on top.
I added a hint of instant coffee powder to the dough to enhance chocolate flavor (yes, these cookies are only for chocolate lovers!), but don't worry that they won't taste like coffee. You can skip this step or add more coffee powder if you love coffee and chocolate match.
Ingredients
100 g

(3,5 oz)

dark chocolate

good quality bar, chopped

50 g

(1/4 cup)

unsalted butter

cubed

1

(55-60 g)

egg

room temperature

70 g

(1/3 cup)

brown sugar

40 g

(1/3 cup)

all purpose flour

10 g

(1+1/2 tbsp)

unsweetened cocoa powder

1/4 tsp

baking soda

1/8 tsp

salt

1/4 tsp

instant coffee powder

optional: it enhances chocolate flavor but the cookies won't taste like coffee!
Instructions
Place dark chocolate and butter in a heat-proof bowl and place over bain marie until melted. You can also use microwave to melt, but be careful to stop and mix often to avoid overocooking the mix.

Add instant coffee powder into the hot melted chocolate and mix until dissolved. Set aside.

Sift together flour, cocoa powder, baking powder, salt, mix well and set aside.

In a large bowl place sugar, egg and mix at high speed with a hand mixer until get a very light and thick mix (at least 4 minutes).

Add the slightly cooled down melted chocolate mix into the egg mix and gently combine with a spatula.

Gently incorporate the flour mix until well combined (do not overmix).

Scoop cookies onto a lined baking sheet using a 5cm-2inch ice cream scooper: cookies spread while baking so be careful to place them about 5cm-2inch apart. You'll get 8 cookies.

Bake immediately into preheated fan oven at 170°C-340°F for 8 minutes: they are ready when the sides are firm but the center is still very soft; do not overbake them to get the classic soft brownie texture!

Cool down in the baking sheet for about 10 minutes before remove it, they are very soft when still hot and you could easily break them!

Cool down completely and serve it.
Video
Notes
You can store them in a tin cookie box at room temperature for about 1 week or place the raw cookie balls in freezer for 2 months then bake them - for 1-2 minutes more than normal baking - when still frozen.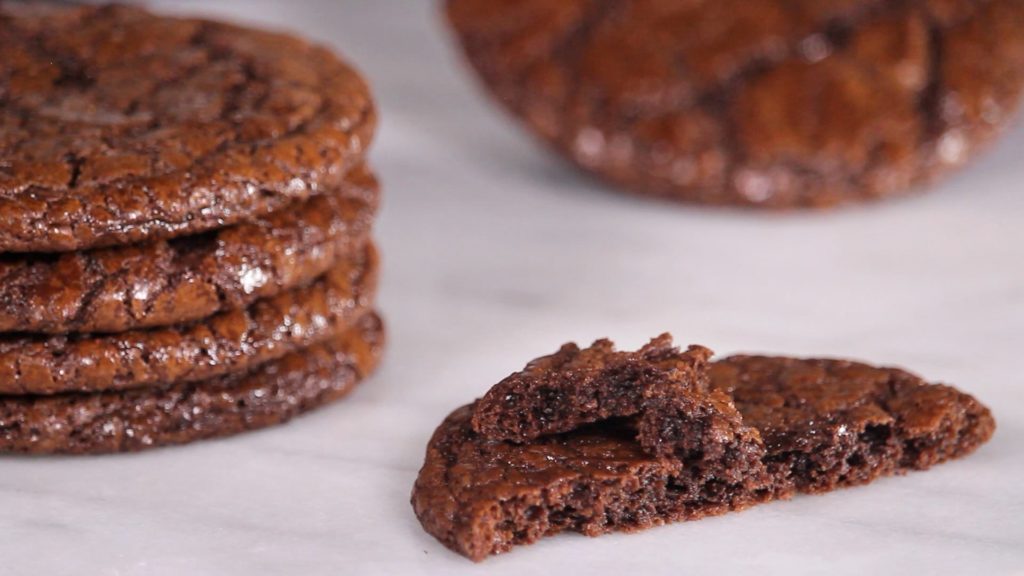 This recipe is incredibly quick and easy to make, but I give you just some few tips to always get the best reslut!
Firstable: do not overbake these cookies! Brownie cookies should feature a fudgy, rich and moist inside, like a brownie, and a crispy crinkle crust outside. 
To get this result you don't have to bake too much your cookies: they are ready when the sides are firm but the inside is very soft if you touch it. You can thought they are undercooked but they are not!
Just cool them down on the baking sheet for at least 10 minutes wihout touch them, and the center will turn out firm but soft, chewy and melt in your mouth like a perfect brownie!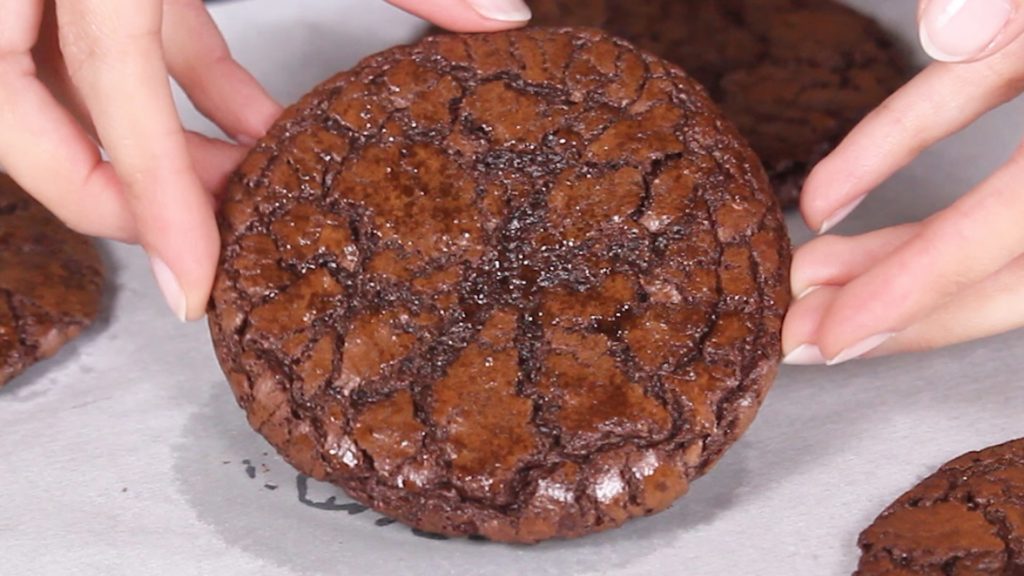 I've got these cute crinkle pattern on top baking immediately my cookies (of course in preheated oven, so don't forget to turn on your oven when you start making your cookies!) when the dough is ready. If you wait and leave the dough at room temperature, the crinkles turn out a bit less marked.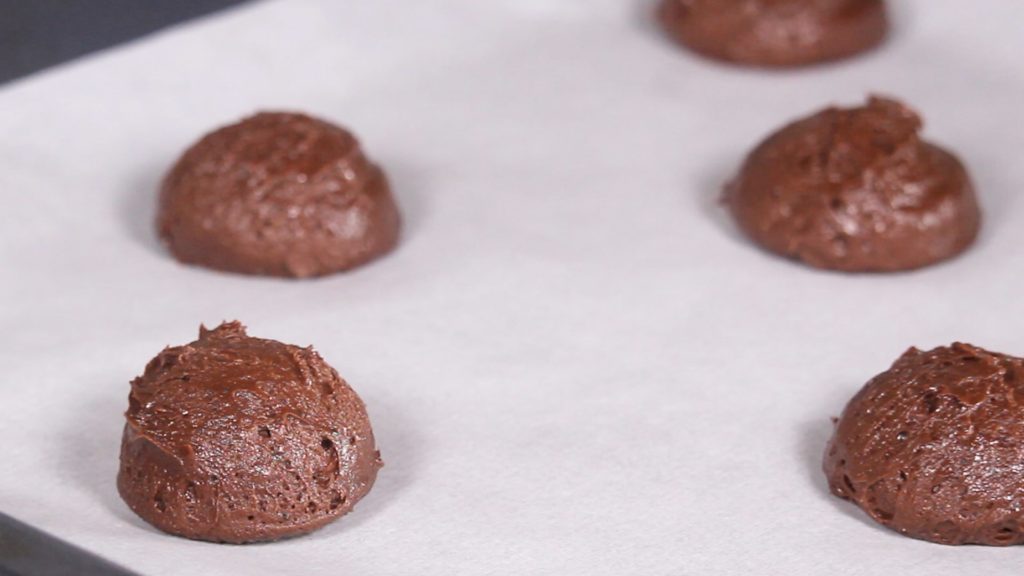 This recipe is only for chocolate lovers, if you don't like so much chocolate please don't make it 😀
As all the chocolate recipes where chocolate is the protagonist, I always suggest to use high quality dark chocolate bar, not the baking chocolate.
I use Lindt dark chocolate but you can use any quality brand you can find in your Country.