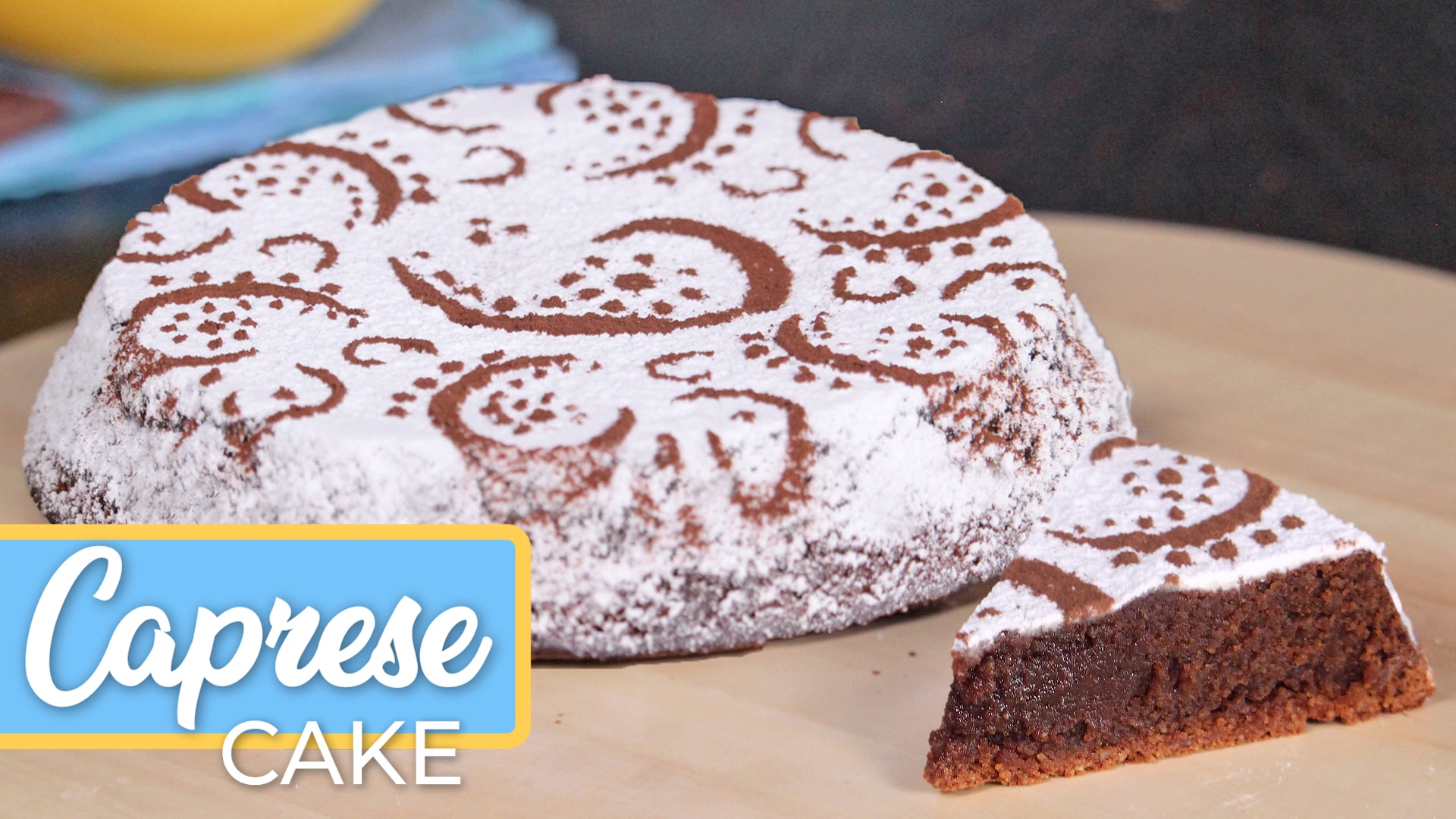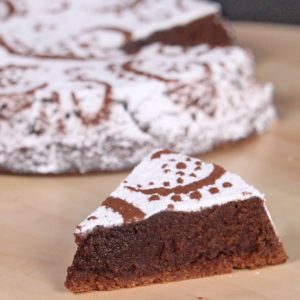 CAPRESE CAKE - ITALIAN FLOURLESS CHOCOLATE CAKE
Caprese Cake is one of the most loved traditional Italian Chocolate Cake originated from the beautiful Capri Island. It's gluten-free - made with almond flour instead of wheat flour and without baking powder too - so it's also perfect if you're celiac or following a gluten-free diet.
Its texture is incredibly moist, fudgy and rich inside, with slightly crispy edges.
The oringin story of Torta Caprese is fascinating but controversial too: one legend said that the cake was created in 1920 by pastry chef Carmine Di Fiore.  He forgot to put the flour in an almond cake ordered by some tourists (or criminals too!): a delicacy came out of it and became famous all over the world.
The second legend said that it was created for Maria Carolina D'Asburgo, the Austrian Napoli king's wife, to equal the Sacher Cake.
The traditional Caprese Cake's ingredients are always 5: almond flour, sugar, chocolate, butter and eggs. In many traditional Italian recipes the addition of a liquor like Rum or the Italian Strega liquor and a hint of orange zest is used too!
Since the ones I had in Capri had both Rum than orange zest, I added to my recipe too: feel free to skip them.
Ingredients
120 g

(4,2 oz)

dark chocolate

high quality chocolate bar

120 g

(1/2 cup+1 tbsp)

unsalted butter

120 g

(1/2 cup+1 tbsp)

caster sugar

or granulated white sugar

3

eggs

room temperature, medium-large size

185 g

(2 cups)

almond flour

The zest from 1/2 orange

optional

12 g

(1 tbsp)

Rum liquor

optional, you can skip it or substitute it with orange juice

Powdered sugar

for dusting
Instructions
In a mediun size heat-proof bowl place chopped chocolate, butter and melt over bain marie until melted. You can use microwave to melt instead of bain-marie, just pay attention to stop it often and stir to avoid burning chocolate. Set aside the melted mix to slightly cool down.

In a large bowl place 3 egg whites and start whipping until white foamy.

Add in 3-4 times 40 g (3 tbsp) of caster sugar and keep on mixing the egg whites at high speed until medium-stiff peaks form. Set aside.

In a large bowl place 3 egg yolks, 80 g (1/3 cup) caster sugar, the orange zest and mix with a hand mixer until become thick and pale (at least 4-5 minutes).

Incorporate the melted chocoalte mix and mix until well combined.

Add Rum and almond flour folding gently with a spatula until well combined (you get a thick paste).

Incorporate with a spatula 1/3 of egg whites mix into yolk mix to soften it. Then gently fold the remaining egg whites mix: be gentle to not deflat the mix.

Prepare the mold: grease, dust with sweetened cocoa powder and line with parchment paper on the bottom a conic 18-20cm (7-8inch) aluminium cake pan. You can use a 18 cm (7 inch) springform pan instead.

Bake in static oven (no fan, upper+lower heat) at 180°C-350°F for 30-35 minutes. The cake is ready when starts cracking a bit on top, made a dry crust but the center is still moist: a toothpick comes out moist and NOT dry and completely clean!

Cool down at room temperature into the pan. The cake is fragile, don't unmold when still hot or you can break it.

Unmold the cake: if you used a conic pan, the smaller side should be the top.

Dust with powdered sugar on top and serve it.
Video
Notes
Store at room temperature for about 3 days.
The traditional Italian mold used for Caprese Cake is an aluminium conic cake pan, the same we use for Pastiera cake. For my recipe I used a 20-18 cm conic cake pan. If you don't have it, you can use a classic springform pan (18 or 20 cm for this recipe).
It's very important to prepare the mold since the cake is very moist and you could break it when unmold it: I greased the mold with butter, lined the bottom with parchment paper and dusted with sweetened cocoa powder (unsweetened one gives a bitter taste to the edges!).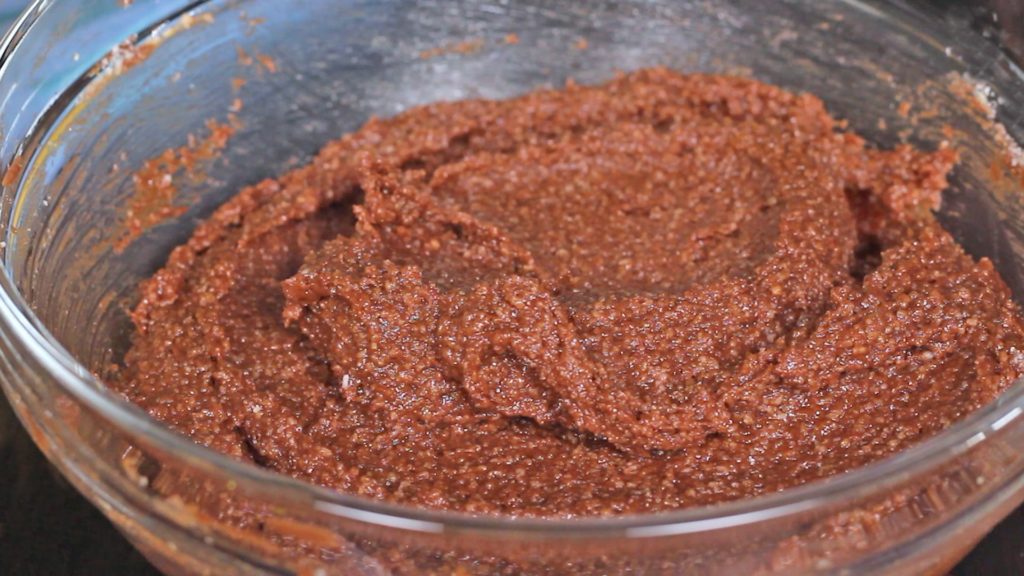 If you're not a fan of the orange-chocolate match you can skip orange zest, but consider that the cake doesn't taste too much of orange, it's just a slightly scent.
You can also skip Rum liquor or substitute it with orange juice.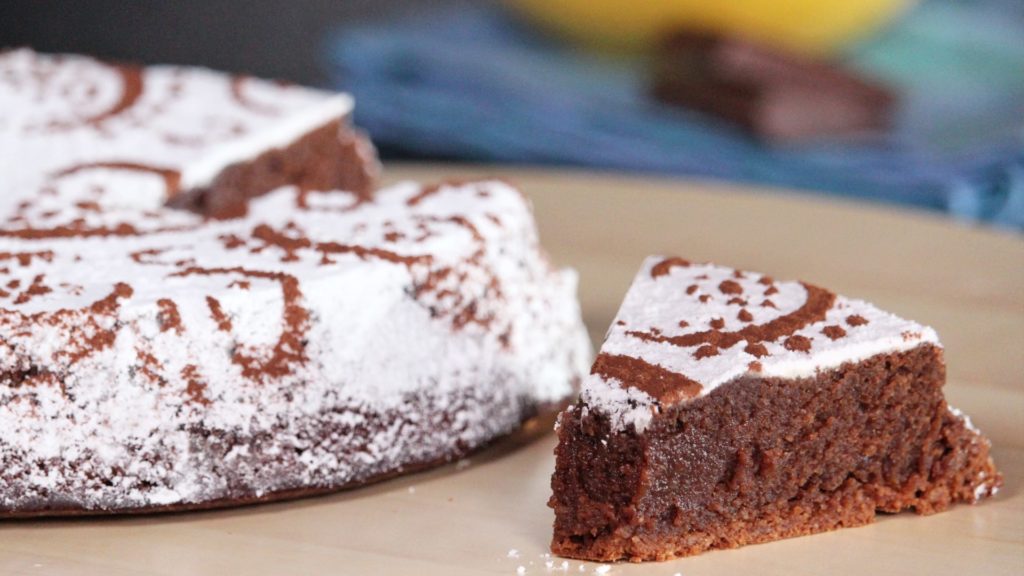 Torta Caprese is very easy to make, but you have to pay attention to the baking time: the cake should be very moist inside, so you should pay attention to not overbake it. Otherwhise, if you don't bake it enough, will be difficult to unmold it and you could break it.
I baked my cake in preheated electric oven (no fan, both upper+lower heat) at 180°C-350°F for 33 minutes. If you use a larger cake pan, it should bake in less minutes; if you use a smaller cake pan, you should bake it for some minutes more.
It's ready when it starts cracking on its crispy outside crust on top and a toothpick comes out moist, slightly dirty and not full dry (but not with runny liquid batter too!).