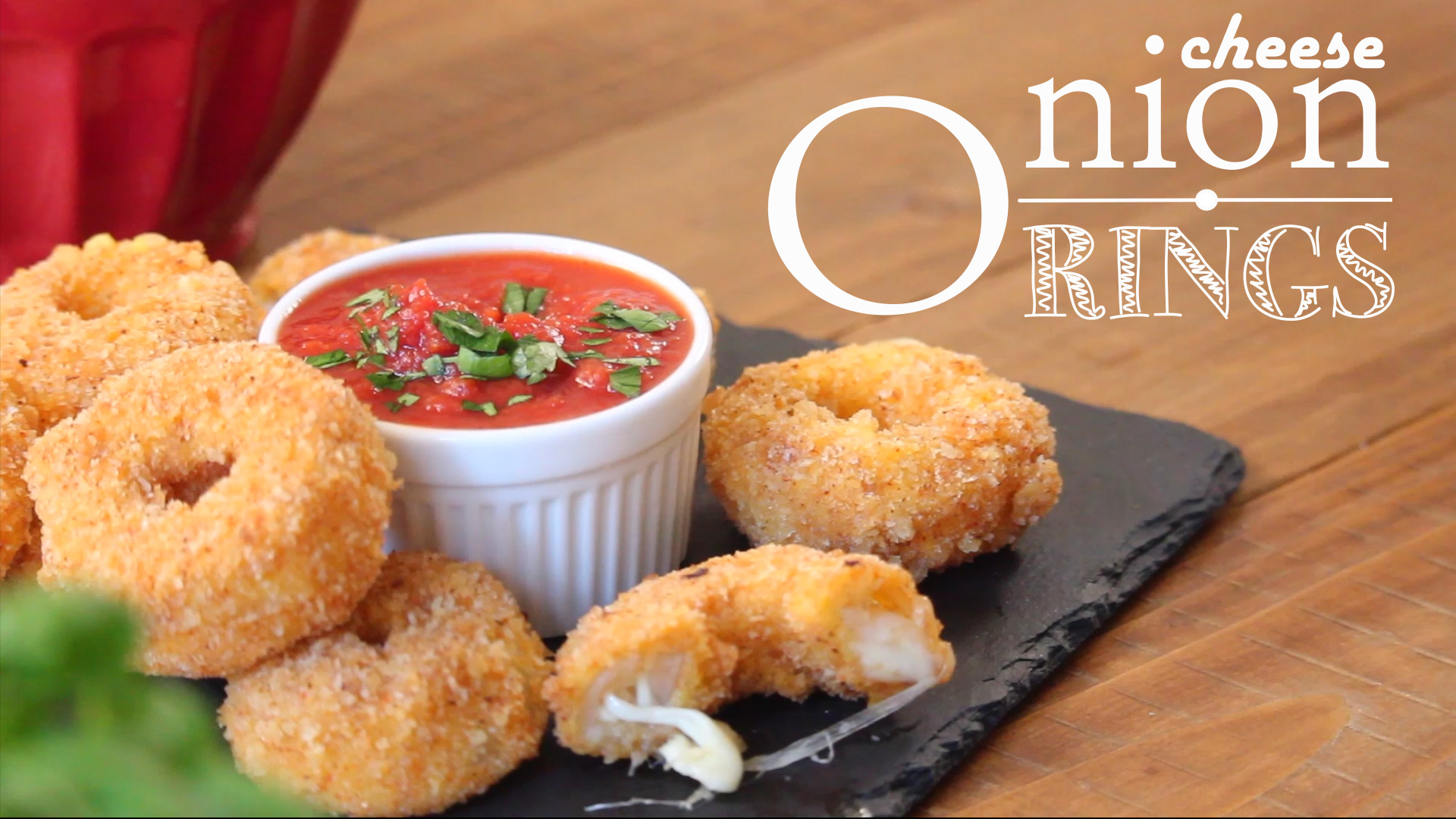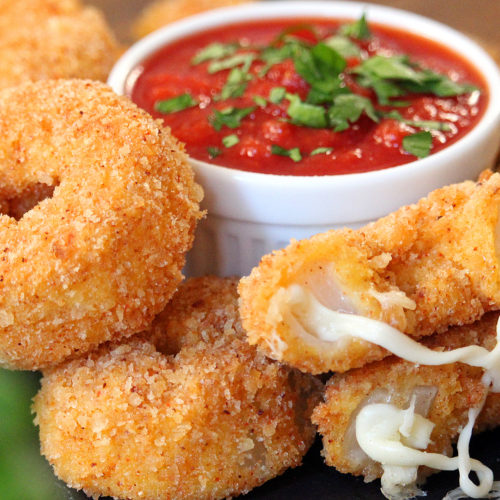 CHEESE ONION RINGS
What's better that cheese and onion? A recipe that combine these two ingredients of course!!
How to make the best Onion Rings coated with a super crispy paprika breading and filled with gooey and stretchy Mozzarella cheese. You can substitute Mozzarella with your favourite stretchy cheese like Cheddar, Swiss cheese or any other type.
You can also make it in eggless version: make a fluid mix of water and all purpose flour and dip your rings into this batter instead of egg wash.
You will fall in love with this irresistible party recipe!
Ingredients
3

onions

200 g

(7 oz)

mozzarella cheese

150 g

(1 cup)

all purpose flour

4

eggs

small or medium size

200 g

(1+1/2 cups)

bread crumbs

homemade

1

teaspoon

salt

1

tablespoon

sweet paprika

black pepper

vegetable oil for frying

peanut oil
Instructions
Makes the onion rings
Slice Mozzarella cheese in about ½ inch (1 cm) large slices, then cut them into about 0,5 inch (3 mm) thick thin strips.

Place the Mozzarella strips over a kitchen paper and press one kitchen paperover to absorb water excess. Set aside.

Peel and cut onions into ½ inch (1 cm) slices. Separate the rings.

Line a baking tray with parchment paper and place a smaller onion ring in the center of a larger one. Repeat with all the rings

Fill the gap between the rings with the Mozzarella strips.

Freeze for at least one hour (you can store them in freezer for weeks).
Makes the breading
In three separate medium size bowls palce: flour, eggs and bread crumbs.

Combine the bread crumbs with salt, black pepper and paprika.

Coat each frozen ring in the flour first, then dip into the eggs, then roll into the bread crumbs mix, then deep into the eggs again and one last time into the bread crumbs mix.

Place all the breaded rings onto a baking tray lined with parchment paper and place them in freezer until heat the oil (you can store them in freezer for weeks).

Fill a large pot with vegetable oil (I've used peanut oil) and heat over medium heat until it reaches 350° F - 175° C.

Deep fry the frozen rings until golden brown,for about 4 minutes (the minutes depends to the heat). Be careful not to over-fry them because the Mozzarella may ooze out completely.

Drain the rings on a paper towel and serve immediately with tomato sauce.
Video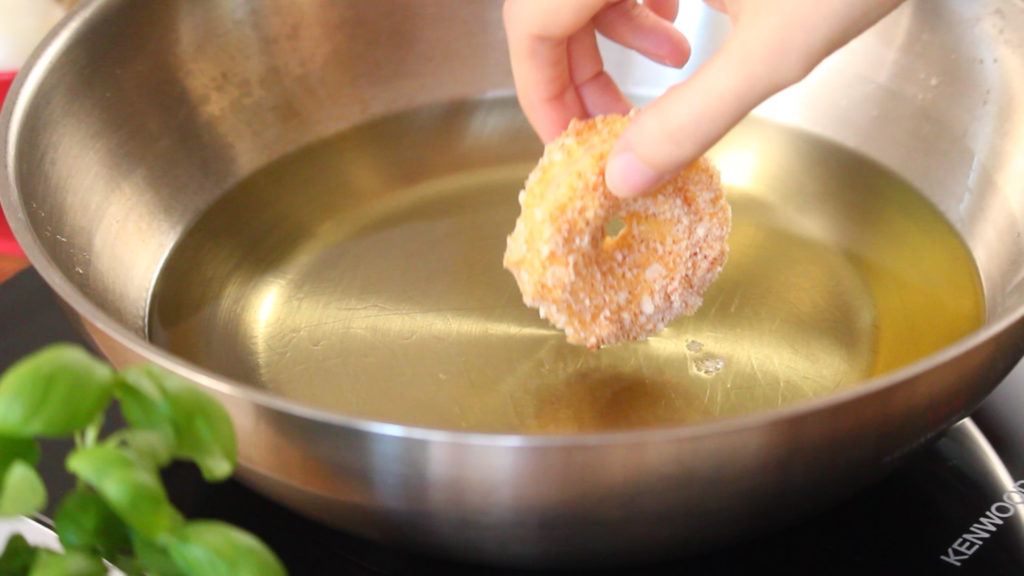 You can use your favourite vegetable oil for frying these rings. I prefer deep frying with Peanut Oil because of its high smoke point. Olive Oil is the best, but it gives a very strong flavor to the fried food and it's much more expensive.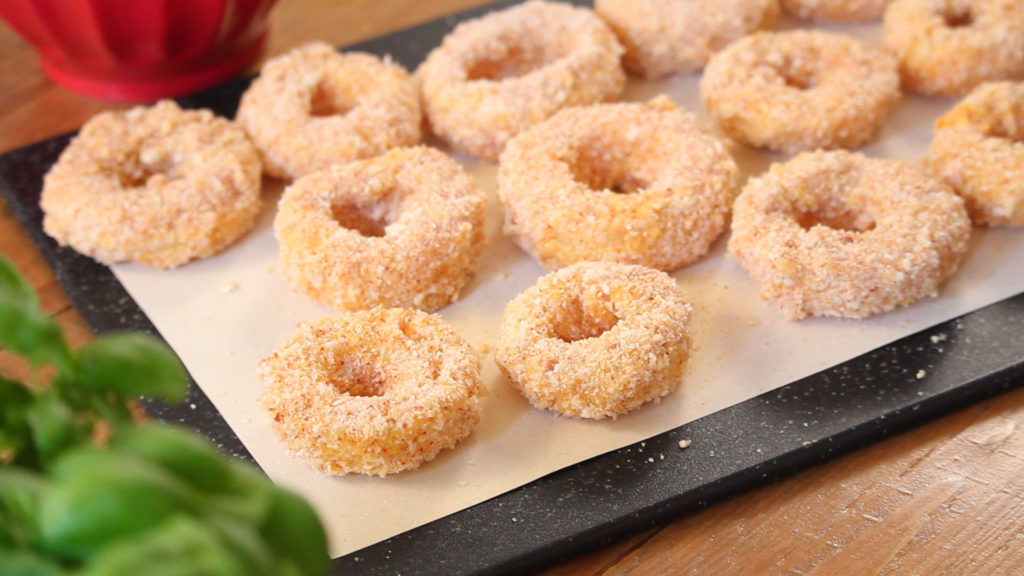 You can avoid eggs for breading and substitute them with a fluid mix made with flour and water.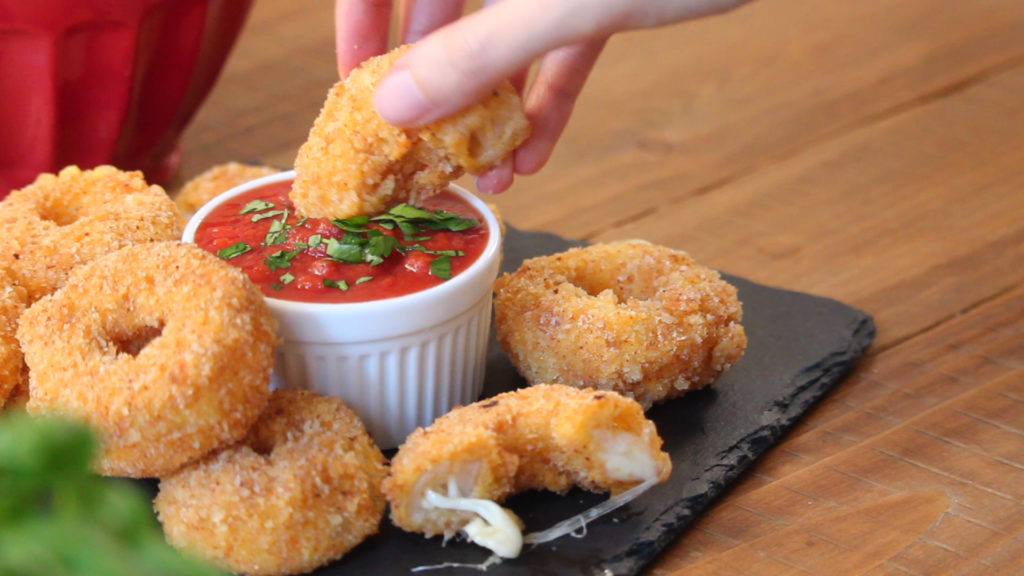 If you can't find Mozzarella in your Country, you can use other type of cheese, like Cheddar or Swiss cheese.