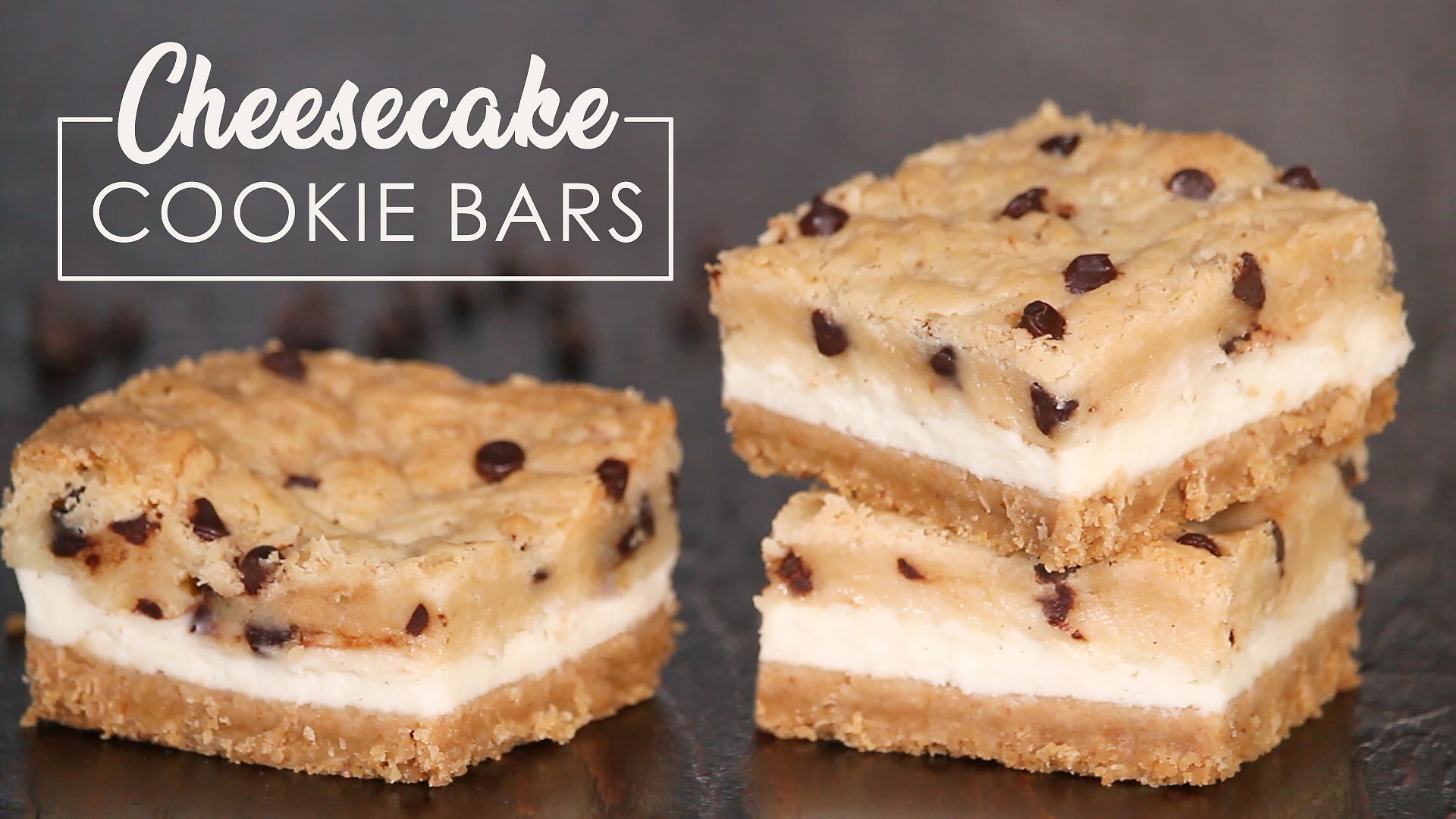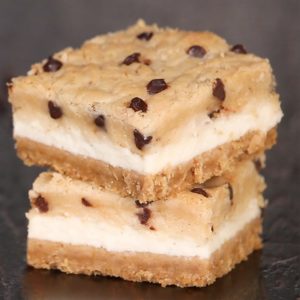 CHEESECAKE COOKIE BARS
With this recipe you can match two of the best treats ever: Cheesecake and Chocolate Chip Cookies! This indulgent dessert is made without eggs and no one could notice that! The taste is rich and absolutely irresistible.
The bottom cookie crust and the top of the cookie doguh is slighly crispy and crunchy, but the inside is so soft and creamy that melts in your mouth! You can clearly taste all the 3 layers that combine together into a luscious and tempting treat.
I've used classic Digestive biscuits for the crust (they are also without eggs), feel free to use any other biscuits you prefer, even chocolate cookies.
Just one advice: don't unmold or slice them before they are completely cooled down and chilled. I usually chill for at least 2 hours, but you can also make them the day before, store in refrigerator and serve the day after, they will be more delicious!
Ingredients
Crust
170 g

(6 oz)

biscuits like Digestive

85 g

(1/3 cup+1 tbsp)

unsalted butter

melted
Chocolate Chip Cookie Dough
110 g

(1/2 cup)

unsalted butter

room temperature

50 g

(1/4 cup)

brown sugar

50 g

(1/4 cup)

caster sugar

1 tsp

vanilla paste

or vanilla extract

30 g

(2 tbsp)

milk

room temperature

110 g

(1 cup)

all purpose flour

1/4 tsp

salt

1/4 tsp

baking powder

45 g

(1/4 cup)

chocolate chips
Cheesecake Filling
300 g

(10,5 oz)

cream cheese like Philadelphia

chilled or room temperature doesn't matter

75 g

(1/3 cup)

caster sugar

1 tsp

vanilla paste

or vanilla extract
Instructions
Crust
Line a 20x20cm - 8x8 inch pan with parchment paper.

Process biscuits in a food process until fine crumbs. If you don't have a food processor, you can place biscuits in a ziplock bag and roll using a rolling pin until fine crumbs.

Add melted butter and pulse until the crumbs are evenly moistened.

Place the crumbs into the prepared pan and press into the bottom until compact.
Chocolate Chip Cookie Dough
In a large size bowl, place softened butter, brown sugar, caster sugar, vanilla and mix with a spatula until creamy.

Add milk and mix until combined (don't worry if it lumps).

Incorporate sifted flour, salt and baking powder into the butter mix in two times using a spatula: don't overmix the dough.

Incorporate chocolate chips.

Put in refrigerator until assemble.
Cheesecake Filling
Place cream cheese, sugar, vanilla into a medium size bowl and mix until creamy and smooth.
Assemble
Remove the Crust from the fridge and spread evenly the Cheesecake Filling on top of the Crust.

Spoon the Cookie Dough on top of the Cheesecake Filling and gently evenly spread it. You have to cover all the Cheesecake layer with Cookie Dough. Use your finger to seal the edges.

Place some chocolate chips on top.

Bake in preheated fan oven (upper and lower heat) at 175°C-345°F for about 30 minutes.

Cool down completely in the pan and don't unmold it.

Chill in refrigerator for at least 2 hours before unmold it.

Cut in squares using a serrated knife.
Video
Notes
Store in refrigerator for about 6 days or in freezer for 2 months.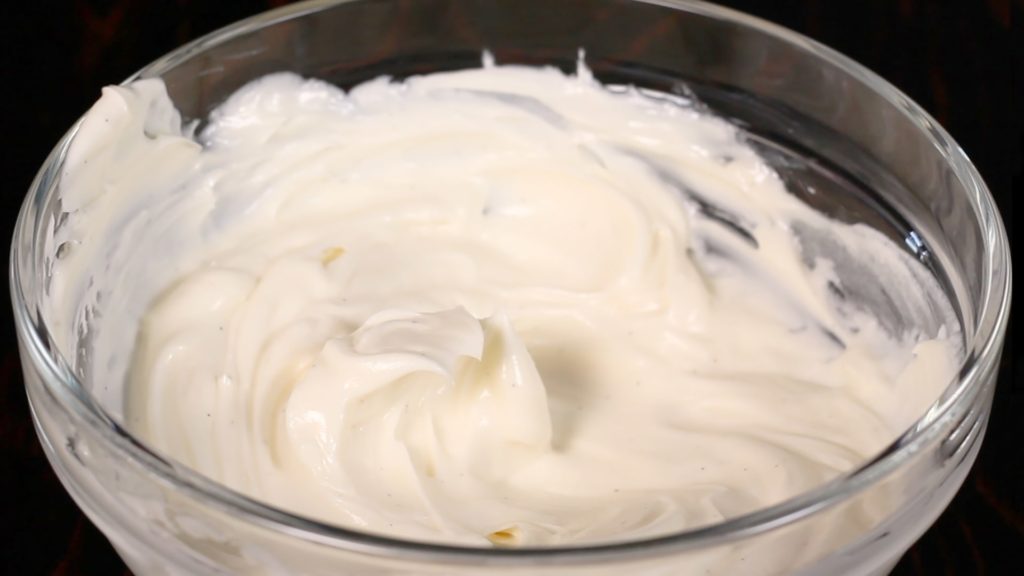 For this recipe doesn't matter if you use chilled or room temperature cream cheese. You sholud get a creamy and smooth texture, this is very important. Usually room temperature cream cheese become smooth faster than a chilled one, but I don't like to remove it from the fridge hours before use it, so in this recipe I used a chilled cream cheese and, as you can see, it becomes smooth pretty fast without any lumps!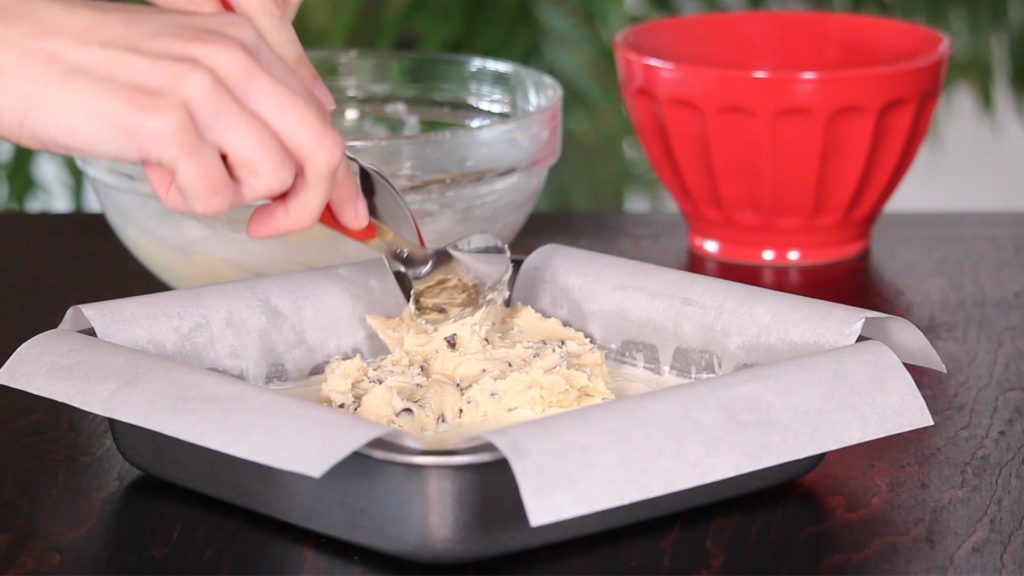 Cookie Dough is pretty sticky, for this reason I leave it few minutes in refrigerator before spoon it over the Cheesecake layer, so it's spreading better. Remember to cover all cheesecake layer, you should see only cookie on top, no one white cheesecake spots!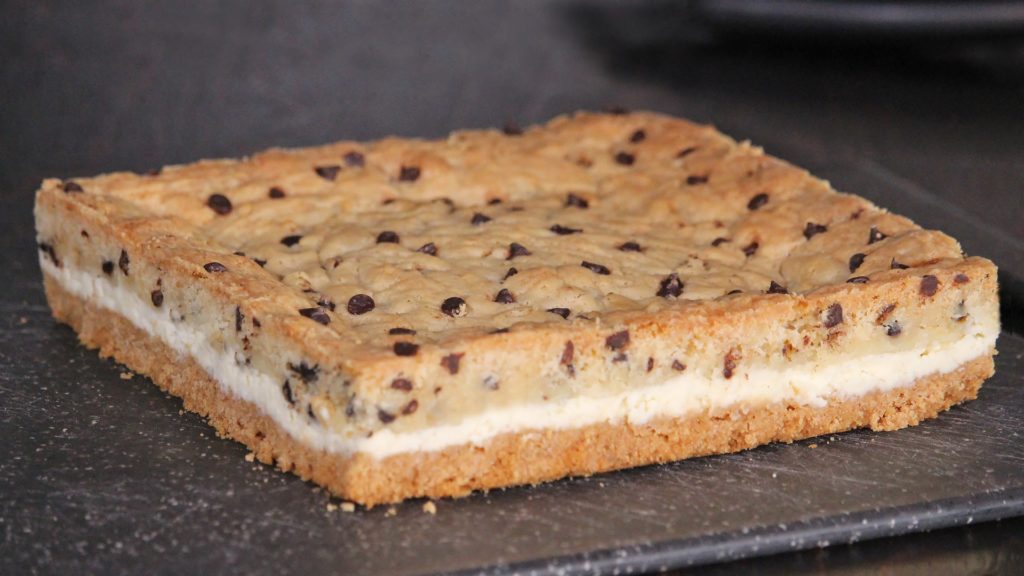 Trimming the edges is absolutely optional. I cut it into 9 squares, but I usually prefer slice it into 16 smaller cubes for more guilty-free delight moments!