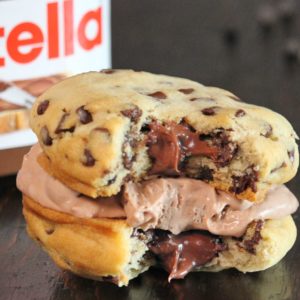 CHOCOLATE CHIP NUTELLA ICE CREAM COOKIE SANDWICH
Can you imagine something more irresistible than two Chocolate Chip Nutella Cookies stuffed with a creamy 3-ingredients Nutella Ice Cream?!
This is the best Summer treat ever!
Nutella Ice Cream is incredibly quick and easy to make, with just 3 ingredients (whipped cream, sweetened condensed milk and Nutella) it has the perfect aered soft and creamy texture. When you pop it out from the freezer, it's ready to be scooped almost immediately (it depends on your climate).
Here in summertime I can easily scoop it leaving it just 2 minutes at room temperature; during the Winter season it's ready in 5 minutes.
What's about my stuffed Chocolate Chip Nutella Cookies? They are always one of your favourite treat! Crispy chocolate chip cookies stuffed with creamy luscious Nutella!
For this recipe I used less sugar in the cookie dough because the Nutella Ice Cream is just sweet enough to balance the sugar amount.
I also have an EGGLESS version of these amazing Chocolate Chip Nutella Cookies: if you're strictly vegetarian, you can find the recipe here in my web-site in the Cookies section and use those cookies to make your Ice Cream Sandwich.
I suggest to assemble the Ice Cream Sandwich just before eat it (storing cookies at room temperature and Ice Cream of course in freezer), because the Nutella stuffing inside the cookies becomes too hard if you store cookies in freezer and the Nutella Ice Cream inside the cookies would melt faster than the Nutella stuffing in the cookies.
Ingredients
Nutella Ice Cream
480 g

(2 cups)

whipping cream

chilled

160 g

(1/2 cup)

sweetened condensed milk

230 g

(3/4 cup)

Nutella
Chocolate Chip Nutella Cookies
10

tsp

Nutella

110 g

(1/2 cup)

unsalted butter

room temperature

75 g

(1/3 cup)

sugar

1 tsp

vanilla paste

or extract

1

egg

room temperature

170 g

(1+1/3 cup)

all purpose flour

1/2 tsp

baking soda

7 g

(1 tbsp)

cornstarch

or the same amount of all purpose flour

pinch of salt

100 g

(2/3 cup)

chocolate chips
Instructions
Nutella Ice Cream
In a large bowl, place chilled whipping cream and whip until medium-soft peaks.

Add sweetened condensed milk, Nutella and mix until well combined.

Place in freezer for 1 hour then mix with a hand mixer (optional): with this step you get a more soft and aery ice cream texture, but you can also skip it and frozen until ready (about 6 hours).

Place Nutella ice cream in freezer for about 6 hours.
Chocolate Chip Nutella Cookies
Spoon 10 teaspoons of Nutella onto a baking sheet lined with parchment paper and freeze for 1 hour.

In a medium size bowl, mix together flour, baking soda, cornstarch and salt until well combined. Set aside.

In a large size bowl mix with a spatula the softened Butter, Sugar and Vanilla until creamy.

Add the egg and mix until combined (don't worry if it lumps).

Incorporate with a spatula the flour mix into the butter mix in two times: don't overmix the dough.

Incorporate chocolate chips into the dough. If you live in a hot climate, maybe you should need to refrigerate the cookie dough for about 30 minutes before form into balls.

Use a 5cm-2inch ice cream scooper and scoop out the cookie dough.

Flatten the cookie dough ball into a circle and place in the center a frozen scoop of Nutella.

Fold the edges of the cookie dough circle around Nutella stuffing and roll into a ball: if you live in a hot climate, roll quickly the cookies because Nutella tends to melt quickly or consider to freeze Nutella for minutes more.

Repeat for the rest of the dough: you'll get about 10 stuffed cookie balls.

Place 5 cookie balls on a lined baking sheet (at least 5 cm-2 inch apart) and bake in preheated fan oven, upper and lower heat, at 180°C-350°F for about 10 (until the edges will be golden brown).

Remove from the oven and allow the cookies to cool on the baking sheet for about 10 minutes before stransferring them to a wire rack to cool completely.
Assemble
Place 1 scoop of Nutella ice cream between 2 cookies. Gently press cookies together so ice cream should spread to edge of cookies and serve it immediately.
Video
Notes
Store cookies at room temperature in a tin cookie box for about 1 week.
Store Nutella ice cream in freezer for 2 months.
Assemble Nutella Ice Cream cookie sandwich just before serve it.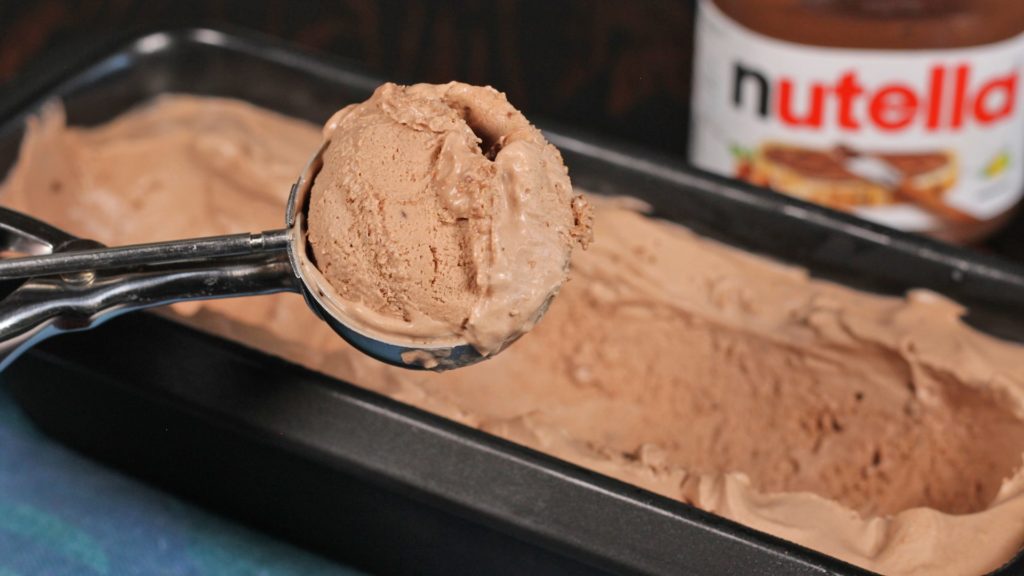 This Nutella Ice Cream recipe is incredibly easy, you don't need an ice cream machine and you can make it only with a hand mixer to whip the cream.
I whipped in two times: when I prepared the Ice Cream and after 1 hour in freezer. In this way the texture of the Ice Cream turns out perfect, very similar to an Ice Cream made in a ice cream maker. But you can skip this step: whip the cream only when you prepare the Nutella Ice Cream then transfer it in a freezer container and store it in freezer for 6 hours.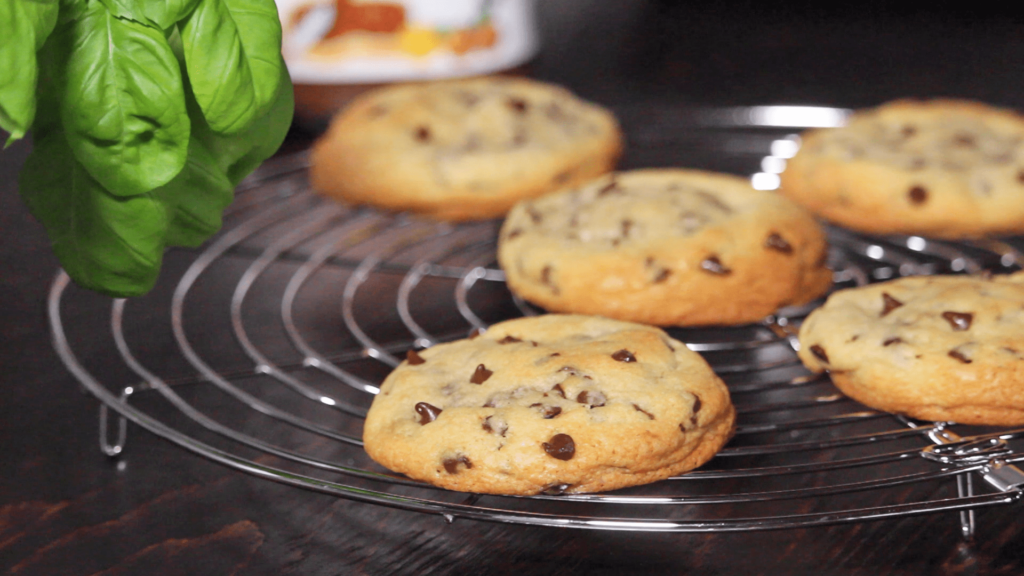 I suggest to assemble the Ice Cream Cookie Sandwiches just before serve them and not store them assembled in freezer because Nutella stuffing turns out very hard if frozen.
Store your cookies at room temperature in a tin cookie box, Ice Cream Nutella in freezer and match together when you need it!