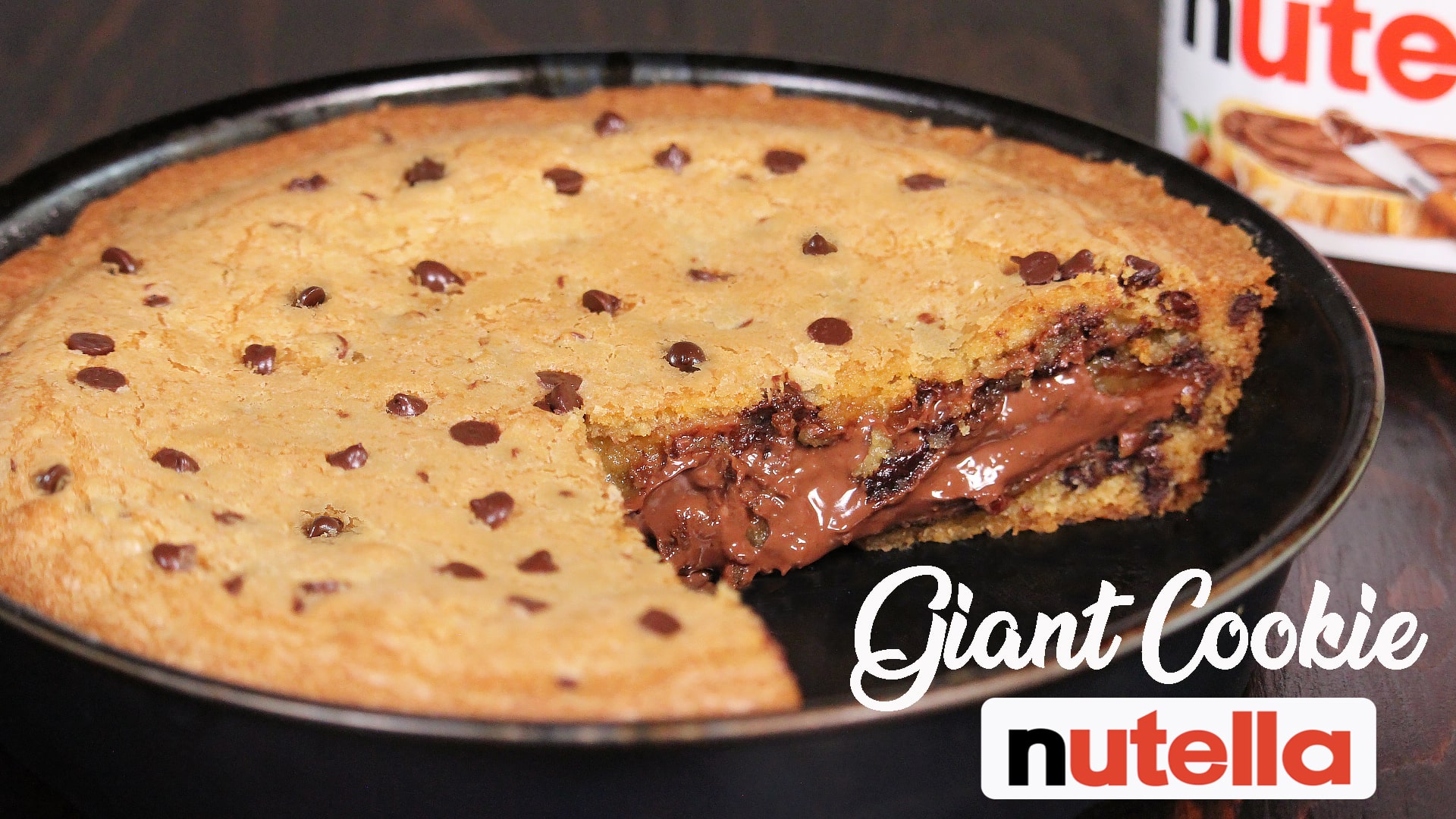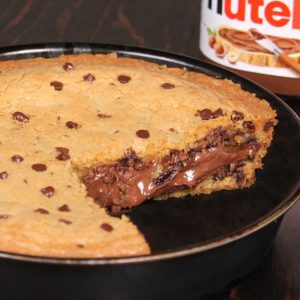 ONE SKILLET CHOCOLATE CHIP NUTELLA COOKIE
How to make a giant Chocolate Chip Cookie filled with irresistible and gooey Nutella!
You can make it in a skillet or a pie pan in few minutes, it has a crispy crust with a chewy and soft cookie center that melts in a delicious hazelnut Nutella core.
It doesn't metter if you serve it slightly warm with some ice cream on top or at room temperature, the Nutella filling will stay creamy and soft for days! The only tip is to not overbake it, or Nutella could become a bit dry. I've baked for 20 minutes in fan oven, if you prefer a crispier cookie you can bake it for 5 minutes more.
In my web-site you can also find my Chocolate Chip Nutella Cookies (egg ang eggless version too!) so you can also try those and choose if you prefer this giant cookie skillet or classic cookies...I honestly can't choose, I love them both!
Ingredients
110 g

(1/2 cup)

unsalted butter,

room temperature

50 g

(1/4 cup)

brown sugar

50 g

(1/4 cup)

caster sugar

1

egg,

room temperature

1 tsp

vanilla paste

or vanilla extract

160 g

(1+1/3 cup)

all purpose flour

3 g

(1/2 tsp)

baking soda

Pinch of salt

55 g

(1/3 cup)

chocolate chips

220 g

(3/4 cup)

Nutella

you can reduce to 150 g (1/2 cup)
Instructions
Line a 20 cm-8 inch pie pan (or a skillet) with plastic wrap.

Heat Nutella for few seconds in microwave until become a less thick and pour it into the lined pan: spread it well all over the pan.

Put in freezer for about 30 minutes or until completely frozen (you'll get a frozen Nutella disk).

Meanwhile place butter, vanilla, brown sugar, caster sugar into a large bowl and mix with a spatula until smooth, creamy and well combined.

Add the egg and mix with a whisk until well incorporated; don't worry if lumps a bit.

Sift in all purpose flour, baking soda, salt and gently combine with a spatula: add chocolate chips just before flour is well combined, and mix just until combined, don't overmix! You'll get a slightly but not too sticky mix; if too sticky, add a tbsp more of flour but don't exceed; if too thick, add a bit of milk.

Remove the hard frozen Nutella disk from the pan, place it again in freezer, then grease the pan and dust with flour.

Spred half of the cookie dough into the prepared pan. If too sticky, you can consider to put cookie dough in refrigerator for about 15-20 minutes.

Place the frozen Nutella disk on top, then spread the remaining cookie dough on top.

Place some chocolate chips on top.

Bake in preheated fan oven (upper and lower heat) at 180°C-350°F for about 20 minutes. If you prefer a more crunchy cookies, consider baking 5 minutes more but don't exceed with baking or your Nutella will turn out dry!

Remove from the oven and cool down before serve it; if you want to slice it, wait to cool down completely before serve it or it will be too soft. If you didnd't over bake it, Nutella will stay creamy for days!

You can serve with ice cream on top.
Video
Notes
You can store it at room temperature covered with plastic wrap for about 4 days or cut in slices and store them in a cookie box for about 1 week.
You can also store in freezer - both raw than baked - for about 2 months.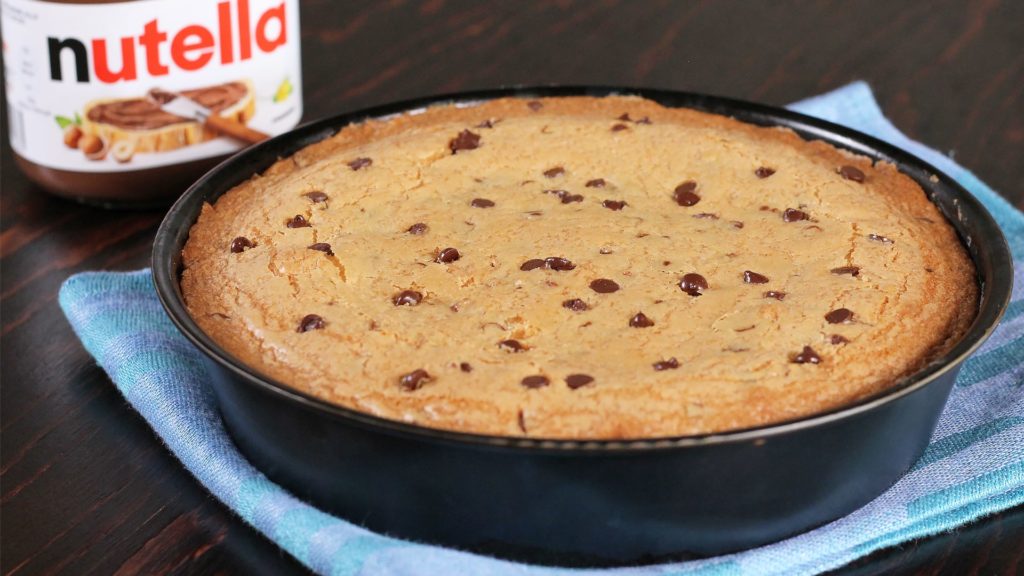 I bake all my cookies in a fan electric oven (upper and lower heat), this Nutella cookie skillet is no exception. If you have an oven with fan option, turn it on, it gives a great crispy crust that is perfect for cookies!
I baked it at 180° for 20 minutes, the center of the cookie dough is chewy and Nutella is very creamy as you can see. If you prefer a slightly crunchy cookies, you can bake it for some minutes more, but don't exceed or you Nutella center could turn out a bit dry!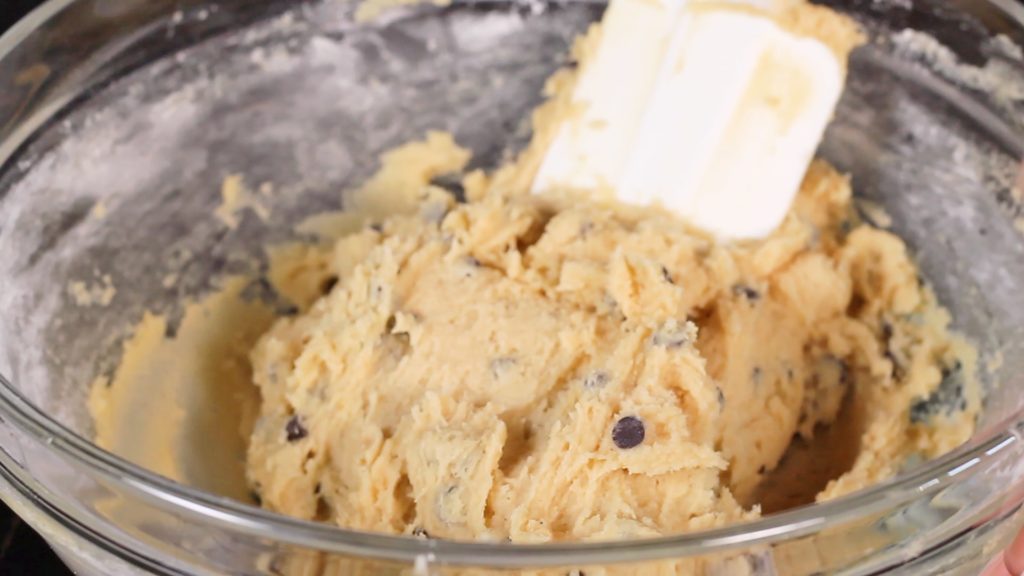 When you make cookie dough, the consistency could vary a bit depending on the size of your egg or your flour: even if we use all purpose plain flour, every brand (even flour coming from different Countries) could be slightly different, so we can have flour that absorbs less or more liquid.
You should reach a soft and very slightly sticky dough, not too much. You can see in the recipe video above the test I made with my finger, it could help you to understand if your dough consistency is right.
If your dough turns out too thik, you can add a bit of milk; if turns out too creamy and sticky, you can add a bit more flour.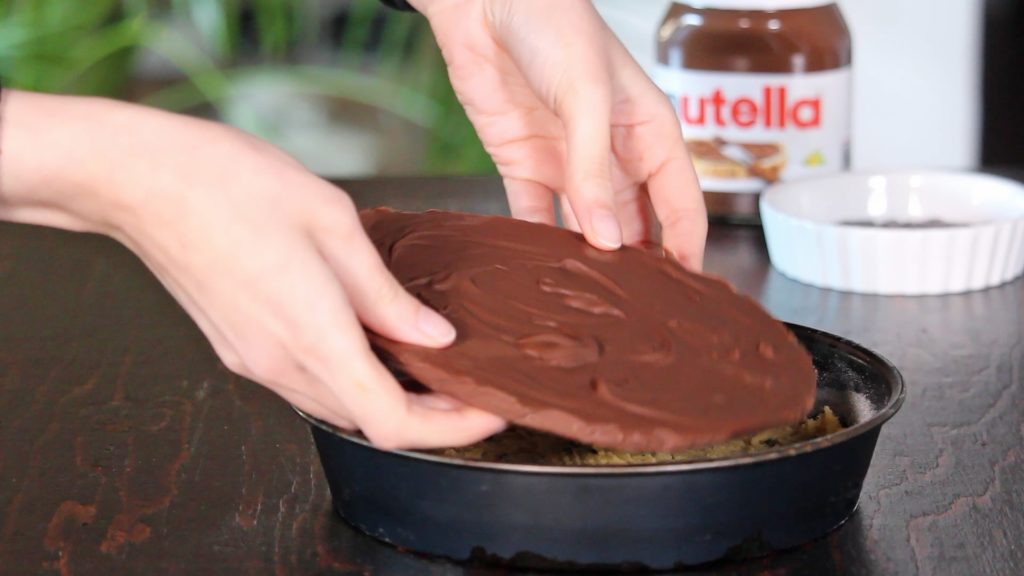 As you can see in my recipe video, I used a big Nutella amount! I love that generous creamy and luscious hazelnut filling…but if you think it's too much for you, you can reduce a bit the Nutella amount and use just 150 g of Nutella. Don't usee too little Nutella, or you won't get a creamy filling!
When I use Nutella for filling cookies, I always freeze it. This helps the Nutella filling to rest more chilled when the skillet is baking and your Nutella will turn out creamy after baking. Remember that if you bake Nutella too much, it becomes dry! It doesn't need the oven heat for melting because it's pretty creamy at room temperature.