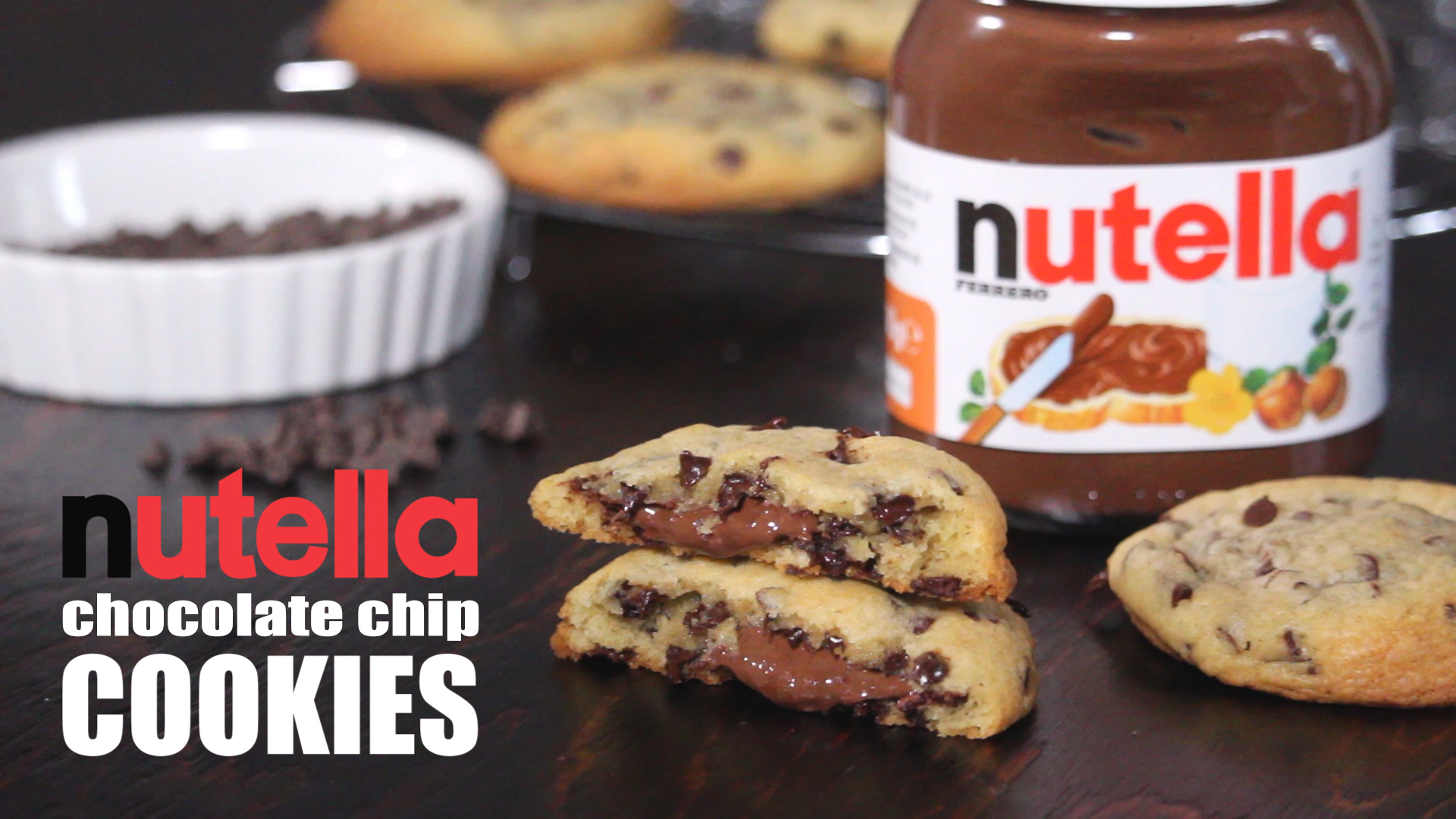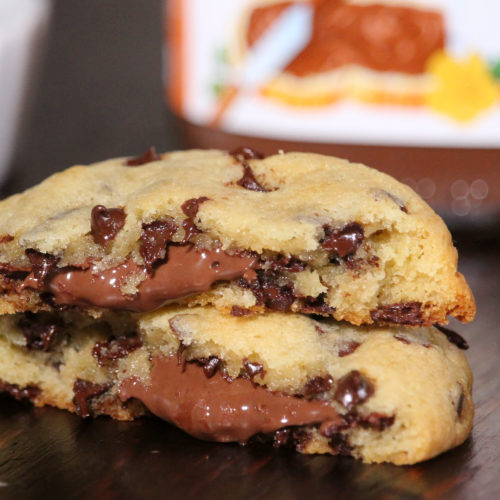 CHOCOLATE CHIP NUTELLA COOKIES
If you love Nutella, this is a must try! With this recipe you'll get thick chocolate chip cookies filled with a gooey Nutella core…absolutely irresistible!
The edges are slightly crispy but the center is soft and chewy. The Nutella filling is going to stay soft and creamy for a lot of days after you bake them!
Just one advice: don't over bake them or they dry out.
Ingredients
10

large teaspoons

Nutella

110 g

(1/2 cup)

unsalted butter

softened at room temperature

100 g

(1/2 cup)

caster sugar

1

teaspoon

vanilla paste

or vanilla extract

1

egg

175 g

(1+1/3 cup)

all purpose flour

1

teaspoon

baking soda

7 g

(1 tbsp)

cornstarch

Pinch of salt

100 g

(2/3 cup)

chocolate chips
Instructions
Spoon 10 large teaspoons of Nutella onto a baking sheet lined with parchment paper and freeze for 1 hour.

In a medium size bowl mix together flour, baking soda, cornstarch and salt until well combined. Set aside.

In a large size bowl mix with a spatula the softened butter, sugar and vanilla until creamy.

Add the egg and mix until combined (don't worry if it lumps).

Incorporate with a spatula the flour mix into the butter mix in two times: don't overmix the dough.

Incorporate chocolate chips to the dough. If you live in a hot climate, maybe you could need to refrigerate the cookie dough for about 30 minutes

Use an ice cream scoop (5 cm - 2 inches) and scoop out the cookie dough.

Flatten the cookie dough ball into a circle and place in the center a frozen scoop of Nutella.

Fold the edges of the cookie dough circle around Nutella stuffing and roll into a ball. If you live in a hot climate, roll quickly thecookies because Nutella tends to melt quickly or consider to freeze Nutella for minutes more.

Repeat for the rest of the dough: you'll get 9 or 10 big stuffed cookie balls.

Place the balls onto a lined baking sheet and refrigerate it for 1 hour.

Place 5 cookie balls on a lined baking sheet (at least 5 cm-2 inch apart) and bake in preheated fan oven (upper and lower heat) at 180°C-350°F for 10-12 minutes until the edges will be slightly golden brown. Don't overbake them or Nutella will turn out dry and not creamy!

Remove from the oven and allow the cookies to cool on the baking sheet for about 10 minutes before transferring them to a wire rack to cool completely.
Video
Notes
You can store cookies in an air tigh container or a cookie box at room temperature for up to 1 week, the Nutella center will stay creamy and won't dry out if you didn't over bake them.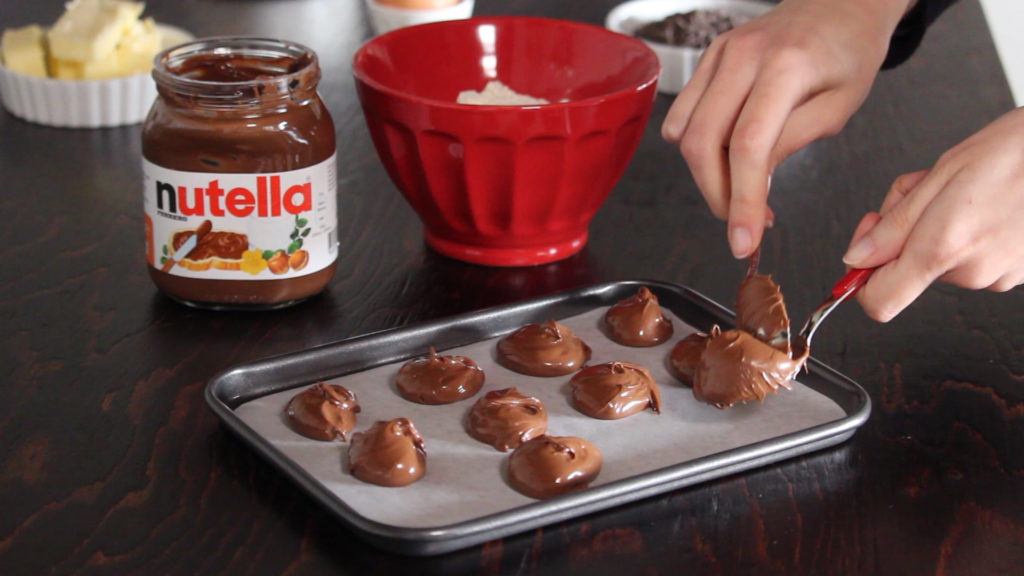 "Why my Nutella didn't melt in the oven and turned out dry"? 
I've received many questions like this and I always answer in this way: Nutella is creamy at room temperature, so you don't need the heat of the oven for melting it.
If your Nutella center turned out dry and not creamy as you can see in my video, the main mistake you could make, is to overbake your cookies. 
If you heat and bake Nutella too much, it will become dry, so remember to not bake your cookies too much and use a generous amount of Nutella in the center!
If you live in a hot climate, roll quickly the cookies because Nutella tends to melt fast, or consider to freeze Nutella for minutes more.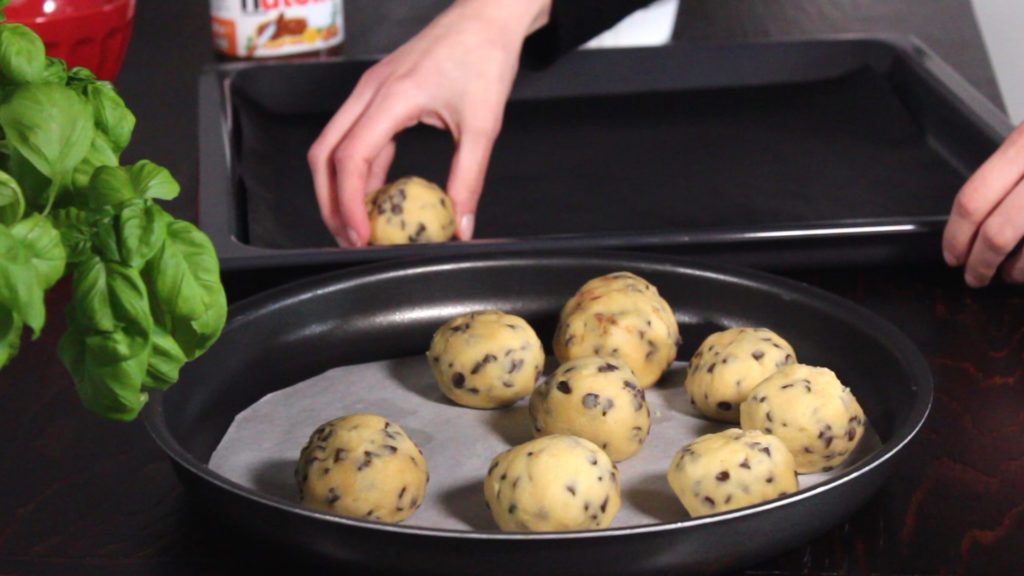 You can consider to refrigerate the cookie dough for about 30 minutes before shaping into balls, the dough will be less sticky.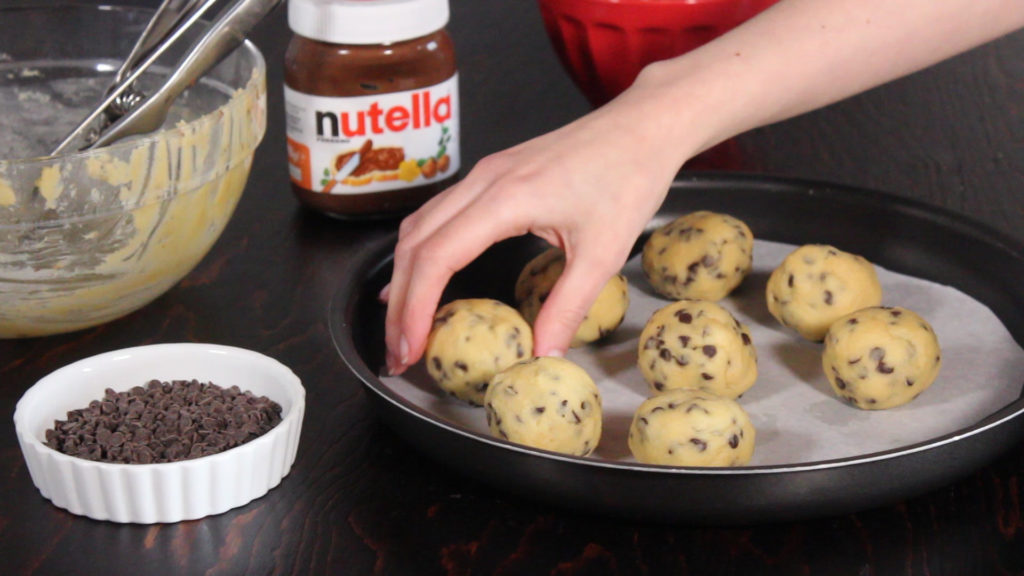 You can prepare the cookie balls the day before, store in refrigerator, and bake them the day after. You can even store the cookie balls in freezer for about 2-3 months and directly bake them when you need some freshly baked cookies!