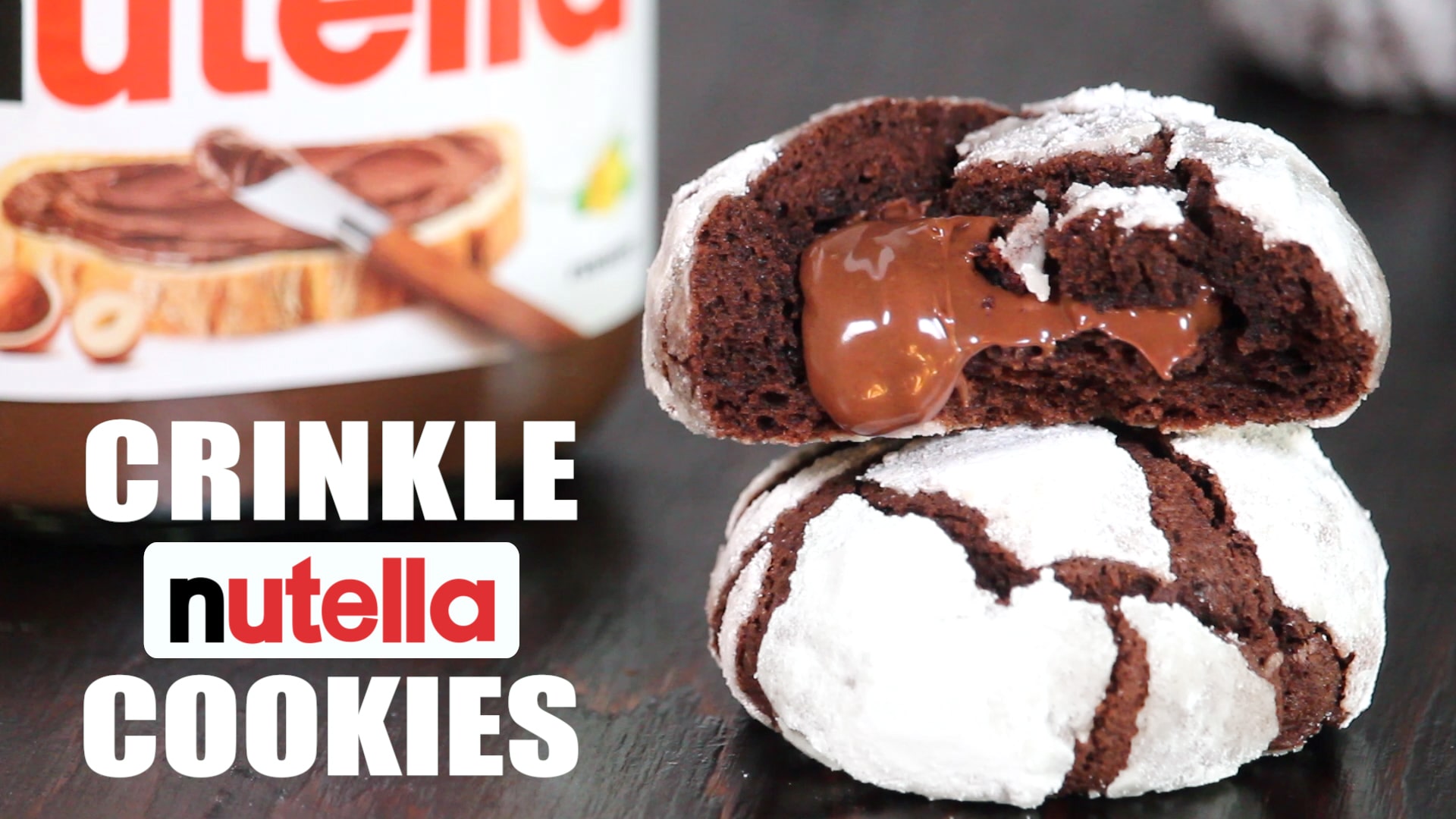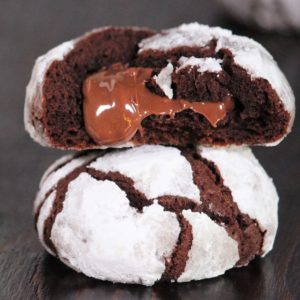 CHOCOLATE NUTELLA CRINKLE COOKIES
If you're looking for the best Chocolate Crinkle Cookies ever, you're in the right place!
Slightly cripsy sugar crust, soft chocolate cookie dough with an irresistible creamy Nutella core...this is a match made in heaven!
In this recipe I show you how to always get a perfect cirnkle pattern sugar crust; if your sugar often melts in the oven, you can learn all my tips down below.
Remember that chilling your cookie dough is pretty important in this recipe, if you'll skip the refrigerating time, you could get sticky dough and your cookies would absorb the sugar coating.
Perfect for filling your Christmas cookie boxes, they will surely become one of your favourite in every season!
Ingredients
110 g

(1/2 cup)

unsalted butter

room temperature

110 g

(1/2 cup)

caster sugar

2

eggs

room temperature

180 g

(1+1/2cup)

all purpose flour

1/8 tsp

salt

50 g

(1/2 cup)

unsweetened cocoa powder

6 g

(1+1/4 tsp)

baking powder

15 large tsp

Nutella
Coating
30 g

(3 tbsp)

granulated white sugar

50 g

(1/3 cup)

powdered sugar
Instructions
In a large bowl, mix softened butter and sugar with a spatula until creamy.

Add the eggs one a time and mix just until combined (don't worry if it lumps a bit).

Sift in all purpose flour, salt, cocoa, baking powder and mix with a spatula just until well combined: don't overmix!

Cover the bowl with plastic wrap and refrigerate for about 60-90 minutes: don't skip the refrigerating time, the dough has to be chilled!

Meanwhile place 15 large tsp of Nutella onto a lined tray and put in freezer forabout 1 hour or until completely frozen.

Spoon the chilled cookie dough using a 4 cm-1,5 inch ice cream scooper.

Flat the cookie ball until get a circle and place in the middle a frozen Nutella scoop.

Fold the edges of the cookie dough circle around Nutella stuffing and roll into a ball.

Repeat for the rest of the dough: remember to roll quickly so your dough will stay chilly! You'll get about 15 stuffed cookie balls.

Coat every ball into granulated white sugar, then coat into powdered sugar.

Place coated cookie balls onto a lined baking sheet, about 5 cm-2 inch from each other.

Just before bake them, roll a second time the cookie balls into powdered sugar: remember that your balls have to be well chilled, or they will absorb powdered sugar and the crinkle pattern won't turn out sharp after baking time.

Bake in preheated fan oven (upper and lower heat) for 10 minutes: don't bake too much or the Nutella center won't stay creamy.
Video
Notes
You can store them in a tin cookie box at room temperature for about 1 week.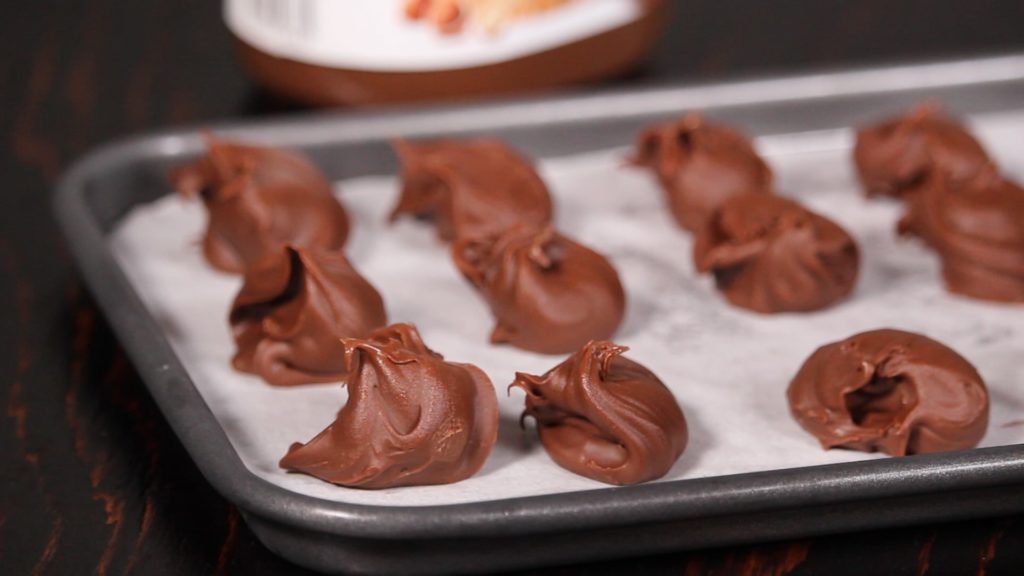 It's very important to freeze completely your Nutella spoons for forming your cookie balls. In this ways it will be very easy to put one hard-frozen Nutella spoon in the center of your cookie dough without getting your hand dirty and make a mess!
Remember that Nutella melts fast at room temperature, so roll quickly your cookies. If Nutella starts melting, just put it again in freezer for few minutes.
Baking your cookies with a frozen-chilled Nutella center, also help you to get a creamy Nutella core, because if Nutella bakes too much, it will become dry!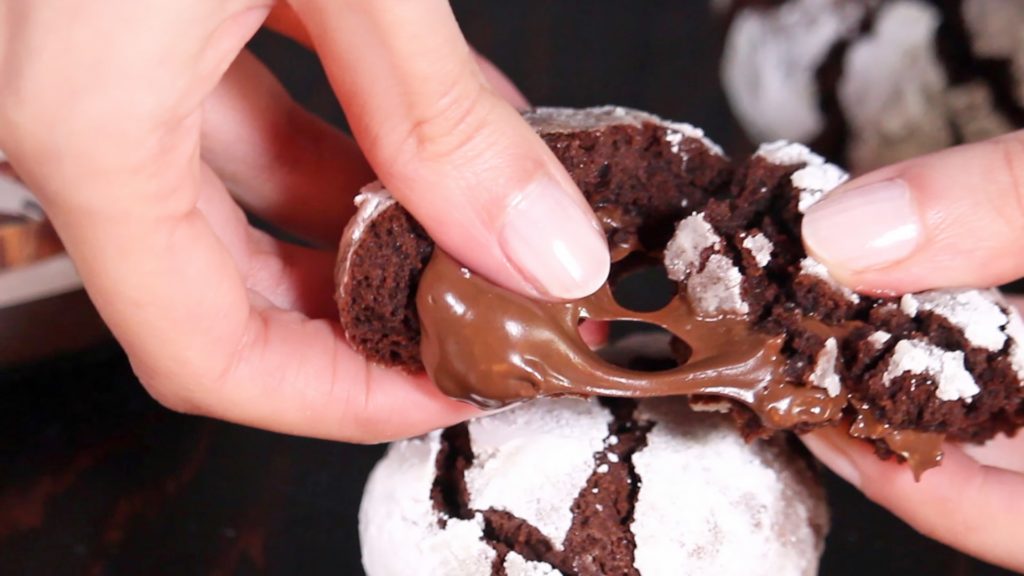 "Why my Nutella didn't melt in the oven and turned out dry"? 
I've received many questions like this and I always answer in this way: Nutella is creamy at room temperature, so you don't need the heat of the oven for melting it.
If your Nutella center turned out dry and not creamy as you can see in my video, the main mistake you could make, is to overbake your cookies. 
If you heat and bake Nutella too much, it will become dry, so remember to not bake your cookies too much and use a generous amount of Nutella in the center!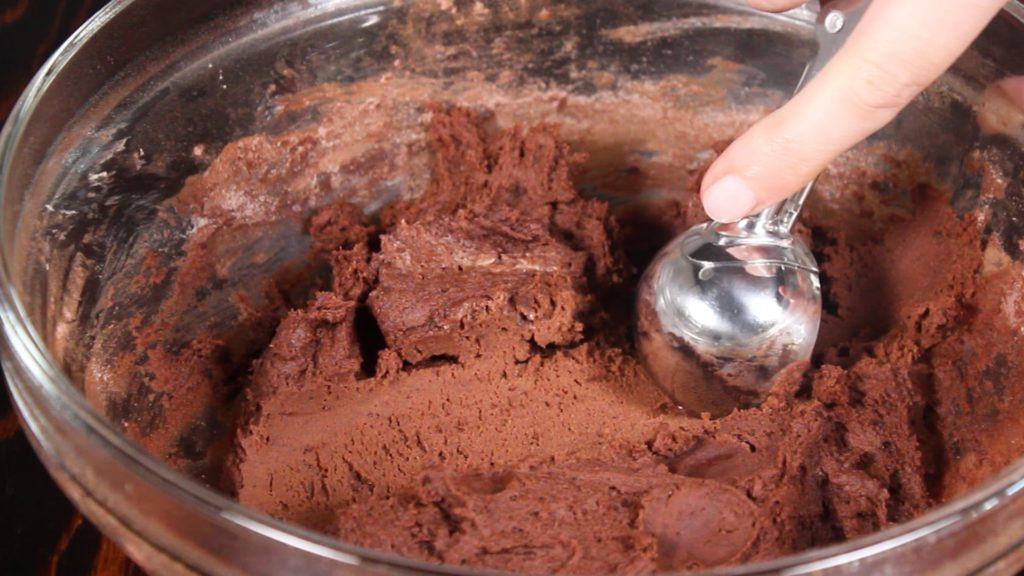 Don't skip the refrigerating time! I put  my cookie dough in refrigerator for 60-90 minutes (depends on the season), so I get a not-sticky dough and I can roll my cookie easily.
Working with chilled dough also helps the sugar coating to not melting, so, if your dough become warm while you're rolling your cookies, just place it in refrgierator for some minutes.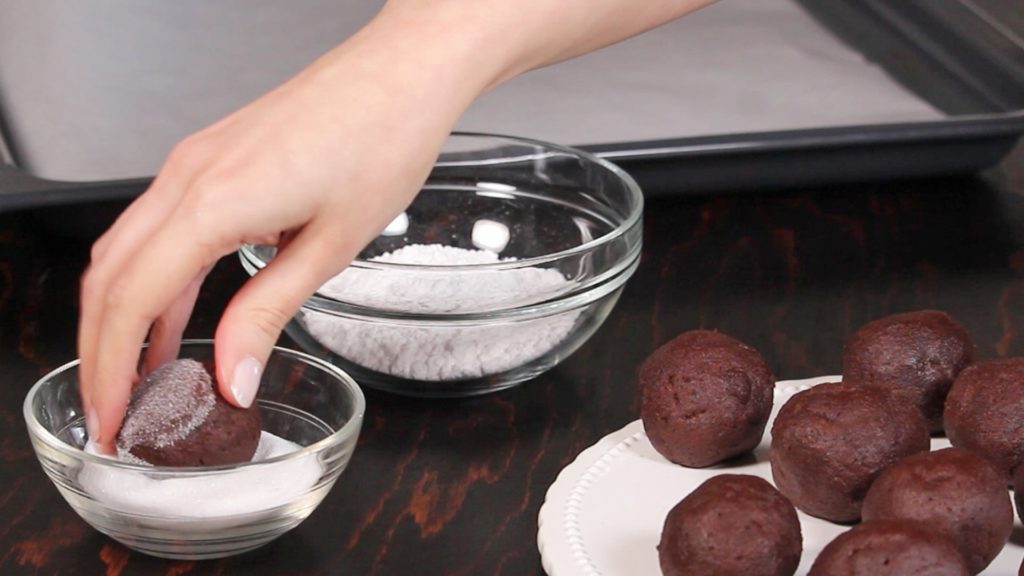 The best way to always get perfect and sharp crinkle pattern on top of your cookies, is to make a double sugar coating…or, more precisely, a triple one.
Roll your cookie balls in granulated sugar, to create a barrier between cookie dough and powdered sugar; then you can coat your balls in powdered sugar.
When you've finished rolling all your cookies twice, then you can make another generous powdered sugar coating, just before putting your cookies in the oven.
If your cookie balls warmed too much before you coat them into sugar, place them in refrigerator for some minutes to chill.
In this way you'll always have perfect beautiful Crinkle Cookies!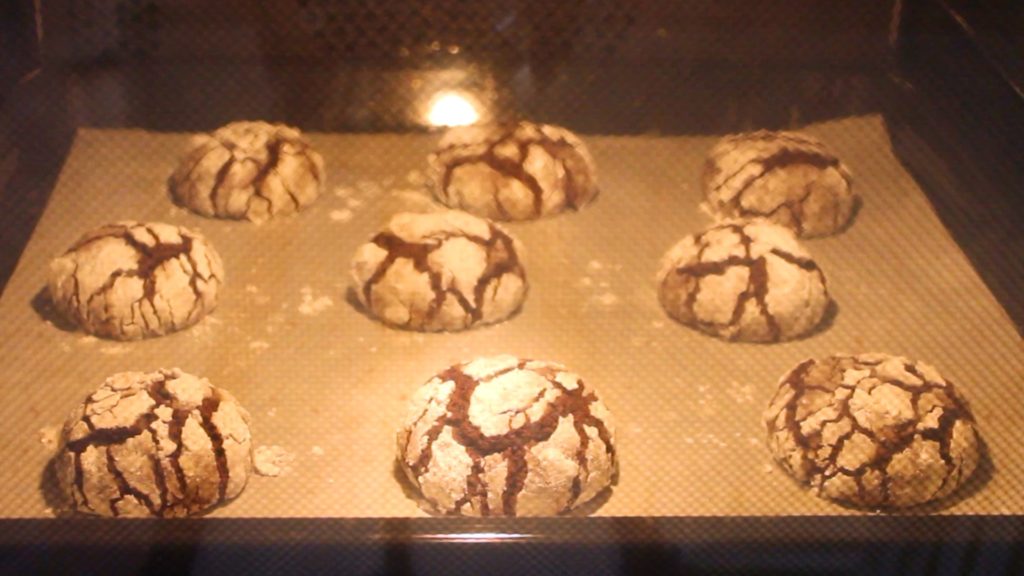 The baking time is an important step too. 
I bake my cookies in fan electric oven to get a delicious crispy crust outside. Don't worry if you don't have a fan assistant, but always remember to bake your cookies with both upper and lower heat.
Microwave won't work for these cookies because it cooks from the inside to the outside (the opposite than a standard oven) so it will cook your Nutella center turning it into a dry core!