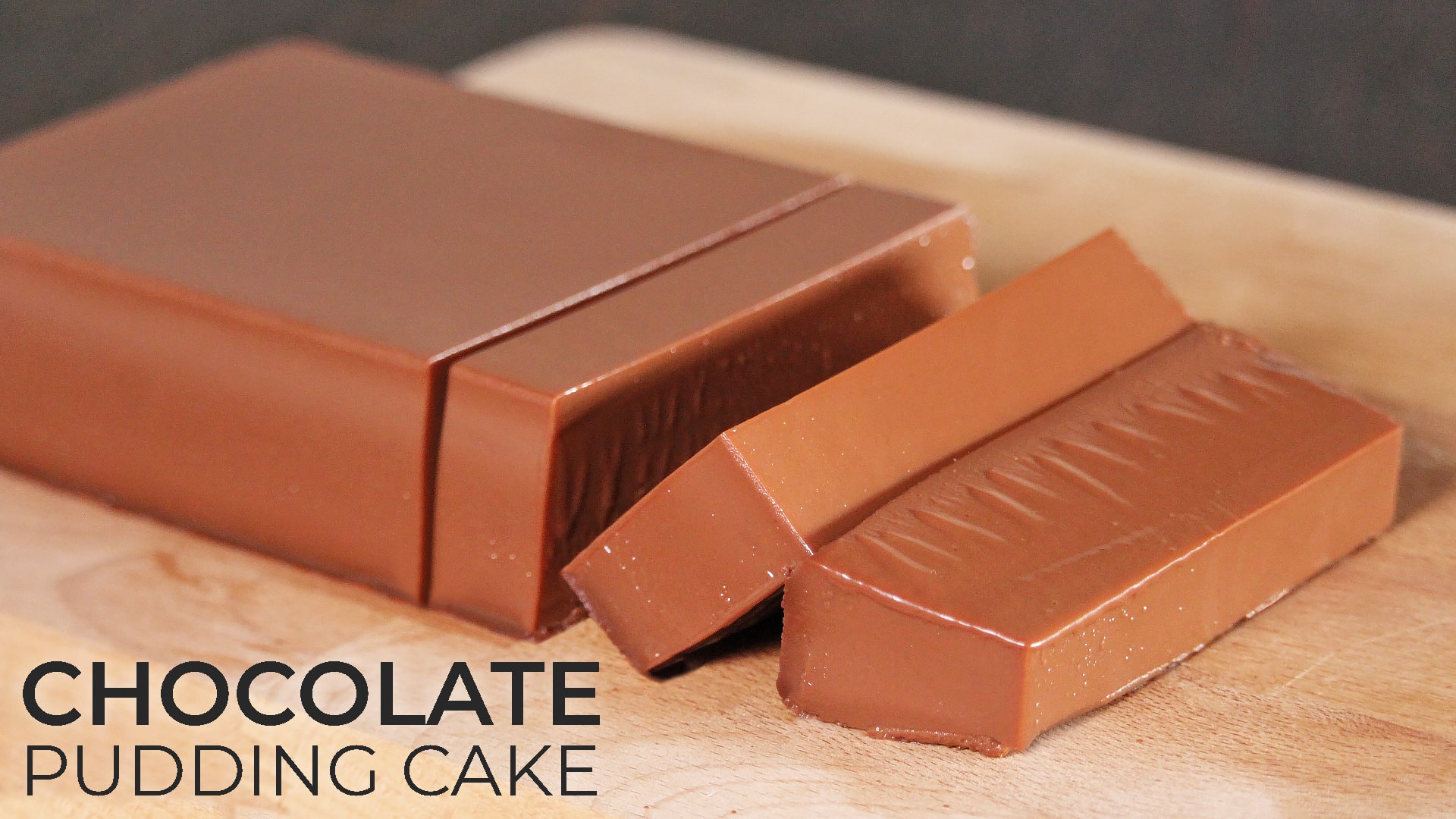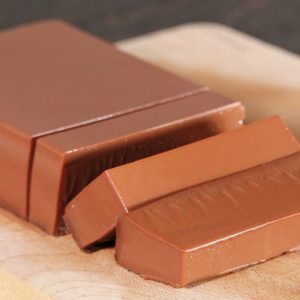 CHOCOLATE PUDDING CAKE
This Chocolate Pudding Cake is incredibly easy to make: you just need to mix 4 ingredients, cook for few minutes and refrigerate it!
It's made with agar agar (a plant-based gelatin made with seaweed) so, if you substitute milk with vegetable milk, is suitable for vegans too. Thanks to agar agar, this Chocolate Pudding turns out incredibly creamy and rich but firm at the same time.
If you can't find agar agar, you can substitute it with the same amount of gelatin leaves or gelatin powder. If you use gelatine, you don't need to cook your mix many minutes, just dissolve your gelatin into hot mix.
I've added Instant Coffee powder but it's not needful: it enhances chocolate flavor, I think it's the perfect touch in this recipe, but the final pudding won't taste strong of coffee, don't worry! So if you want a strong coffee flavor, increase instant coffee powder amount.
This Chocolate Pudding Cake is simply amazing served with unsweetened whipped cream, I suggest to try it: you won't regret it!
Ingredients
720 ml

(3 cups)

milk

room temperature

150 g

(2/3 cup)

sugar

10 g

(1 tbsp+1/4 tsp)

agar agar powder

or gelatin

225 g

(8 oz)

dark or bittersweet chocolate

55-70% cocoa

6 g

(1 tbsp)

instant coffee powder

optional
Instructions
In a medium size pot, place milk, sugar, agar agar and set aside. Agar agar powder needs only few minutes to hydrate itself.

Meanwhile, finely chop the chocolate and set aside.

Bring milk mix to a slightly simmer over medium-low heat: whisk very often/constantly to avoid milk burning and to dissolve completely agar agar.

When the mix starts simmering, low the heat, add coffee powder, chopped chocolate and mix until well dissolved.

Let the mix boiling for 6-7 minutes over low heat mixing constantly. You'll get a smooth hot chocolate mix.

Transfer the hot mix into a 900g-2pounds (1 liter-4 cups) loaf mold. You can also use a silicone mold or single serving disposable molds to easily unmold.

Cool down at room temperature, then transfer in refrigerator for at least 2 or 3 hours.

Unmolding this pudding could be a bit challenging if you're using a loaf pan as I did: watch my recipe video to see how I unmolded it.

Hot a knife over the stovetop to slice it. Clean the blade after every cut.
Video
Notes
Store in refrigerator for about 5 days.
It's delicious served with unsweetened whipped cream!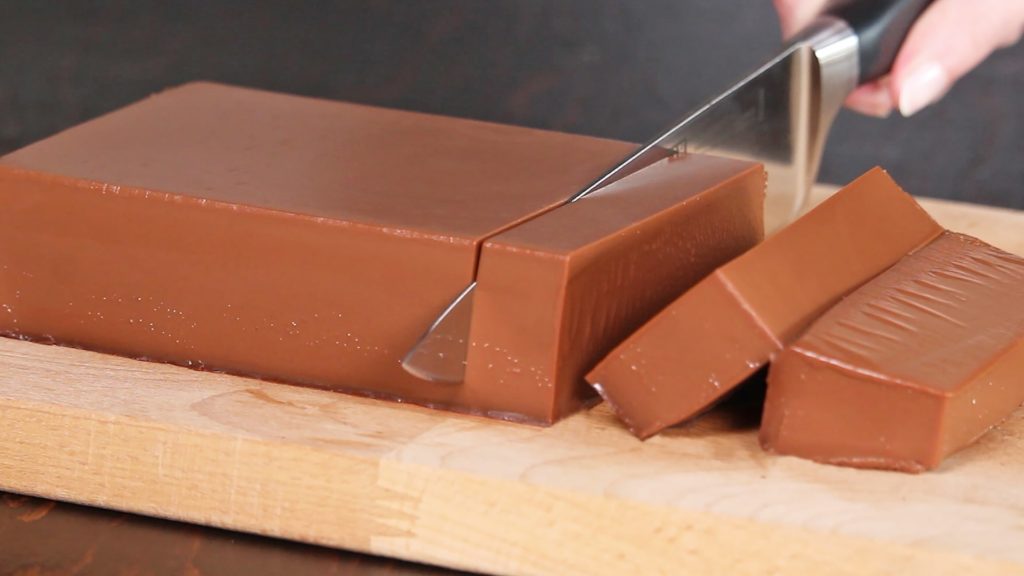 This chocolate dessert becomes solid thanks to agar agar, a plant based powder gelatin derived from seaweed, so it's suitable also for Vegans. You just need to dissolve it into your milk mix and boil it for about 6-7 minutes on medium-low heat. It will thick when it cools down.
Instead of gelatin it needs more heat to completely dissolve it, so don't skip to simmer for few minutes or it won't work. It gives a thick, rich but creamy texture, pretty different than the "jiggly" gelatin.
If you can't find agar agar, you can substitute it with the same amount of gelatin powder or gelatin leaf.
If you use gelatin leaf you have to soak it into cold water for few minutes, then squeeze it and dissolve it into your hot chocolate-milk mix and it's ready without place it over the heat again.
If you use gelatin powder, place it in about 4-5 tbsp of milk and heat until completely dissolve it. Then you can put it into your hot mix.
As you can see in my recipe video above, unmolding from a loaf pan is not easy. If you don't want to have issues, I suggest to use a silicone mold or single serving molds or disposable molds you can break to unmold your chocolate dessert.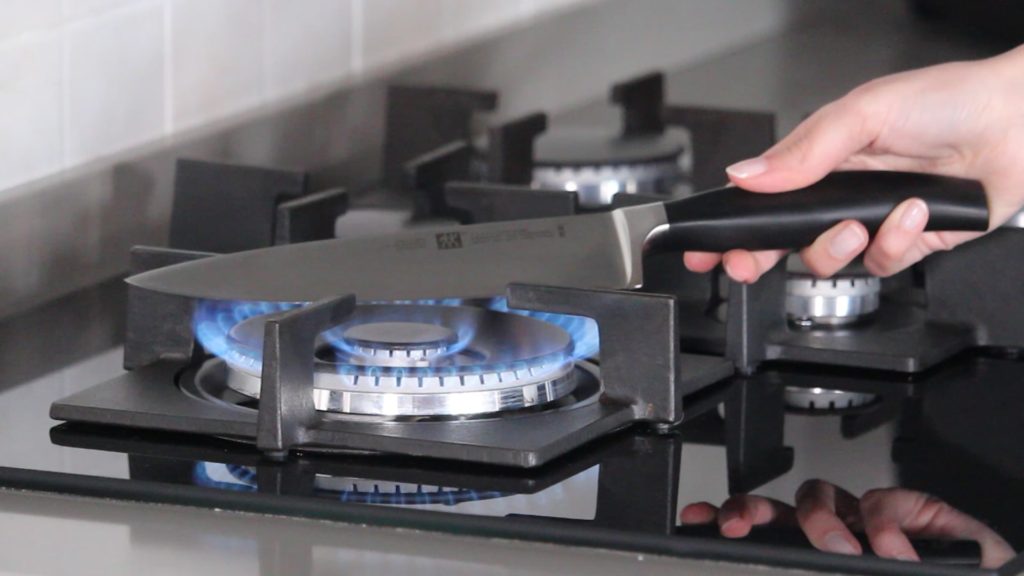 To get perfect cuts, heat your knife over the stove top and cut your chilled dessert. After every cut, I suggest to clean the blade.