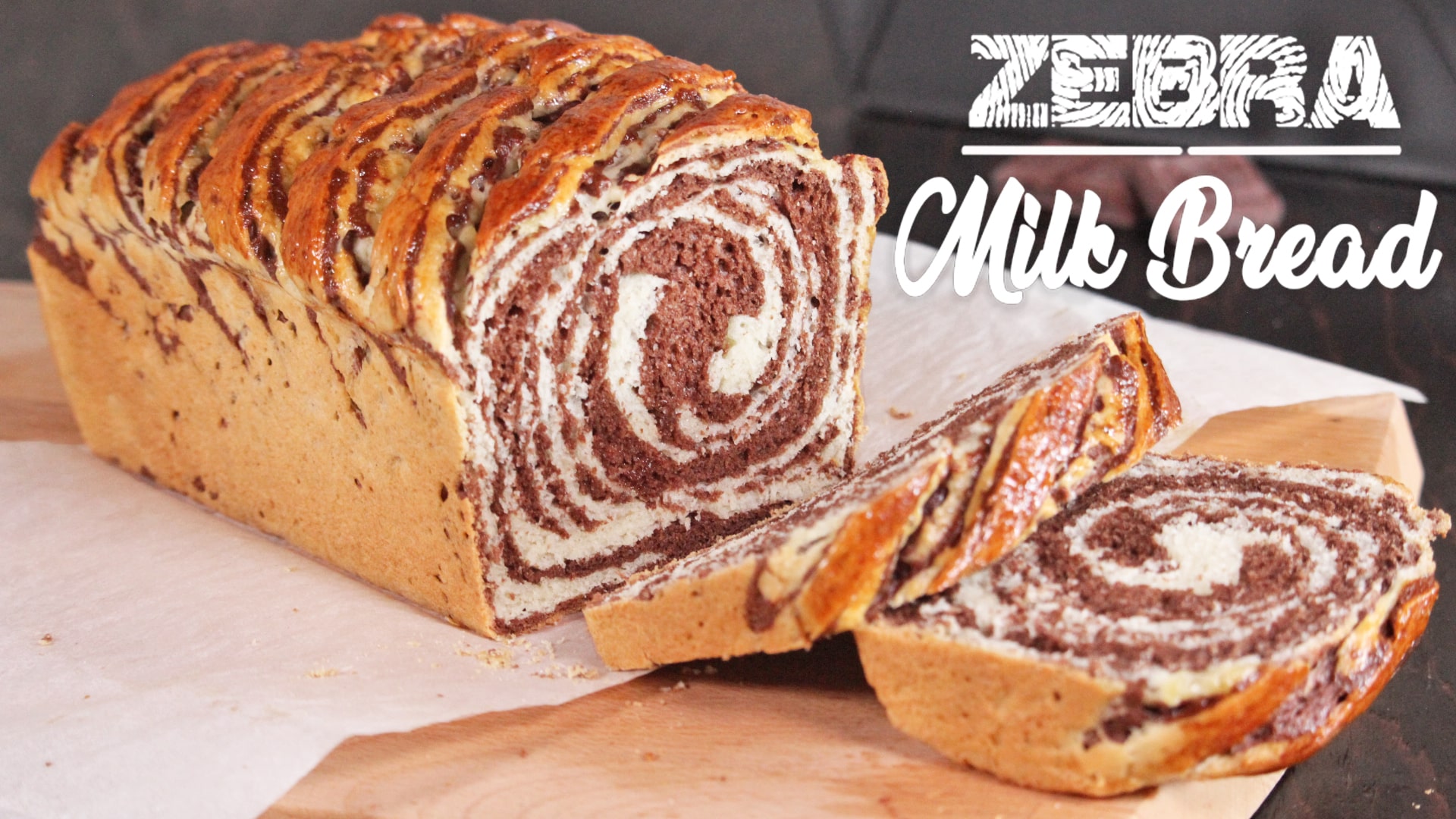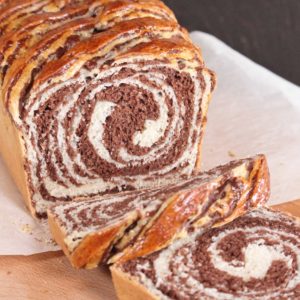 CHOCOLATE SWIRL MILK BREAD - ZEBRA MILK BREAD
Soft and fluffy Chocolate Milk Bread made without eggs and without a stand mixer: everyone can easily make it at home!
Don't be fooled by its appearance: although it looks like a marbled cake, it is a delicious milk bread!
Since it's a bread, it isn'tt too sweet, for this reason I think it's perfect both with sweet than savoury stuffs too...yes, even if half of it features cocoa powder!
It's a rised bread so it needs at least 90-120 minutes of rising time like every bread, but you can also place the dough in refrigerator for 1 night and bake it the day after.
Ingredients
255 g

(1 cup+1 tbsp)

milk

lukewarm

65 g

(5 tbsp)

sugar

6 g

(2 tsp)

active dry yest or instant yeast

450 g

(3+3/4 cups)

all purpose flour

1/2 tsp

salt

60 g

(1/4 cup)

unsalted butter

room temperature

20 g

(3 tbsp)

unsweetened cocoa powder

30 g

(2 tbsp)

water

hot
Instructions
In a large bowl mix 80 g (1/3 cup) of lukewarm milk with sugar.

Add dry yeast on top (active or instant yeast), mix, cover the bowl with plastic wrap and let it rest for 10 minutes: you see some bubbles on top. This method is helpful to check if your yeast is still alive or if it's expired.

Meanwhile mix together flour and salt.

Add the rest of the milk (175 g-2/3 cup+1 tbsp) in the yeast and milk mix.

Add gradually the flour mix into the milk mix and keep on mixing with a spoon while adding the flour.

When the dough starts to be hard to combine with the spoon, invert it onto the work surface and well combine the ingredients kneading with your hands.

Incorporate the butter 1 tbsp at a time: in this phase the dough become sticky but don't worry if you think it's a mess 😀 knead it and beat the dough onto the work surface. Don't add too much butter in one time and wait to add more butter until the previous one is almost incorporated.

Keep on kneading the dough: if you think it's too sticky, start beating and folding the dough onto the work surface. It will become smooth and not sticky at all in few minutes, don't worry!

Try to not add more flour - or add it as little as possible - during the kneading. Knead it for about 15 minutes or until turns out smooth, soft and not sticky. You can use a stand mixer, but it's not needful, it's ready in few minutes and it's satisfying to play with it with your hands 😛

Form into a ball and divide it into two equal pieces. Cover with plastic wrap to prevent dryness.

Place cocoa powder into a small bowl and add the hot water: keep on mixing until reach a thick paste.

Add the thick cocoa paste into half dough. Knead it until chocolate paste is evenly combined.

Form white and chocolate dough into a ball a place them into two greased bowls.

Cover the bowls with plastic wrap and let them rise into a warm place for 60-90 minutes or until double in size.

Place the rised doughs into refrigerator for 15 minutes, so it will be easy to roll them (optional: I refrigerated my doughs because it's Summer and very hot here, you can skip this step).

Roll two doughs into two 21x27cm-8x10,5inch rectangles.

Overlap the two rectangles with 1/3 offset.

Invert and roll to get about a 32x18cm-12,5x7inch rectangle.

Roll up the rectangle from one end to another.

Score the top of the roll and place it into a 11,5x22,5cm–4,5x9inch lined loaf pan.

Cover with plastic wrap and let it rise at room temperature for about 30 minutes.

Brush the top with beaten egg (optional) and bake in preheated no fan oven at 180°-350°F for about 33 minutes. After 15 minutes baking, you can cover the top with aluminium foil if too brown.

Cool down in the pan, unmold it and serve it!
Video
Notes
You can store at room temperautre for 2 days or store slices in freezer for 1 month.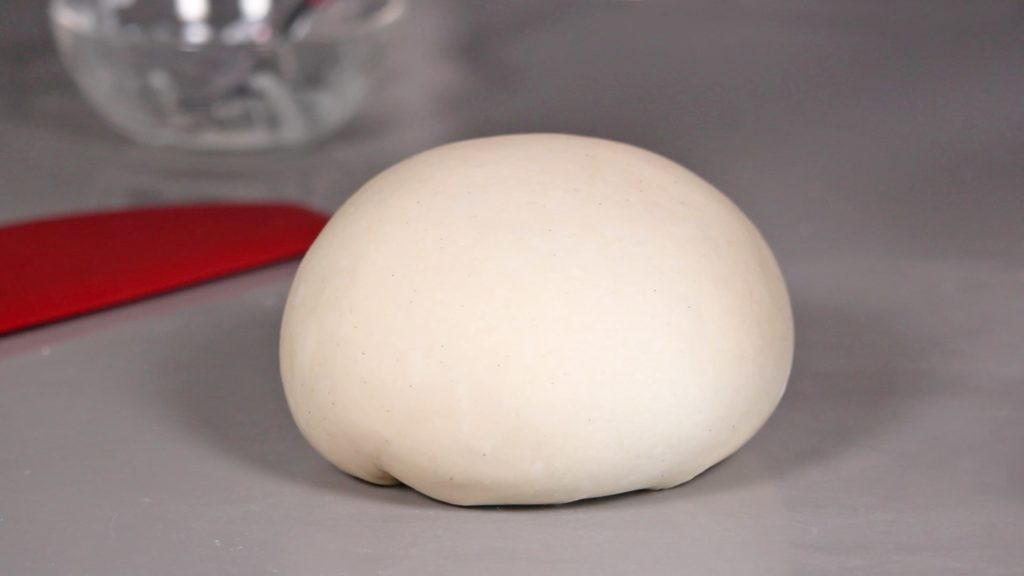 You don't need a stand mixer to make milk bread, you can easily knead it by hands as I showed in my recipe video and you'll get a smooth and elastic dough ball!
Don't worry if the dough looks sticky at the beginning (mostly when you add softened butter): be patient, don't be afraid and beat it onto the work surface until the butter is almost incorporated. You'll see that it will turn out not-sticky very quickly!
Be careful to NOT add more flour while kneading (add it just a bit if your dough is too wet): more hydrated is your dough, more fluffy your bread will turn out!
For this recipe you can use Instant Yeast or Active Dry Yeast, same amount. Active Dry Yeast needs to be activated (as I showed in the recipe video), for Instant Yeast you can skip the activating step, but in this case the activating step is also needful to check if your yeast is expired. It's not expired if mixed with a bit of warm milk and sugar, starts to bubble a bit after about 10 minutes.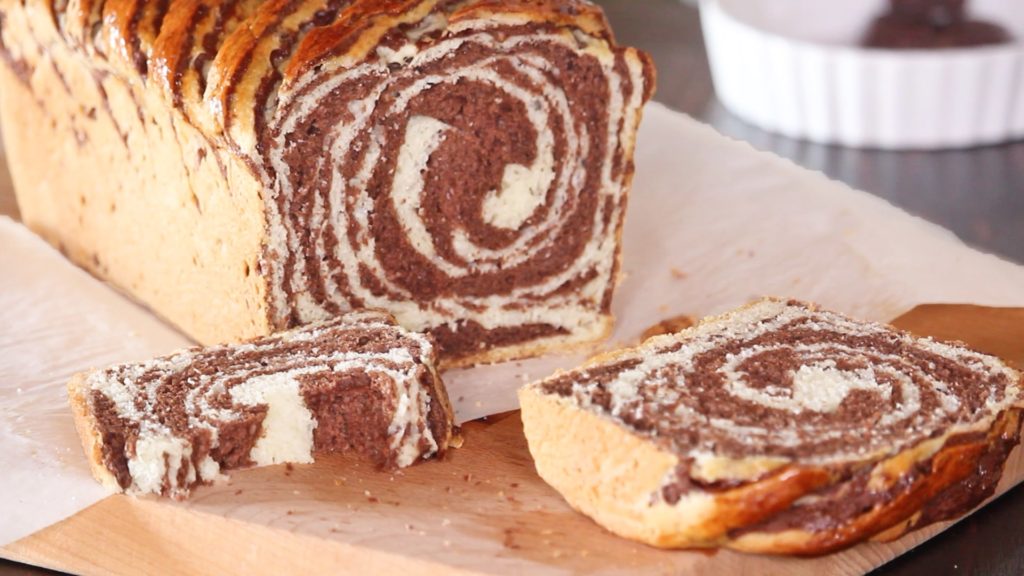 This milk bread is not too sweet: it's delicious spred with jam, hazelnut spread…but it's also amazing with savory stuffs, it will be a delicious savory sandwich! The unsweetened cocoa powder dough matches perfectly also with prosciutto and cheese, believe me, the cocoa part is very delicate 😉