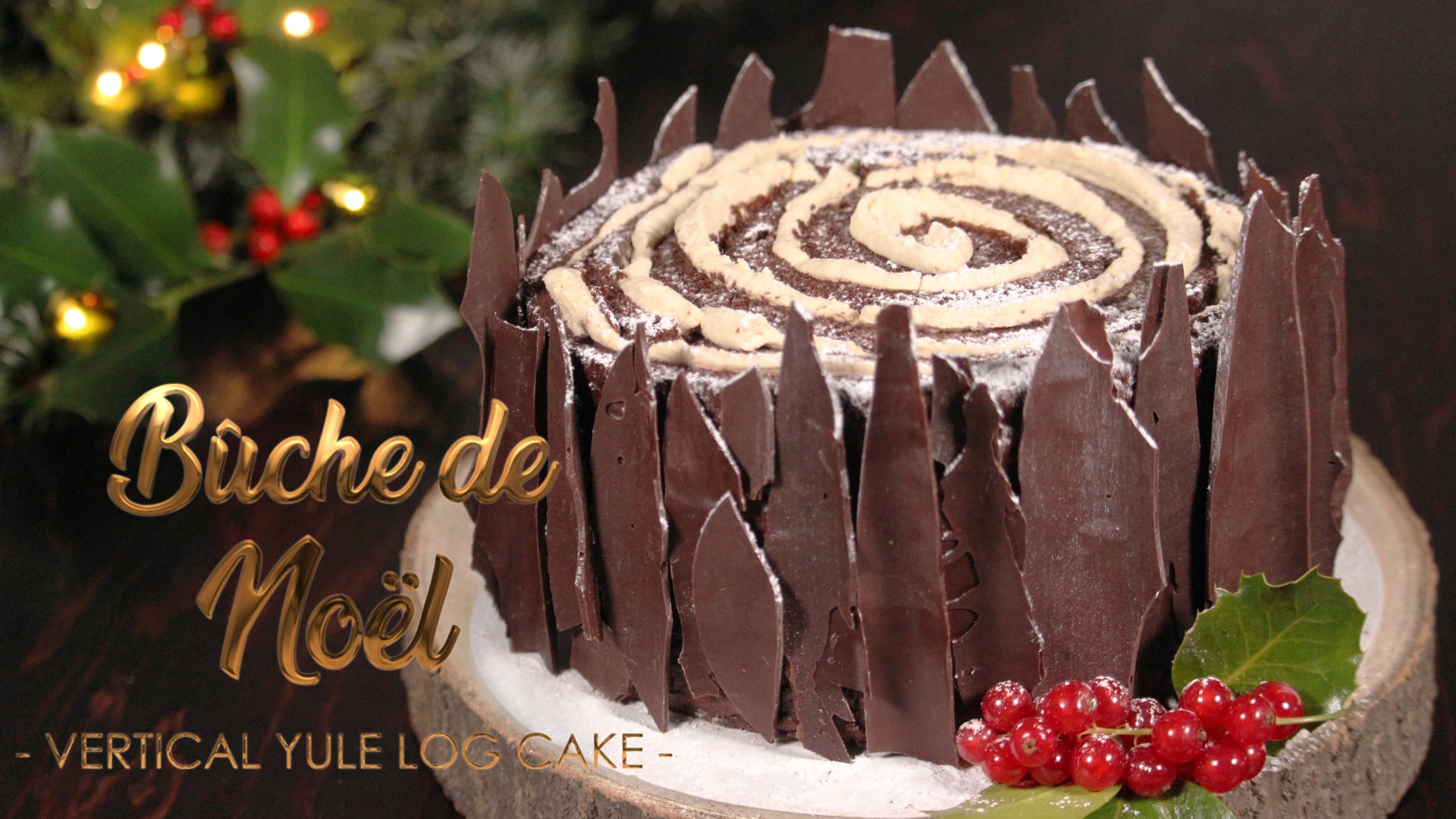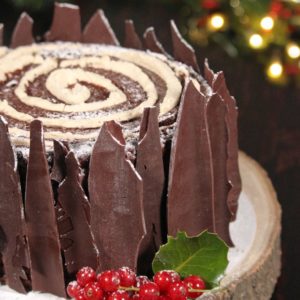 CHRISTMAS VERTICAL CAKE- CHOCOLATE BÛCHE DE NOËL
Buche de Noel (Yule Log) is a traditional Christmas cake in many European Countries. This is a new style vertical Buche de Noel cake perfect to impress your guests in the Holiday season or Christmas day!
Soft sponge chocolate cake filled with creamy Mascarpone coffee frosting and decorate with homemade chocolate barks to simulate a true log.
Ingredients
Chocolate Sponge Cake
8

eggs

room temperature

250 g

(1+1/4 cups)

caster sugar

160 g

(1+1/4 cups)

all purpose flour

80 g

(3/4 cup)

unsweetened cocoa powder

1/2 tsp

salt

2 tsp

vanilla paste

or vanilla extract

8 g

(2 tsp)

baking powder
Mascarpone Frosting
500 g

(1 pound)

Mascarpone cheese

chilled, or cream cheese

400 g

(2 cups)

whipping cream

chilled

120 g

(1+2/3 cup)

powdered sugar

2 tsp

instant coffee powder

2 tbsp

water

optional: it's just for dissolving the instant coffee, You can skip it or substitute it with milk.
Chocolate Decoration
130 g

(4,5 oz)

bittersweet or dark chocolate

chopped

some melted chocolate

for sticking the chocolate shards

powdered sugar
Instructions
Chocolate Sponge Cake
In a medium size bowl sift and mix together flour, cocoa, salt, baking powder and set aside.

In a very large bowl mix eggs, sugar and vanilla for a long time with a hand mixer until triple in volume and become thick and very pale.

Add flour mix in three times into the egg mix; start mixing with the hand mixer, then gently fold with a spatula until combined.

Equally divide the cake batter in two lined and greased baking sheet (31x37 cm-12x14,5 inch).

Bake in preheated oven at 180°C-350°F for about 10-15 minutes or until a toothpick comes out clean.

Remove from the oven and cool down for 5 minutes.

Dust the cake sheets top with powdered sugar, place a parchment paper on top, invert the cake onto the working surface and remove the bottom parchment paper. Cool the cake sheets down completely.
Mascarpone Frosting
In a large bowl place Mascarpone, sugar, whipping cream, coffee and mix with an hand mixer until creamy: don't overbeat!
Assemble the Cake
Trim the edges of the two cakes and get two identical rectangle.

Cut every cake rectangle in three strips about 10x33 cm-4x13 inch; you'll get 6 strips.

Soak the strips with some simple sugar syrup (30g sugar-30g water, boil for 3 minutes) or with unsweetened coffee.

Spread a thin layer of Mascarpone Filling over the six cake's strips.

Roll the first cake strip.

Roll the first rolled strip into the second cake's strip. Continue rolling into a spiral until all strips of sponge are used.

Cover with plastic wrap and refrigerate for about 1 hour to set.
Chocolate Decoration
Melt 100 g of chopped dark chocolate in the microwave or over bain marie.

Add 30 g of chopped dark chocolate into hot melted chocolate to temperate it.

Spread chocolate evenly on a parchment paper into a thin layer.

Roll the parchment paper and refrigerate for 30-40 minutes.

Unroll the parchment paper and the chocolate will break into shards. Shape them or make them smaller if required.

Stick every shard to the cake's sides using melted chocolate.

Refrigerate the cake for at least 15 minutes to set.

Dust some powdered sugar on top and serve it.
Video
Notes
You can store it in the fridge for about 4-5 days.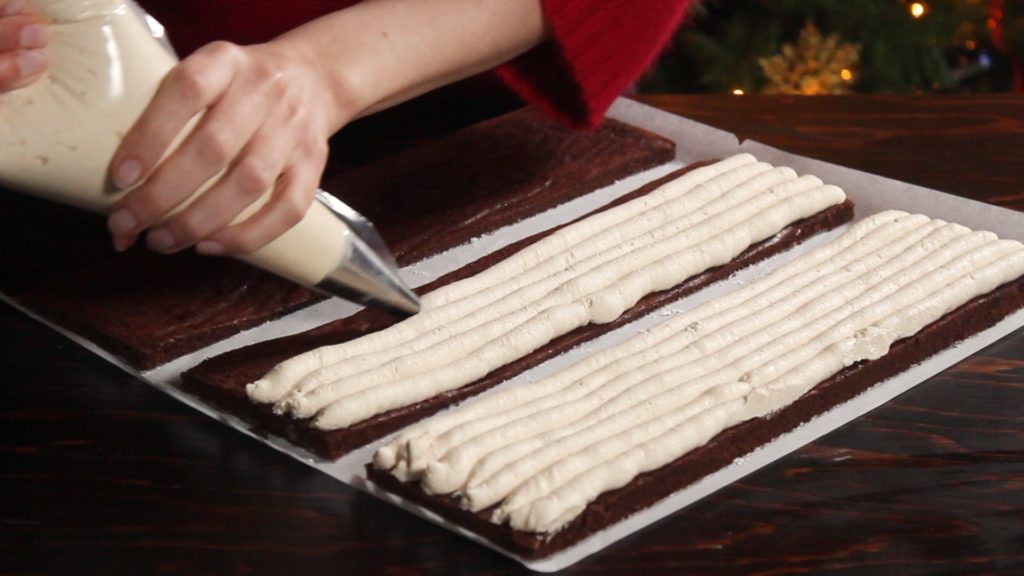 Mascarpone cheese is very popular in Italian Christmas recipes, so I decided to make this incredibly easy Mascarpone coffee frosting that matches perfectly with chocolate!
You can use your ingredients (Mascarpone cheese and whipped cream) chilled right from refrigerator without bring them at room temperature. Just place all the ingredients in a large bowl and mix with a hand mixer. 
Don't worry if there are some small lumps when you start mixing, it's normal. You just need to keep on mixing until become smooth and creamy: there will be no more lumps!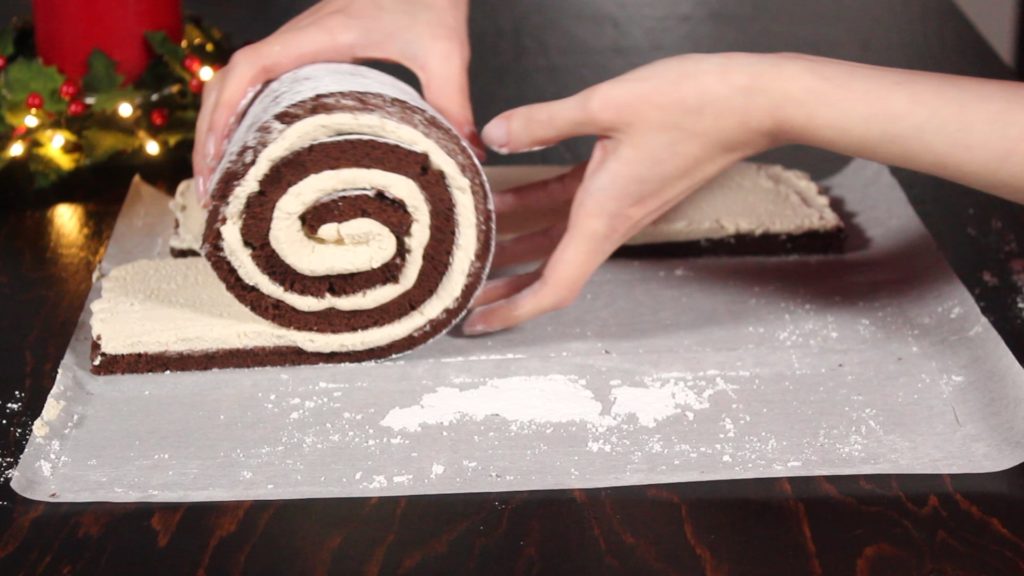 Making a vertical layer cake is simpler than you think! Just cut your thin sponge cake in strips, spread some frosting on top (not too much!) and keep on rolling!
Start rolling the first strip; then attach the first rolled strip to the next one and keep on rolling until you roll all the cake strips!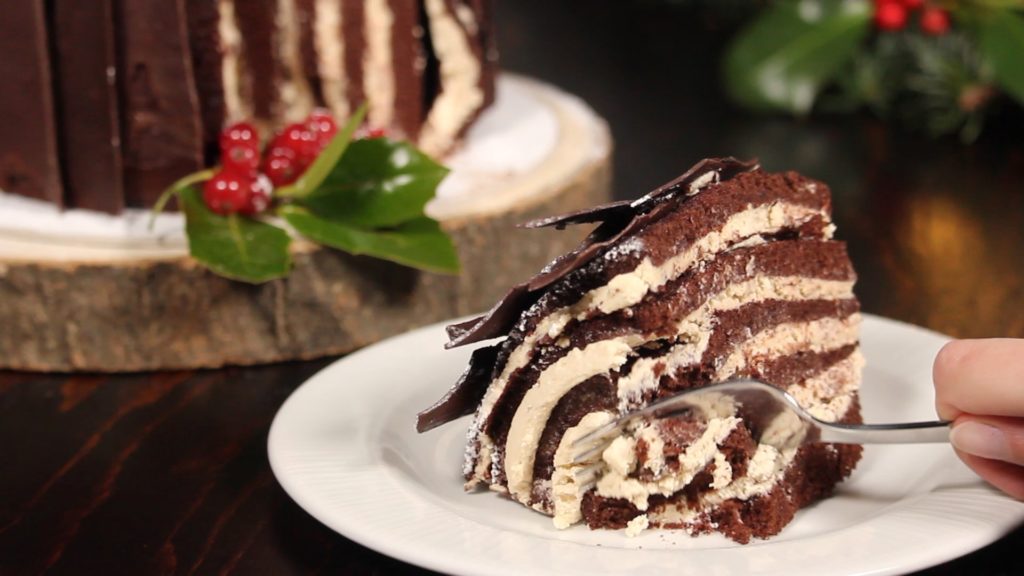 As you can see in my recipe video tutorial above, it's very easy to make chocolate barks to decorate this cake. Just melt your chocolate, spread it evenly on a parchment paper, roll it and chill in refrigerator until completely set (about 30-40 minutes). Then you can unroll the parchment paper and you'll get those bark effects!
You just need to break them into the size you desire and stick to the sides of the cake with some melted chocolate.