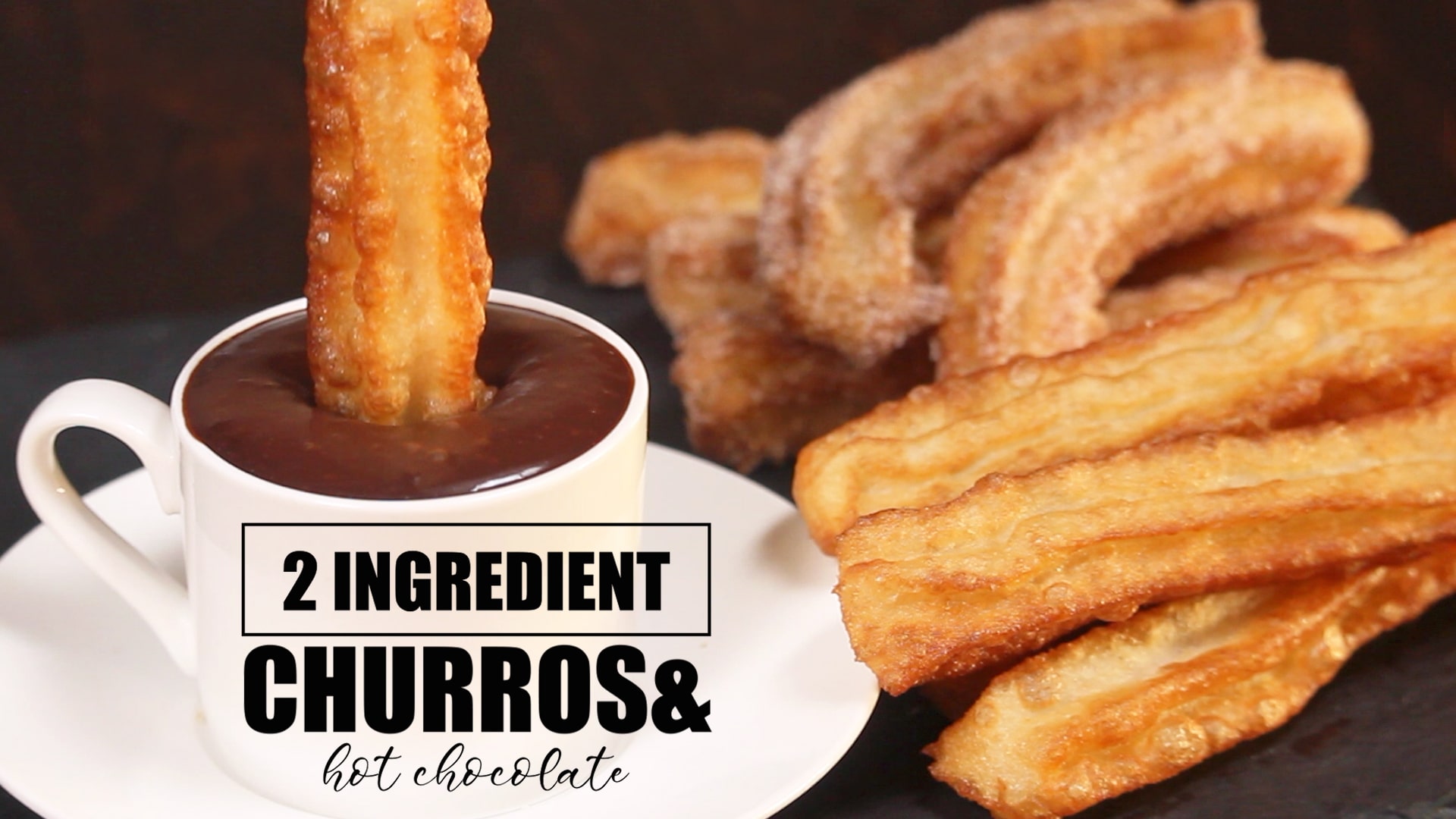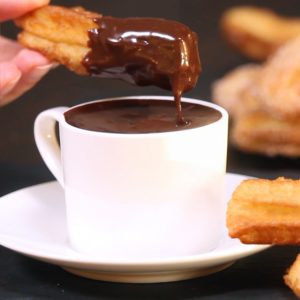 CHURROS AND HOT CHOCOLATE
How to make the original Spanish Churros with the traditional 2 ingredients recipe: no eggs, no sugar, no milk, deep fried and so delicious!
Incredibly crispy outside and slightly soft and chewy inside, they are amazing served with the classic thick and creamy Spanish Hot Chocolate.
You can eat them simply as they are (but consider they are unsweetened), dip them into hot chocolate, dulce de leche, or just coat them into a cinnamon sugar mix: simply irresistible!
Ingredients
Churros
360 ml

(1+1/2 cup)

water

240 g

(2 cups)

all purpose flour

1/2 tsp

salt

Peanut oil for deep frying
Hot Chocolate
120 ml

(1/2 cup)

milk

50 g

(2 oz)

dark chocolate

55-70% cocoa, chopped

4 g

(2 tsp)

unsweetened cocoa powder

25 g

(2 tbsp)

sugar

2 g

(1 tsp)

cornstarch

or all purpose flour; optional: cornstarch/all purpose flour is for extra thick hot chocolate, you can skip it.
Instructions
Churros
Meanwhile in a large heatproof bowl, sift and mix flour and salt.

Pour hot water over the flour in one time.

Mix hard until you get a smooth dough.

Meanwhile heat peanut oil at about 180°C-350°F for deep frying.

Transfer churro dough into a thick piping bag with open star tip (1M). If you have thin piping bag, use two of them to avoit breaking since the dough is thick.

You can fry churros in two ways:

- You can pipe the dough directly in the hot frying oil and cut the dough using a scissor;

OR

- You can pipe the dough over a lined baking tray, then freeze them for about 30 minutes or until hard and then fry the frozen churros in hot hoil: I suggest you to use this method if the dough is too thick for you to easily pipe it, or if you don't feel comfortable to directly pipe it in hot oil.

Turn churros while frying to evenly golden. They are ready when evenly golden.

Drain over a frying paper sheet or onto a wire rack.

You can roll them in cinnamon sugar mix, or dip them in hot chocolate.
Hot Chocolate
In a small saucepan, sift together sugar and cornstarch; mix until combined.

Add sifted cocoa powder and mix.

Gradually add milk and mix until combined.

Add chocolate and bring to a boil over low-medium heat.

Boil for 1-2 minutes over low heat or until you get your desired creamy consistency (the more you cook, the more it will thicken).

Serve immediately and dip churros.
Video
Notes
Store churros in an air tight container at room temperature for 1 day.
Do not store hot chocolate and serve it immediately.
For deep frying churros, you just need to pipe the dough directly into the preheated hot frying oil (remember that peanut oil and olive oil are the better for deep frying), simply cut the churros with a scissor to get your desired size and shape.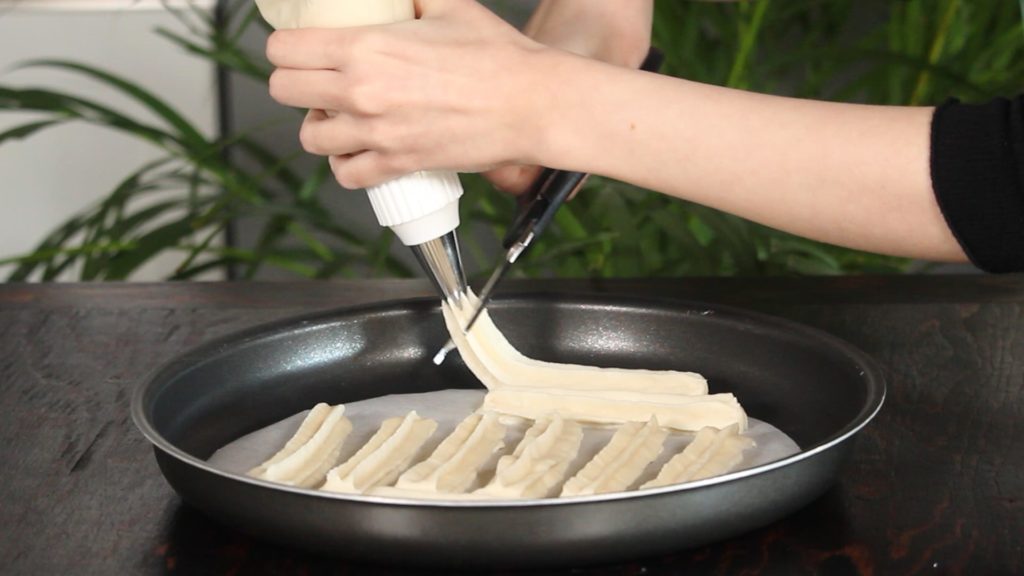 Churros dough is very thick and could be very hard to pipe: for this reason, if you're afraid to pipe them directly into the hot oil, you can pipe them onto a parchment paper sheet, then you can freeze them for about 30 minutes (or until the sides are pretty hard to easily take them with your hands) and then deep frying them directly from the freezer.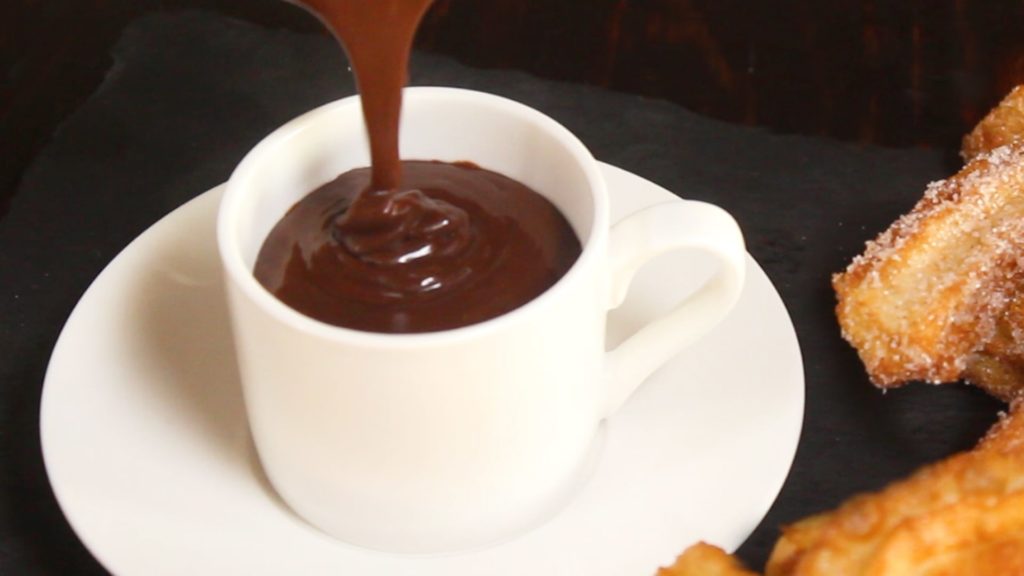 Thick and creamy hot chocolate is the traditional Spanish dipping sauce for churros. But if you don't like chocolate, you can also deep them into dulce the leche: so delicious!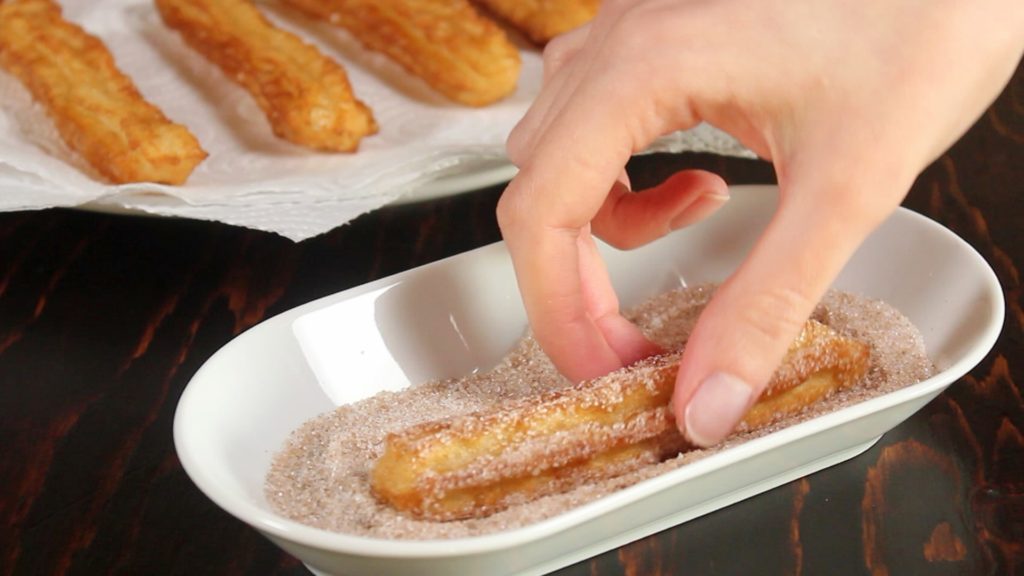 Since this traditional Churros recipe is made without sugar, if you don't deep them into hot chocolate and you want to eat them as they are, I suggest to coat them into a cinnamon sugar mix: they turn out simply irresistible!