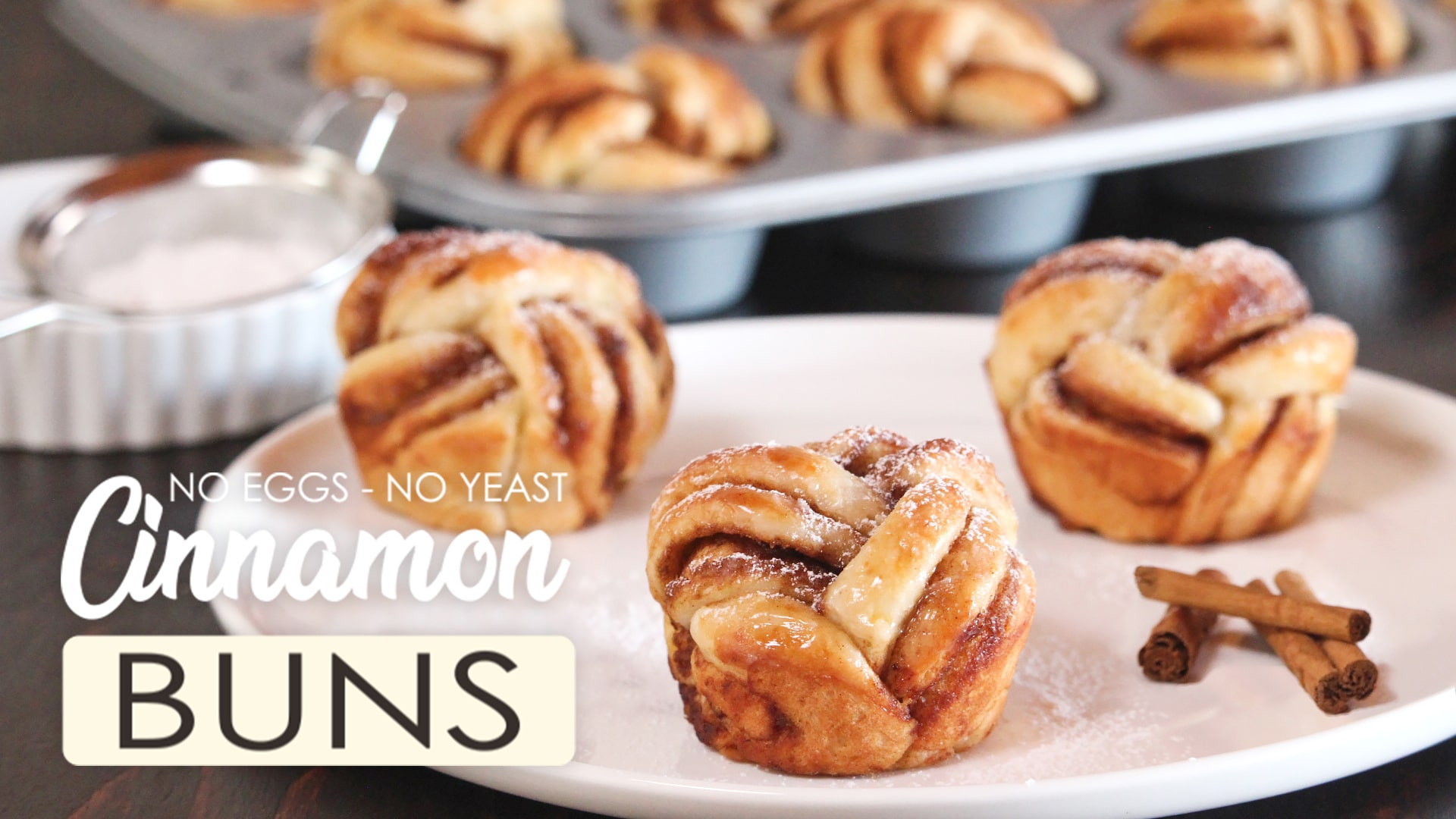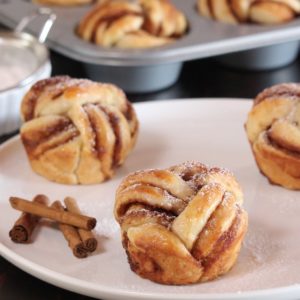 INSTANT CINNAMON BUNS - NO YEAST, NO EGGS
How to make delicious and instant Cinnamon Buns without eggs and without yeast! You can make it in few minutes without rising time!
I love to make them in a braided knots shaped using a muffin pan, but you can make them like simple cinnamon rolls and bake in a round cake pan.
They are soft and full of cinnamon flavor, it's hard to resist!
Ingredients
Dough
450 g

(3+1/2 cups)

bread flour

if you use all purpose flour instead of bread flour, you may need to increase the amount of flour

75 g

(1/3 cup)

sugar

10,5 g

(2+1/2 tsp)

baking powder

120 g

(1/2 cup)

unsalted butter

melted

90 g

(1/3 cup)

unsweetened plain yogurt

125 g

(1/2 cup)

milk
Cinnamon Filling
60 g

(1/3 cup)

dark brown sugar (Muscovado)

or classic brown sugar

40 g

(3 tbsp)

unsalted butter

softened at room temperature

7 g

(1 tbsp)

cinnamon powder
Instructions
Cinnamon Filling
In a medium size bowl, place softened butter, brown sugar, cinnamon and combine with a spatula until creamy. Set aside.
Dough
In a large size bowl place flour, sugar, baking powder and mix until combined.

Add melted butter, yogurt, milk and combine until get a very soft dough: if it's too dry, you can add a splash of extra milk, if it's too wet and sticky add a bit of extra flour.

Place the dough onto a silicone mat a or a parchment paper sheet to avoid sticking to the work surface and shape in a rectangle.

Roll the dough with a rolling pin until get a 40x55 cm-16x22 inch rectangle.

Spread evenly the Cinnamon Filling on the dough.

Fold the dough in three on the long side.

Split the folded dough into 12 equal pieces (cut on the short size).

Cut in three a piece dough and braid it (as you can see in the recipe video below).

Roll the braid and pinch the bottom to get a braided ball.

Repeat for every piece of dough.

Place every braided ball in a greased muffin mold.

Bake in preheated oven (no fan) at 180°C-350°F for about 15-20 minutes or until golden brown: be careful and don't over bake them or they turn out too dry!

Remove from the oven and cool down for about 10 minutes.

You can brush the top with some melted butter fod a glossy finish and dust with powdered sugar (optional).
Video
Notes
Store at room temperature wrapped in plastic wrap for about 2 days.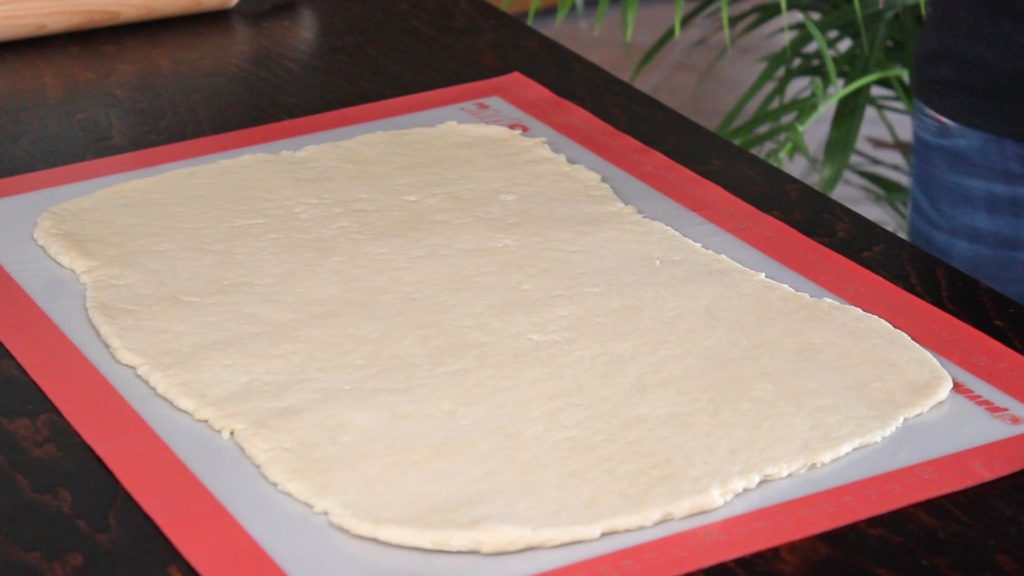 This no rise dough is very easy to make and comes together quickly; but because it's made without yeast and eggs, it's important you don't use too much flour or could turn out a bit dry. If you get a slightly dry dough, just add a bit of extra milk.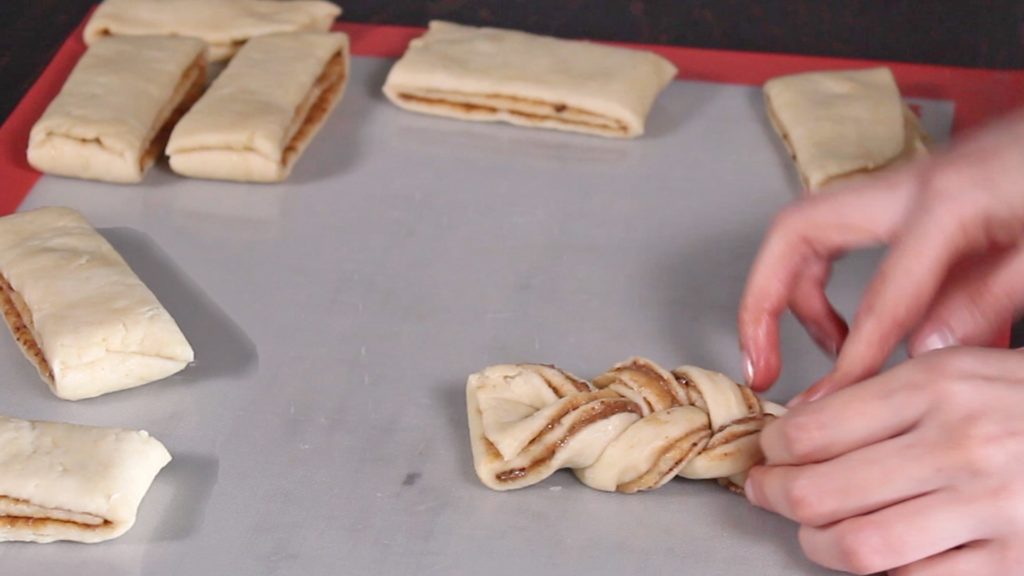 I made these buns in a braided shape, but you can also make them like traditional cinnamon rolls: just roll the filled dough, cut it into slices and put them into a round pan.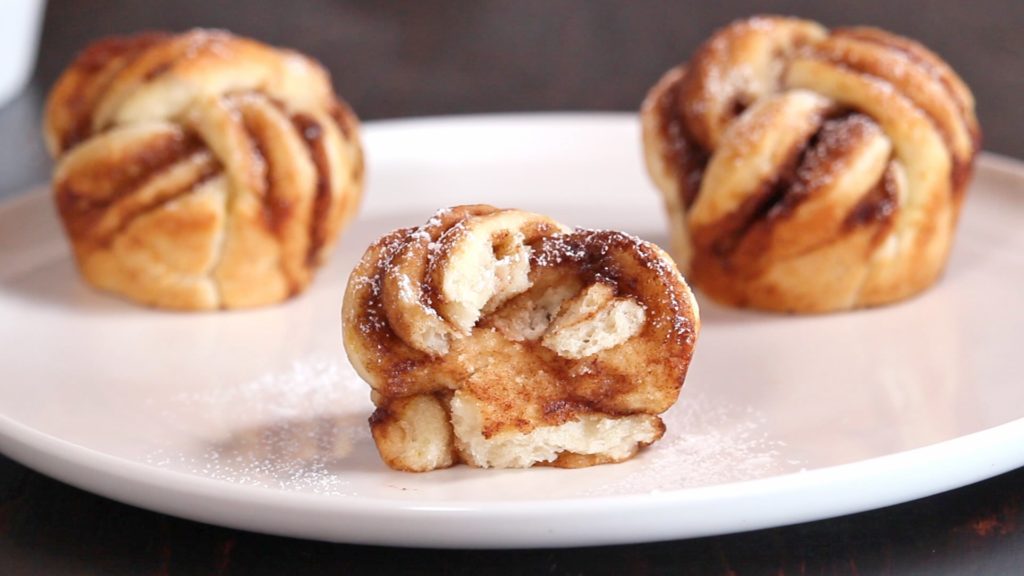 I've just sprinkled them with powdered sugar, but you can top these delicious cinnamon buns with water icing or cream cheese icing (like traditional cinnamon rolls).