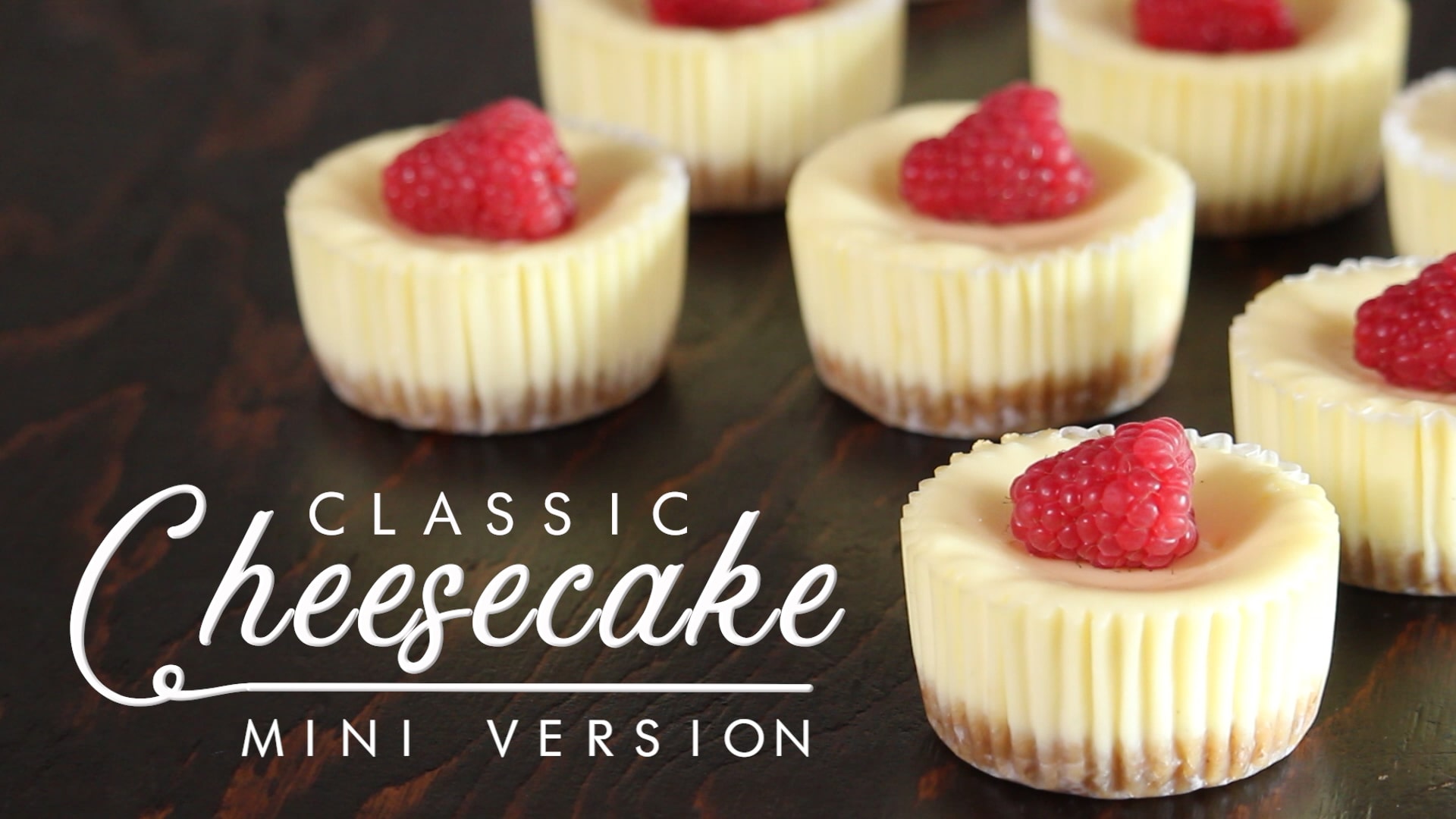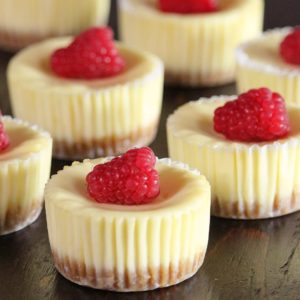 CLASSIC BAKED MINI CHEESECAKE - JUST 15 MINUTES!
If you love smooth and creamy Classic Baked Cheesecake but you don't want to make waterbath, wait for long time baking or overnight chilling, this is the perfect recipe for you!
In few minutes you can taste a classic decadent baked cheesecake, so smooth, without cracks on top and irresistible!
The crispy Digestive cookies crust matches perfectly with the cream cheese filling and the adding of lemon zest gives a blast to this classic recipe.
I made this recipe because my Classic Baked Cheesecake hit 1,5 Millions views on YouTube and it's still one of your favourite! Many of you asked me for a quicker version and I think that these Classic Mini Cheesecakes are the perfect answer.
Just one tip: remember to NOT overmix cheesecake batter, mostly when you add eggs, if you incorporate too much air with a hand mixer, the top could crack. The iron rule is mix just until combined and stop! If you're afraid to overmix, use a whisk and not an electrict mixer that it's not needful for cheesecake.
I've also made an Eggless version of this recipe that you can find on my YouTube channel, enjoy!
Ingredients
Crust
140

(5 oz)

Digestive cookies

about 10 Digestive; or any other similar cookies

55 g

(1/4 cup)

unsalted butter

melted

8 g

(1 tbsp)

honey
Filling
315 g

(11 oz)

Philadelphia cheese or other Cream Cheese

chilled

110 g

(1/2 cup)

caster sugar

or white sugar

1 tsp

vanilla extract

1/2 tsp

lemon zest

90 ml

(1/3 cup)

whipping cream

or heavy cream, chilled

30 g

(2 tbsp)

unsweetened plain yogurt

or sour cream

2

eggs

room temperature

4 g

(1+1/2 tsp)

cornstarch
Instructions
Crust
Place cookies in a ziplog bag, press and roll with a rolling pin until finely crumbs forms. You can also use a food processor.

Place cookie crumbs in a medium size bowl, add honey, melted butter and mix until evenly combined.

Line muffin molds and divide the cookie crust mix into 12 muffin molds (about 1tbsp+1/2tsp for each mold).

Press cookie crust mix on the bottom of each mold to create compact crust.

Put in refrigerator until prepare the filling.
Filling
In a large bowl place cream cheese, sugar, vanilla, lemon zest and mix until creamy (don't mix too much).

Add whipping cream and mix about 2 minutes until starts thickening.

Add yogurt and one egg at a time: be careful to not overbeat the eggs, mix just until combined and stop!

Incorporate sifted cornstarch and mix as little as possible.

Place the filling over the crust of the 12 muffin molds (I used an ice cream scooper).

Bake in preheated oven (upper and lower heat, no fan) at 160°C-320°F for 15-18 minutes: be careful to not overbake, in 15 minutes they should be ready (they jiggle in the middle when ready).

When they are done, open the oven door and let them rest in the warm oven for 5 minutes to cool down gradually.

Remove from the oven, let it slightly cool down at room temperature for about 10-15 minutes then, when still warm, refrigerate for at least 1 hour before serving.
Video
Notes
You can store in refrigerator for about 5 days, in freezer up to 3 months.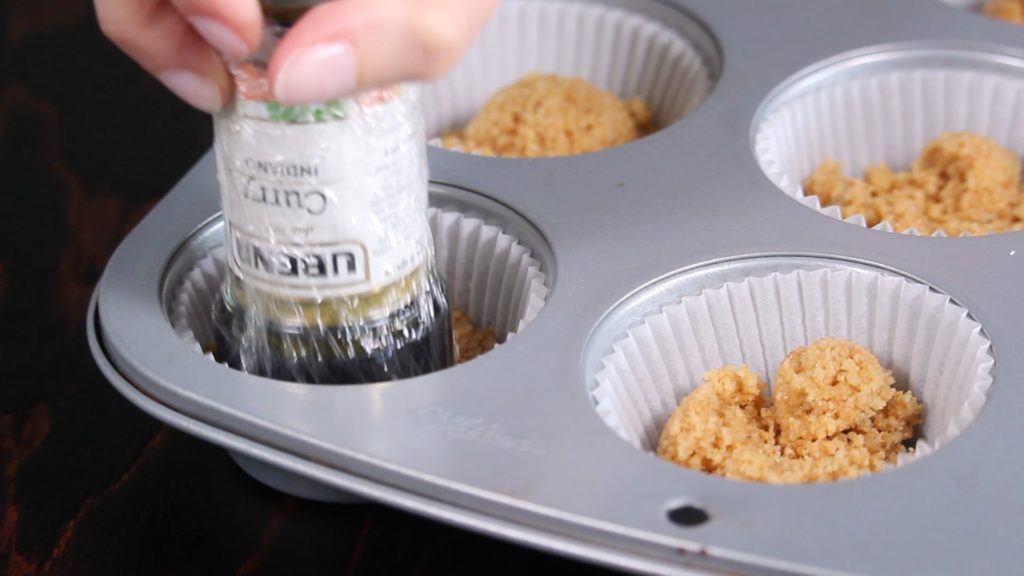 I've used Digestive cookies for this recipe, but you can use Graham Crackers or any kind of dry cookies, even chocolate ones work perfect! 
I've added a hint of honey because Digestive are low in sugar and I think honey gives a lovely flavor, but you can also skip it, it's up to you.
I've crushed the cookies into crumbles using a zip log bag and a rolling pin, fell free to use a food processor instead.
It's pretty helpful to press the mashed cookie mix using a small round glass or a spice jar, as I did. I coated the jar with plastic wrap then pressed it to get a compact cookie crust.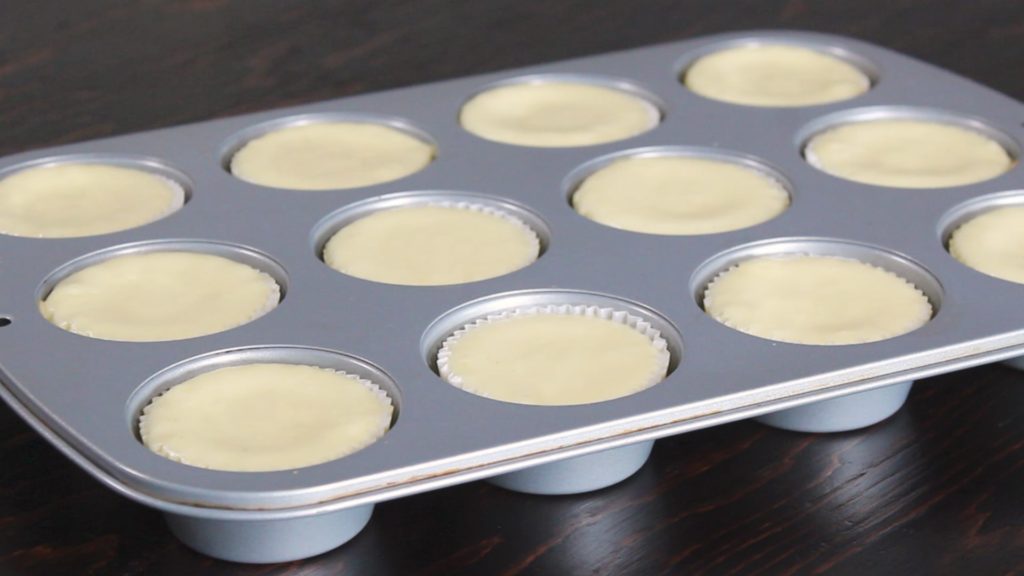 To prepare cheesecake batter you can use a hand mixer or a whisk. It's pretty important, mostly if you use a hand mixer or a stand mixer, to pay attention to NOT OVERMIX the batter!
You don't need to incorporate air into cheesecake batter, mostly when you add the eggs, or the top could crack while baking and you won't get smooth cheesecake top.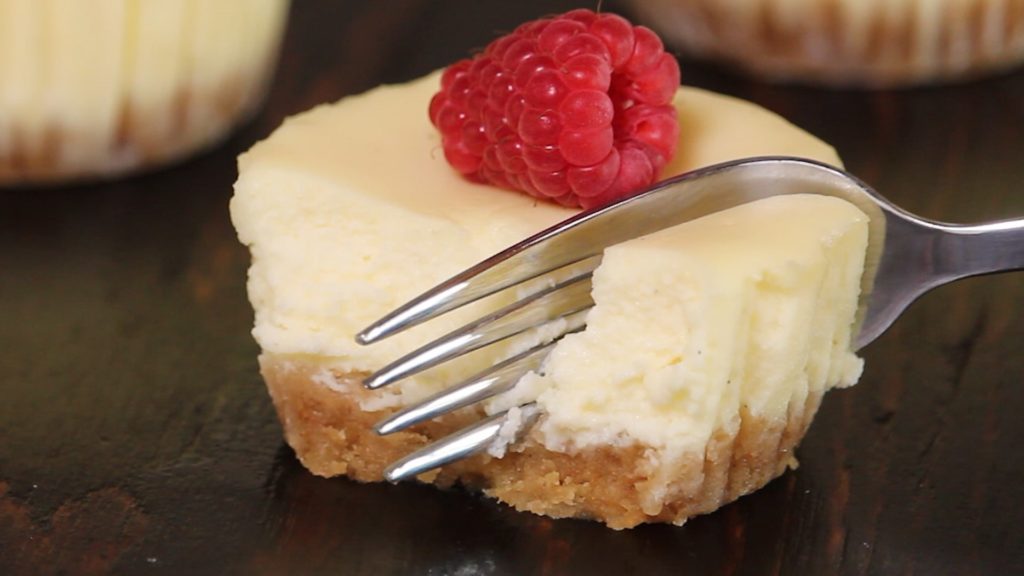 These Mini Cheesecakes are perfect for buffet and so quick and easy to make!
Thanks to this recipe, you can treat yourself with delicious creamy baked cheesecake any time!
If you're interested in the eggless recipe, you can find the recipe video on my YouTube channel.