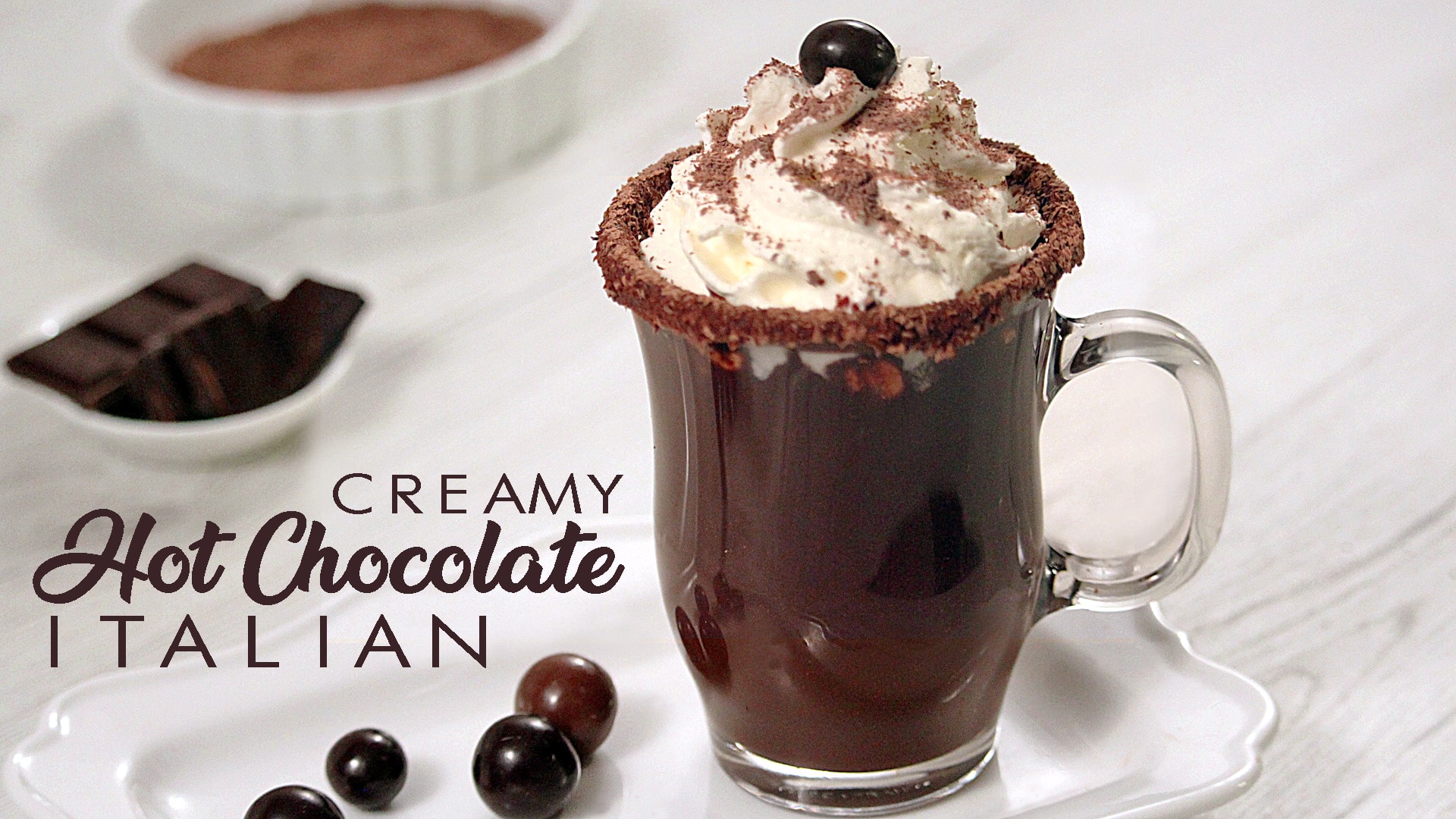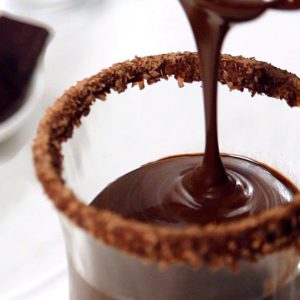 CREAMY ITALIAN HOT CHOCOLATE
Thick and creamy Italian way hot chocolate! Everyone who lives out of Italy, mostly my United States friends, though this is a "pudding" and not hot chocolate...but I can guarantee you this is the best hot chocolate on Earth!
Following this recipe you can taste at home a hot chocolate ("cioccolata calda") like in Italy and prepare in few minutes a true heartwarming winter delight.
I suggest to use high quality cocoa powder and dark chocolate. If you want to make it in a low-fat version, you can skip dark chocolate and use low fat milk instead.
Ingredients
Hot Chocolate
20 g

(2 tbsp)

dark chocolate

high quality (from 55 to 70% cocoa)

30 g

(3 tbsp)

unsweetened cocoa powder

15 g

(2 tbsp)

cornstarch

or all purpose flour

35 g

(3 tbsp)

sugar

250 ml

(1 cup + 1 tbsp)

whole milk

room temperature or slightly warm

1 pinch

salt
Garnish
Nutella

dark grated chocolate

whipped cream

unsweetened
Instructions
Preparing the Serving Cups
Turn upside down your cups and dip them in Nutella until they are evenly edged.

Dip them in grated dark chocolate.
Make Hot Chocolate
Finely chop dark chocolate.

In a small saucepan, sift cocoa powder and cornstarch. Add sugar, salt and combine.

Add about 3-4 tablespoons of milk and stir well to combine.

Add slowly the rest of milk and mix until smooth and without lumps.

Cook over low-medium heat and often stir it.

When it starts to slightly thicken, add the chopped chocolate, combine and bring it to a boil.

Boil over low heat until get your desired creamy consistency.

Serve immediately into your serving cups and garnish with whipped cream.
Video
Notes
I suggest you to use unsweetened whipped cream to exalt the chocolate flavor, this hot chocolate is enough sweetness.
You can't store hot chocolate leftovers because it becomes liquid, so serve it immediately and enjoy it!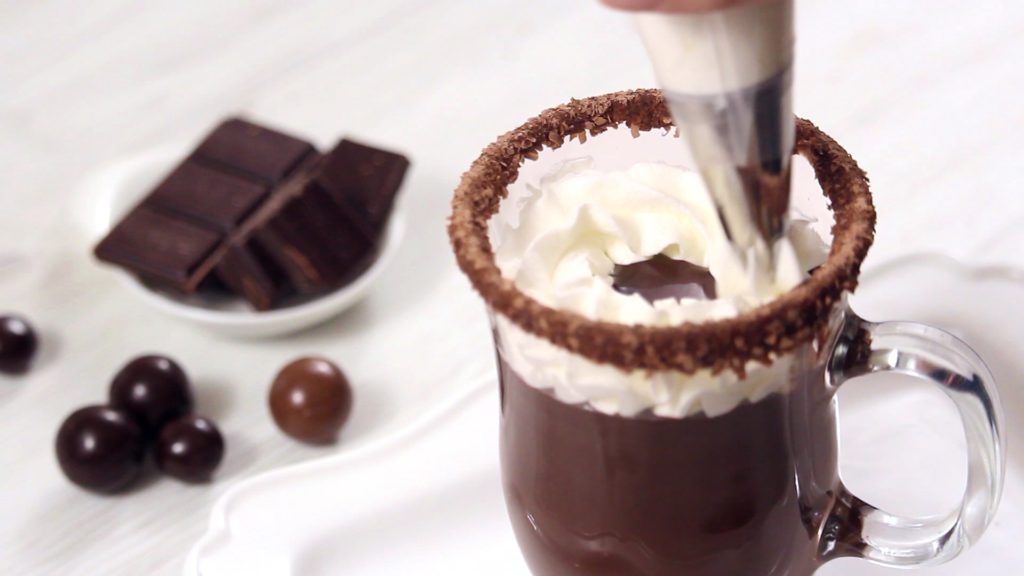 Italian hot chocolate is so creamy and thick thanks to 3 main ingredients: cocoa powder, cornstarch and chocolate. You can substitute cornstarch with all purpose flour, but you can't skip it, neither skip cocoa powder. 
If you prefer a more fluid consistency, remove from heat when it reaches your favourite consistency and remind that the more you cook it, the more it will thicken.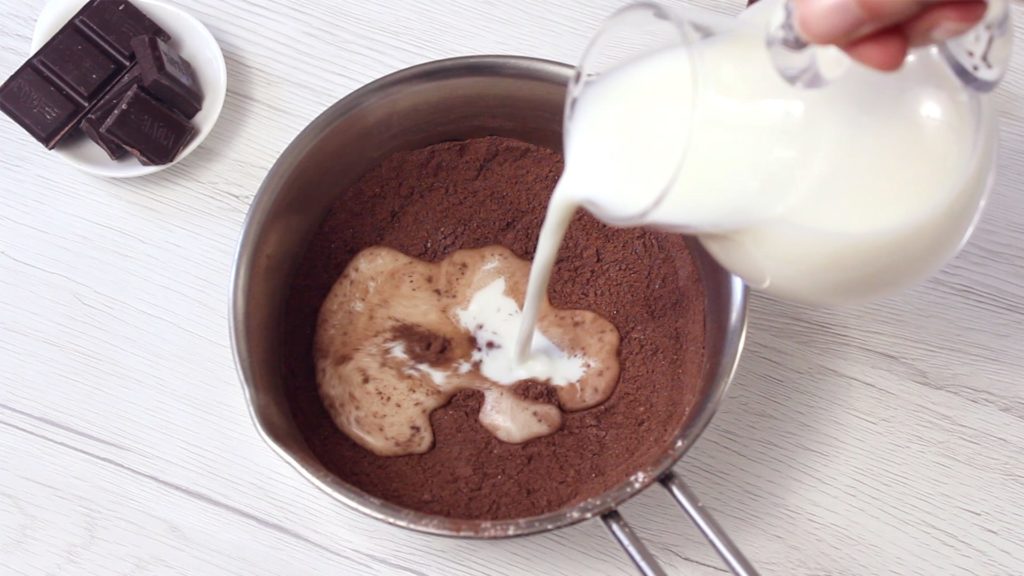 It is very important to use high quality cocoa powder and chocolate. This is always a gold rule when you make a chocolate dessert, in this cake it's essential since the chocolate flavor is very strong in this recipe.
You can adjust sugar amount according to the cocoa and chocolate you use: I've used a pretty strong dark chocolate (72%) and cocoa powder; if you use swetter chocolate, you can decrease sugar amount.
Remember to add first just few tbsp of milk in your powder mix and combine until form a thick paste. Then you can slowly keep on adding the rest of milk until get a smooth consistency: if you pour milk quickly, it could lump.