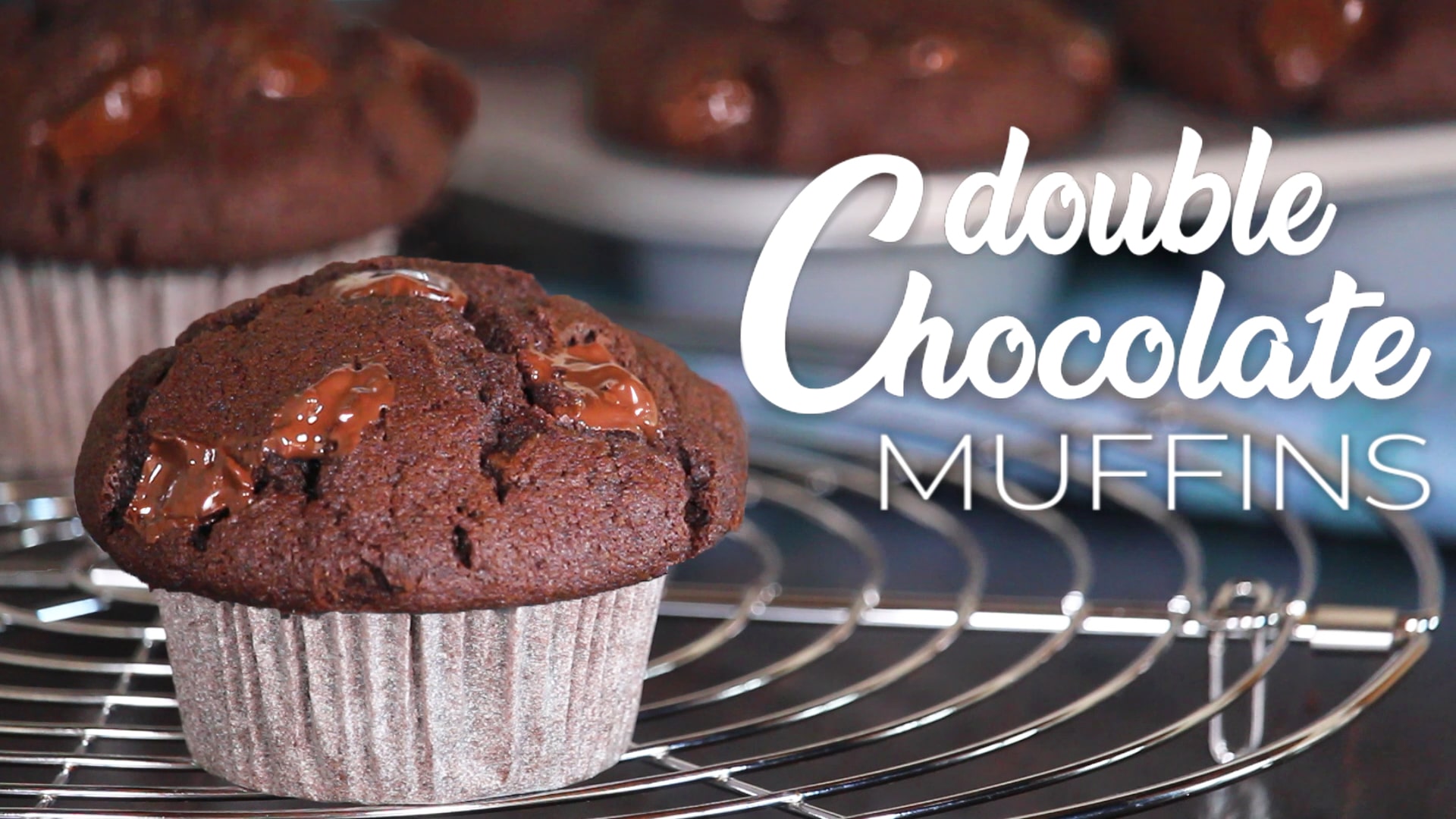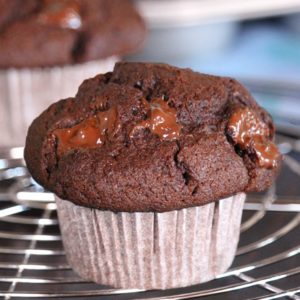 DOUBLE CHOCOLATE MUFFINS
The best Double Chocolate Muffins you can have! If you're looking for rich and moist chocolate muffins that stay soft for days, this recipe is perfect for you!
These chocolate muffins matched a huge amount of unsweetened cocoa powder and true high quality chocolate chunks (from chocolate bars, not chocolate chips!) to get the best chocolate flavor you can have. Brown sugar gives also a fudgy texture and a slightly caramel taste that enhances the chocolate flavor, so decadent!
The texture is incredible soft and moist: they rest soft for days, forget that kind of muffins that become hard the day after! They also feature a slightly crispy top and gooey chocolate chunks...absolutely irresistible!
You can get the classic Bakery Style high top domes muffins thanks to the tips you'll find in the recipe down below: follow the recipe step by step and you can also get soft Double Chocolate Muffins better than the bakery ones!
Ingredients
210 g

(1+3/4 cups)

all purpose flour

60 g

(2/3 cup)

unsweetened cocoa powder

1/2 tsp

salt

10 g

(2 large tsp)

baking powder

1/2 tsp

baking soda

320 ml

(1+1/3 cup)

whole milk

room temperature. You can substitute it with buttermilk skipping vinegar.

1 tbsp

white vinegar

or lemon juice. Skip it if you're using buttermilk.

55 g

(1/4 cup)

unsalted butter

room temperature

40 g

(3 tbsp)

vegetable oil

use flavorless oil like sunflower, canola...

100 g

(1/2 cup)

brown sugar

100 g

(1/2 cup)

white sugar

2

large eggs

or 3 small, room temperature

150 g

(5 oz)

high quality bittersweet chocolate

chopped in large chunks
Instructions
In a medium size bowl, sift together flour, salt, baking powder, baking soda, cocoa powder and mix until combined. Set aside.

Mix together milk, vinegar and let it rest for 5 minutes before use it. If you use 320 ml of buttermilk, you can skip the vinegar and just use buttermilk.

In a large bow, place butter, vegetable oil, brown sugar, white sugar and mix with a whisk (you don't need a hand mixer) until creamy and well combined.

Add the eggs, milk+vinegar mix and mix just until combined.

Add the flour mix and combine until almost combined but you can still see some not incorporated flour.

Add chocolate chunks then mix until well combined but be careful to not overmix!

Equally divide the batter into 12 lined muffin molds: you have to full fill them, so you'll get high dome top muffins.

Place some chocolate chunks on top of your muffins.

Bake in preheated oven (no fan, upper+lower heat) at 210°C-410°F for 5 minutes, then low the heat at 190°C-375°F and bake for 16 minutes or until a toothpick comes out clean. This double temperature baking helps your muffins top to well rise and get high dome top like Bakery Style muffins.

Cool down slighlty into the muffin pan, then transfer your muffins on a wire rack to cool down completely.
Video
Notes
Store at room temperature covered with plastic wrap for about 4 days.
Store in freezer for up to 2 months.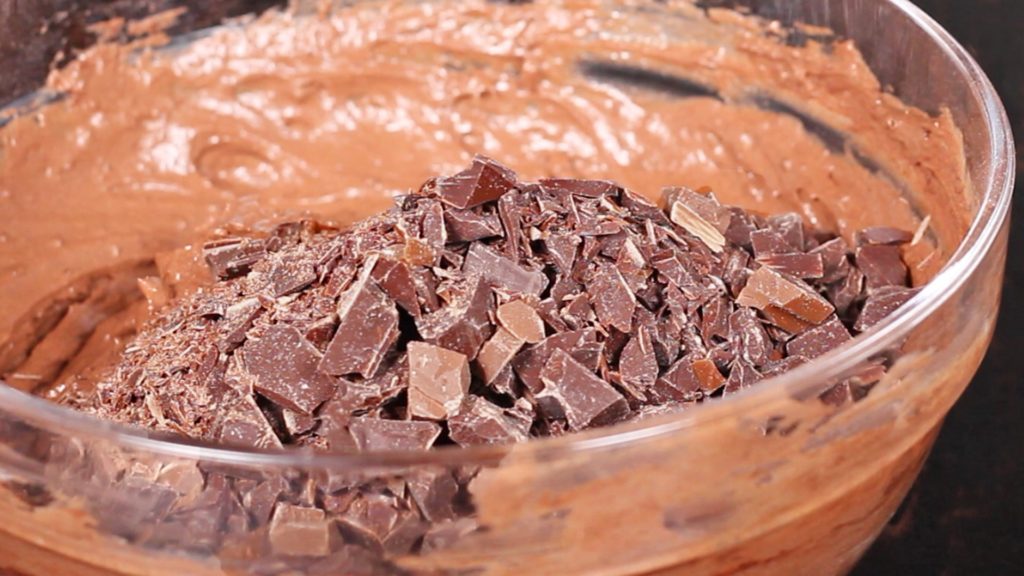 When you're making chocolate recipe, the first iron rule to get the best result is using high quality chocolate. For this reason I didn't use chocolate chips here, but true high quality chocolate bar (brand Lindt if you're curious, not sponsored!). I've used bittersweet chocolate, but you can use your favourite: extra dark or milk chocolate.
Buttermilk is important to get moist muffins and to make the top rising too, because it reacts with baking soda and creates carbon dioxide that gives extra rising to your muffins. If you don't have buttermilk, you can easily make it at home with milk and vinegar as I showed. More fat your milk features, more thick your buttermilk will turn out. If you're using skimmed milk, it will curdle with vinegar, but don't worry, it works perfect too!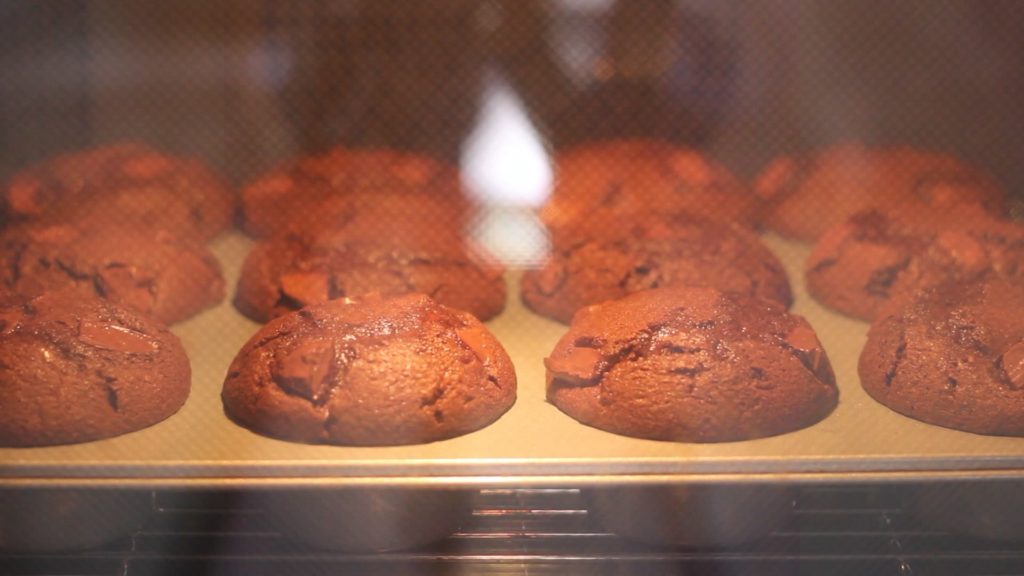 The two main tips to get Bakery Style muffins with high dome tops, is firstly to use a generous baking powder amount, secondly baking muffins at high temperature for the first 5 minutes (remember to well preheat your oven), then you can low the temperature and let them bake completely.
That's why I baked at 210°C-410°F for 5 minutes, then lowed the heat at 190°C-375°F and bake for about 16 minutes or until a toothpick comes out clean.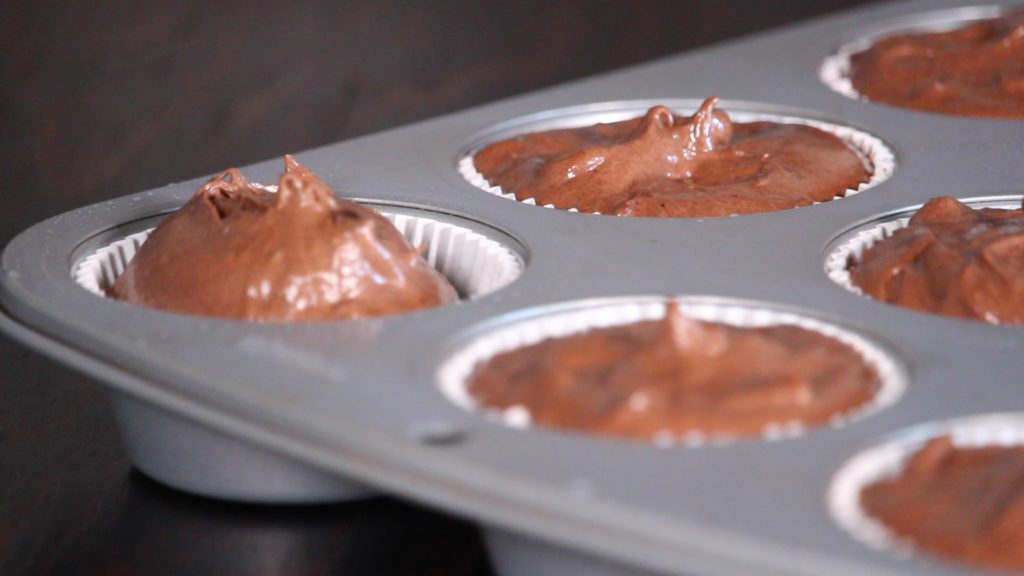 If you want to get the classic "mushroom" shape muffins with high top, you have also to completely fill muffin molds. Many recipes tell to fill just 2/3 or 3/4 of the molds, but if you don't fill them completely, you won't get Bakery Style muffins!