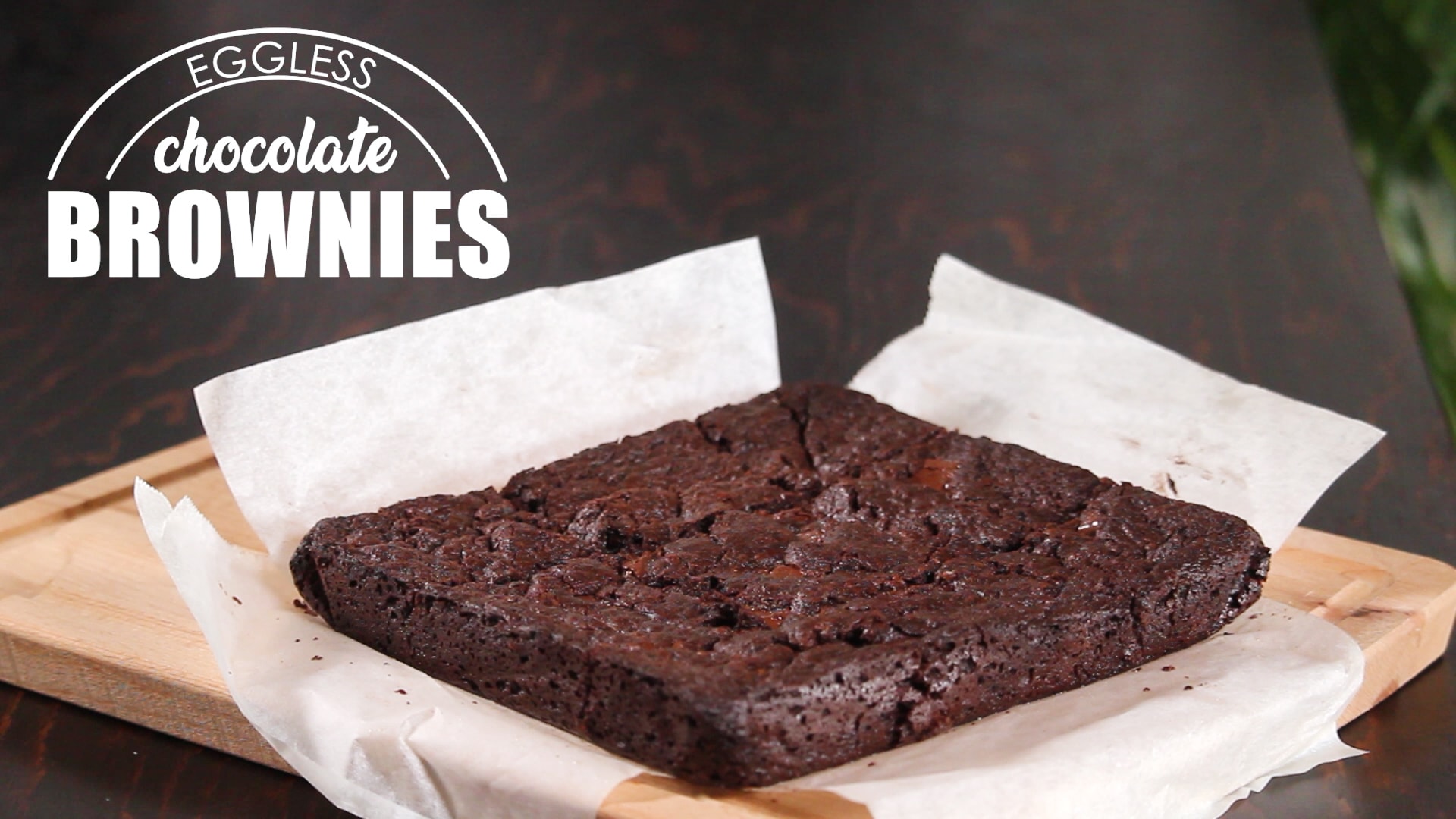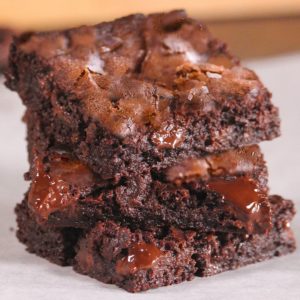 EGGLESS BROWNIES
How to make fudgy chewy Brownies without eggs using just one bowl!
These Brownies are the perfect dessert for chocoholic people because the taste of chocolate is very rich and no one could imagine that they are eggless. Instead of eggs I've used cream cheese which keep the dough moist and fudgy.
Down below I am going to give you some alternatives for cream cheese and for other ingredients so you all will be able to make these delicious brownies!
Ingredients
100 g

(3,5 oz)

dark/bittersweet chocolate

50% cocoa

110 g

(1/2 cup)

unsalted butter

120 g

(1/2 cup)

caster sugar

or granulated white sugar

70 g

(1/3 cup)

dark brown Muscovado sugar

or granulated white sugar

1 tsp

vanilla paste

or extract

1/2 tsp

instant coffee powder

110 g

(1/2 cup)

cream cheese, room temperature

or unsweetened plain yogurt or Greek yogurt

90 g

(3/4 cup)

all purpose flour

25 g

(1/4 cup)

unsweetened cocoa powder

1/2 tsp

salt

4 g

1 tsp

baking powder

100 g

(3,5 oz)

dark/bittersweet chocolate

chopped in large chunks
Instructions
Chop 100 g of dark chocolate.

In a heatproof large bowl, put chopped chocolate, butter and place over bain marie to slightly melt. You can also use a microwave.

Add dark brown sugar, caster sugar, salt, coffee powder and mix until combined.

Add cream cheese, vanilla paste and mix just until combined.

Add sifted flour, cocoa powder and baking powder and gently fold with a spatula until well combined.

Incorporate 70 g of chopped dark chocolate.

Transfer the batter into a 20x20cm-8x8inch baking pan lined with parchment paper.

Place 30 g of chopped dark chocolate on top.

Bake in a preheated fan oven at 180°C-350°F for 30 minutes. If you don't have a fan oven, you will maybe bake the brownies for about 5-10 minutes more.

Slightly cool down in the pan for about 10 minutes.

Transfer the brownie, using the parchment paper, on a wire rack and slightly cool down before slice it.
Video
Notes
You can store these brownies at room temperature in a plastic box for about 3-4 days. If you like to serve them warm you can heat them in a microweave for few seconds.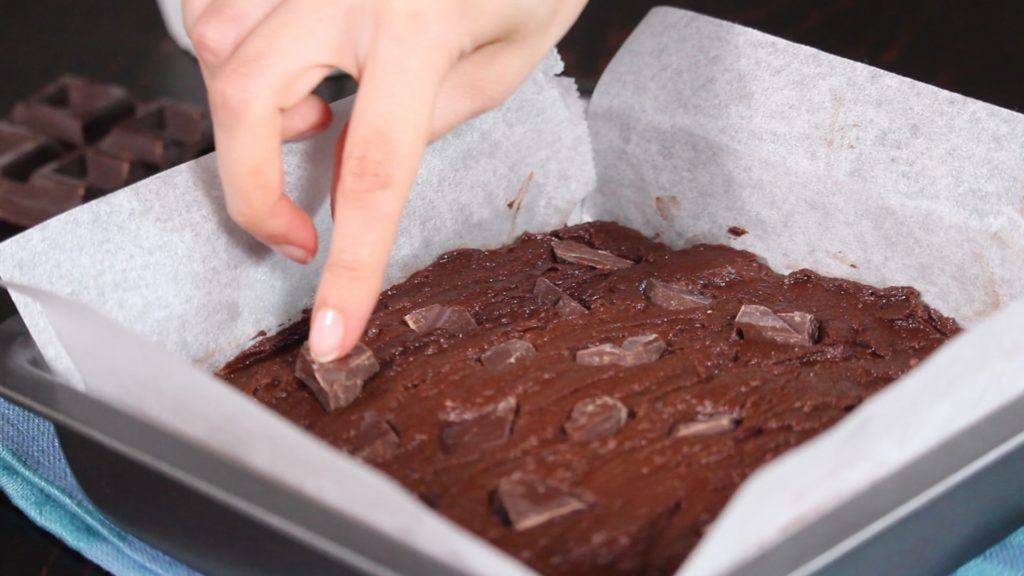 My eggless brownies recipe features dark chocolate but you can add more magic touches like white chocolate, chopped pecan nuts and many more! It's up to you!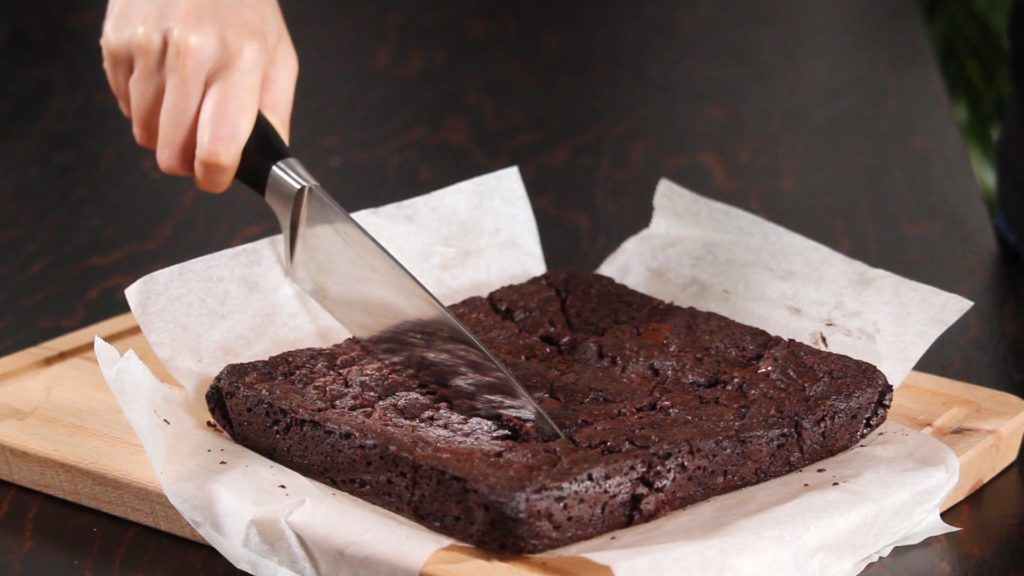 You can use a hot knife to have a perfect sharp cut. You can keep it in hot water or directly on the stove top to heat it up. Remember to clean it before any new cut.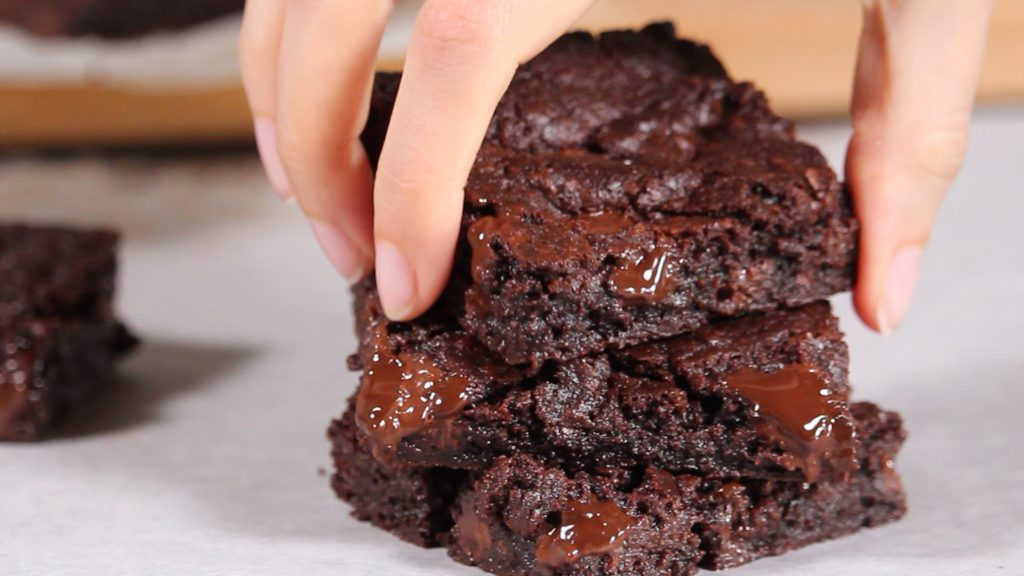 You can substitute the Muscovado dark sugar with normal white caster sugar but the brownies texture will be less chewy.
Brownies are perfecly baked when the top looks a bit dry, but the center (that you can check with a toothpick) is humid and not completely dry. A toothpick comes out humid with moist crumbs; if it comes out perfeclty clean, maybe you overbake your brownies!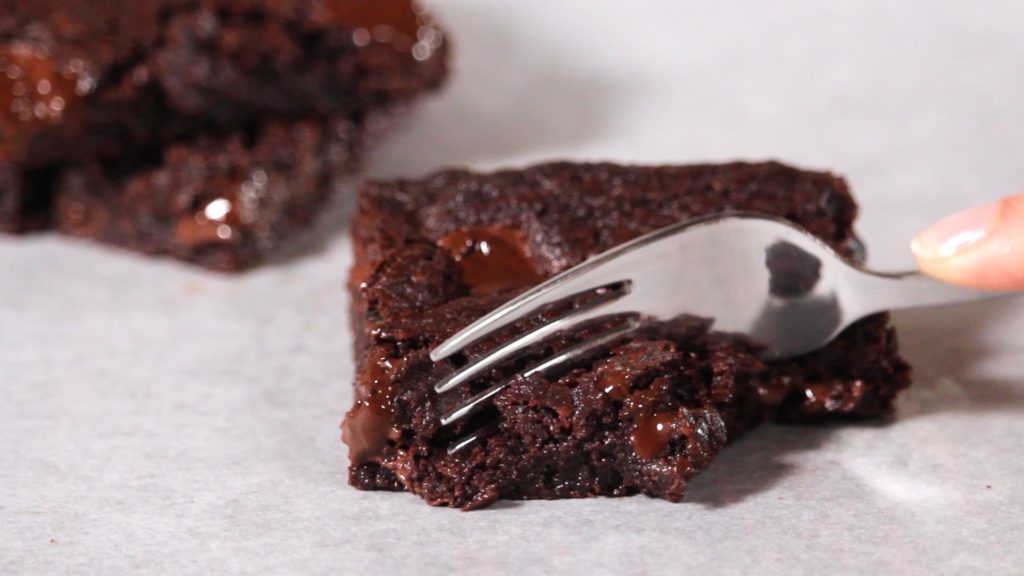 These eggless brownies are awesome served warm with some ice cream on top. The hot and cold contrast will be just perfect.