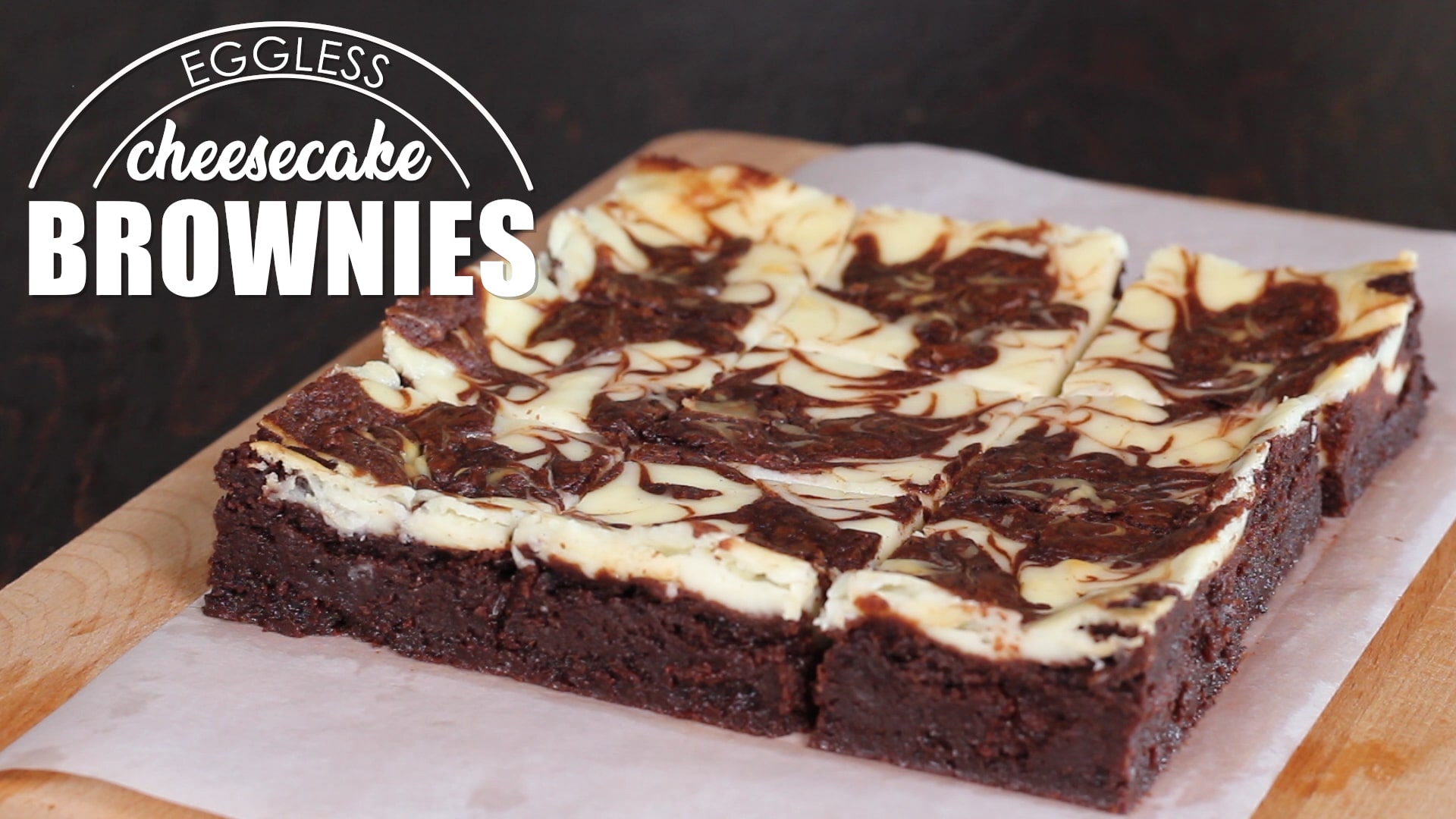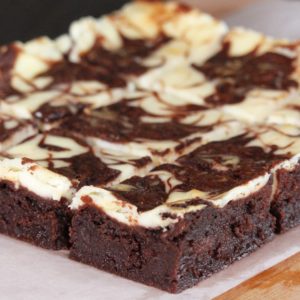 EGGLESS CHEESECAKE BROWNIES
Fudgy, moist and rich, this amazing recipe combines one of two most delicious recipes ever: Cheesecake and Brownies both in a Eggless version!
The fudgy eggless chocolate brownie batter is topped with a decadent eggless cheesecake layer and decorated with swirled brownie batter to get a marble pattern.
They literally melt in your mouth with they creamy and fudgy texture: one of the most indulgent dessert ever, and nobody can say it's made without eggs!
Just remember to not over-bake it (read the tips down below) to get the perfect texture!
Ingredients
Eggless Brownie Batter
100 g

(3,5 oz)

dark or bittersweet chocolate

55-70% cocoa

110 g

(1/2 cup)

unsalted butter

120 g

(1/2 cup)

caster sugar

70 g

(1/3 cup)

brown sugar

1 tsp

vanilla paste

or vanilla extract

1/2 tsp

instant coffee powder

110 g

(1/2 cup)

cream cheese

or plain yogurt, room temperature

90 g

(3/4 cup)

all purpose flour

25 g

(1/4 cup)

unsweetened cocoa powder

1/2 tsp

salt

4 g

(1 tsp)

baking powder
Eggless Cheesecake Batter
300 g

(10,5 oz)

cream cheese

chilled or room temperature

60 g

(1/4 cup)

caster sugar

1 tsp

vanilla paste

or vanilla extract

50 g

(3 tbsp)

milk

lukewarm

12 g

(1+1/2 tbsp)

cornstarch
Instructions
Eggless Brownie Batter
Chop 100 g of dark chocolate.

In a heatproof large bowl, put chopped chocolate, butter and place over bain marie to melt. You can also use a microwave.

Add dark brown sugar, caster sugar, salt, coffee powder and mix until combined.

Add cream cheese (previously mixed until creamy), vanilla paste and mix just until combined.

Add sifted flour, cocoa powder, baking powder and gently fold with a spatula until well combined.

In a small bowl, set aside about 2 tbsp (33 g) of brownie batter, add in about 1/2 tbsp of milk or water, mix until creamy and set aside for later.

Transfer the brownie batter into a 20x20cm-8x8inch baking pan lined with parchment paper and greased.
Eggless Cheesecake Batter
In a medium size bowl, place cream cheese, sugar, vanilla and mix until creamy, smooth and well combined.

Pour gradually the lukewarm milk into the cornstarch and mix util cornstarch completely dissolves.

Add the cornstarch mix into the cream cheese mix and mix until well combined.
Assemble
Spread the cheesecake batter over the top of the brownie batter.

Spoon the reserved 2 tbsp of brownie batter mix over the cheesecake batter in small spots and use a skewer to create swirls like a marble pattern.

Bake in preheated no fan oven (upper and lower heat) at 160°C-320°F for about 40 minutes: a toothpick comes out slightly wet, not clean, and the cheesecake on top is firm at the edges but jiggly in the middle.

Cool down in the baking pan.

Place in refrigerator for about 90 minutes before unmold and slice it.

Trim the edges (optional) and cut in 9 big squares (or 16 small squares).
Video
Notes
Store in refrigerator for about 1 week.
Remove from the fridge at least 15 minutes before serve it.
You can serve it with vanilla ice cream on top.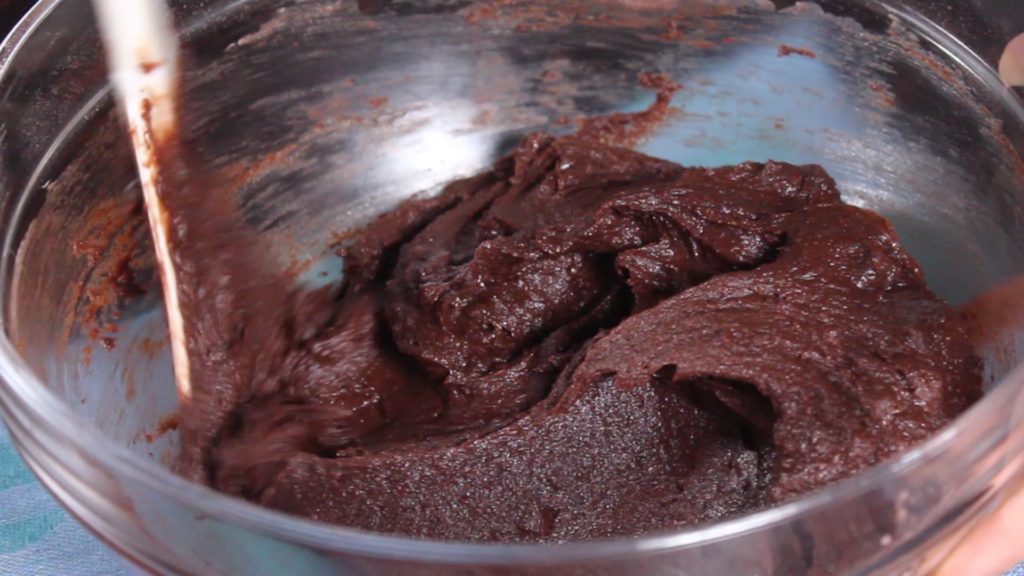 In the chocolate Brownie Batter I've used a hint of coffee powder: don't worry, you won't taste the coffee flavor, it just needs to enhance the chocolate flavor….of course you can skip it if you prefer, but I suggest to try it, it simply amazing!
I always suggest to use high quality chocolate bars when you make chocolate desserts. I use Lindt brand chocolate bars but you can use high quality brand you can easily find in your Country. If you use chocolate chips or low quality compound chocolate, your chocolate desserts will taste not heavenly as they could have!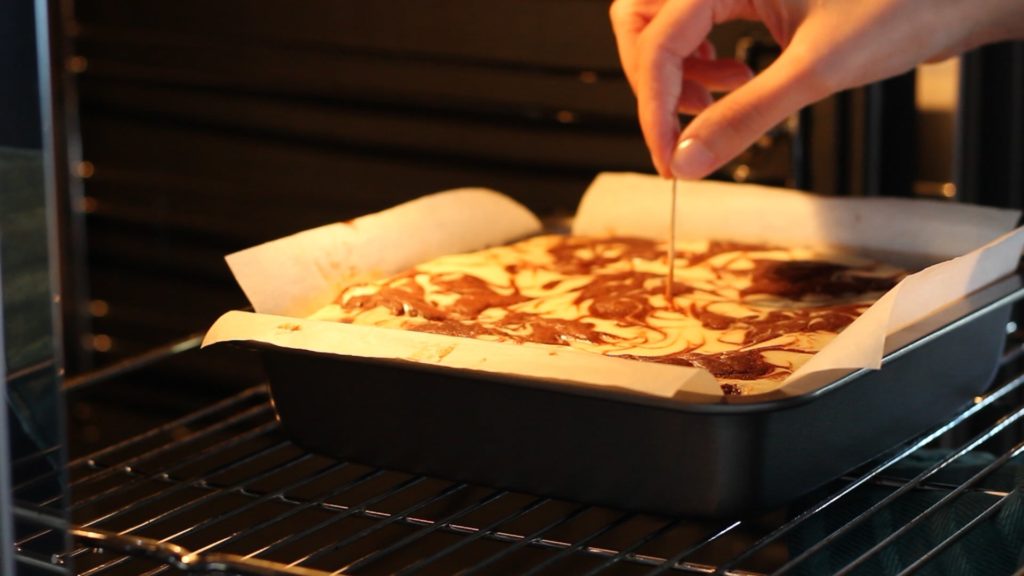 I baked these Eggless Cheesecake Brownies with my traditional electric oven, heat upper and lower and I turned the fan off. 
They are done after about 40 minutes (don't forget to preheat your oven at 160°C-320°F!): the cheesecake layer slighlty jiggle in the middle but it's firm at the sides; if you make the toothpick test, it turns out moist, slightly dirty and not dry. Don't wait until it turns out dry and clean of your brownies will turn out dry!
Also remember to chill in refrigerator for about 90 minutes before unmold and cut into squares.