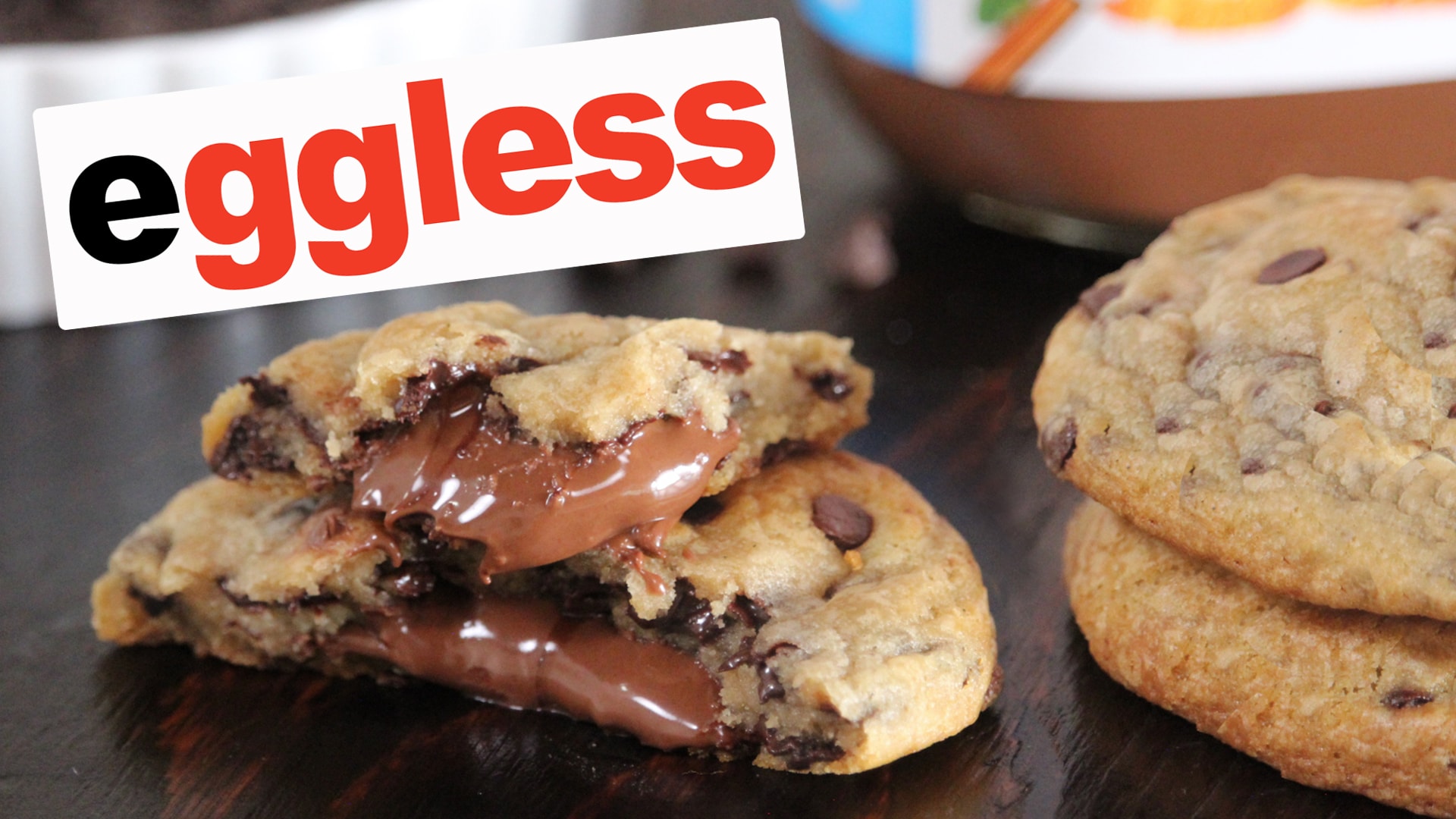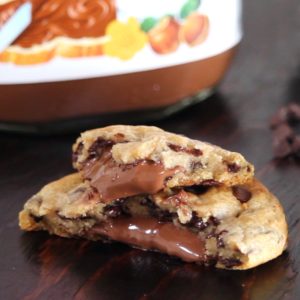 EGGLESS CHOCOLATE CHIPS NUTELLA COOKIES
These Eggless Chocolate Chip Cookies are incredibly chewy and soft with a slighlty crispy edges. The Nutella stuffing makes them even more irresistible!
I made this eggless version because you asked me for it after you loved my Chocolate Chip Nutella Cookies with eggs. The resluts of these eggless cookies is the same to the egg ones: now everyone can taste this amazing treats!
The Nutella filling stay soft, creamy and gooey for a lot of days after you bake them, the only advice is to follow the instructions down below and don't overbake the cookies.
Ingredients
9-10

large teaspoons

Nutella

110 g

(1/2 cup)

unsalted butter

softened at room temperature

65 g

(6 tbsp)

light brown sugar

35 g

(2+1/2 tbsp)

caster sugar

1 tsp

vanilla paste

or vanilla extract

30 g

(2 tbsp)

milk

room temperature

3 g

(1/2 tsp)

baking soda

180 g

(1+1/3 cups)

all purpose flour

Pinch of salt

100 g

(2/3 cup)

chocolate chips
Instructions
Spoon 9-10 large teaspoon of Nutella onto a baking sheet lined with parchment paper and freeze for 1 hour.

In a large size bowl, mix with a spatula the softened butter, light brown sugar, caster sugar and vanilla until creamy.

Add the milk and mix until combined (don't worry if it lumps).

Incorporate with a spatula the sifted flour and the baking soda into the butter mix in two times: don't overmix the dough.

Incorporate Chocolate Chips to the dough. If you live in a hot climate, maybe you could need to refrigerate the cookie dough for about 30 minutes before scoop it.

Use an ice cream scoop (5 cm - 2 inches) and scoop out the cookie dough.

Flatten the cookie dough ball into a circle and place in the center a frozen scoop of Nutella.

Fold the edges of the cookie dough circle around Nutella stuffing and roll into a ball.

Repeat for the rest of the dough: you'll get 9 or 10 stuffed cookie balls.

Place the balls onto a lined baking sheet and put in refrigerator for 30-60 minutes (if you don't live in a hot climate, you can skip the refrigerating step and bake directly the cookies).

Place 5 cookie balls on a lined baking sheet (at least 5 cm-2 inch apart) and bake in preheated oven at 180°C-350°F for 9-12 minutes (until the edges will be golden brown).

Remeber: don't overbake the cookies or the Nutella center will turn out dry!

Remove from the oven and allow the cookies to cool on the baking sheet for about 10 minutes before transferring them to a wire rack to cool completely.
Video
Notes
You can store cookies in an air tigh container or a tin cookie box at room temperature for up to 1 week, the Nutella center will stay soft and creamy!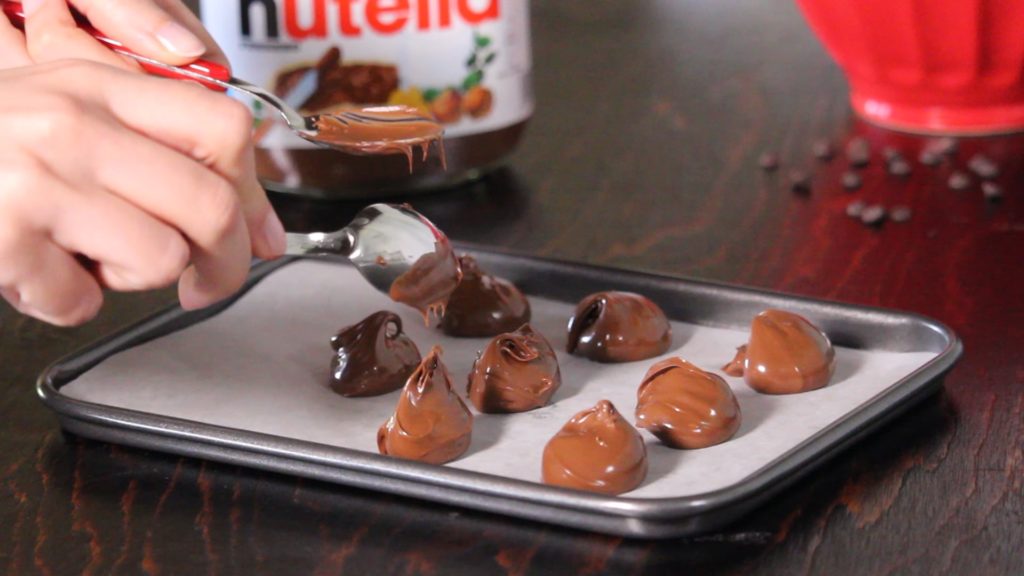 You can make these eggless cookies even without Nutella. You just have to scoop the dough, refrigerate it for 30 minutes (optional) and bake them!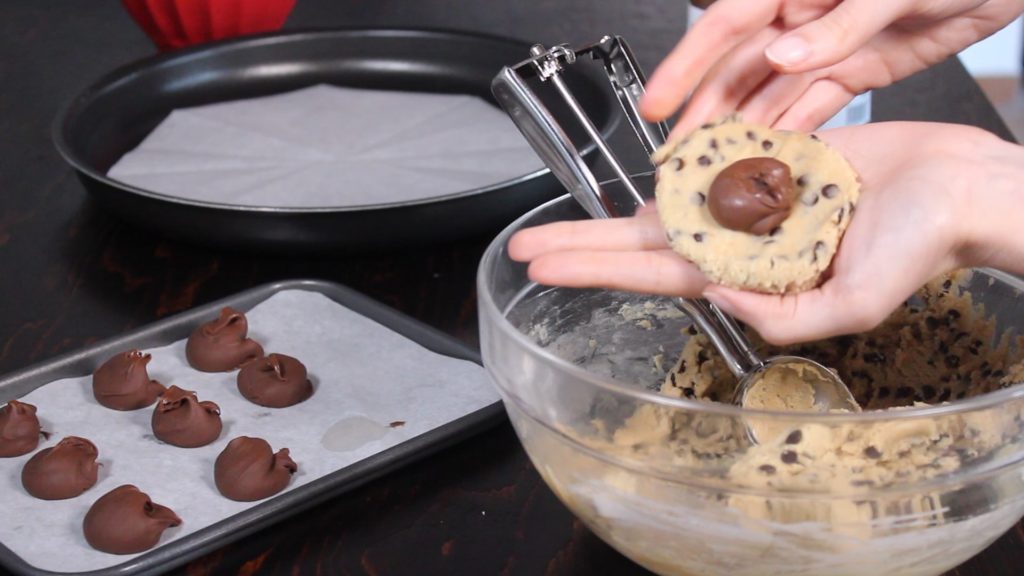 Roll quickly the cookies because Nutella tends to melt fast, or consider to freeze Nutella for minutes more, mostly if you live in a hot climate.
You can prepare the cookie balls the day before, store in refrigerator, and bake them the day after. They keep in refrigerator for two or three days. You can even store the cookie balls in freezer for about 2-3 months and directly bake them when you need some freshly baked cookies!