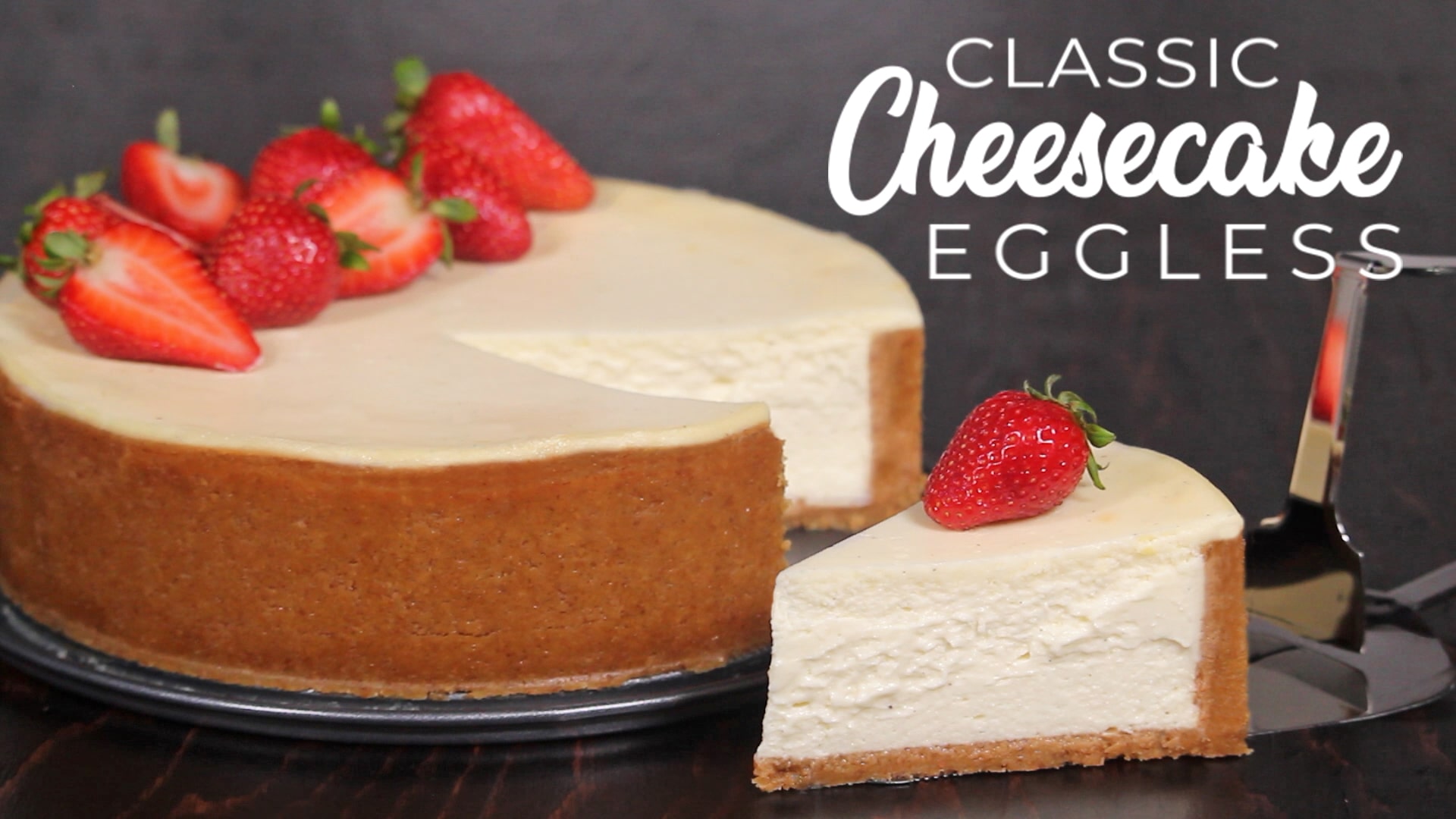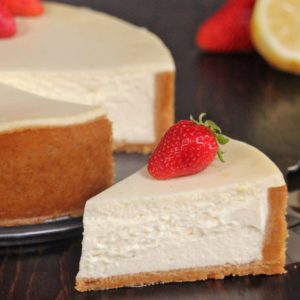 EGGLESS CLASSIC CHEESECAKE
Creamy, rich, decadent…and eggless!
This Eggless Classic Cheesecake taste exactly like the classic New York's style baked cheesecake recipe, but it's made without eggs (don't worry, nobody will notice that!).
If you always complain about getting cracks on top of your cheesecake, this recipe is perfect for you because I give you all the tips to always get smooth cheesecake top without cracks.
You can topping with your favourite fruit sauce, chocolate....or simply have it as it is like I always do. Once you taste this cheesecake, you won't stop 'till the end!
Ingredients
Crust
300 g

(10,5 oz)

Digestive biscuits

or similar cookies

140 g

(2/3 cup)

unsalted butter

melted

18 g

(1 tbsp)

honey
Cream Cheese Filling
550 g

(19,5 oz)

cream cheese like Philadelphia

chilled

145 g

(2/3 cup)

caster sugar

2 tsp

vanilla paste

or vanilla extract

The zest from 1/2 small lemon

160 g

(2/3 cup)

whipping cream

or heavy cream, chilled

160 g

(2/3 cup)

unsweetned plain yogurt

or Greek yogurt or sour cream

130 g

(1/3 cup+1/2 tbsp)

sweetened condensed milk

20 g

(3 tbsp)

cornstarch

30 g

(2 tbsp)

milk

lukewarm
Instructions
Crust
Crush the biscuits using a food processor until crumbs form.

Add melted butter, honey and process until evenly moistened.

Press the crumbs mixture with the back of the spoon into the bottom and 4cm-1,5inch up side of a 20cm-8inch springform pan.

Refrigerate until prepare the filling.
Cream Cheese Filling
In a large bowl, place cream cheese, vanilla, lemon zest, sugar and mix just until combined and creamy. Don't mix too much if you use an electric mixer, you don't have to incorporate air bubbles.

Add whipping cream and mix just until combined (about 1 minute).

Add yogurt, condensed milk and mix just until combined.

In a small bowl, place cornstarch and add warm milk little by little until get a fluid mix.

Add the cornstarch mix into the cream cheese mix and mix just until combined: don't overmix!

Wrap the bottom of the pan with a double alluminium foil, place the Cream Cheese Filling over the crust and spread evenly with a spatula.

Bake in waterbath in preheated oven (no fan, upper and lower heat) at 160°C-320°F for 45-50 minutes.

Turn the oven off, open the oven door and slowly let the cheesecake cool down in the oven for 30 minutes.

Remove the cheesecake from the oven and cool down at room temperature.

Put in refrigerator to chill bevore serving for at least 3-4 hours, better overnight.
Video
Notes
You can store cheesecake in refrigerator for one week.
You can freeze it for one month.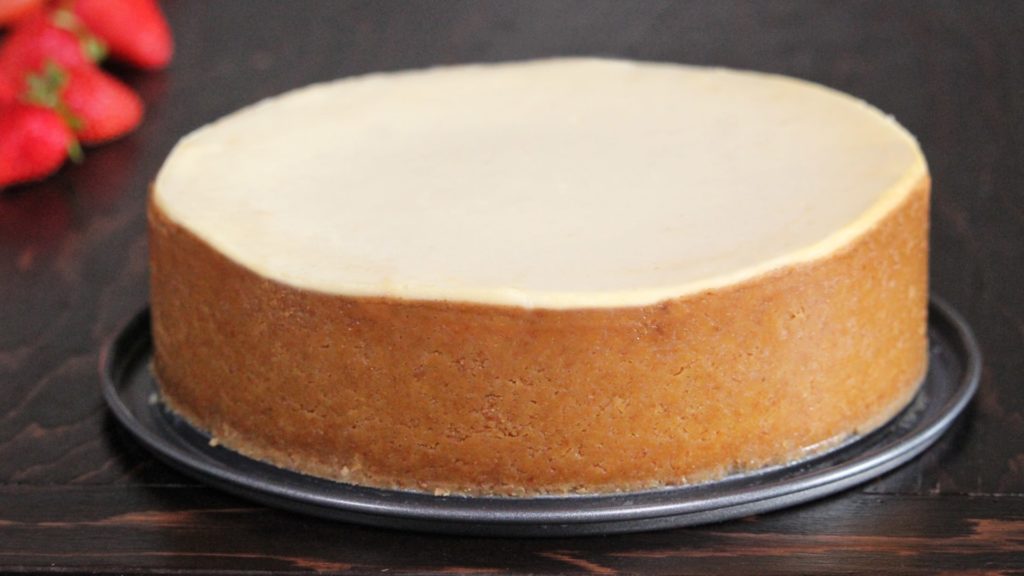 If you always complain about cracks on top of your cheesecake, here all my tips to always get a smooth top without cracks:
Don't overbake your cheesecake! Cheesecake is ready when still jiggles, only the sides are slighlty firm. I suggest to bake using waterbath to get a creamier cheesecake texture, but if you don't want to make waterbath, check out my alternative baking method that always gives smooth cheesecake top without crack: you can find it here in my Classic Cheesecake Recipe.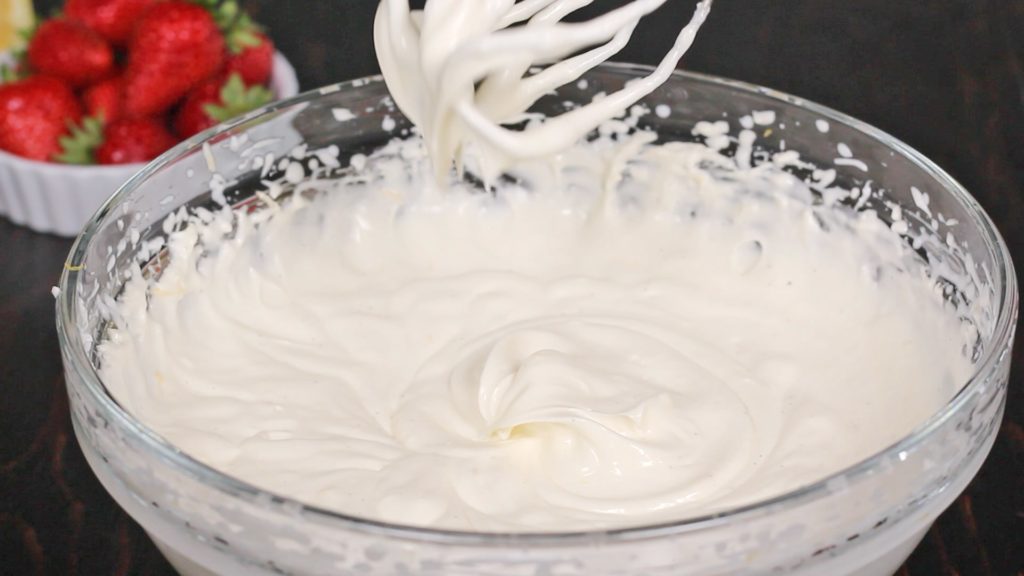 Don't overmix Cheesecake batter! You're not making a sponge cake and you don't need to incorporate  air bubbles into your cheesecake batter. Mostly if you are using a hand mixer, pay attention to not overmix: the ingredients should only be incorporated without mixing them too much!      
Slowly cool down your cheecake: that's why I prefer to turn the oven off after about 45-50 minutes baking, open the oven door and cool down cheesecake slowly into the oven for about 30 minutes.
For the cookie crust, I used Digestive biscuits, but you can use Graham Cracker or any kind of other low sugar cookies. You can reduce them into crumbs using a food processor or put them into a ziplock bag, close the bag then press them with a rolling pin to perfectly crumb them.