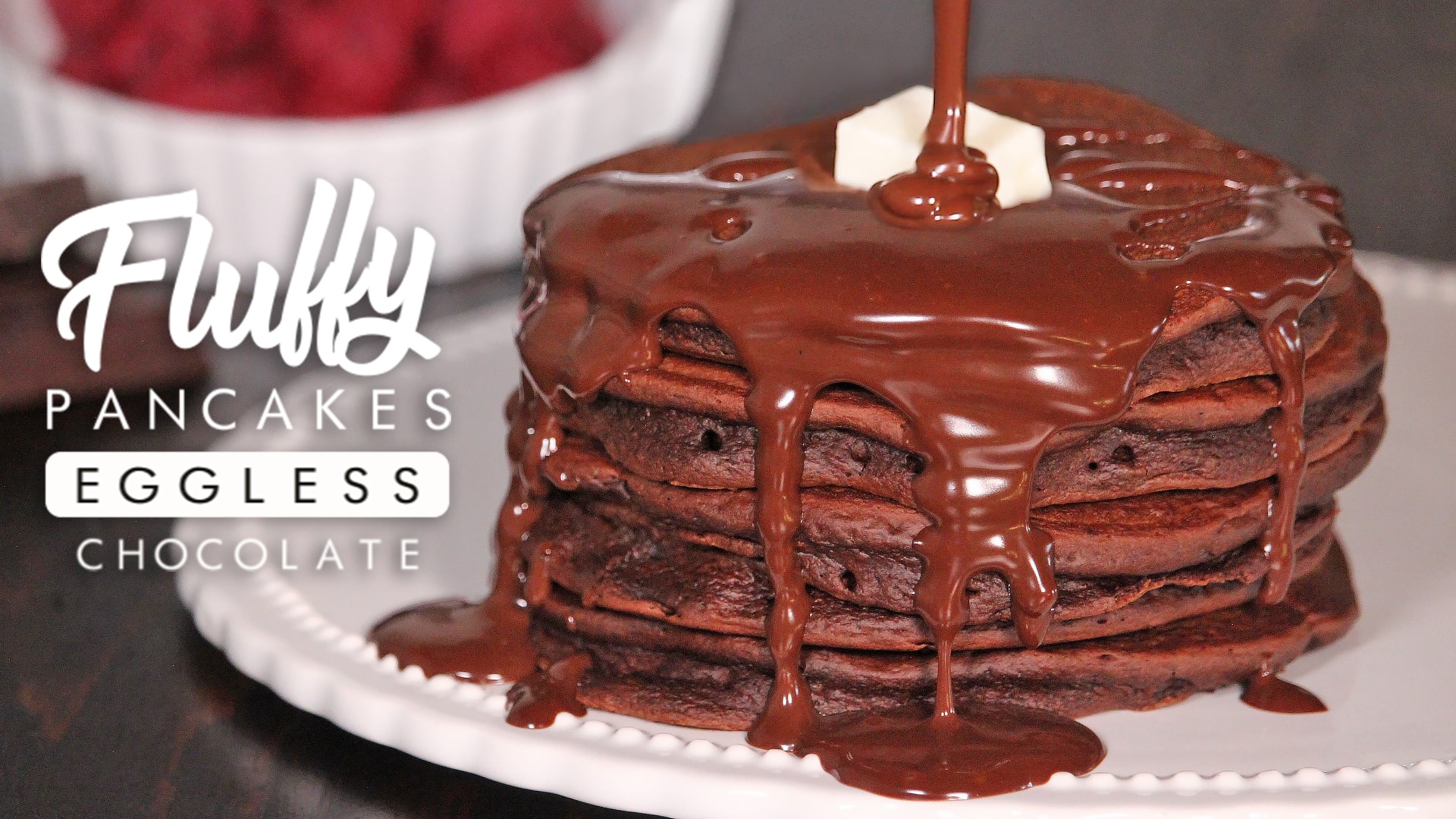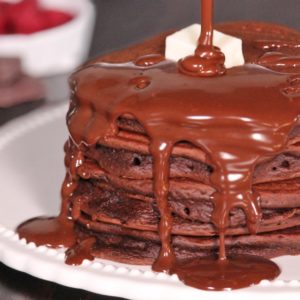 EGGLESS FLUFFY CHOCOLATE PANCAKES
Incredibly fluffy and light chocolate pancakes that taste exactly like classic pancake with eggs!
These pancakes are the best ever, if you love chocolate you have to try them! With the luscious chocolate ganache on top, they are absolutely decadent and irresistible.
They are not too sweet, so you can perfectly taste the chocolate flavor.
I've used two bowls for preparing them: one for the liquid ingredients and one for the dry ingredients, but you can use just one bowl! Just remember to let rest the milk with vinegar for about 10 minutes, then you can add melted butter and incorporate the dry ingredients directly into the liquid ones.
The milk and vinegar mix is very helpful for making soft and fluffy pancakes. You can also use lemon juice instead of vinegar. The mix made with milk and an acidic ingrient - like vinegar or lemon juice - is the easiest way to make homemade buttermilk. Of course you can substitute milk + vinegar with the same amount of buttermilk.
I think that chocolate ganache is the perfect way for topping chocolate pancakes, but surely you can serve them with your favourite topping, like whipped cream, fresh fruits or just a simple powdered sugar sprinkle.
If you have never tried to match coffee with chocolate, I suggest to try adding a bit of instant coffee powder into your chocolate pancake batter or in the chocolate ganache: it will be simply amazing!
Ingredients
Chocolate Pancake Batter
270 g

(1 cup + 2 tbsp)

milk

room temperature

10 g

(2 tsp)

white vinegar

or lemon juice

40 g

(3 tbsp)

unsalted butter

melted

50 g

(1/4 cup)

sugar

150 g

(1+1/4 cups)

all purpose flour

35 g

(1/4 cup)

unsweetened cocoa powder

1/4 tsp

salt

6 g

(1+1/4 tsp)

baking powder

4 g

(3/4 tsp)

baking soda
Chocolate Ganache
160 g

(2/3 cup)

whipping cream

or heavy cream

100 g

(3,5 oz)

bittersweet chocolate
Instructions
Chocolate Pancake Batter
In a small bowl, place milk, vinegar and mix; let it rest for about 10-15 minutes, it will curdle.

In a large bowl sift together flour, sugar, cocoa powder, salt, baking powder, baking soda and mix until well combined.

Add melted butter into the milk mix and mix until combined.

Pour milk mix into the sifted flour mix and mix until combined, but be careful: don't overmix, it's ok if you see some small lumps.

Cover and let it rest until heat the pan.

Heat a nonstick pan over medium heat for few minutes.

Grease the pan with butter and absorb the excess with a kitchen paper.

Use 1/3 cup (80 ml) to take the batter and pour it into the hot pan.

Flip pancake when the top bubbles and the batter on top is still runny and not too firm.

Cook the other side for about 50 seconds or until the inside is done (don't cook too much your pancakes or they will turn out less fluffy).
Chocolate Ganache
Place whipping cream and chopped chocolate into a small pitcher and microwave just until chocolate is melted (check about every 20 seconds). If you don't have microwave, you can place chopped chocolate and whipping cream into a heat proof bowl and melt over bain-marie.

Mix well until chocolate ganache is smooth and there aren't chocolate lumps.

Pour warm chocolate ganache on top of pancakes and serve it.
Video
Notes
You can store leftovers in the fridge for 2 days or in freezer for about 2 months.
Serve your pancakes at room temperature or slightly warm (without ganache) using a toaster, a non stick pan or a microwave.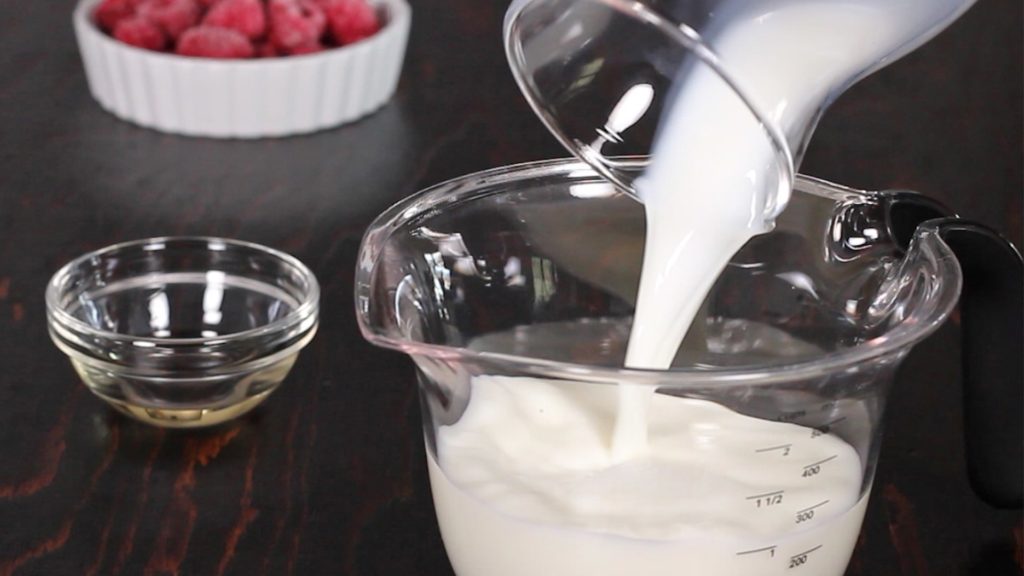 If you've found very strange using vinegar in this recipe, don't worry, it's just a simple way to make buttermilk at home! So you can use buttermilk, if you have it in your refrigerator, instead of vinegar and milk.
You can also use lemon juice instead of vinegar, surely you won't taste the vinegar (or lemon) in the end.
The vinegar (or buttermilk) acidity is very important in this recipe, so don't use regular milk without vinegar or lemon juice. It reacts with baking soda (basic) creating carbon dioxide and giving fluffiness and rising to your pancakes.
I've never tried to use vegetable milk, but I'm sure you can use it without any problem if you want to veganize this recipe. I think that almond or coconut milk will taste great in these chocolate pancakes!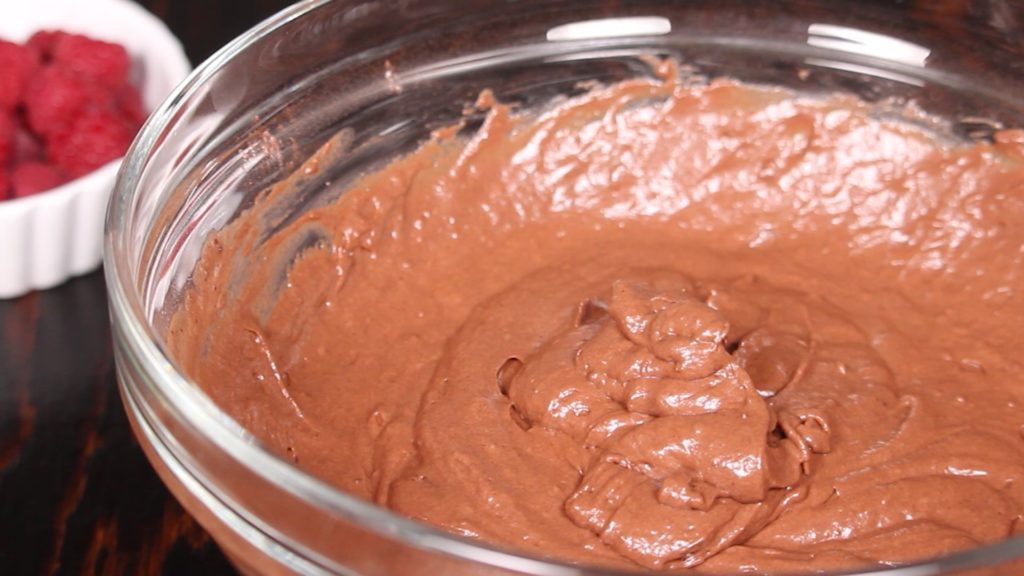 Your pancake batter should be not too runny but not too thick. The consistency is very important for the fluffiness of your pancakes!
The flour you are using could absorbs less or more liquid than mine (every Country has slightly different flour and the different brands get different results), so check to get a batter like mine: the recipe video will be very helpful to get the perfect batter consistency!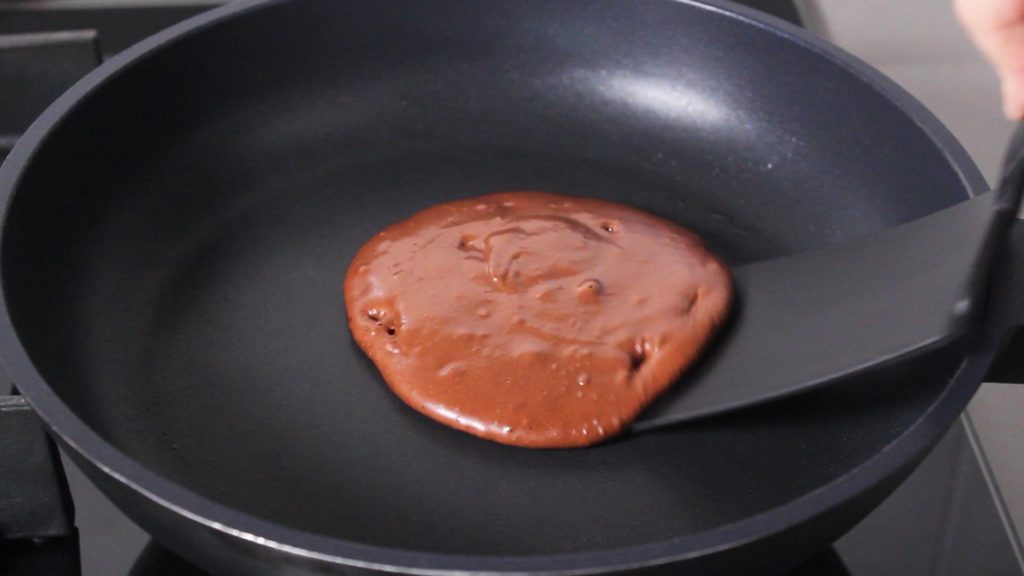 The cooking and flipping time are also very important when you make pancakes to get fluffy and moist crumbs with perfect rised pancakes.
I preheat my nonstick pan at medium heat for few minutes (about 3 minutes), then I grease it with butter and absorb the excess.
I cook the first side of my pancake until I can see bubbles on top and the batter on top is stil a bit runny and not dry, this will give you a perfect rising! So wait to flip when you see bubbles, but don't wait too much until the top is dry or your pancakes won't rise too much and will be less fluffy.
After you flipped your pancakes, don't over cook it: you should just wait until the center is done. Don't cook too much or it won't be moist!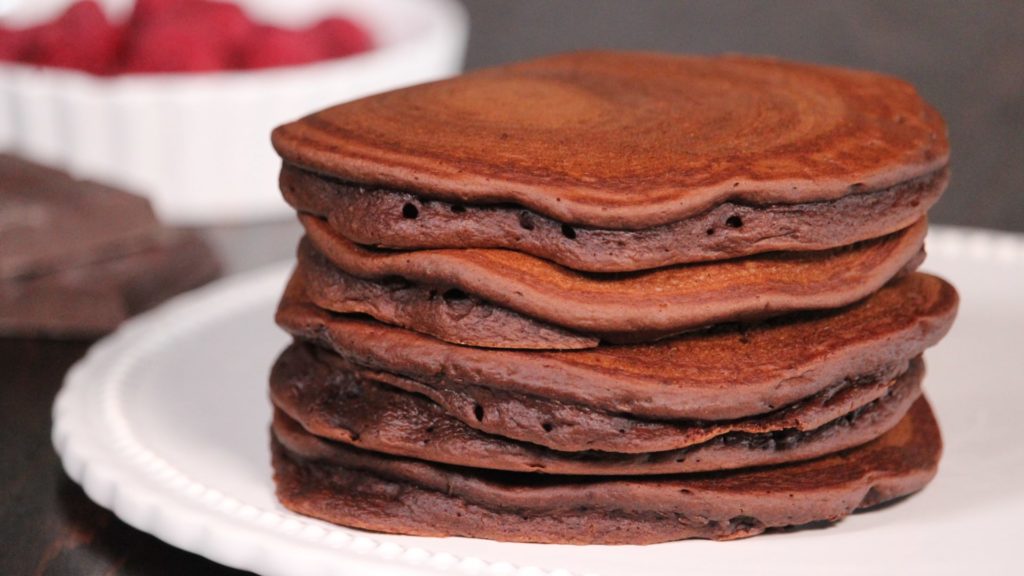 If your pancakes turn out less tall or less rised than mine, these could be the reasons:
your batter was too runny and needed a bit more flour;
you needed a bit more baking powder (maybe it was expired or open for too long);
you cook too much your pancakes and flip them too late!