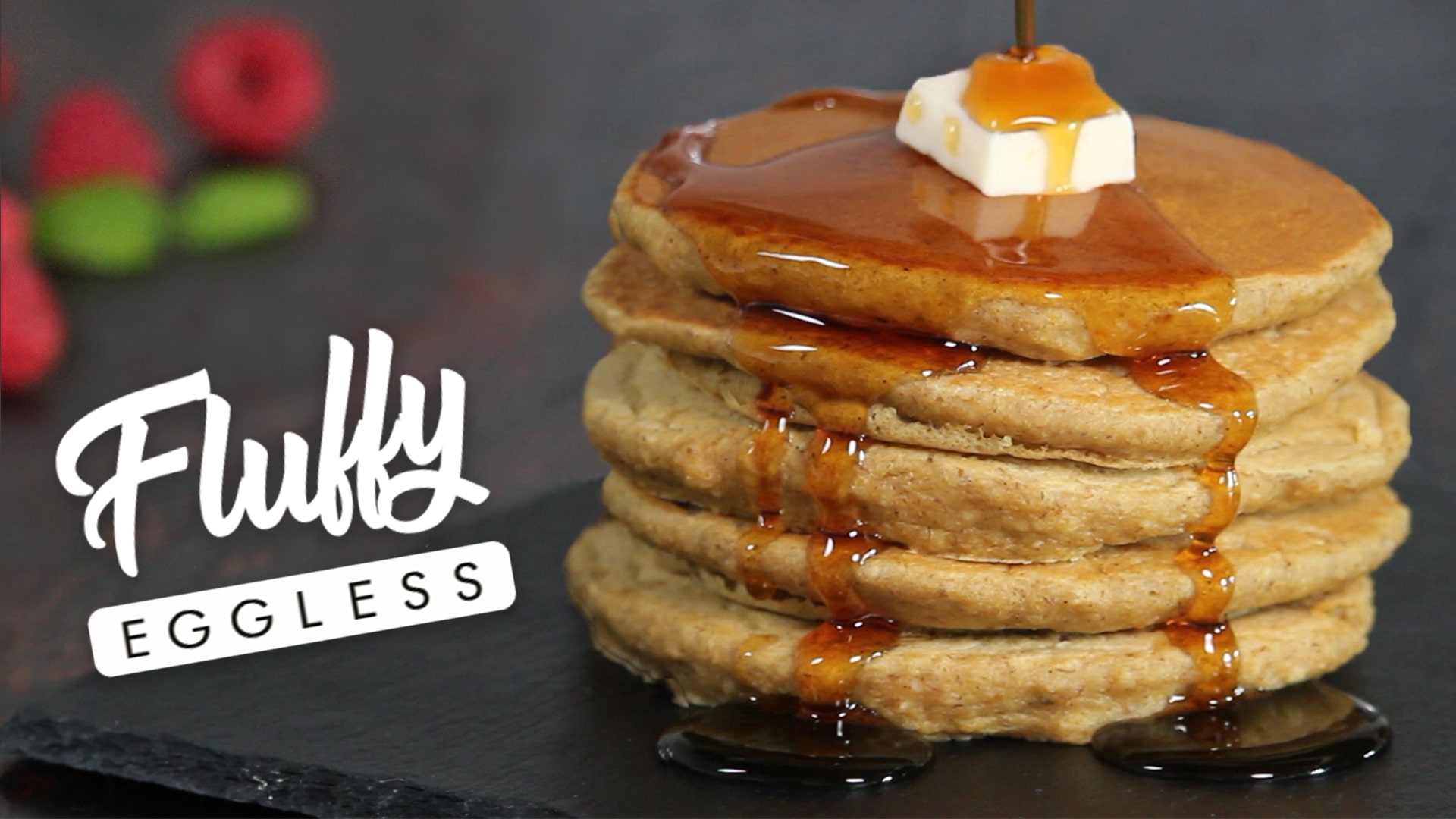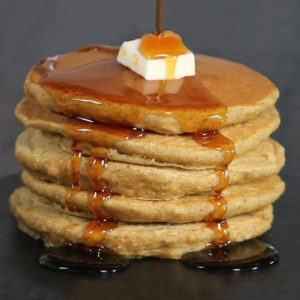 EGGLESS FLUFFY OATS PANCAKES - GLUTEN FREE
These healthy Oats Pancakes are made without eggs and gluten free: made only with rolled oats, without refined sugar and butter, they are still incredibly fluffy, moist, soft and delicious!
The vinegar added to the milk, reacts with baking soda and let the pancakes rise, giving them a soft and fluffy texture.
Oats make you fell full for hours, so you'll have a tasty rich breakfast with low calories.
Oats is naturally gluten free, however, oats are often contaminated with gluten because they may be processed in the same facilities as gluten-containing grains like wheat. For this reason if you're celiac, I suggest to always buy oats with the gluten-free mark on the packaging, so you're sure that oat was not contaminated with gluten.
I've added maple syrup to the batter to get more tasty pancakes, but you can skip it and use maple syrup only as topping and add some fresh fruit and nuts on top of your pancakes!
You can prepare them and frozen cooked panckaes for up to 3 months: so you can prepare your breakfast every morning in 1 just minute!
If you don't like oatmeal but you're looking for a healthy and delicious breakfast, this is the perfect recipe for you!
Ingredients
240 g

(1 cup)

milk

or buttermilk: in this case skip vinegar

10 g

(2 tsp)

white vinegar

or apple vinegar or lemon juice.

20 g

(1+1/2 tbsp)

vegetable oil

20 g

(1 tbsp)

maple syrup

or honey or sugar

135 g

(about 1+1/2 cups)

old fashioned rolled oats

1+1/2 tsp

baking powder

1/2 tsp

baking soda

1 tsp

vanilla paste

or vanilla extract

pinch of salt
Instructions
Mix together milk, vinegar and let it rest for 5 minutes. You can also use buttermilk and skip the vinegar step.

Meanwhile grind oats finely using a food processor.

Into the milk and vinegar mix add vegetable oil, maple syrup and mix until well combined.

Add grinded oats, baking powder, baking soda, salt, vanilla into the milk mix and combine. If your batter turns out too thick and hard, add a splash of water or milk to get a more fluid batter. The consistency of the batter depends on the types of oats you use, it should be a medium consistency, not too thick and not too runny.

Preheat a non-stick pan slightly greased with butter (absorb the excess of butter with a kitchen paper).

Pour about 1/3 cup of batter in the pan and cook over medium-low heat until the sides are dry but the center sill runny (about 2 minutes).

Flip pancakes and cook the other side until golden (about 1 minutes).

Serve immediately with fresh fruit, maple syrup or honey...or your favourite topping!
Video
Notes
You can serve with fresh fruit.
Store in refrigerator for 3 days or in freezer up to 3 months.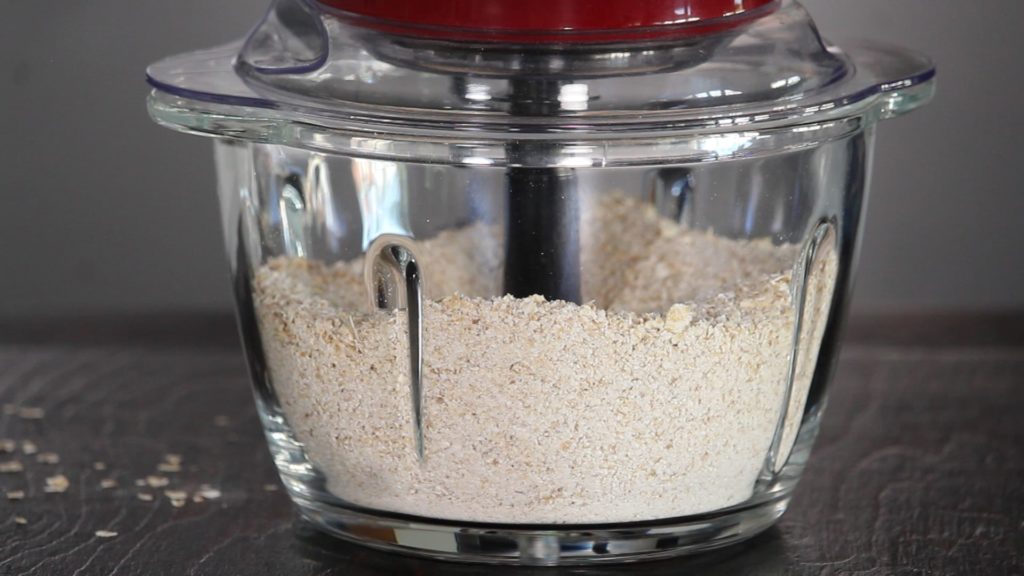 These cookies are gluten free, only made with oats. Oats is naturally gluten-free, however it could be contaminated iwth gluten because they may be processed in the same facilities as gluten-containing grains.
For this reason, if you're celiac, I suggest to always buy oats that clearly say it's gluten-free.
Use a food processor to finely grind your old fashioned rolled oats or use a pure oat flour.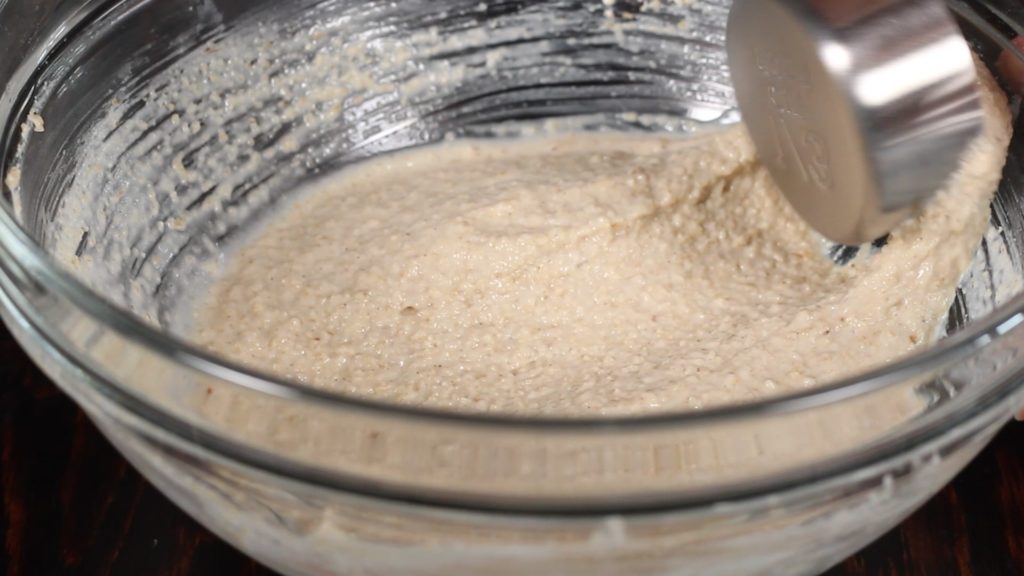 I suggest to use a kitchen scale to measure oats and not cups. Oats can be in different shape, huge whole rolled and small, break rolled pieces: the using a cup won't be accurate, because 1 cup of whole rolled old fashioned oats has a different weight than 1 cup of break and smaller oats.
Consider that every oats can absorb more or less liquid, so you may need a bit more/less of grinded oats for your pancake batter. It shouldn't turn out too thick neither too runny.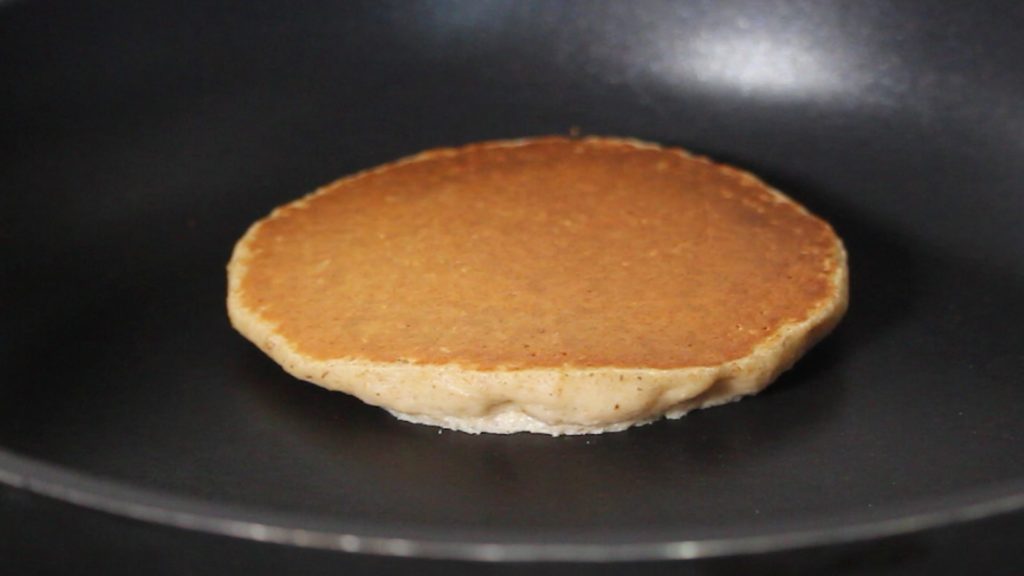 These Eggless Oat Pancakes are incredibly easy to make, but like all pancakes, you should cook them in the right way.
Preheat a non-stick pan, slightly greased with butter/vegetable oil and absorbe the excess using a kitchen paper. 
Cook pancakes on a medium-low heat: in this way you can perfectly cook through, but without drying them too much or burning the top/bottom! 
Flip them when the bottom is golden, the sides are dry but at the center the batter is still runny. Now you can cook the other side for about 1-2 minutes until it becomes golden.
Be careful to not over-cook or they become dry!