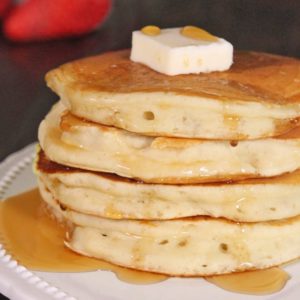 EGGLESS FLUFFY PANCAKES
Everyone who tried these pancakes couldn't believe they were made without eggs!
They are so fluffy and moist, rich in taste, that they taste exactly like regular pancakes.
They are also very easy and quick to make, you only need one bowl and a whisk, no hand mixer at all for these fluffy babies.
I made them with low sugar, so they are perfect if topped with sweet stuffs like maple syrup, fruit jam, Nutella...bring out your imagination!
Perfect for breakfast, snacks (or even if you run out eggs), sure they will be a hit!
Ingredients
270 g

(1 cup + 2 tbsp)

milk

room temperature and full fat is better for a rich taste

10 g

(2 tsp)

white vinegar

or apple vinegar or lemon juice

1/2 tsp

vanilla extract

40 g

(3 tbsp)

unsalted butter

melted

20 g

(2 tbsp)

sugar

180 g

(1+1/2 cup)

all purpose flour

1/4 tsp

salt

4 g

(1 tsp)

baking powder

4 g

(1/2 tsp)

baking soda
Instructions
In a large bowl place milk, vinegar and mix; let it rest for about 10 minutes.

Add vanilla, butter, sugar and mix until combined.

Add sifted flour, baking powder, baking soda, salt and gently mix until with a spatula until almost completely combined: don't mix too much!

Cover and let it rest for about 10 minutes or until heat the pan.

Heat a nonstick pan over medium heat.

Grease the pan with butter and absorb the excess with a kitchen paper.

Use 1/3 cup to take the batter and pour it into the hot pan.

Flip pancake when the top bubbles and the batter on top is still runny and not too firm.

Cook the other side for about 50 seconds or until the bottom is golden brown.

Serve immediately with some butter and maple syrup.
Video
Notes
You can store leftovers in the fridge for 2 days or in freezer for about 2 months.
Serve at room temperature or slightly warm using a toaster, a non stick pan or a microwave.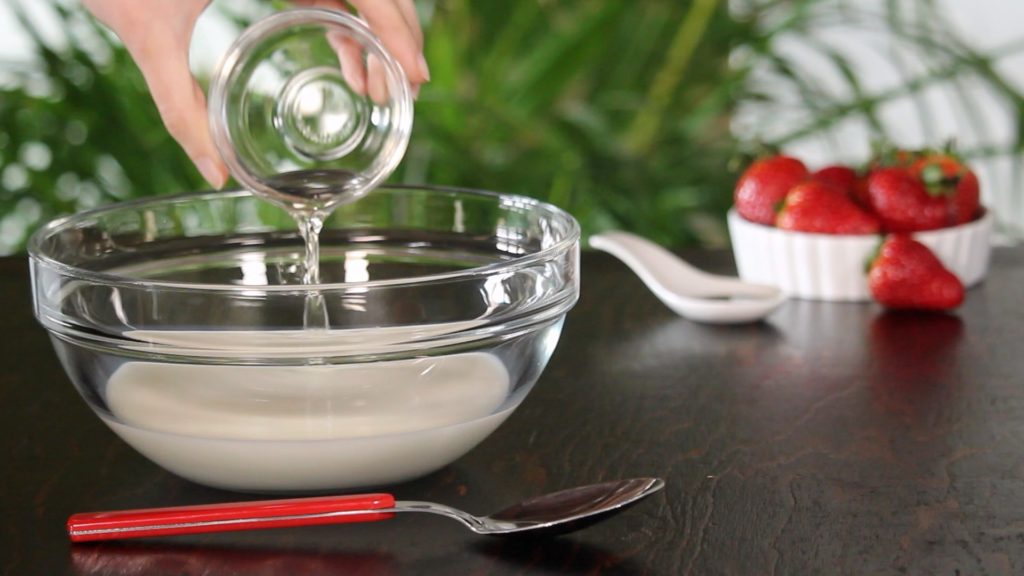 If you've found very strange using vinegar in this recipe, don't worry, it's just a simple way to make buttermilk at home! So you can use buttermilk, if you have at home, instead of vinegar and milk.
You can also use lemon juice instead of vinegar but be sure you won't taste the vinegar (or lemon) in the end.
The vinegar (or buttermilk) acidity is very important in this recipe, so don't use regular milk without vinegar or lemon juice. It reacts with baking soda (basic) creating carbon dioxide and giving fluffiness and rising to your pancakes.
If your panckaes don't rise as mine, check the batter consistency: it hasn't be too runny or watery; otherwise, don't add too much flour or your pancackes won't be soft but dry. You can also add a bit more of baking powder in the batter to get a better rising.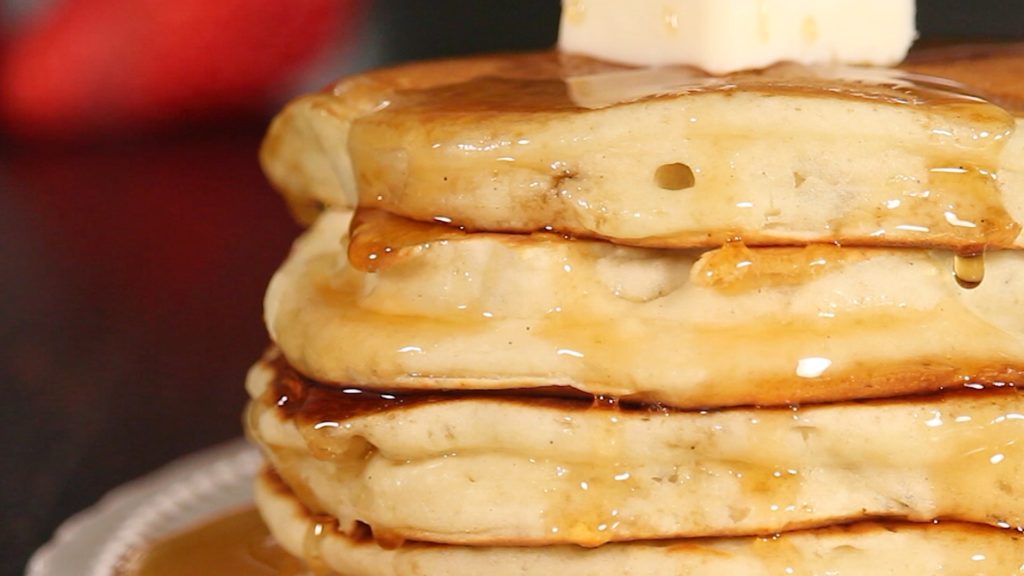 I didn't add too much sugar in this pancake batter, so they are perfect topped with Maple Syrup or other sweet topping. 
If you want to make them healthier, you can reduce the sugar amount by 50% and replace melted butter with the same amount of vegetable oil.