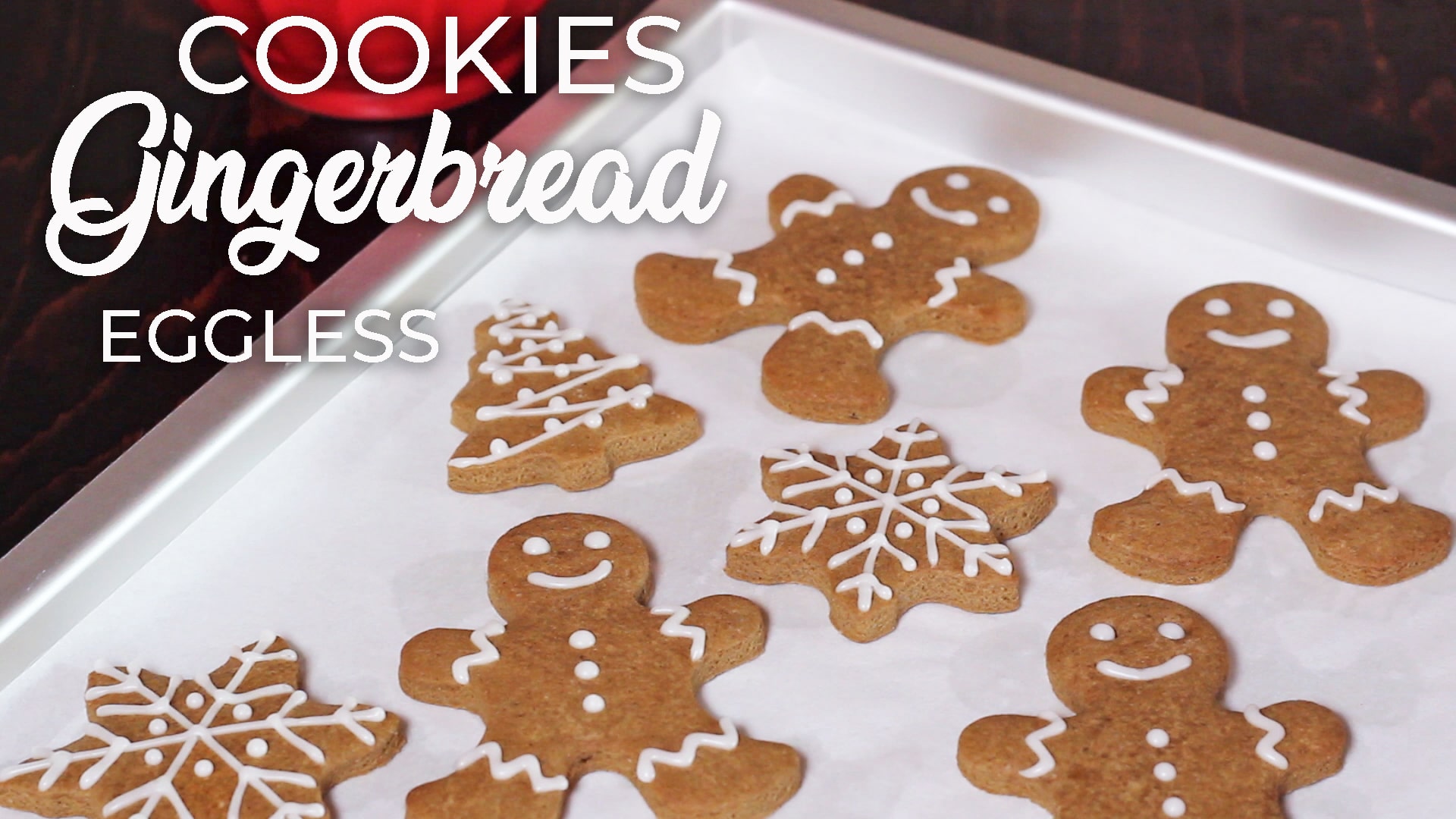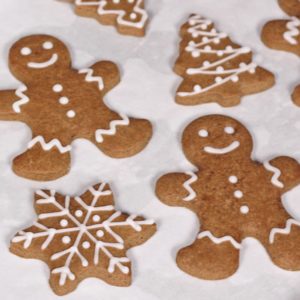 EGGLESS GINGERBREAD COOKIES
One of the most popular cookies recipe of Holiday and Christmas season is Gingerbread Cookies!
This recipe is incredibly easy and the best you can find out there: the dough is ready in few minutes in a food processor and they are done in only 8 minutes in the oven!
They are also low in calories because they are eggless and made with a low butter amount.
Made with molasses (that you can sobstitute it with honey or maple syrup, read my tips below) and water that gives a bit of extra cryspiness outside, they feature a soft inside.
If you love spices and Christmas flavors, this is the perfect recipe for you!
Ingredients
Gingerbread Cookies
275 g

(2+1/4 cups)

all purpose flour

1/4 tsp

baking soda

2 tsp

cinnamon powder

1/4 tsp

ginger powder

1/4 tsp

cloves powder

pinch of

nutmeg

50 g

(1/4 cup)

brown sugar

75 g

(1/3 cup)

unsalted butter

cubed and chilled

52 g

(3 tbsp)

molasses

or honey or maple syrup: if you substitute molasses with them, consider to reduce the sugar amount and the water

about 45 g

(3 tbsp)

water
Sugar Icing
60 g

(1/2 cup)

powdered sugar

some drops

water
Instructions
Gingerbread Cookies
In a food processor place flour, baking powder, brown sugar, all the spices, cubed butter and pulse for about 1-2 minutes until you get a sand mix and butter completely combined (do not overmix, you don't have to heat the butter).

Add molasses, water and process about 1 minute until get a dough. The water amount could vary depending on your flour: if the dough comes out wet, add a bit of extra flour; if the crumbs are dry and they don't stick together, add a bit of extra water.

Invert the crumbs onto some plastic wrap, press them together to get a compact dough (but don't knead it too much because you shouldn't heat the dough with your hands), wrap into plastic wrap and chill in refrigerator for at least 20 minutes.

Roll the dough between a parchment paper sheet and a plastic wrap, so you don't need to add extra flour onto the working surface. Roll about 6mm-1/4inch thickness.

Cut out your cookies and place them onto a lined baking sheet (they don't spread too much in the oven, so you can place them at 1cm apart). Save leftover cut-out cookie dough, knead it, roll it and cut out more cookies.

Bake in preheated fan oven (upper+lower heat) at 175°C-340°F for about 7-8 minutes or until the edges slightly become golden (not too dark).

Cool down completely onto the baking sheet.
Sugar Icing
In a medium size bowl, mix powdered sugar with few drops of water: you should get a very thick sugar paste. Pay attention to not add too much water, you shouldn't get runny sugar icing!

Decorate your cookies using a small sac a poche and tip n.3.

Let the icing dry on the cookies at room temperature for at least 1 hour then serve your cookies.
Video
Notes
When the icing on top dry out, you can store them in a tin cookie box for 2-3 weeks.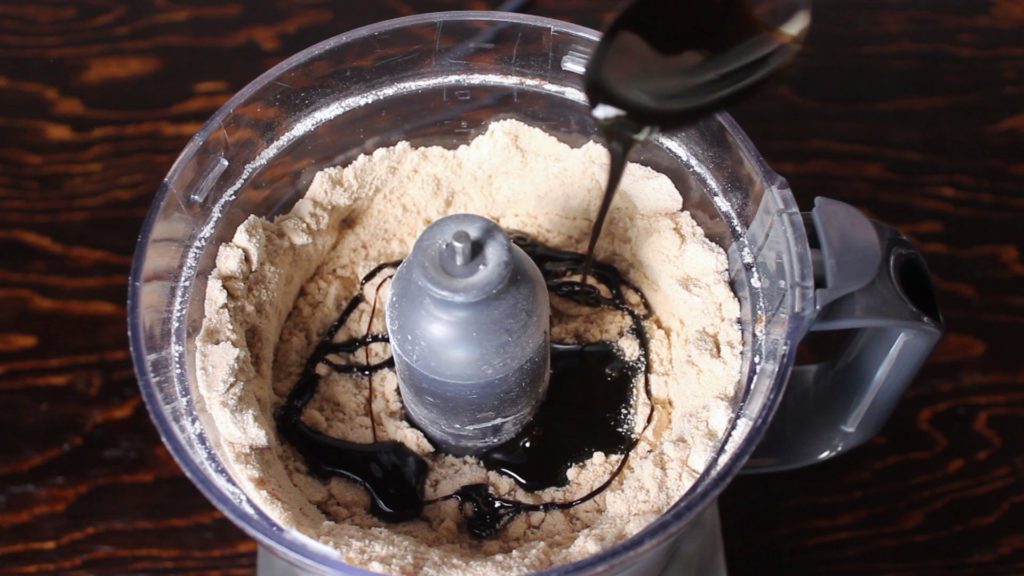 The traditional Gingerbread Cookies recipe is made with pure dark molasses. 
Molasses is a very thick dark syrup resulting from refining of sugar, it's the "brown" part of your brown sugar but very concentrated, so it taste almost burnt and it isn't so sweet: for this reason it gives extra flavor to your dough but you also need to add sugar to sweetened it.
If you can't find molasses in your Country, you can substitute it with honey (better if you can find a dark and less sweet honey) or maple syrup.
But pay attention: honey and maple syrup are more sweet than molasses and also more runny, so if you go for one of them, you can consider the reduce the brown sugar amount in the dough and also the water because you may need a bit less of water to assemble your cookie dough.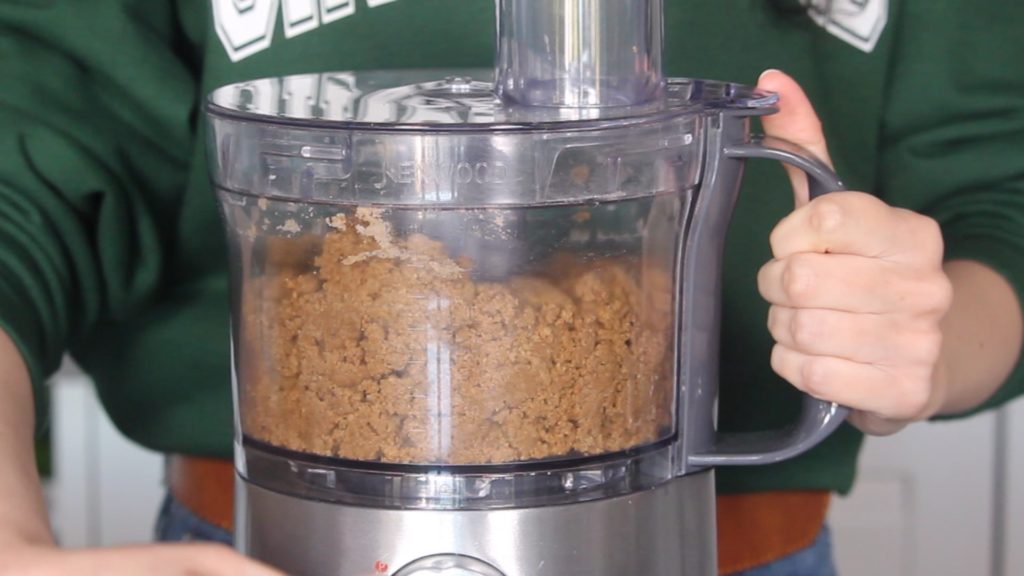 I've made the dough using a food processor, so I didn't heat too much the butter with my hands and it is also a very clean and quick method to make a cookie dough!
If you don't have a food processor don't worry: it is not needful! You can easily make the dough using your hands: whisk flour, sugar, spices and baking soda with a whisk, then use your fingers (or a pastry cutter or a fork) to incorporate the chilled cubed butter to the flour mix. Then incorporate molasses, water and that's it!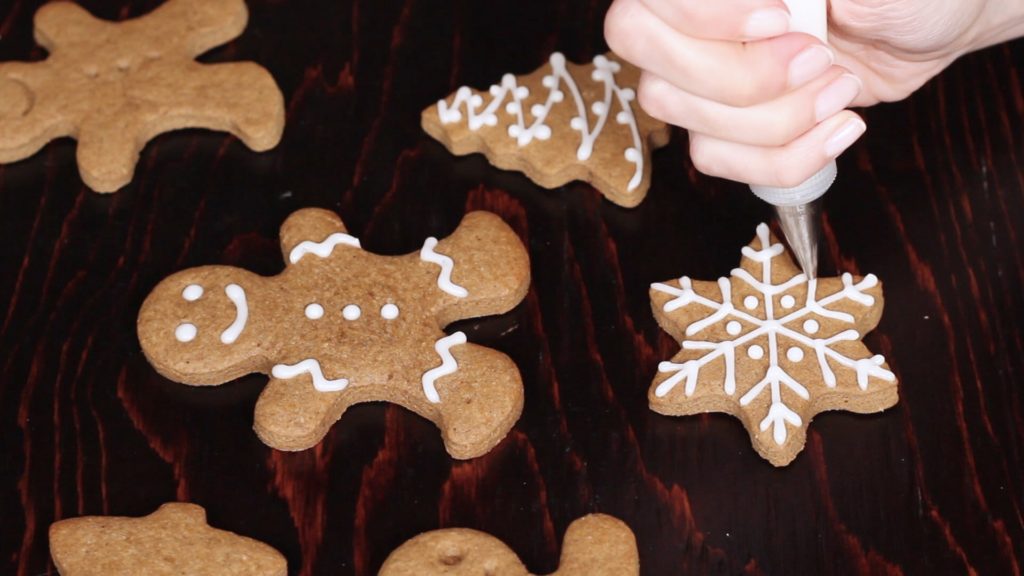 The icing for decoration is made only with water (and with powdered sugar of course!), for this reason it's very important you pay attention to add the little amount of water you can: you should reach a very (very!) thick paste.
If the icing will turn out too runny, you wan't be able to use a piping bag for piping decoration on top of your cookies, you can fix it adding more powdered sugar.
I've used a n.3 piping tip, feel free just to make a little hole (cutting with a scissor) on your piping bag.