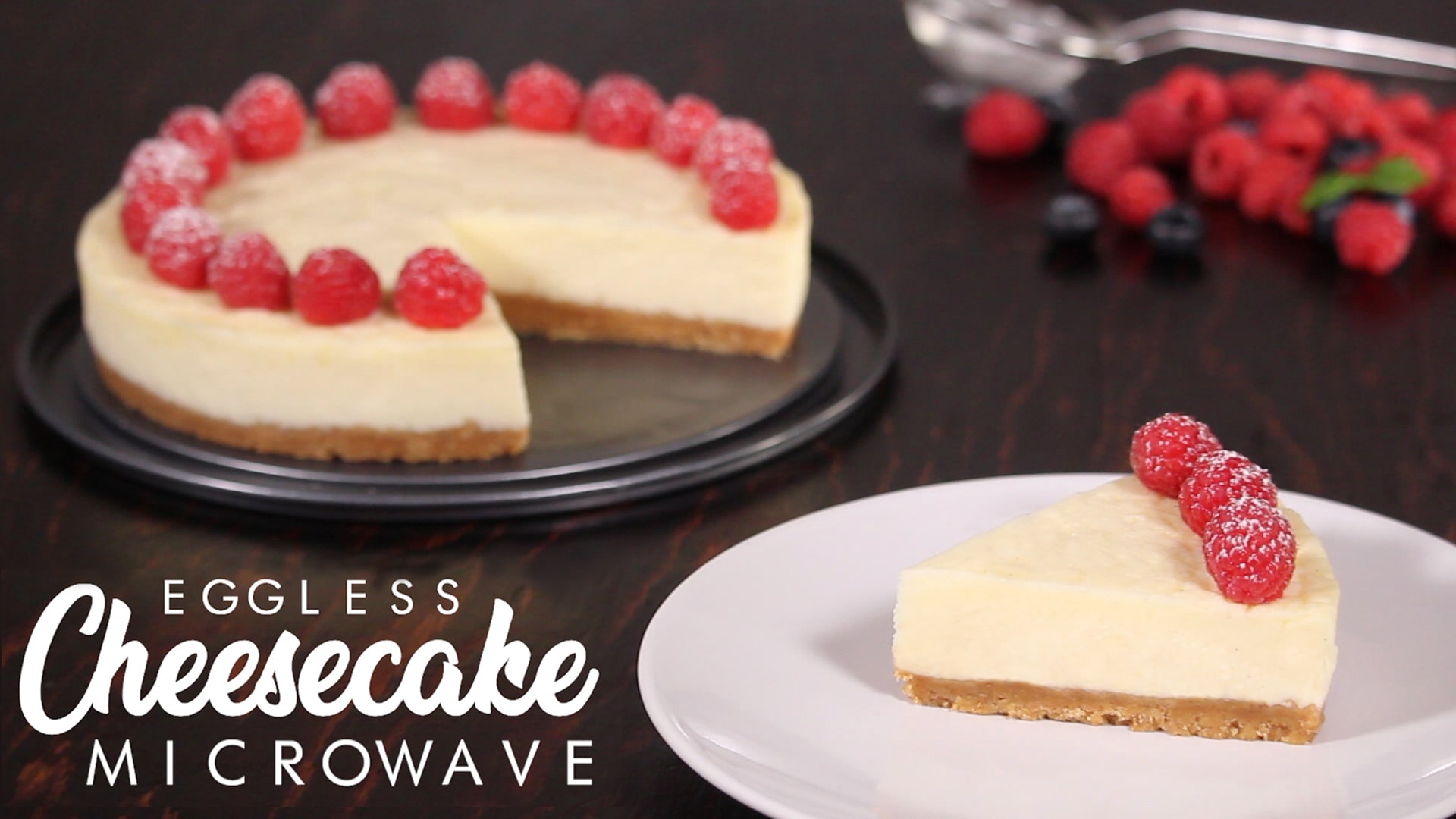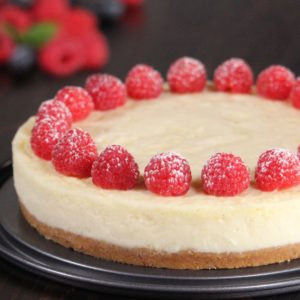 EGGLESS MICROWAVE CHEESECAKE
Can you believe that you can make a classic baked Cheesecake in 10 minutes?! Of course it is possible if you use a Microwave instead of a traditional oven!
This Eggless Cheesecake is simply amazing, so rich and creamy, it's made without eggs and it tastes like a regular classic New York Style Cheesecake!
This decadent cheesecake is truly the most quick and easy to make, you will love it!
If you don't have a microwave you can surely bake it in a classic oven, I'll leave you the infos in the tips section down below.
This isn't a no-bake cheesecake, so the texture is thought for baking in oven or cooking in microwave, it reaches the perfect creaminess just after baking time.
Like all the classic baked cheesecake, the refrigerating time after baking is needful. But you can refrigerate it just for 60-90 minutes, you are not forced to chilled it overnight like a classic oven-baked cheesecake.
Ingredients
Crust
160 g

(5,5 oz)

Digestive biscuits

or other type of biscuits

80 g

(1/3 cup)

unsalted butter

melted
Filling
420 g

(15 oz)

cream cheese like Philadelphia

room temperature

110 g

(1/2 cup)

caster sugar

2 tsp

vanilla paste

or extract

120 ml

(1/2 cup)

whipping cream or heavy cream

chilled

120 g

(1/2 cup)

unsweetened plain yogurt or sour cream

room temperature

100 g

(1/3 cup)

sweetened condensed milk

15 g

(1 tbsp)

cornstarch or all purpose flour

About 20-30 g

(2 tbsp)

milk or whipping cream

warm
Instructions
Crust
Process the biscuits until crumbs form. You can use a food processor or place them into a ziplog bag and use a rollin pin to mash them.

Add the melted butter and mix until evenly moistened. If you use a food processor, don't process too much to avoid warming the butter.

Place the biscuit mix into a silicone 19,5cm - 7,5 inch cake pan (or a microwave save pan) and press with the back of a spoon to create a flat crust.

Refrigerate until prepare the filling.
Filling
In a large bowl, place cream cheese, vanilla, sugar and mix just until combined and creamy. Don't mix too much if you use an electric mixer, you don't have to incorporate air bubbles.

Add whipping cream and mix for 1-2 minutes until creamy.

Keep on mixing, add yogurt, condensed milk and mix just until combined.

In a small bowl, place cornstarch and add warm milk little by little until get a fluid mix.

Add the cornstarch mix into the cream cheese mix and mix just until combined: don't overmix!

Place the filling over the crust and spread evenly with a spatula.

Microwave the cheesecake for about 6 to 10 minutes: check the cake every 2 minutes; I've used a 800 W microwave and my cheesecake cooked in 10 minutes. It's ready when the surface is rough, it bubbles a bit and the center jiggle a lot.

Carefuly remove the cake from the microwave (it's very hot!) and cool down completely at room temperature.

Refrigerate to set completely: I prefer to chill overnight, but you can chill it for about 1 hour in refrigerator.

Unmold the cake when you just remove it from the fridge ad it's well chilled, then place it on a serving plate.

Remove the cake from the fridge about 15-30 minutes before serving to get a creamy cheesecake (otherwise the texture of the chilled cheesecake will be more firm).

Decorate with some raspberries and powdered sugar (optional).
Video
Notes
You can store this cheesecake in refrigerator for 1 week or freeze it for 1 month.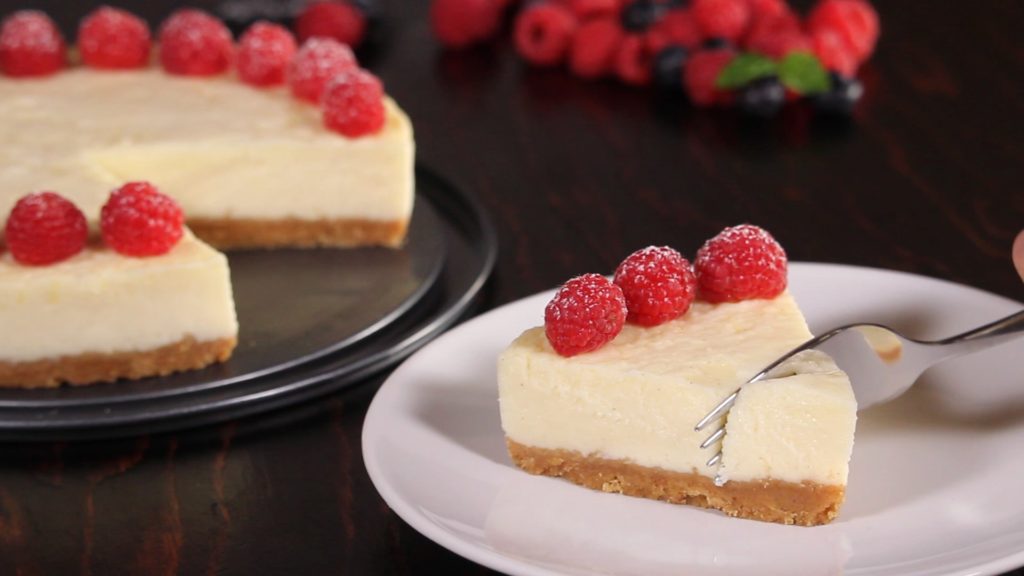 When I was thinking about how to make a classic cheesecake in less minutes, I thought that the baking and refrigerating time were the more long steps when I made my cheesecakes.
But I was no interested in no-baking cheesecakes because I was looking for that unique kind of creaminess and firm texture that just a classic baked cheesecake could give me.
That's why I decided to make a microwave cheesecake! The cooking time is so short…from 6 to 10 minutes (depending on your microwave power) vs 50 minutes than a classic oven baked cheesecake! 
The result was very impressive: a classic New York style creamy cheesecake ready in few minutes!
I've used a 800 Watt Microwave. If you have a Microwave with higher/lower wattage, you have to reduce/increase the cooking time for few seconds or minutes. Remember to cook the cheesecake for about 2 minutes, then stop it, check it, and keep on cooking for another 2 minutes until bubble a bit. If you use a larger cake pan the cake will be thinner and will cook in less time!
Of course, if you don't have microwave, you can bake it in water bath for about 45-55 minutes in preheated oven at 170°C like a classic cheesecake.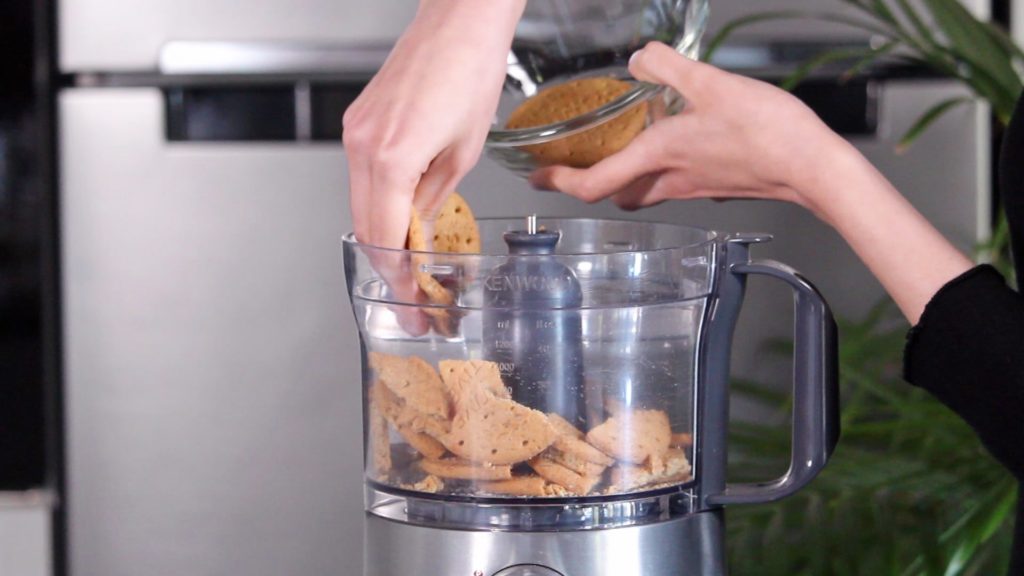 I've used Digestive biscuits, my favourite for cheesecakes. Feel free to use any other type of cookies, like Graham Cracker, chocolate cookies…you just have to reduce them into fine crumbs, mix with melted butter and that's it!
If your biscuits are low in sugar and you prefer a sweeter crust, you can add 1 tbsp of honey or cinnamon for boosting the flavor, it will be simply amazing!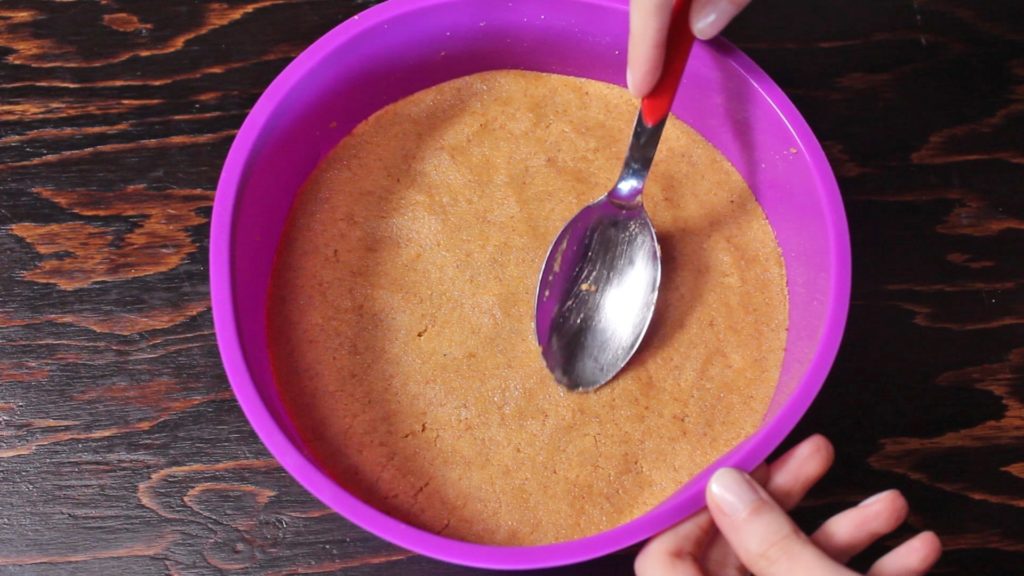 I've used a foor processor to reduce the cookies into fine crumbs, but you can also place the biscuits into a ziplock bag, well close it, then use a rolling pin for crushing until they come into fine crumbs.
You can add the melted butter directly in the bag or transfer the crumbs into a bowl and mix the butter in.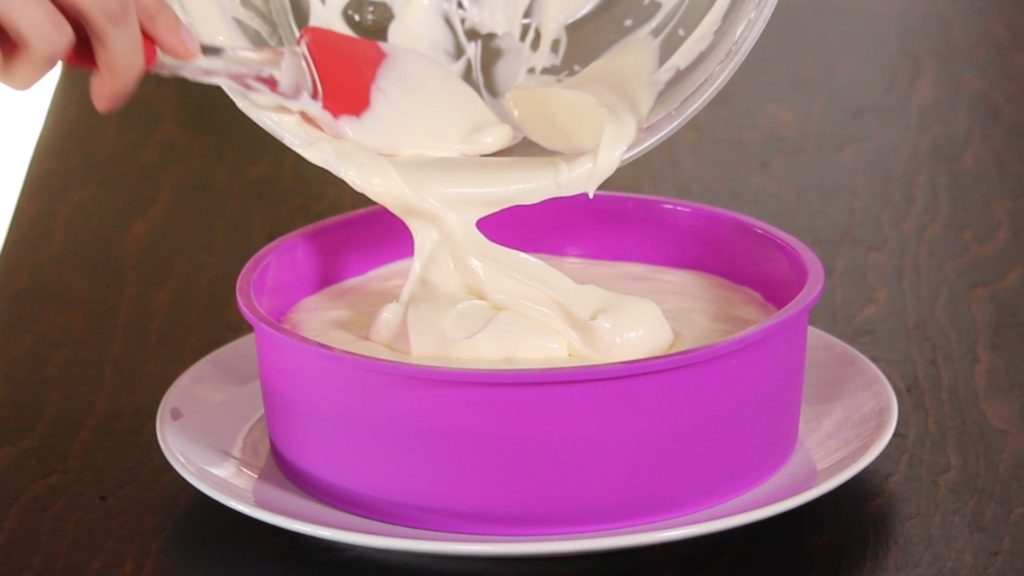 When you make cheesecake, is very important to not overmix the batter to avoid incorporating air bubbles that could crack the top of your cheesecake while baking.
As you can see in my recipe video, I've used a hand mixer, but you can use a whisk if you're afraid to overmix your batter.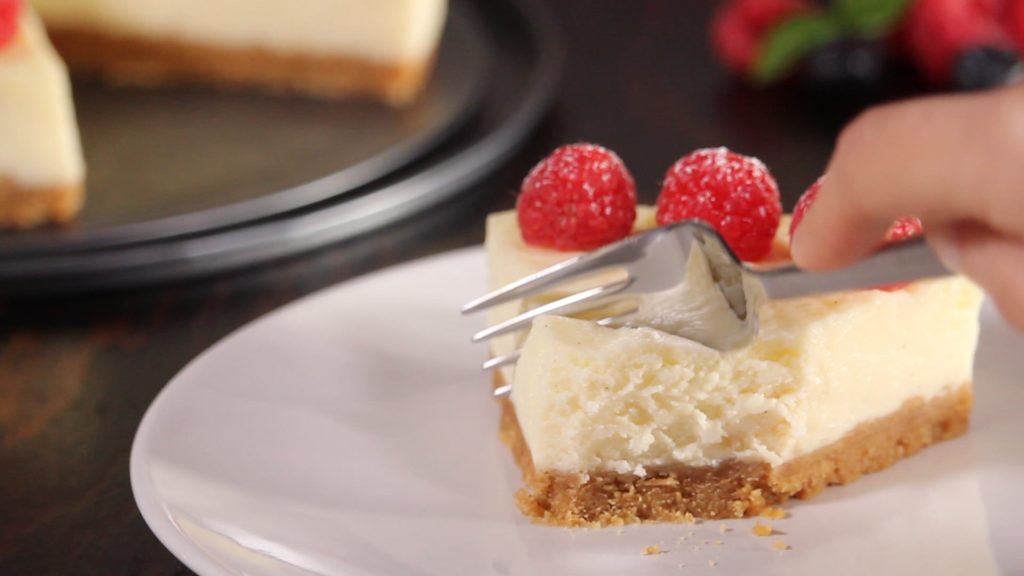 Refrigerating time is also a key step for baked cheesecake, the creamy texture is so delicate when you remove the cake from the oven, so it's important you don't unmold your cake when still slightly warm or not well chilled in refrigerator. 
Eggless cheesecake are a bit less delicate than the egg ones: they usually don't crack on top thanks to the egg lacking, but you can break them up when you unmold it, so always refrigerate it for at least one hour after they cooled down at room temperature.
I prefer chilling in refrigerator overnight to get the best flavor and consistency!
I usually remove it from the fridge 15-30 minutes before serving, depending on the season