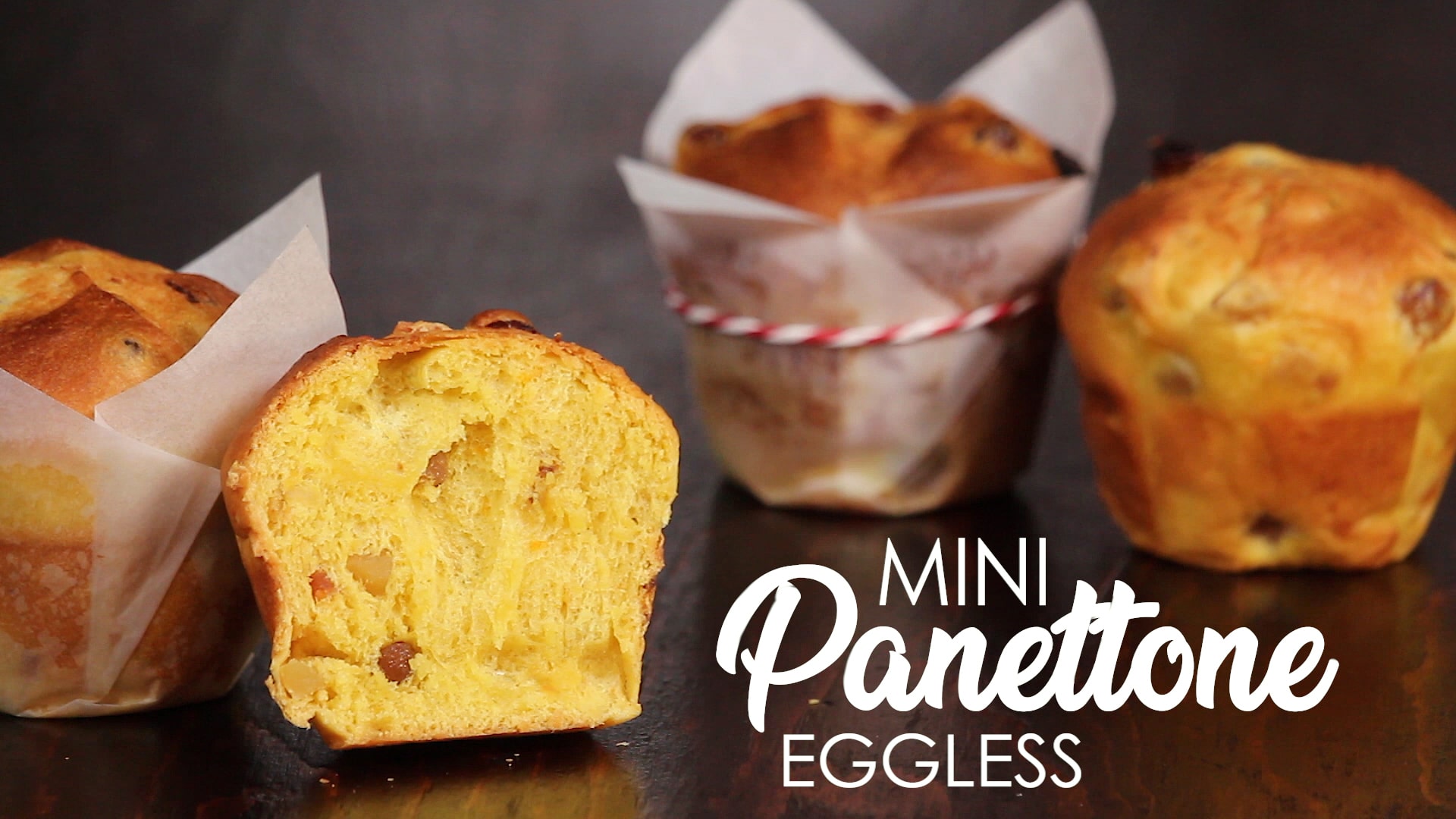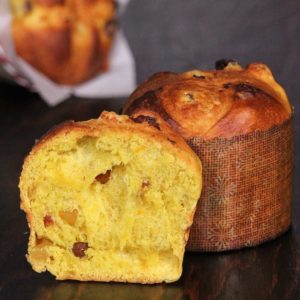 EGGLESS MINI PANETTONE
Italian Panettone is a very traditional Christmas recipe, a buttery sweet bread made with egg yolks, candied fruit and raisins.
This eggless version was highly requested from my followers who can't have eggs because I previously shared the classic egg Panettone recipe.
Both of my Panettone recipes are beyond easy to make! Usually traditional Italian Panettone is very long and difficult to prepare: you could need many days since it's made with sour dough and not with yeast and you usually need a professional stand mixer; but with this recipe you'll get a delicious Panettone with the classic original flavor without effort!
I have substituted egg yolks with a mix made with milk and turmeric powder, but don't worry, you won't taste turmeric, I used it just for the yellow color, since Panettone is slightly yellow thanks to the yolks.
It tastes like the traditional Panettone, even witout eggs! The texture is slightly different because I made it without stand mixer or kneading by hands so everyone can easily make it at home!
Ingredients
360-390 g

(3-3+1/4 cups)

bread flour

Manitoba or high protein amount flour (W350)

110 g

(1/2 cup)

sugar

5 g

1tsp

instant dry yeast

1 tsp

vanilla paste

or extract

zest from 1 orange

18 g

(1 tbsp)

honey

150 g

(2/3 cup)

water

lukewarm

50 g

(3+1/2 tbsp)

milk

lukewarm

1/4 tsp

turmeric powder

just for the color (optional)

110 g

(1/2 cup)

unsalter butter

room temperature

150 g

(3/4 cups)

raisins

dried

100 g

(3,5 oz)

candied fruit

orange and citrus, cubed
Instructions
In a medium size bowl, soak raisins with some lukewarm water for about 15 minutes. Then you can drain and dry it before use it.

In a small bowl, mix milk with turmeric powder and set aside.

In a large bowl, place flour (start with 360 g, then you can increase the amount if needed), sugar, yeast and mix until combined.

Add orange zest, vanilla, honey, turmeric milk and water little by little while start mixing: you'll get a dough.

Add softened butter in 3 times: mix slowly until well combined in the dough.

Add dried raisins and candied fruit.

Mix your sticky and very soft dough with a spatula for few minutes until become less sticky: you can use a stand mixer if you have it, but it's not needful. You can decide if you need some extra flour but be careful to not add too much flour or Panettone will turn out dry! The dough have to be wet and a bit sticky.

Transfer the dough into a greased bowl and let it rise in a warm place for about 1 or 2 hours or until double in size.

Meanwhile make the paper molds as I show in the recipe video, using 15x15 cm-6x6 inch parchment paper squares. You can also use store bought 100 g Mini Panettone molds (6,5x4,5 cm-2,5x1,7 inch).

Split the rised dough into 9 pieces (about 115 g each one), make folds as I show in the video, and roll into balls.

When you finish to roll the dough pieces, start again from the first one and make other folds.

Then roll into balls and place the balls into the Panettone paper molds.

Cover with plastic wrap and let them rise in the molds in a warm place until reach the sides of the molds (about 1 hour).

Remove the plastic wrap on top and let them rest at room temperature for about 15 minutes or until a dry film form on top.

Score a cross on the top with a blade or a very sharp knife.

Place 1/4 tsp of chilled unsalted butter at the center of the cross.

Bake in preheated no-fan oven (upper and lower heat) for 20 minutes.

Cool down completely onto a wire rack before serve it.
Video
Notes
Store at room temperature closed in a blastic bag for about 4 days or in freezer for about 2 months.
You can slightly warm up in microwave before have it.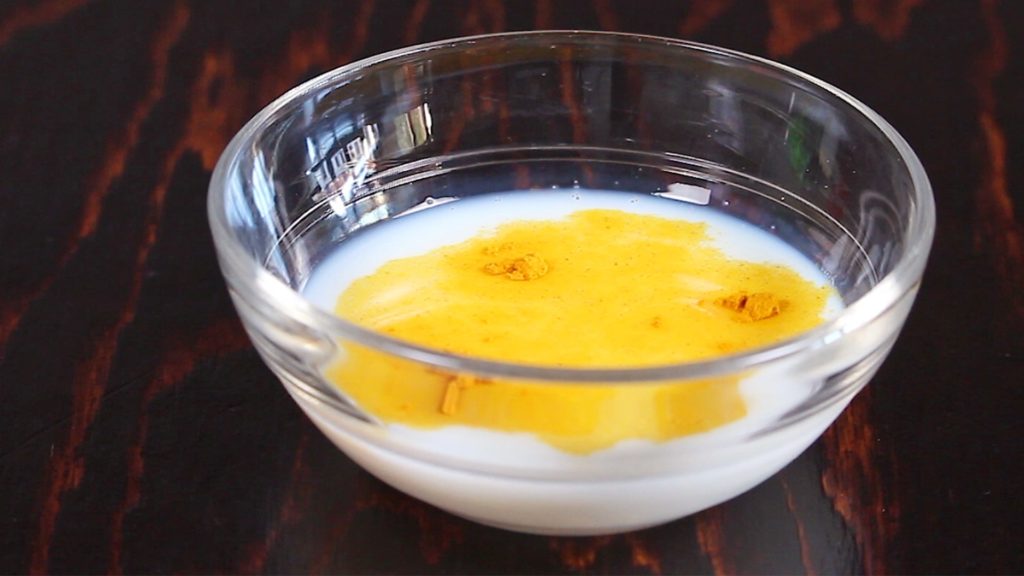 When my followers asked for eggless Panettone, I thought it was almost impossible. I already have planned a super easy recipe instead the traditional Panettone recipe, I didn't use stand mixer, I used the yeast instead sour dough, the rising time was short…could I have skipped the eggs too?
I was pretty surprised when i made the first attempt: the dough tasted so close to the classic one (except for the texture, but this is not because the egg lacks but because of the simplified method I used for making the dough)!
But the aesthetic was not so good for me, it was too pale in color, it didn't look like Panettone!
So I decided to use Turmeric powder because I've already used it before for my eggless recipes and I was very satisfied with the results, that's why I added this beautiful golden powder: to look my Eggless Panettone like the regular one without changing the taste.  
People who don't like Turmeric can be sure: I used so little of it, than you can absolutely can't taste it!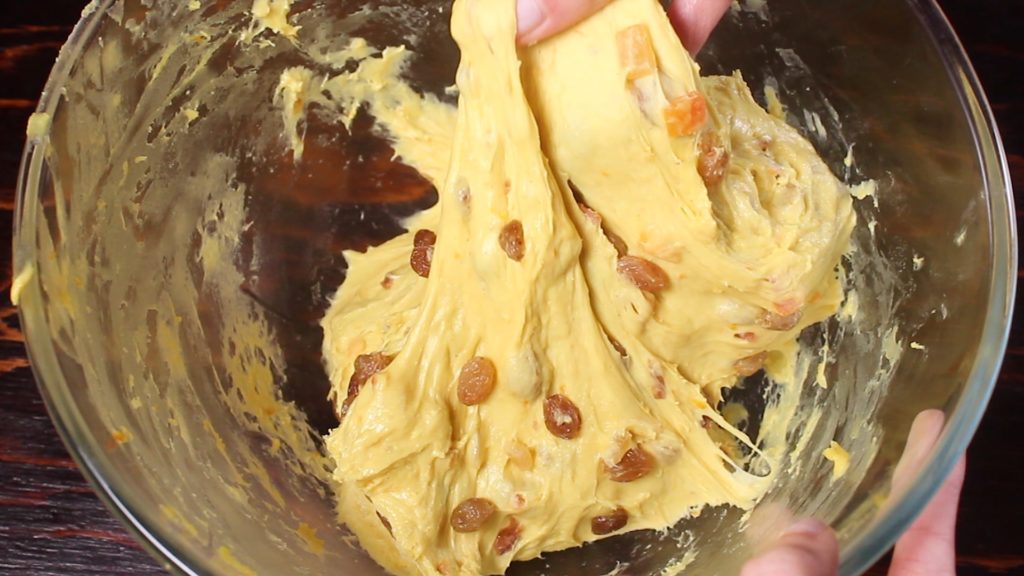 I used Manitoba flour, a very strong bread flour with a huge amount of protein/gluten. 
Depending on the flour you're going to use, you may need more or less flour, for this reason consider that you should get a soft and sticky dough or your Panettone will turn out dry.
Watch my recipe video to see the consistency of the dough: if yours turns out too wet, add a bit more of flour (be careful to not add too much!), if it turns out too dry, add more water.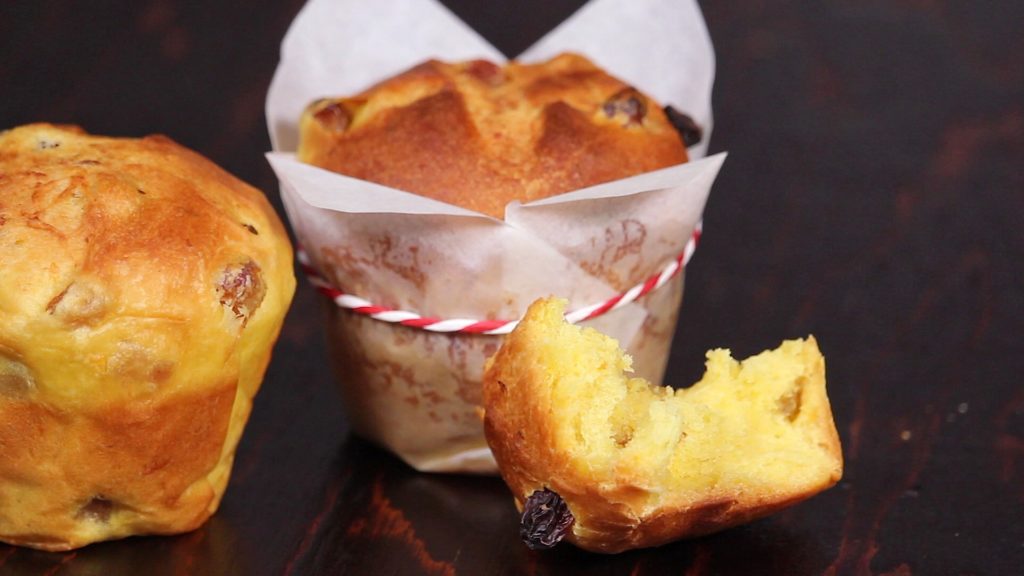 I didn't use a stand mixer for this recipe, neither I kneaded the dough by hands (it would be too sticky to touch it), so I mix it in the bowl for few minutes using my spatula, just until it became less sticky.
If you have a stand mixer, feel free to use it, it could be helpful. You can knead it for about 15 minutes or until it becomes smooth.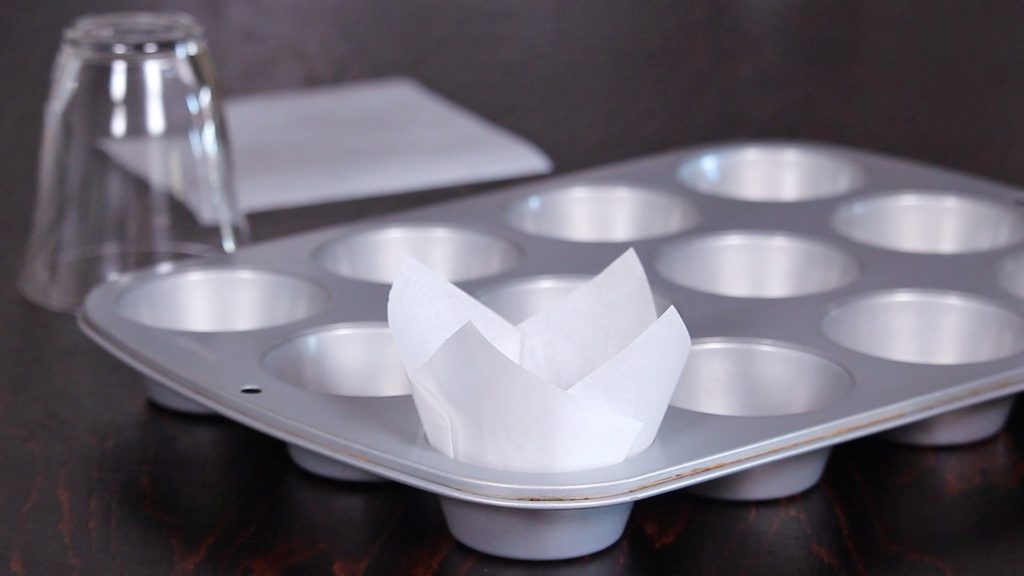 In the recipe video I show you how to easily make your own Mini Panettone paper molds, it's pretty easy and funny too! You can use this technique for muffin molds too.
I started from a 15x15cm-6x6inch parchment paper squares, I folded in half, then in half again, then I shaped and folded it using an upside glass. That's it!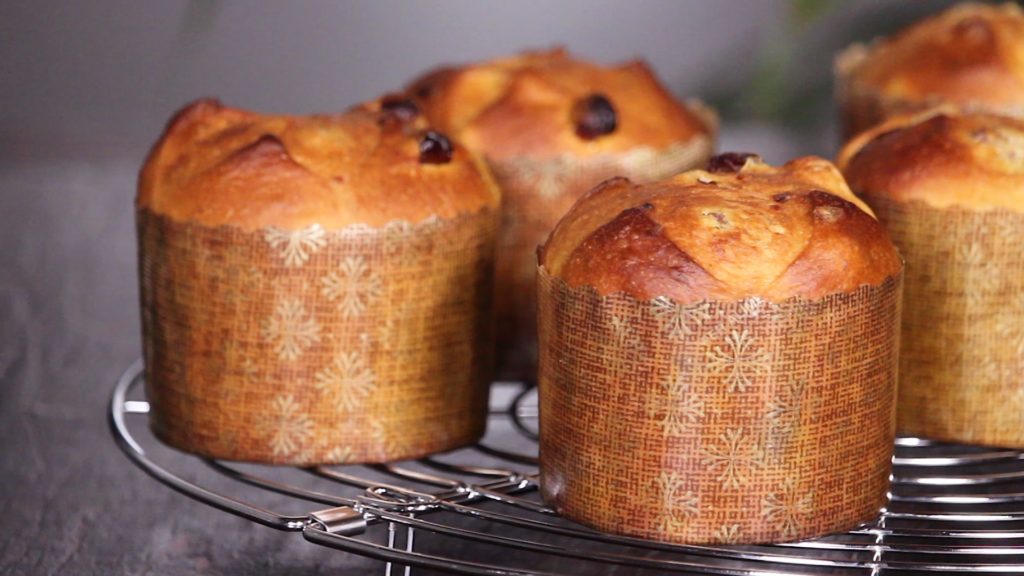 If you can find traditional Panettone paper molds, you can absolutely use them, it's always the best choice.
With this recipe you'll get about a 1kg Panettone, so you can use a huge 1kg mold (follow the instructions for my egg Panettone recipe to place it upside down to cool down), or you can use 9 mini Panettone molds (100 g each one).
The measures for the mini molds are: height 6,5 cm-2,5 inch; width 4,5 cm-1,7 inch.