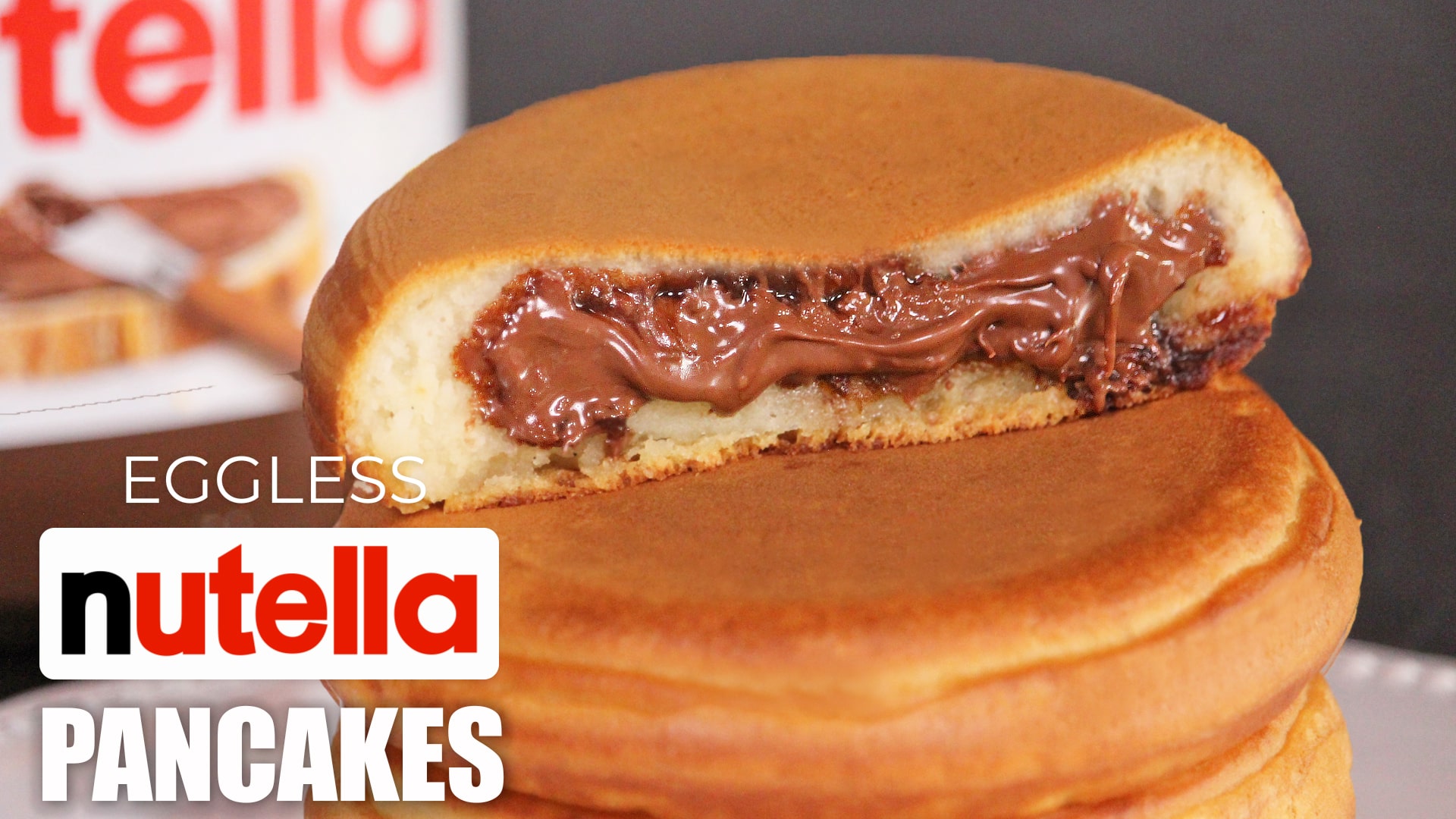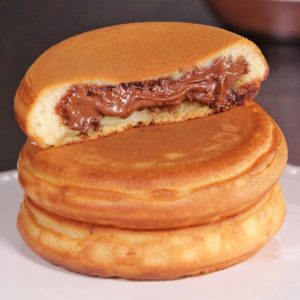 EGGLESS NUTELLA PANCAKES
How to make fluffy and delicious Eggless Nutella Pancakes stuffed with gooey and creamy Nutella!
In this recipe I show you all the tips to always get a creamy Nutella center and perfect soft and tall pancakes!
The pancake batter is low in sugar because Nutella is the protagonist of this recipe and it's very sweet; if you prefer more sweet pancakes, feel free to increase the sugar amount!
Ingredients
270 g

(2 cups+2 tbsp)

milk

or buttermilk

10 g

(2 tsp)

white vinegar or lemon juice

if you use buttermilk, skip vinegar/lemon juice

40 g

(3 tbsp)

vegetable oil

180 g

(1+1/2 cups

all purpose flour

1/2 tsp

baking powder

1/2 tsp

baking soda

20 g

(1+1/2 tbsp)

sugar

with this amount you'll get neutral pancakes where Nutella is the protagonist; for more sweet pancakes, use 2-3 tbsp of sugar.

1 tsp

vanilla extract

75 g

(1/4 cup)

Nutella
Instructions
Heat Nutella jar for few seconds in microwave until become a less thick and spread 3 discs about 7cm-2,7inch diameter each one onto a parchment paper sheet (each Nutella disc is about 25 g-1+1/2 tbsp Nutella).

Put Nutella discs in freezer for about 30 minutes or until completely frozen and hard.

In a pitcher mix together milk, vinegar and set aside for about 10 minutes.

In a large bowl sift and mix together flour, baking powder, baking soda and sugar. Set aside.

Add vegetable oil and vanilla extract into the milk mix.

Pour gradually the milk mix into the flour mix and mix until get a batter: do not overbeat the batter! It doesn't matter if there are some very small flour lumps, but doesn't mix it too much!

Preheat for 2 minutes a very small non-stick pan (about 12 cm-5 inch size) over low heat.

Slightly grease the pan with butter and absorb the excess with kitchen paper.

Pour 1/4 cup of batter into the pan, then immediately place one frozen Nutella disc in the middle, then pour 1/4 cup of batter on top of Nutella.

Low the heat to minimum, cover the pan with a small lid and cook for about 5 minutes or until the top sides are firm but the middle batter on top is still runny and the bottom is golden brown.

Flip pancake and cook for some more minutes always at the minimum heat or until the bottom is golden brown.
Video
Notes
You can store in refrigerator for aobut 2 days or in freezer for up to 3 months.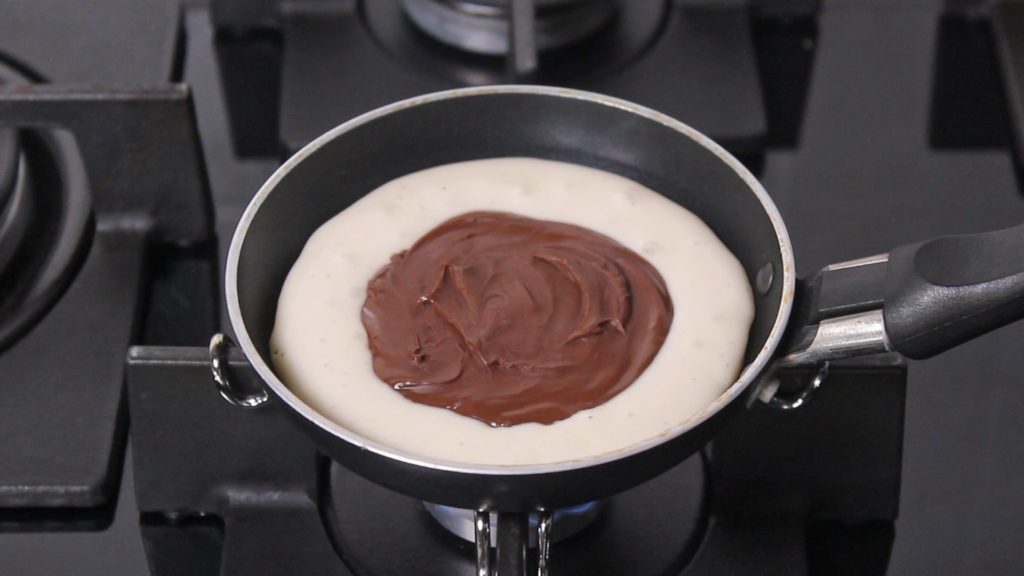 I decided to use low sugar in the pancake batter, so I can taste all the sweetness of Nutella! With this recipe you'll get a neutral pancake batter with sweet Nutella inside…is similar to eat bread with Nutella.
If you prefer more sweet pancakes, you can increase sugar amount according to your taste! I suggest to try with 2-3 tbsp max of sugar.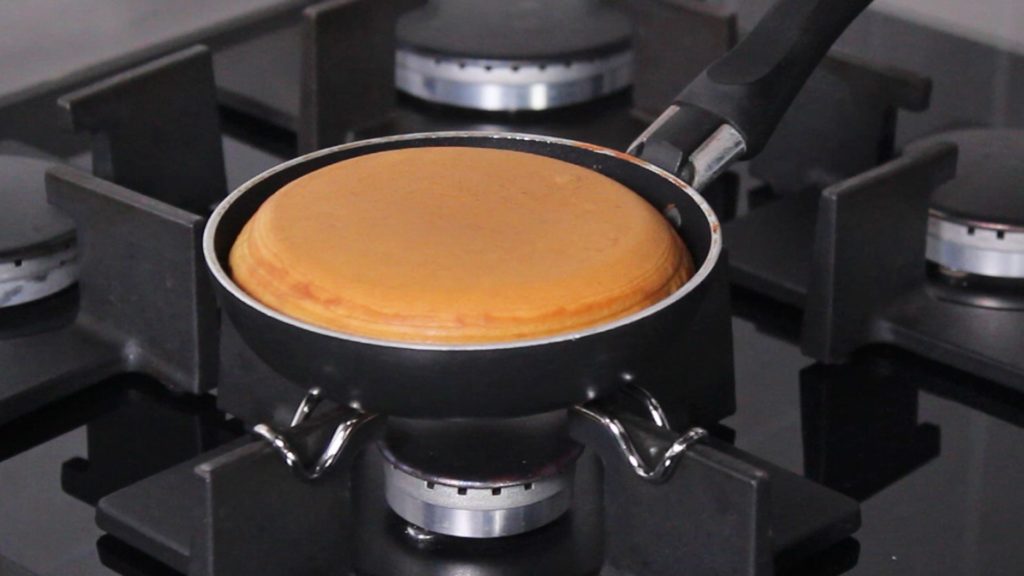 These pancakes are very thick, so they can feature so much Nutella inside! But since they are taller than usual pancakes, it's very important you cook them over very low heat with a lid on top: with this technique your pancakes could cook through, they won't turn out raw inside and the sides won't burn!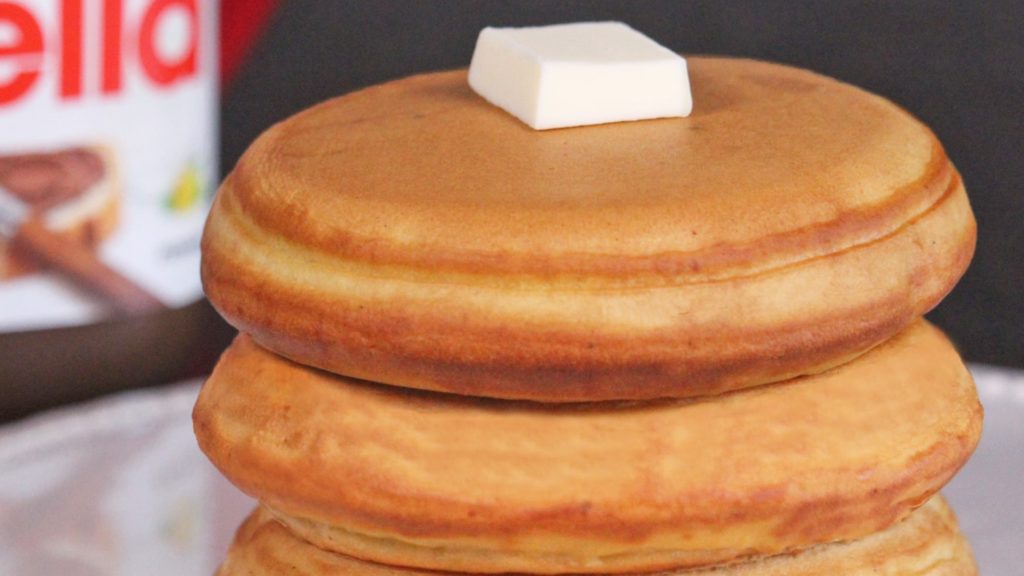 I mixed milk and vinegar (or lemon juice) in this recipe to make homemade buttermilk, feel free to use buttermilk instead, just skip vinegar or lemon juice.
The acidity of buttermilk reacts with the basic baking soda giving rising to these pancakes that turn out more fluffy!