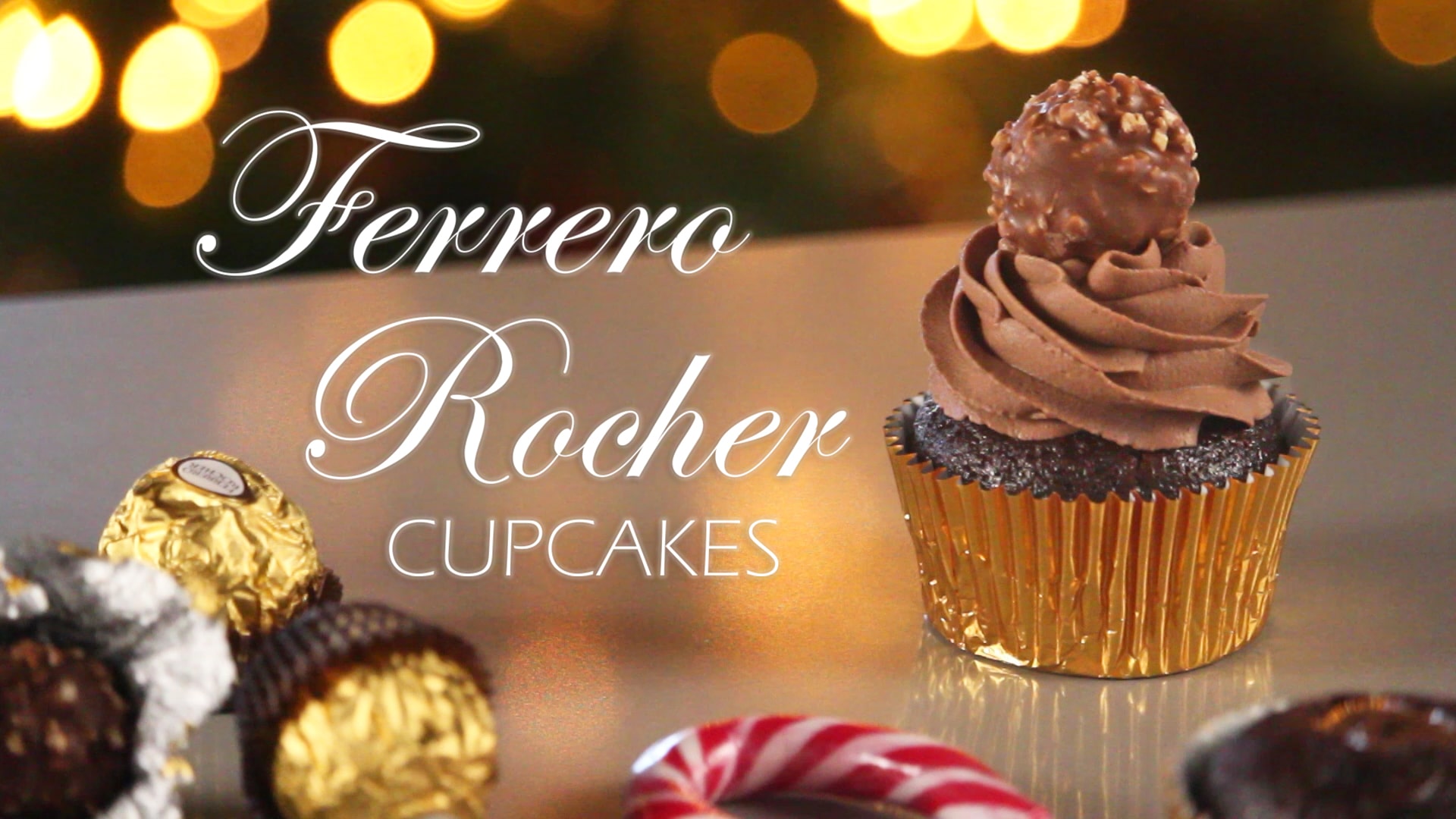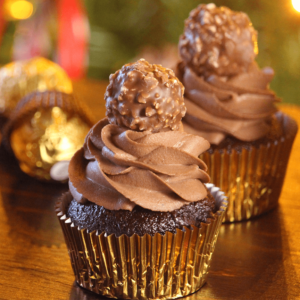 FERRERO ROCHER CUPCAKES
If you love Italian Ferrero Rocher truffles, you surely are going to love these cupcakes!
Incredibly soft and moist chocolate cupcakes filled with Nutella and hazelnuts like Ferrero Rocher, and topped with an irresistible Nutella frosting!
They are incredibly easy to make and stay soft and creamy for days (even in refrigerator!) because they don't feature butter, but vegetable oil and hot water in the cupcakes and Mascarpone cheese in the Nutella frosting.
Since in Italy Ferrero Rocher are freshly available in the stores for Christmas season, these Ferrero Rochese Cupcakes are a perfect Holiday and Christmas dessert!
Ingredients
Cupcakes
175 g

(1+1/2 cup)

all purpose flour

30 g

(1/4 cup)

unsweetened cocoa powder

185 g

(3/4 cup+1tbsp)

granulated white sugar

1 tsp

baking soda

1/4 tsp

baking powder

1/2 tsp

salt

2

eggs

room temperature

125 g

(1/2 cup)

milk

room temperature

110 g

(1/2 cup)

vegetable oil

flavorless oil like sunflower seed oil, canola oil...

125 g

(1/2 cup)

hot water
Filling
12

hazelnuts

About 200 g

(3/4 cup)

Nutella

slightly warmed in microwave for few seconds
Frosting
250 g

(10 oz))

Mascarpone cheese

chilled

80 g

(2 tbsp)

Nutella

125 g

(1/2 cup)

whipping cream

chilled

17 g

(2 tbsp)

powdered sugar

10 g

(1+1/2 tbsp)

unsweetened cocoa powder
Decoration
12

Ferrero Rocher truffles
Instructions
Cupcakes
In a large bowl, combine flour, cocoa powder, granulòated sugar, salt, baking soda.

In a medium size bowl, combine eggs, milk and oil.

Add the egg mix into the flour mix and mix just until combined (don't overmix).

Add very hot water: you'll reach a fluid batter.

Divide the batter into 11-12 lined cupcake molds, about 2/3 full each.

Bake in preheated oven at 180°C-350°F for about 20 minutes or until a toothpick comes out clean.

Transfer to a wire rack to cool down completely (meanwhile you can prepare the frosting and refrigerating until use it).
Frosting
Into a large bowl, mix Mascarpone and powdered sugar with a spatula until soft.

Add Nutella and mix just until well combined.

Into a medium size bowl, sift powdered sugar and unsweetened cocoa powder: add, little by little, the chilled whipping cream and mix until well combined and no lumps.

Whip until medium-stiff peaks form.

Gently combine with a spatula the cocoa whipped cream with the Mascarpone mix.

Transfer the Frosting into a piping bag (open star 1M tip) and place in refrigerator until ready to be used.
Filling
Toast the hazelnuts in a non-stick pan over medium heat until the dark skin are cracked (for about 5 minutes): often tossing to prevent burnt and evenly toast them.

Place the toasted hazelnuts into a small-medium size bowl and scratch them to peel the most of the skin.

Make a hole in the center of cupcakes using a knife or the back of a piping tip. Place one toasted hazelnut in every cupcake's hole.

Fill the cupcake's holes with slightly warmed Nutella
Assembly
Decorate the cupcakes on top using the Frosting placed into the prepared piping bag.

Place a Ferrero Rocher truffle on top and serve.
Video
Notes
Store leftovers cupcakes in refrigerator for few days in a plastic box: pay attention to not refrigerate Ferrero Rocher truffles, just add them as a decoration on top just before serving.
Remove cupcakes from the fridge some minutes before serving.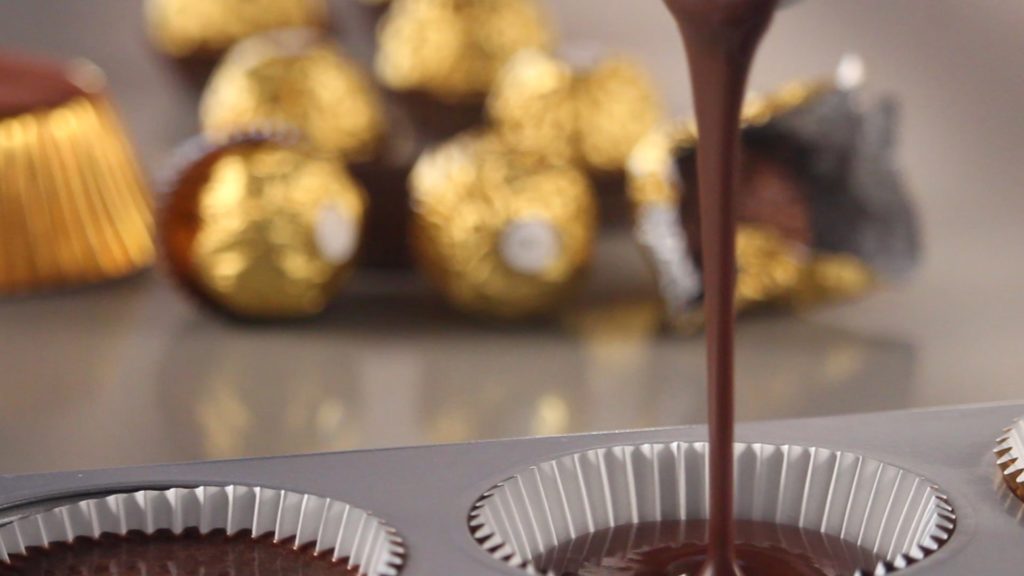 Thanks to this fluid chocolate cupcakes batter made with vegetable oil and with hot water, you'll get very moist cupcakes that rest soft for days even if you store them in refrigerator!
The batter is very easy to make, you need only two bowls and a whisk, no hand mixer are required. You just need to mix the wet ingredients into the dry ones and add the hot water in the end: that's it!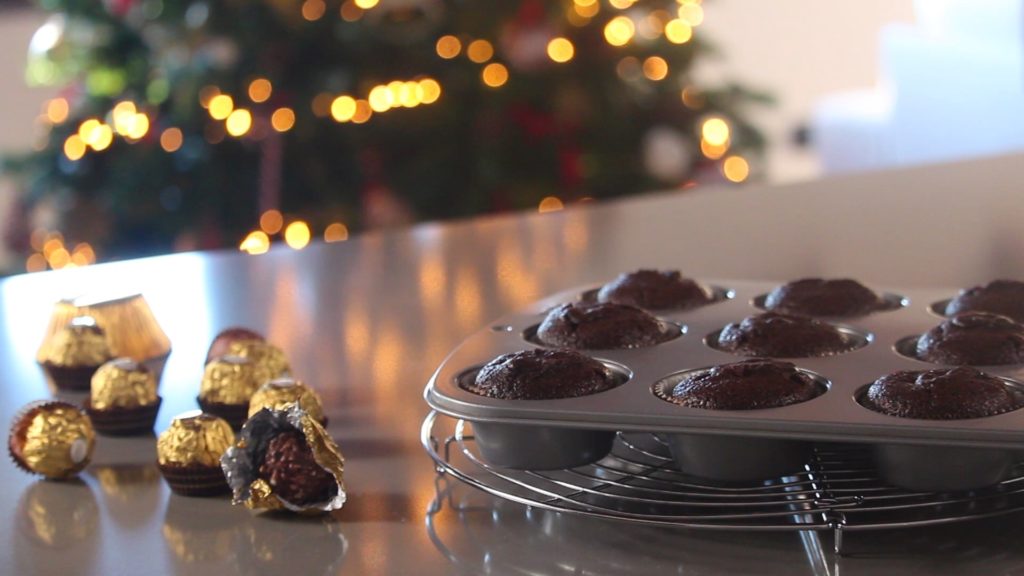 Cupcakes are not muffins, the secret to get a pretty flat top cupcakes is to not overbeat the batter: so it's better to use a whisk than a hand mixer, to avoid incorporating too much air.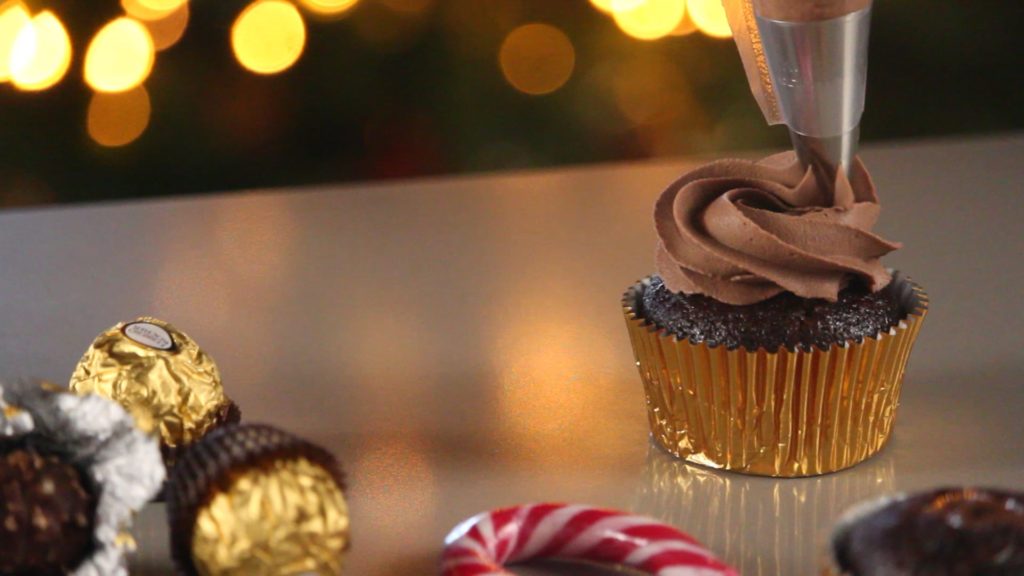 This chocolate Nutella frosting is made with Mascarpone cheese.
You don't need to use it at room temperature, I always make my Mascarpone frosting with Mascarpone chilled right from the fridge and always it turned out smooth without lumps!
If you can't find Mascarpone cheese in your Country, you can use cream cheese instead. But I suggest, if you can, to use Mascarpone that is incredibly rich and sweet , the best choice for this Nutella frosting!