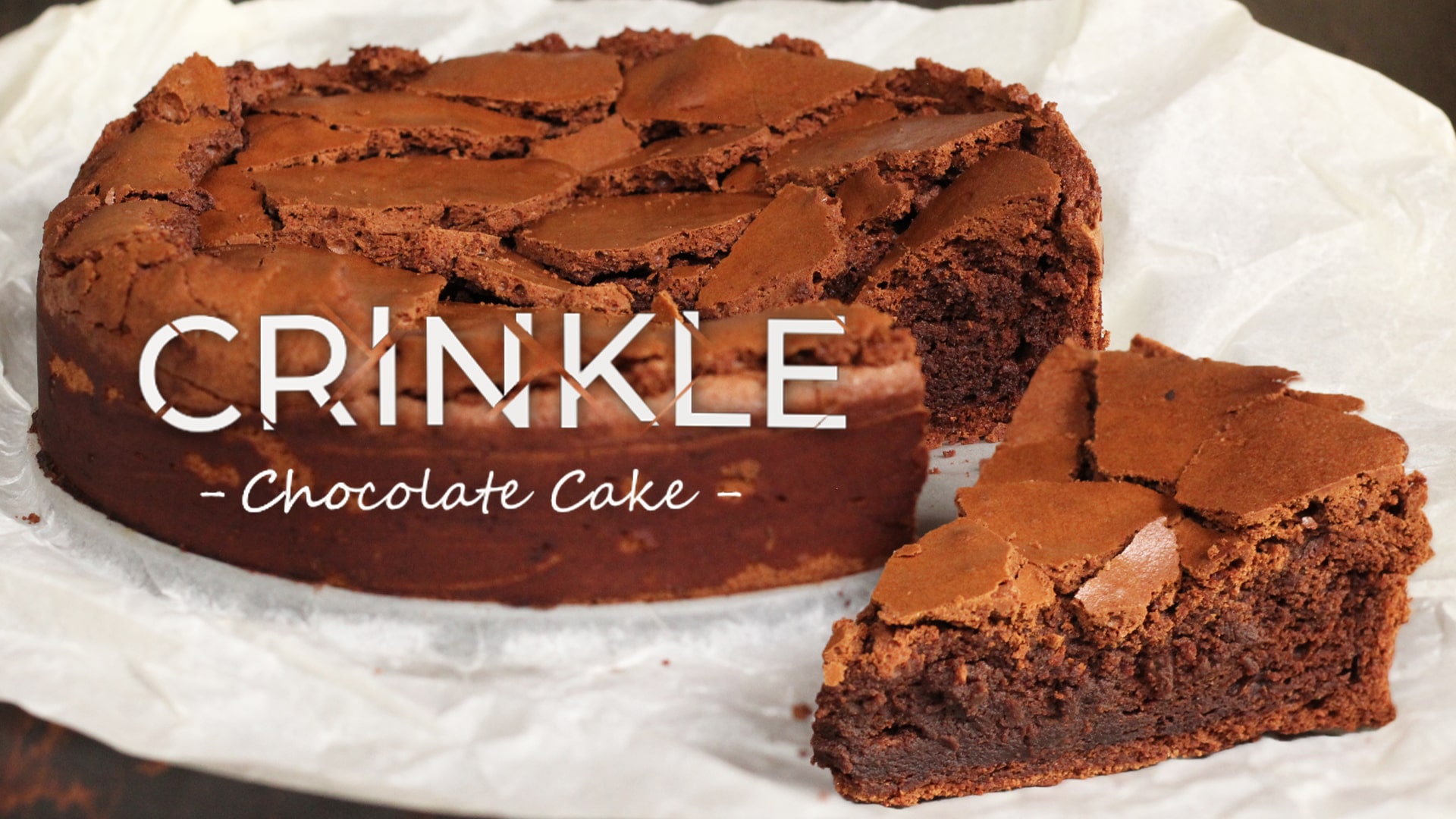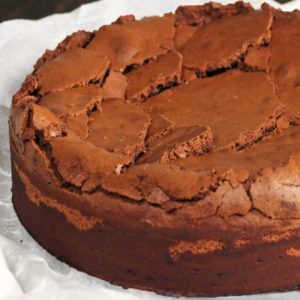 FLOURLESS CHOCOLATE CRINKLE CAKE - GLUTEN FREE
This easy chocholate cake is made only with 5-6 ingredients and it's simply amazing! Gluten free, perfect for celiac people, it features a cute crispy crinkle crust that melts in your mouth like a chocolate meringue and a fudge, rich and almost creamy browny chocolate inside!
The crinkle broken top makes a WOW effect to your guest, and you don't need to worry if the top cracks like usually happened for cakes 😀
This cake is inspired by the traditional Italian "Tenerina" cake, a popular cake from the city of Ferrara created in the end of the XIX Century for the royal wedding of the king Vittorio Emanuele III.
The only thing to pay attention in this easy recipe, is baking time: the cake is ready when, if you insert a skewer, it turns out dirty with moist crumbs, not dry (over-baked) neither with liquid-runny batter (under baked). So pay attention to not over bake this cake.
For this reason is important to use a 20cm-8inch springform pan or, if you have a larger cake pan, to reduce the baking time because remember that larger cakes bake faster!
This cake is amazing for chocoholic people: it's incredibly rich, moist and fudge, with pure chocolate flavor!
Served with whipped cream or vanilla ice cream, it's simply irresistible!
Ingredients
200 g

(7 oz)

bittersweet chocolate

high quality chocolate bars

100 g

(1/2 cup)

unsalted butter

cubed

150 g

(2/3 cup)

caster sugar

3

eggs

room temperature

pinch of salt

50 g

(6 tbsp)

cornstarch

25 g

(1+1/2 tbsp)

milk

room temperature
Instructions
Prepare a 20cm-8inch springform pan: line with parchment paper, grease it and dust with sweetened cocoa powder.

Chop the chocolate, place it with butter into a heatproof bowl and melt over bain marie. Pay attention if you melt in microwave to not burn it! Set aside to cool down a bit.

In a large bowl, whip the egg whites with a hand mixer and, when start to white foamy, gradually add 75 g (1/3 cup) of sugar. Mix until stiff peaks and if you invert the bowl, the egg whites don't fall. Set aside.

In a medium size bowl mix the egg yolks with 75 g (1/3 cup) sugar and a pinch of salt until become thick and pale.

Incorporate the melted chocolate mix and milk.

Sift in the cornstarch and mix until well combined (do not overmix).

Gently fold about 1/3 of egg whites mix into the yolk milk until combined.

Pour the yolk mix into the remaining white mix and gently fold until combined: pay attention to not deflat the mix.

Place the batter into the prepared pan and bake in preheatd oven (upper+lower heat, no fan) at 170°C-340°F for 35 minutes; then turn the fan on (if your oven features this option) and bake for 15 minutes more.

It's important to not overbake the cake: it's ready when the top is dry with some crakles, but the center jiggles a bit and if you insert a skewer, it should come out moist and dirty (not dry neither with liquid batter). If you use a larger cake pan, the cake should be ready in less minutes.

Cool down for at least 30-40 minutes before unmold it. When cooling down, the dry crust on top will deflat and it will crackle: if not crackle a lot, you can press it gently to make the crackles.

Serve the cake when cooled down with ice cream or whipped cream on top.
Video
Notes
Store at room temperature covered with plastic wrap for 5 days.
Store in freezer for up to 2 months.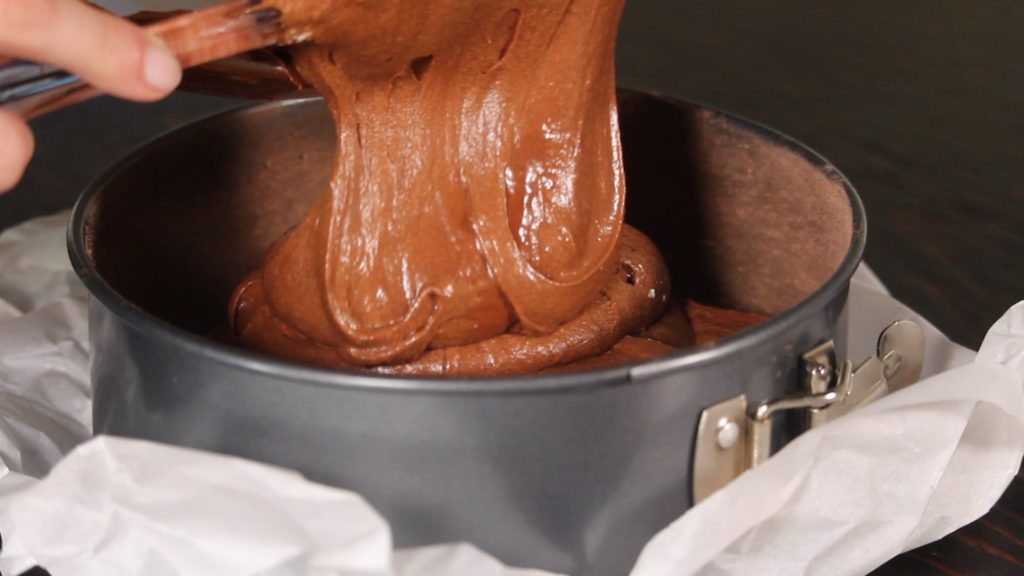 This cake is made without baking powder or baking soda, so it's important you whip perfectly your egg whites until medium-stiff peaks (like a meringue) to let it rise during the baking time and…deflat (and craks!) when cooling down.
I suggest to use an electric hand mixer or stand mixer, because you shouldn't be able to perfectly whip your eggs using a whisk by hands!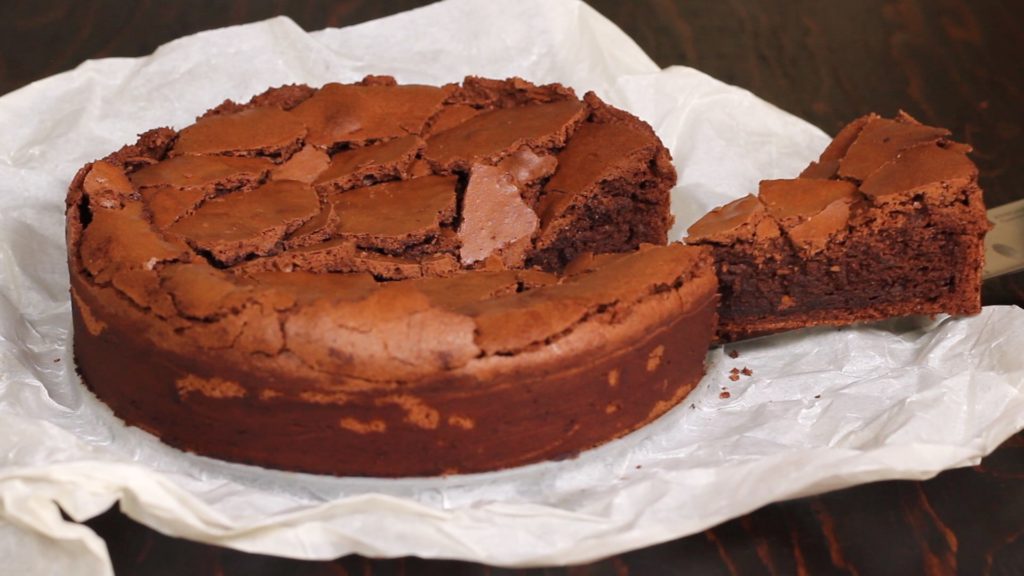 The baking time is very important in this cake: do not overbake it or underbake it. Tha cake is ready when the dop is dry, with some cracks, but the center still jiggles a bit if you press the top with your hands. 
A skewer will come out dirty with moist crumbs, but not with raw runny batter, or the cake is under baked….neither totally clean and dry or you bake it too much.
For this reason remember that if you use a larger cake pan, the cake will be ready in less minutes (even 25 minutes) because it will be less tall and will bake faster!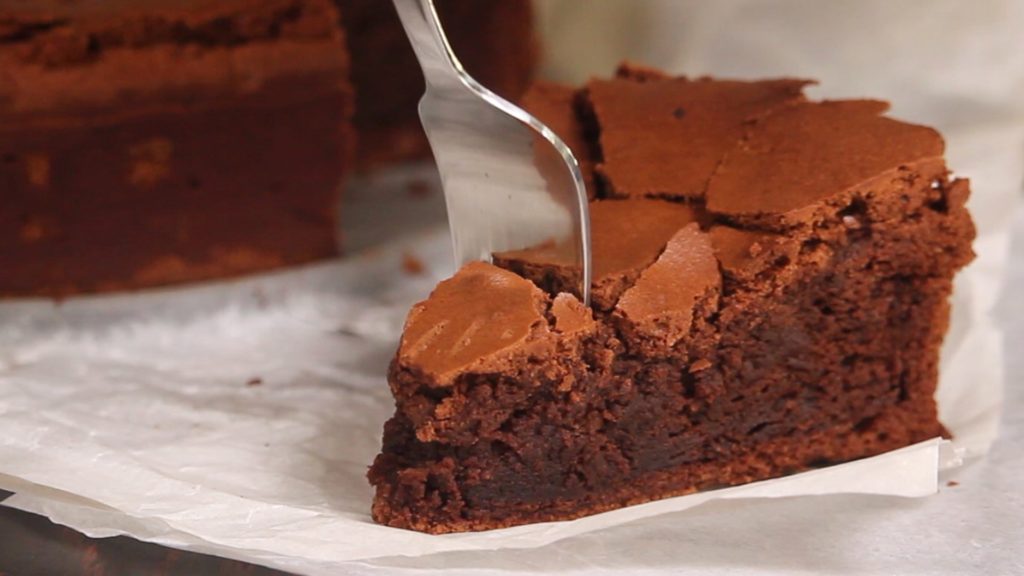 In this cake (like all chocolate cakes!) the chocolate flavor is very important, so use high quality chocolate bar.
If you prefer a more sweet chocolate flavor, you can use 100g of milk chocolate and 100 g of dark chocolate, but do not use all milk chocolate because the cake will turn out too sweet with less chocolate flavor.