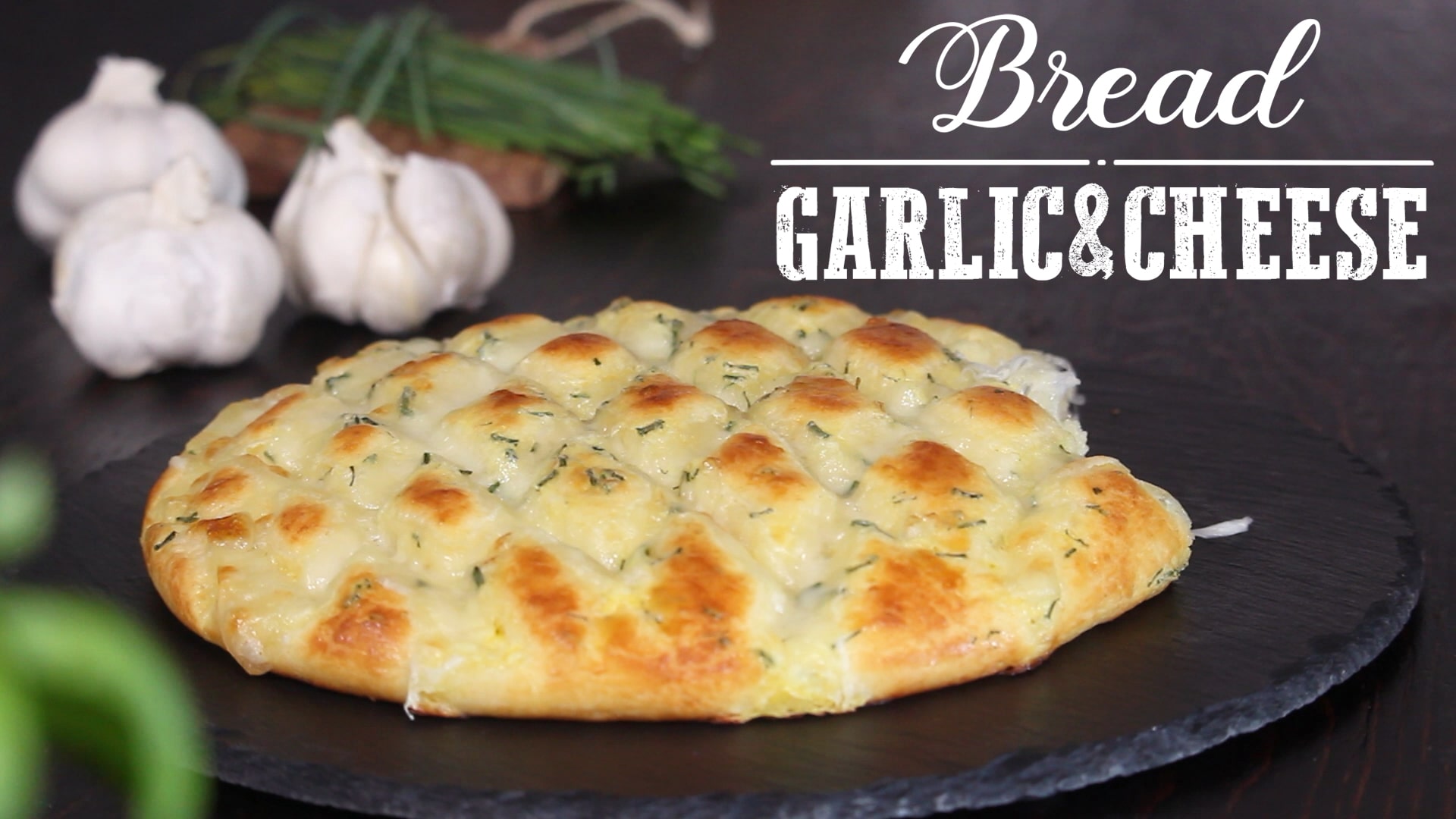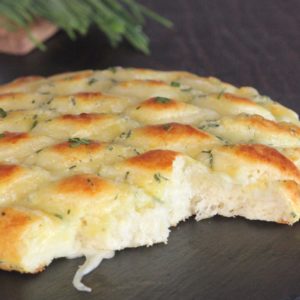 MOZZARELLA GARLIC CHEESE BREAD
This Garlic Cheese Bread is soft and fluffy like a pillow, full of irresistible stretchy Mozzarella cheese and you don't need any stand mixer for the dough!
The rising time is also pretty short (the dough is ready in about 1 hour), so you can serve it warm in few time.
The dough is made without eggs, so if you don't eat eggs because you're a strict vegetarian or you're allergic, you can skip the egg yolk in the topping.
This bread is delicious as side dish, main dish, for brunch and for breakfast too!
Ingredients
Dough
125 ml

(1/2 cup + 1 tsp)

milk

lukewarm

15 g

(1 tbsp)

sugar

4 g

(1 tsp)

instant dry yeast

30 g

(2 tbsp)

unsalted butter

melted

210 g

(1+3/4 cups)

all purpose flour

3 g

(1/2 tsp)

salt
Topping
15 g

(1 tbsp)

unsalted butter

room temperature

1

egg yolk

optional

1/4 tsp

sugar

1/8 tsp

salt

1

garlic clove

mashed, you can vary the garlic amount according to your taste

1 tbspq

green onions or scallions

finely chopped

115 g

(4 oz)

Mozzarella cheese

cut in thin strips
Instructions
Dough
In a large bowl, place milk, sugar, yeast, melted butter and mix.

Add all purpose flour, salt and mix with a spatula. You'll get a soft but not too sticky dough: every flouris different! If your dough is too sticky, add some tsp more of flour; if too dry, add a bit more of milk. Prefer a more sticky dough than a dry dough.

Transfer your dough onto the work surface and knead for at least 15 minutes or until it becomes very smooth, elastic, and you can stretch an edge into a very thin translucent membrane without breaking.

Form into a ball, place over a lined baking tray, cover with plastic wrap and let it rise in a warm place for 1 hour. I placed mine in my turned off preheated slightly warm oven.
Topping
Meanwhile make the spreadable topping: in a small bowl place butter, egg yolk, sugar, salt, green onions, mashed garlic and mix until creamy and well combined.
Assemble
When the dough is proofed, flat it gently with your fingers until get a 20cm-8inch round, 2,5cm-1inch thick.

Use a blade or a thin and sharp knife to score it deeply to form a lozenge pattern.

Spread the topping mix on top and pass a blade into the scores to highlight the lozenge pattern.

Place the Mozzarella strips into all the the scores.

Bake in preheated no fan oven (upper and lower heat) at 180°C-350°F for 15 minutes.
Video
Notes
Store the leftover at room temperature for 2 days covered with plastic wrap.
You can store baked bread in freezer for up to 2 months.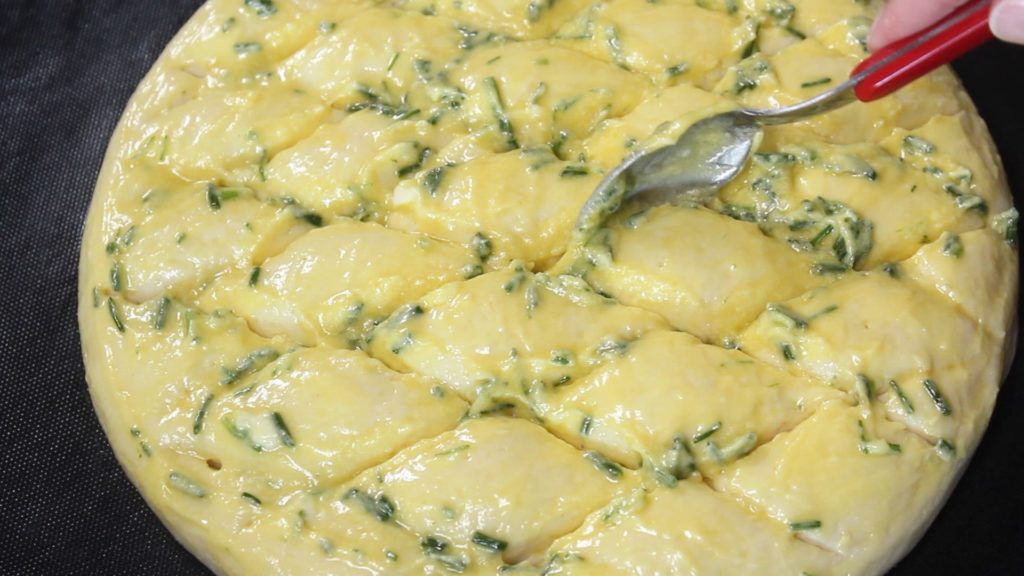 I've used a blade to make the lozenge cuts on top, I think it works better than a sharp knife for scoring the dough. If you don't have a blade or are afraid to use it, use a very sharp knife.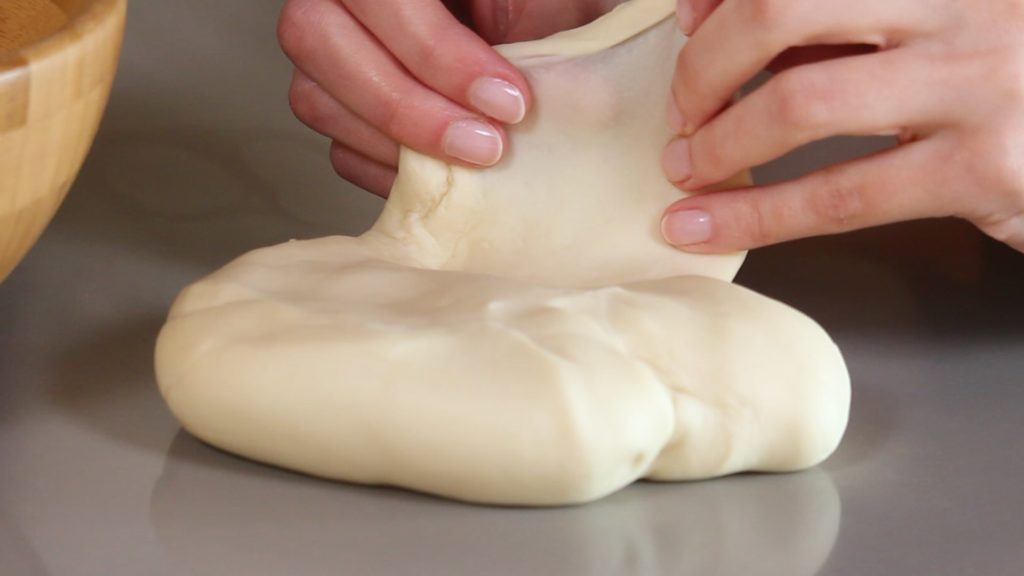 You don't need a stand mixer for making this bread dough, you just need to knead it using your hand as you can see in my recipe video above. The dough will be ready in about 15 minutes: it becomes very smooth, elastic and if you stretch the edges, you can see through without breaking the dough.
Of course if you have a stand mixer, you can use it, but I think that kneading by hands is so relaxing!