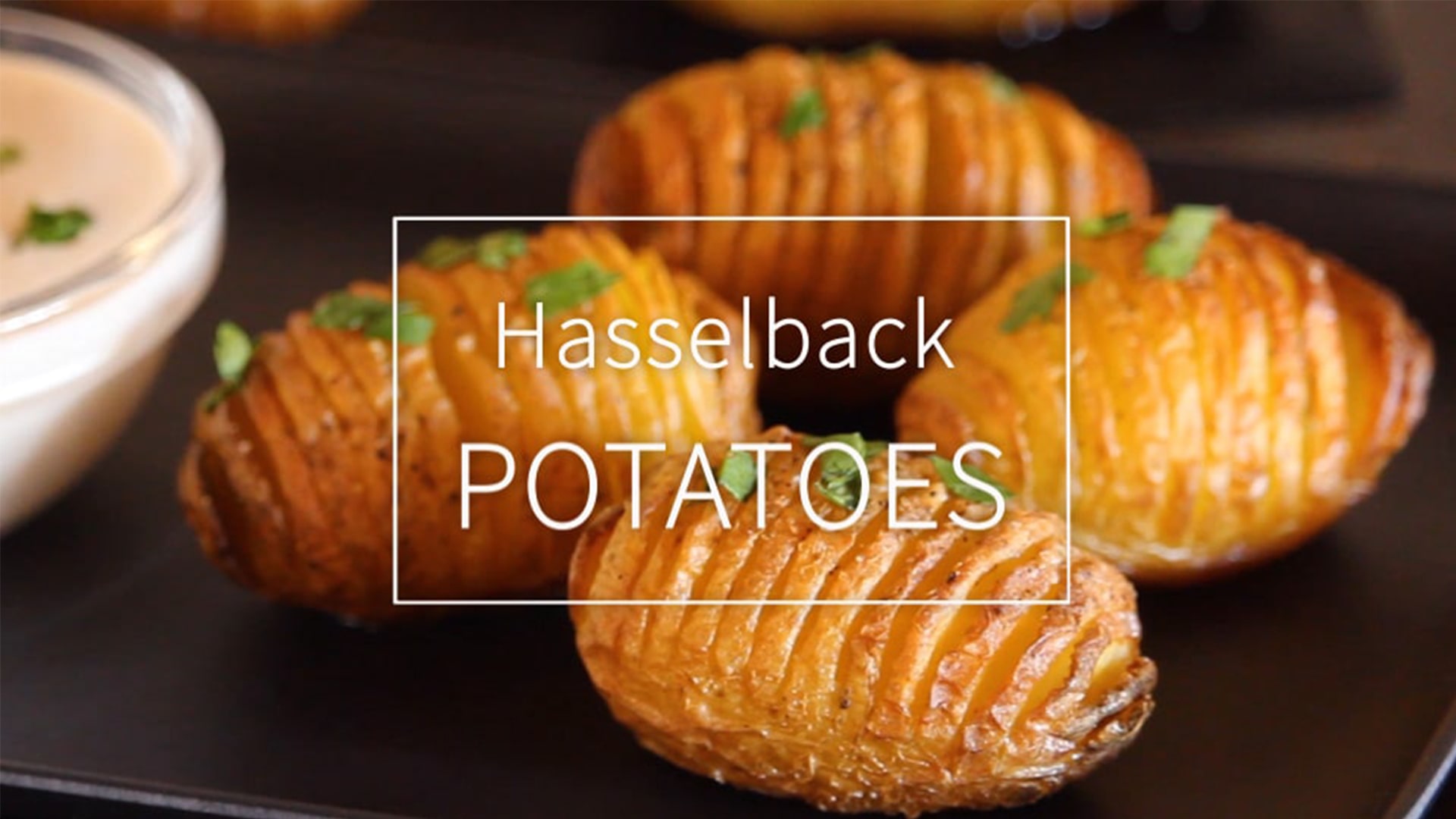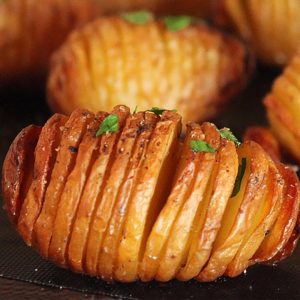 HASSELBACK POTATOES
Hasselback Potatoes are baked roasted potatoes originally from Sweden. Cut for 3/4 lenghtwise in thin slices, they are slightly crispy on the outside and buttery tender on the inside.
Seasoned with butter, garlic and rosemery, they are one of the best classic roasted potatoes, appetizer or side dish you could taste!
You can also stuffed with cheese, ham, Parmesan, bread crumbs...give free rein to your creativity! Following my recip and thanks to the video tutorial, you can learn how to perfectly and easily cut them in few minutes.
Ingredients
700 g

(1,5 pound)

small size potatoes

50 g

(1/4 cup)

unsalted butter

40 g

(3 tbsp)

extra virgin olive oil

1

clove

garlic

Salt

Fresh aromatic herbs

Rosemary, Thyme...

Freshly ground black pepper

Fresh chopped parsley

(optional)
Instructions
Insert a wooden skewer lengthwise through the potato, near to the bottom. This will prevent from slicing through the potato all the way.

Lay the potato flat with the skewer at the bottom and make medium thin parallel cuts down to the skewer, about 3 mm – 0,1 inch apart. Remove the skewer and place the potato on a large bowl.

Repeat for every potato. Every potato will be cut in slices leaving unsliced 6mm - ¼ inch at the bottom.

In a small saucepan place butter, extra virgin olive oil, a clove of garlic, fresh rosemary, thyme sprig and two pinch of Salt.

Heat over low-medium heat and let simmer for about 4 minutes (don't burn the garlic).

Pour the aromatic butter mix over the potatoes and evenly coat them.

Place them on baking tray lined with parchment paper. Set aside the aromatic butter leftover.

Season potatoes with salt and freshly ground balck pepper.

Bake in preheated oven at 200°C – 390°F for about 25 minutes, then brush them with the remaining aromatic butter mix and bake again until browned and crispy (about 15 minutes).

Sprinkle with freshly chopped parsley and serve immediately with Ranch Sauce (optional) or your favourite deep sauce.
Video
Notes
Serve immediately.
You can store the leftovers in the fridge for 1 day and in freezer for up to 3 months.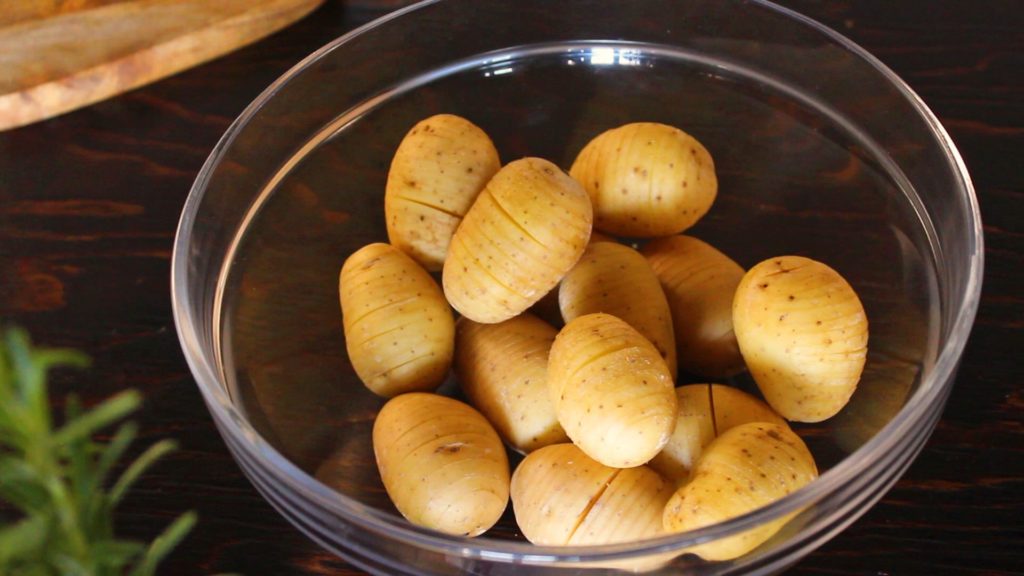 If you wonder which potatoes are the best for this recipe, my favourite are medium-small yellow potatoes. The little size is pretty important because they cook only in the oven and if you use larger potatoes, you maybe have to bake them for a very long time with burning skin drawback. New potatoes are good too if you like more fresh and herb taste!
I prefer to not peel my hasselback potatoes to get crispy outside. Potato peel features many nutrients, it's the healthier part of potatoes! but if you don't like it, feel free to peel them.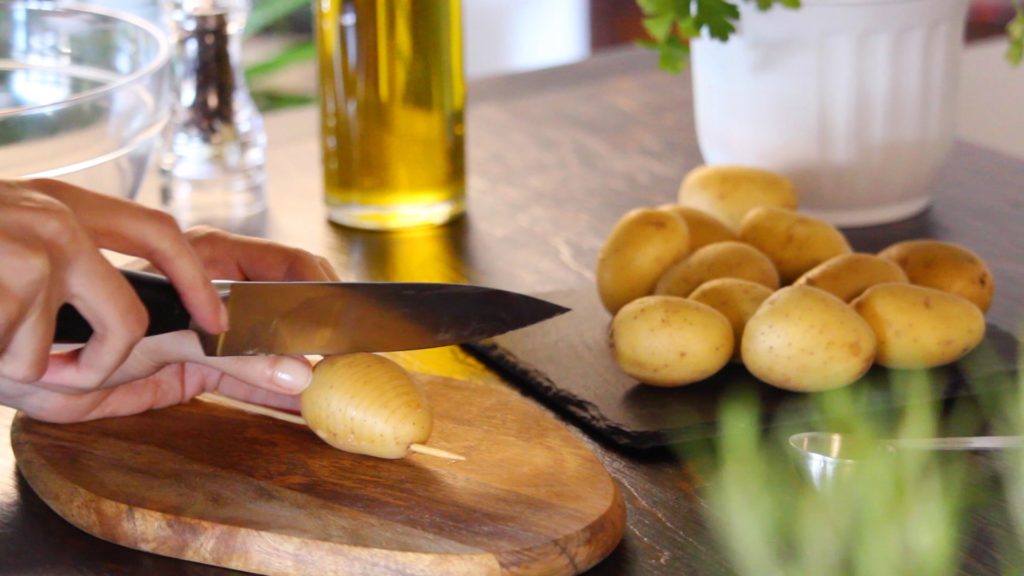 There are many ways to get the classic "hasselback" slicing. I think that the skewer one I show in my recipe video it's the most easy and prevent to cut potatoes all the way through.
It's important to get thin slices so your potatoes can evenly cook.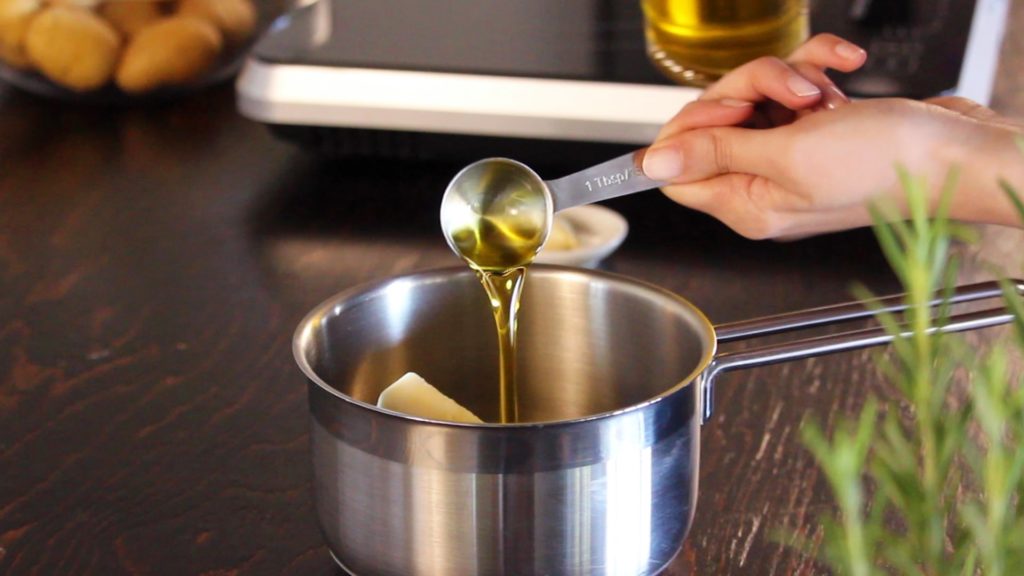 Seasoning is simple in this recipe. Butter and olive oil are the best choice and you can personalize them with your favourite herbs and flavors like paprika or garlic powder. I prefer making an aromatic butter and oil mix, but you can also add some thin garlic or onion slices between the potato slices to get a stronger flavor.
Breadcrumbs, Parmigiano Reggiano (or Parmesan) cheese are just some hints to give a blast to your potatoes; there is also a foodie version with ham and cheese between the slices…be creative!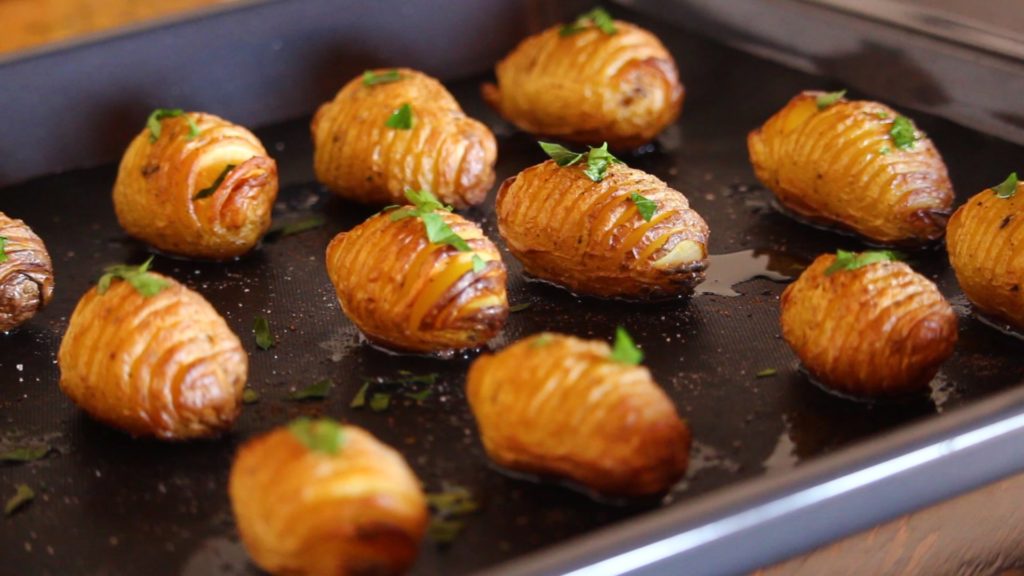 You can serve them with your favourite meat dish or as simple appetizer with homemade dressing. Ranch sauce, mayonnaise, sour cream…they match perfectly with every seasoning!