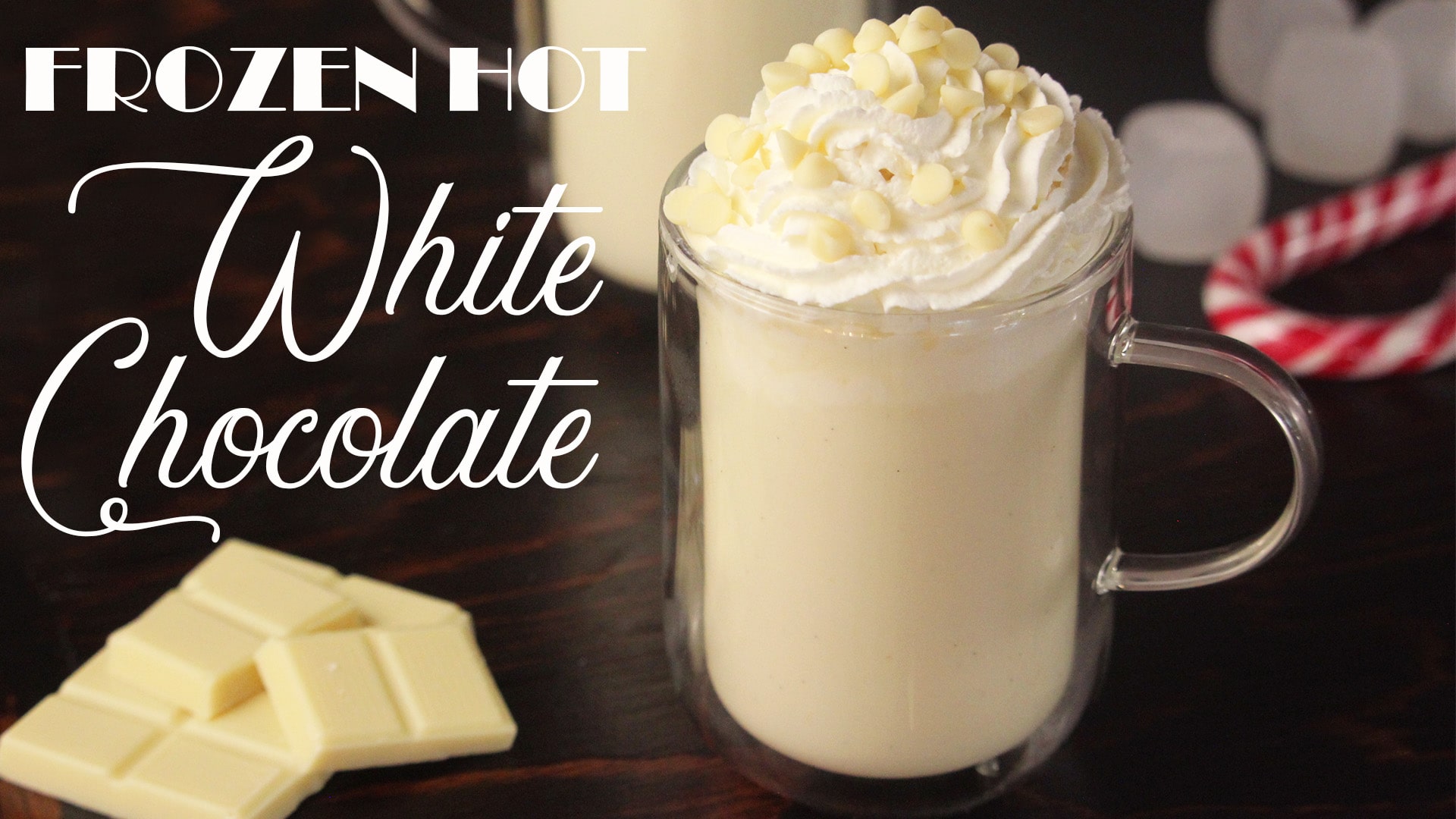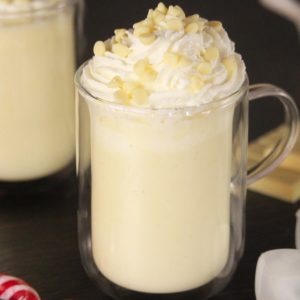 ITALIAN FROZEN HOT WHITE CHOCOLATE
The classic thick and creamy Italian style hot white chocolate, topped with frozen whipped cream.
In few minutes you can prepare an easy and heartwarming winter delight!
This is a perfect treat that combine hot and cold, creating a brand new experience!
Ingredients
Hot Chocolate
500 ml

(2 cups)

whole milk

80 g

(3 oz)

white chocolate,

good quality

15 g

(2 tbsp)

cornstarch

or all purpose flour

1/2

vanilla bean

or vanilla paste
Garnish
240 ml

(1 cup)

unsweetened whipping cream,

chilled

white chocolate chips,

optional like decoration
Instructions
Frozen Whipped Cream
Whip the whipping cream until stiff peaks form.

Transfer the whipped cream into a piping bag and pipe it over a baking tray lined with parchment paper.

Sprinkle with some white chocolate chips on top.

Freeze it until prepare the hot chocolate or about 30 minutes.
Hot Chocolate
Finely chop the white chocolate.

Place cornstarch in a small saucepan. Add about 3 tablespoons of milk and stir well to combine. Add gradually the rest of the milk and combine.

Cut about ½ vanilla bean, scrape it and add the bean and the seeds to the milk.

Over low-medium heat, bring the milk mix to simmer and keep on stirring it. When it starts to slightly simmer to the edges, remove the vanilla bean, incorporate the chopped mhite chocolate and bring to a boil.

Boil for few minutes (about 4) over low heat until thicken.

Serve immediately in a cup and garnish with the frozen whipped cream.
Video
Notes
You can't store hot chocolate leftovers or it will become liquid, so serve it immediately and enjoy it!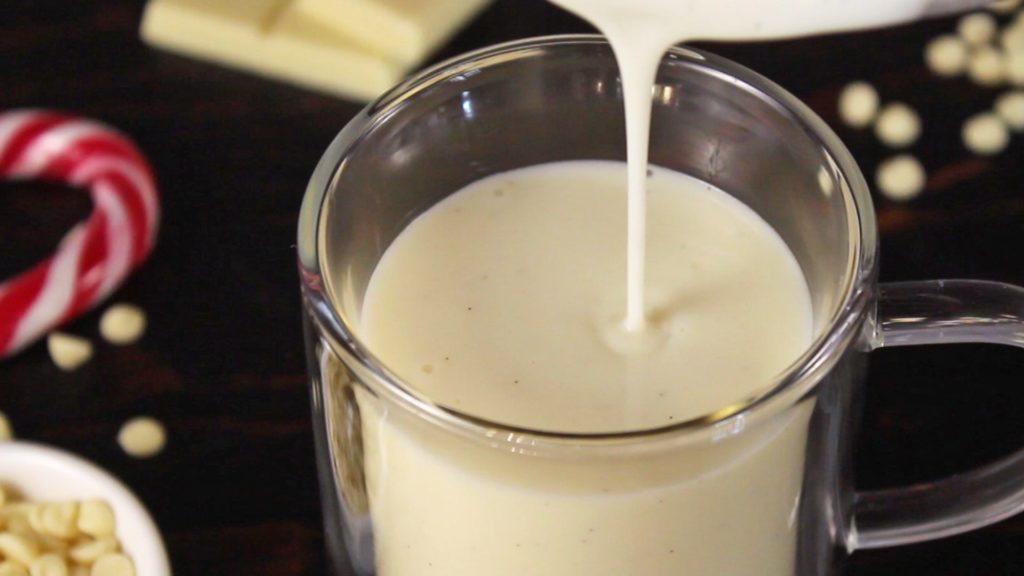 Cornstarch is the secret ingredient to get a thick and creamy Italian style hot chocolate. You can substitute it with all purpose flour but you can't skip it!
Remember to use high quality white chocolate when you make chocolate desserts, mostly when you prepare treats like this where chocolate is the leading actor! You could use chocolate chips, but honestly, the quality is lower than a good quality chocolate bar, so I suggest to use bars if you want to make the most delicious sweets ever!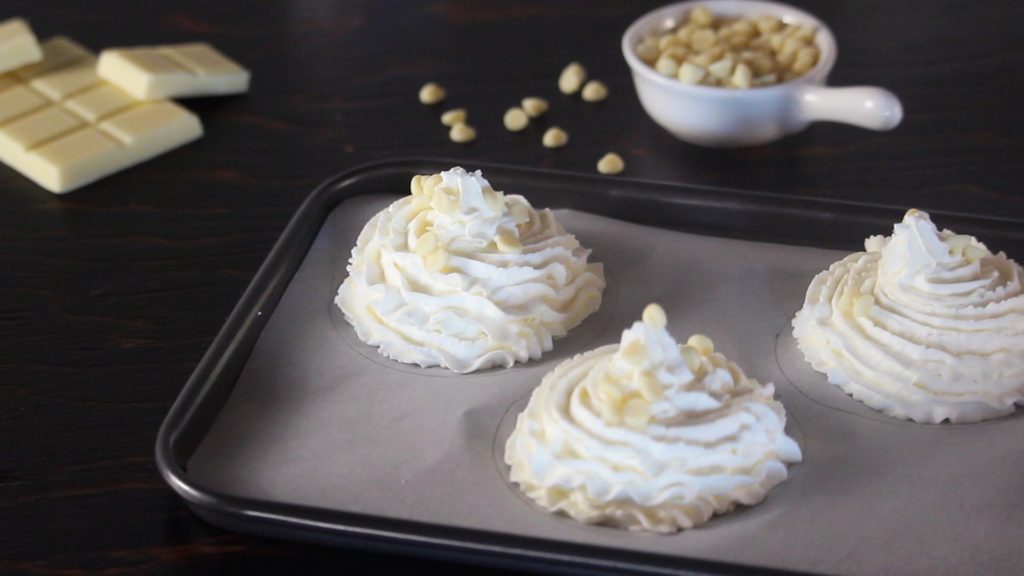 I love the hot&cold match, so I can say that frozen whipped cream is simply amazing with hot chocolate!
I suggest you to serve immediately your hot chocolate cups, or frozen whipped cream will melt quickly and will water down your hot chocolate! Remember that you can't store hot chocolate leftovers (instead you can store in freezer the whipped cream for 1 month), so enjoy this delight without guilt feelings!