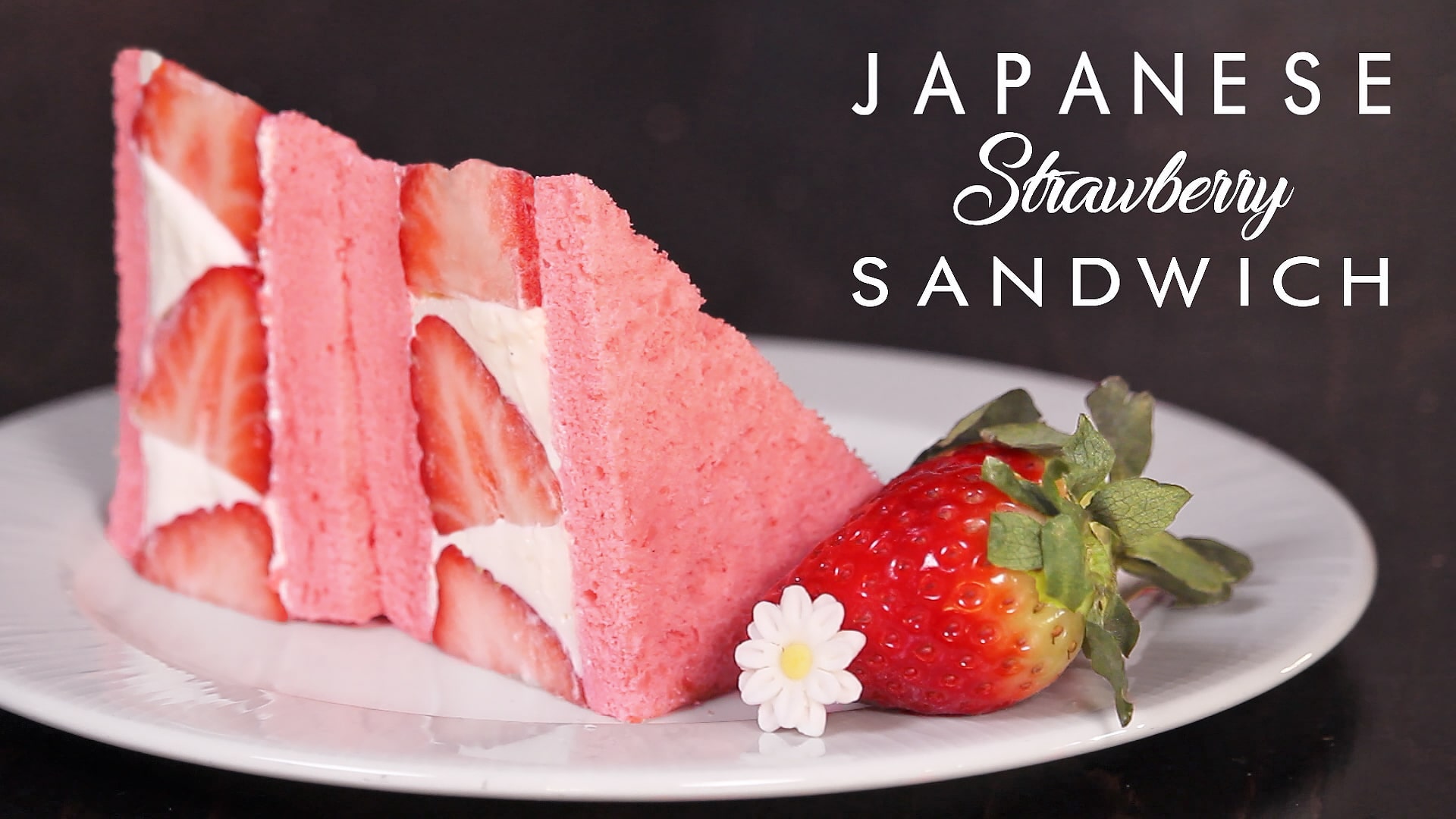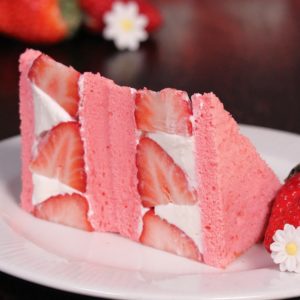 JAPANESE STRAWBERRY SANDWICH
Japanese Strawberry Sandwiches are made with a fluffy sponge cake and filled with delicious vanilla whipped cream and fresh strawberries. Soft and fluffy like a pillow, these are similar to Japanese Strawberry Shortcakes, but in mini sandwich version.
In Japan they are called "Sando", better "Fruit Sando" and are usually made with simple milk bread sliced and filled with whipped cream and fresh fruits. I decided to make a moist sponge cake instead of milk bread to get quickly lovely pink layers that make them perfect for particular occasion like Valentine's Day.
If you don't want to make the sponge cake, you can use store-bought milk bread or sandwich bread.
You can also follow my Tangzhong Milk Bread recipe you can find here on my web-site (bread section) and on YouTube too. Always remember to cool down completely your bread before slice it!
If you don't like strawberries or if they are not in season, you can use any other fruit like banana, kiwi, tangerine...unleach your immagination to create lovely pattern with your fruits! To get simmetrical fruit pattern, think well the orientation of the fruit and the cross sections. It's also helpful using fruit about of the same size. If your fruits have heterogeneous shapes, just shape and cut them to create pattern.
They are perfect like sweet treat, lovely dessert and my pink version is cute for Mother's Day, Valentine's Day or any other occasion!
Ingredients
Sponge Cake
3

egg yolks

room temperature

3

egg whites

room temperature

40 g

(3 tbsp)

caster sugar

40 g

(3 tbsp)

caster sugar

1/2 tsp

cream of tartar

or lemon juice

1 tsp

vanilla paste

or vanilla extract

50 ml

(3+1/2 tbsp)

milk

room temperature

pink food coloring

optional

90 g

(3/4 cup)

all purpose flour

10 g

(1+1/2 tbsp)

cornstarch

or all purpose flour

1/2 tsp

baking powder
Filling
470 ml

(2 cups)

whipping cream

or heavy cream, chilled

6 g

gelatine leaves

or gelatine powder or agar agar

30 ml

(2 tbsp)

whipping cream

or heavy cream, hot

1 tsp

vanilla paste

or vanilla extract

55 g

(1/2 cup)

powdered sugar

about 13

strabwerries

washed and dried
Instructions
Sponge Cake
Line and grease a 20x20cm-8x8inch cake pan.

In a large size bowl, whip the egg whites with cream of tartar. When starts to dense white foamy, add little by little 40 g of sugar and whip until stiff peaks form. Set aside.

In a medium size bowl, sift together flour, baking powder, cornstarch and mix to combine. Set aside.

In a medium size bowl, place the egg yolks, 40 g of sugar, vanilla and mix until thick and pale.

Incorporate milk, pink food coloring, flour mix in two times and mix just until combined: don't overmix!

Add about 1/4 of egg whites mix in the yolk mix and well combine.

Place the egg yolk mix into the egg whites mix and gently fold with a spatula until combined. Be careful to not deflat the batter.

Place the cake batter into the prepared cake pan and spread evenly.

Bake in preheated no fan oven (upper and lower heat) at 160°C – 320°F for 20 minutes or until a toothpick comes out clean.

Let cool down slightly in the pan, then unmold it on a wire rack to cool down completely. If you want to remove the brown cake skin, you can easily make it when still hot using your fingers or a knife.

Cut the cake into 2 layers when completely cooled down.
Filling
Soak gelatine sheets into cold water for 5-10 minutes. If you use gelatine powder, you don't need this soaking step. If you use agar agar, following the instructions written on its packaging.

Meanwhile whip 470 ml of whipping cream with vanilla until medium peaks.

Squeeze the soaked gelatine sheets and place it into 30 ml of hot whipping cream: mix until completely dissolved. Heat few seconds if gelatine doesn't dissolve completely.

Place gelatine mix and powdered sugar into whipping cream and whip until firm and medium-stiff pwaks formed (be careful to not overwhip whipping cream or it turns out into butter).
Assemble
Spread a thin layer of whipping cream mix on top of one cake layer.

Place whole straberries forming a cross: the place where you put strawberries, is where you will cut the cake, so you'll see the sections of strawberries.

Cover strawberries with whipping cream mix. You can use a piping bag (optional) to fill all the gaps.

Place the second cake layer on top.

Wrap the cake into plastic wrap and put in refrigerator for at least 90 minutes before slice it.

Trim the edges to get a neat look.

Slice the cake into 4 squares (cutting where you placed strawberries), then divide each square into 2 triangles.
Video
Notes
Store in refrigerator for about 4-5 days.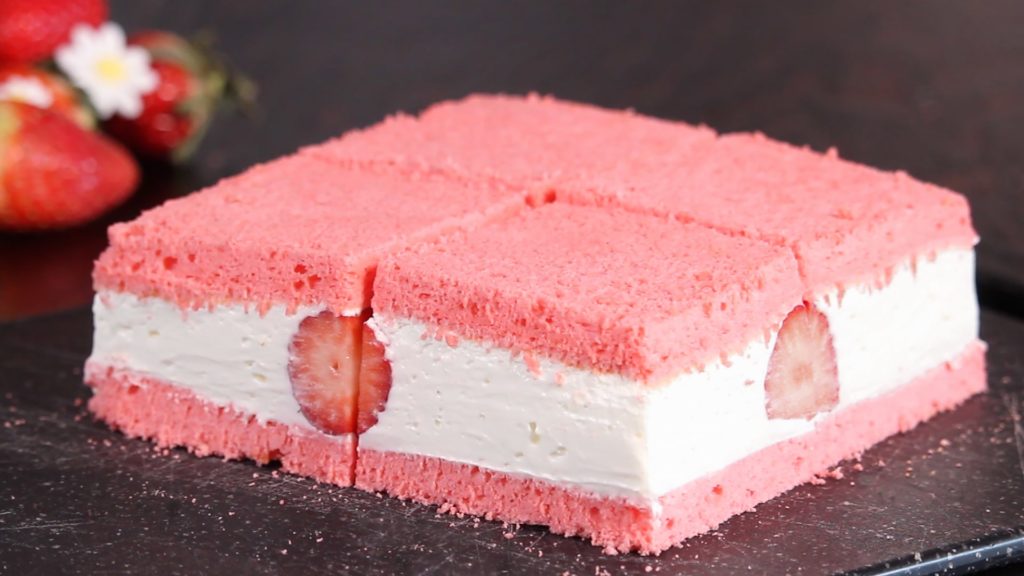 I've used gelatine leaves to stabilize whipping cream, but you can use the same amount of agar agar or gelatine powder. If you use agar agar or gelatine powder, you don't need to soak in chilled water, but you just have to dissolve them in hot liquid, the 30 ml (2 tbsp) hot whipping cream in the recipe will work perfectly.
Remember that agar agar usually needs very hot temperature to dissolve, so you have to bring the cream and agar agar powder to boil over the stove-top and let it boil for 4-5 minutes over low heat. I suggest to read the instructions written on your packaging to use the right method.
If gelatine doesn't dissolve completely, you just need to heat few seconds in microwave.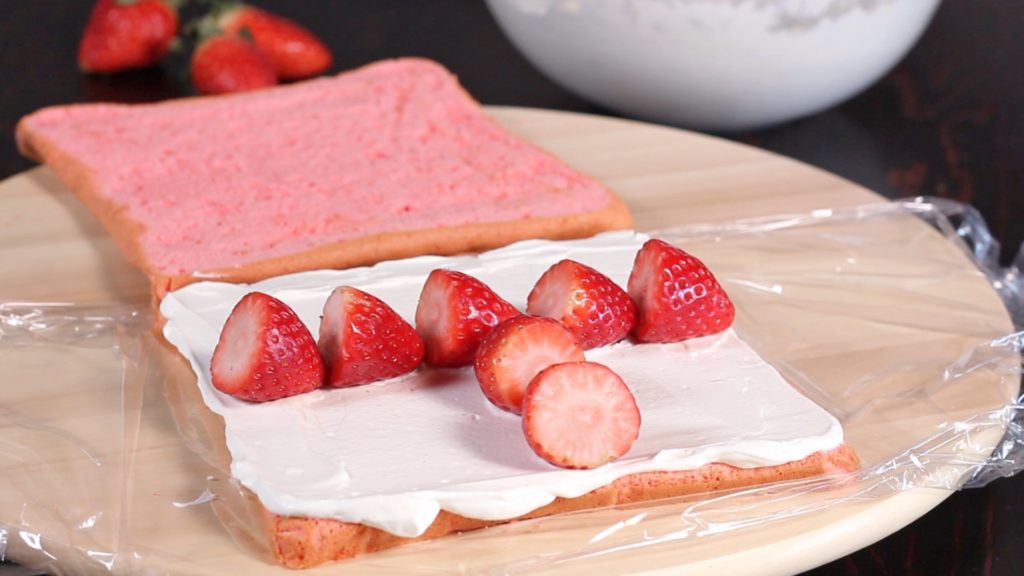 In these sandwiches is very important to think how and where placing fruits – and the sections you'll see when you are cutting them- so you'll get symmetrical fruit pattern.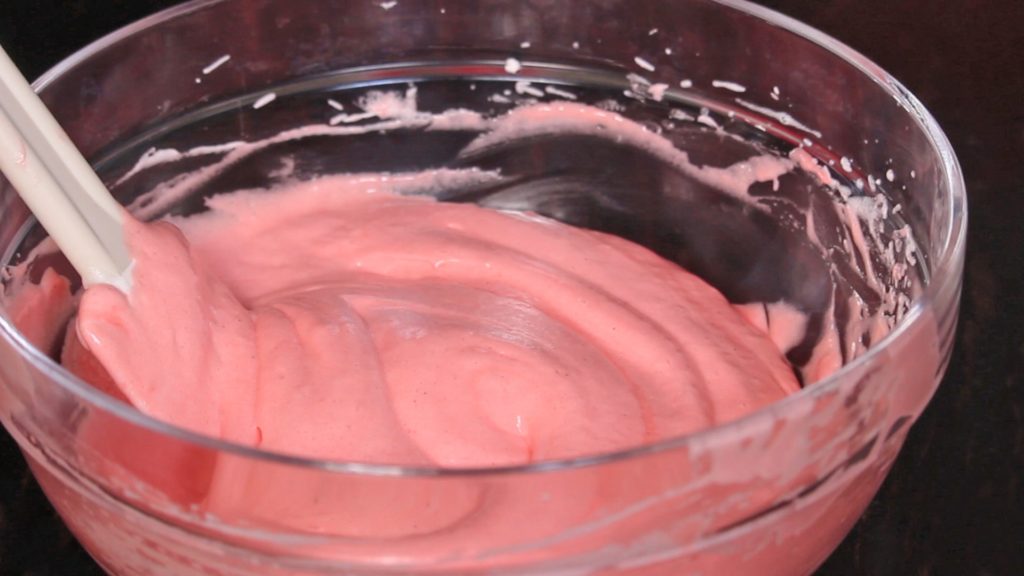 The pink color is optional. I always use good quality food coloring in paste (my favourite brand is SugarFlair – no sponsored!). I don't suggest liquid food coloring, they usually change a lot while baking and usually you need a huge amount to get your color, but they will change the texture of your batter.
I didn't make a classic sponge cake for this recipe, but I added a bit of milk in the batter to get more moist crumbs. You won't need to soak it with sugar syrup and it will rest soft for days in refrigerator!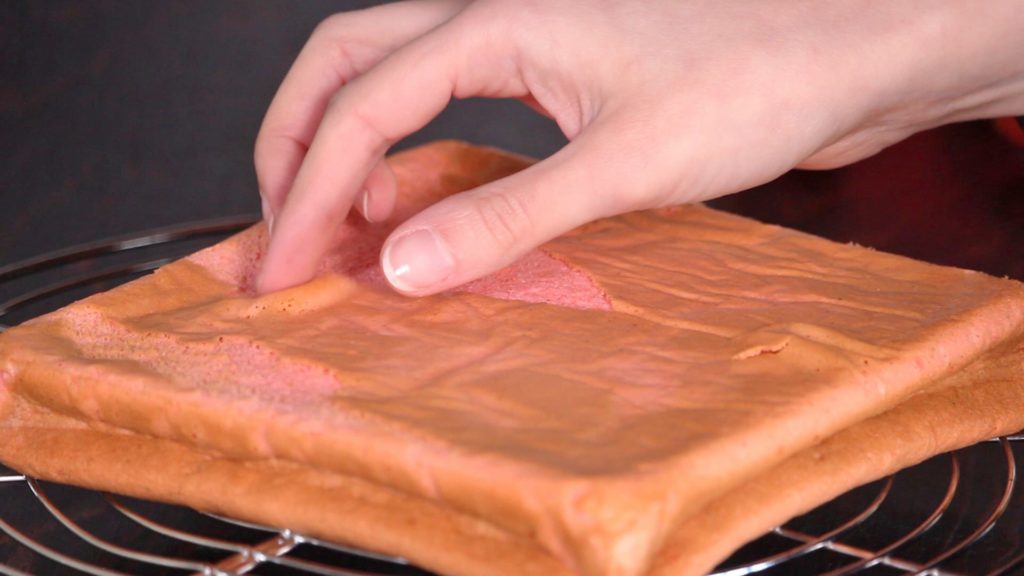 Japanese food is incredibly precise and aesthetic, for this reason I removed the brown cake's skin. It's very easy to remove it when the cake is still hot, you can use your finger or a small serrated knife. This step is absolutely optional!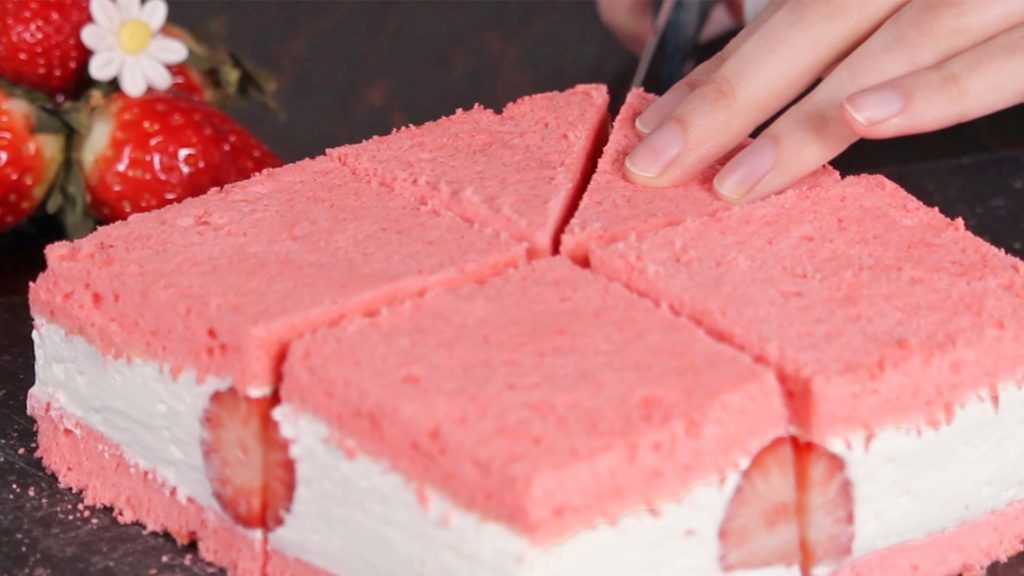 To make perfect cuts, use a serrated knife and rememebr to clean it after making every cut. Remember to cut your sandwiches after you chilled the cake for at least 90 minutes in refrigerator (you can also cut them the day after).