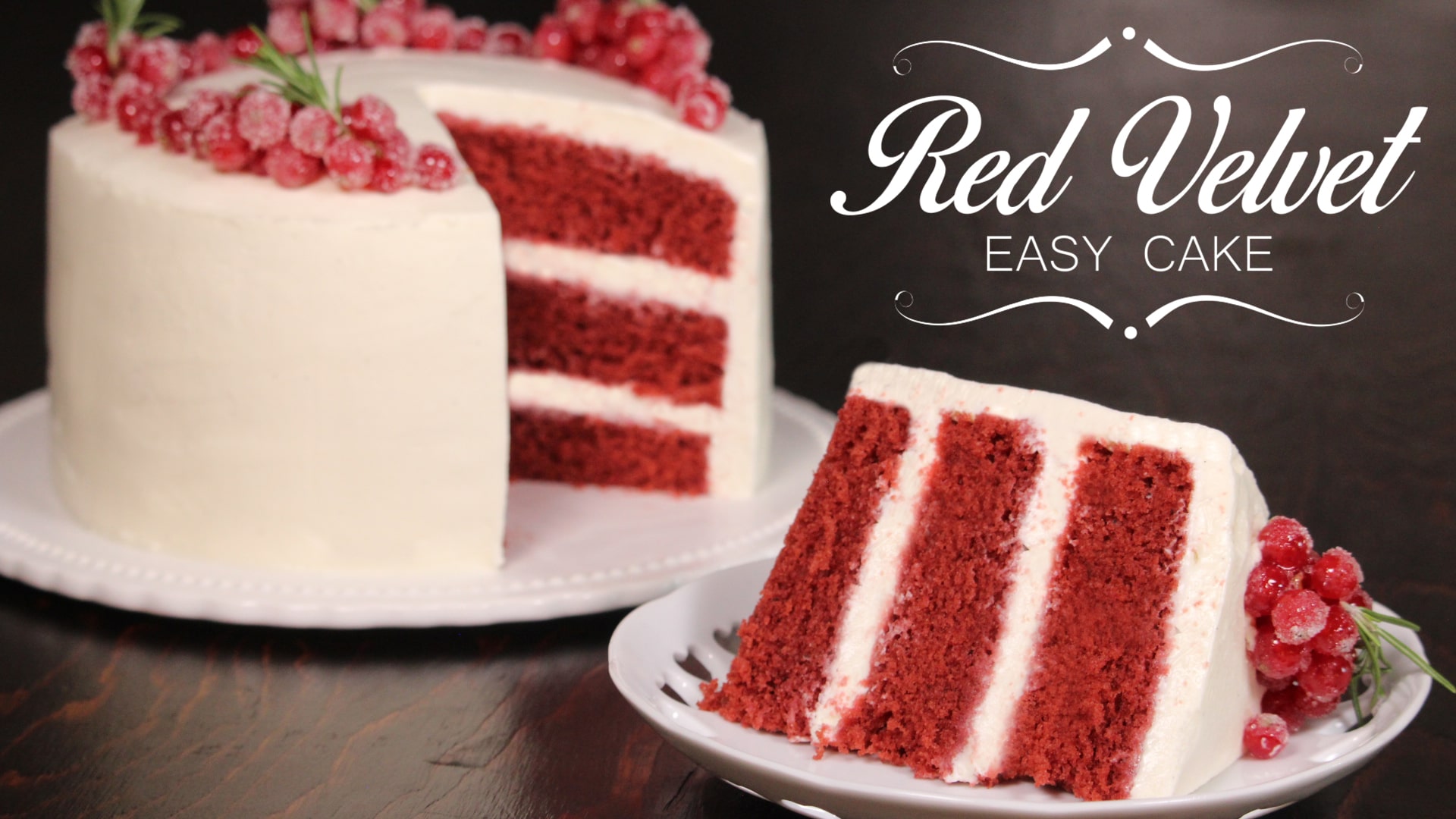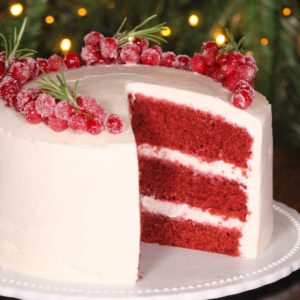 LAST MINUTE CHRISTMAS RED VELVET CAKE - MICROWAVE
Can you believe you can make a 3 layers stunning and moist Red Velvet Cake like this one in few minutes?!
You surely can thanks to microwave! I cooked my cake in microwave for only 8 minutes and the cake batter ss also so quick and easy to prepare, that you couldn't believe it!
One bowl cream cheese Frosting is the perfect touch to this quick and easy cake: you only need to put all the ingredients (chilled from the fridge!) in a large bowl and mix with a hand mixer for about 2 minutes: that's it! A smooth - without any lumps! - frosting for your Red Velvet cake!
This cake is incredibly delicious, nobody will notice it's made in few minutes in microwave! If you don't have a microwave, you can bake the cake in a traditional preheated oven at 180°C-350°F until a toothpick comes out clean.
The perfect last minute cake for special occasions like Christmas or Valentine's Day!
Ingredients
Red Velvet Cake
2

eggs

room temperature

210 g

(1 cup)

caster sugar

2 tsp

vanilla paste

or vanilla extract

120 g

(1/2 cup)

vegetable oil

180 g

(3/4 cup)

buttermilk

or 180 g milk + 1 tbsp vinegar or lemon juice

1 tsp

vinegar

red food coloring in paste or gel

240 g

(2 cups)

all purpose flour

10 g

(1+1/2 tbsp)

unsweetened cocoa powder

3/4 tsp

baking soda

1 tsp

baking powder
Cream Cheese Frosting
500 g

(1 pound)

cream cheese

chilled

410 g

(1+2/3 cup)

whipping cream

chilled

220 g

(1+2/3 cup)

powdered sugar

1 tsp

vanilla paste

or vanilla extract
Decoration
Fresh red currant

egg white

granulated white sugar

fresh rosemary
Instructions
Red Velvet Cake
In a large bowl place eggs, sugar, vanilla and mix with a hand mixer for few minutes or until pale (you don't need to reach the ribbon stage).

Add Buttermilk, vinegar, oil, red food coloring paste and mix quickly just until combined.

Sift in flour, cocoa, baking powder, baking soda and mix just until combined: don't overmix!

Divide the cake batter into 3 lined 20cm-8inch microwave cake pans (I've used just one silicone pan in three times and I lined it with parchment paper to easily unmold any cake layer).

Cook every layer in microwave for 2 minutes and 50 seconds (I've used 800W microwave, depending on the power your microwave may need less or more time, so check it: the cakes are ready when top is dry and a tootphick comes out clean).

Cool down the cakes completely onto a wire rack.
Cream Cheese Frosting
In a large bowl place cream cheese, vanilla, powdered sugar, whipping cream and mix with a hand mixer until fluffy and thick-creamy: don't overbeat! You'll get a smooth and creamy frosting.

Spread less than 1/3 of frosting on top of each cake layer, then use the remaining frosting for the cake sides.

Refrigerate the cake before serving (at least 20-30 minutes).
Decoration
Decorate the top with red currant dipped into egg whites, then dried and coated into sugar and fresh rosemary.
Video
Notes
Store in refrigerator for about 5 days.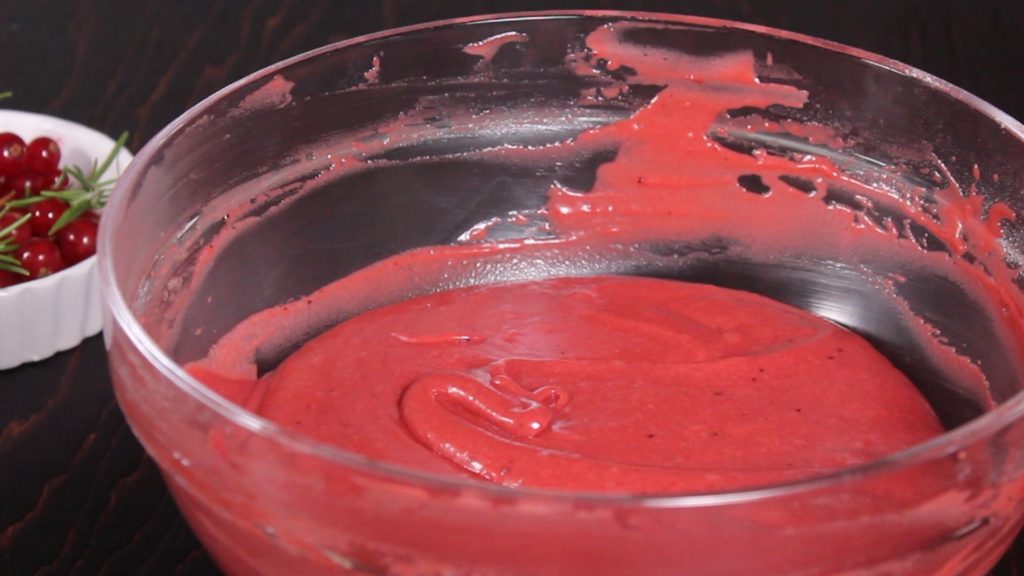 To get a bright red color when you make Red Velvet desserts like this cake, you should use a gel or paste food coloring, not liquid food coloring.
My favourite food coloring brand is Sugar Flair (no sponsored!) in the color Red Extra or Christmas Red.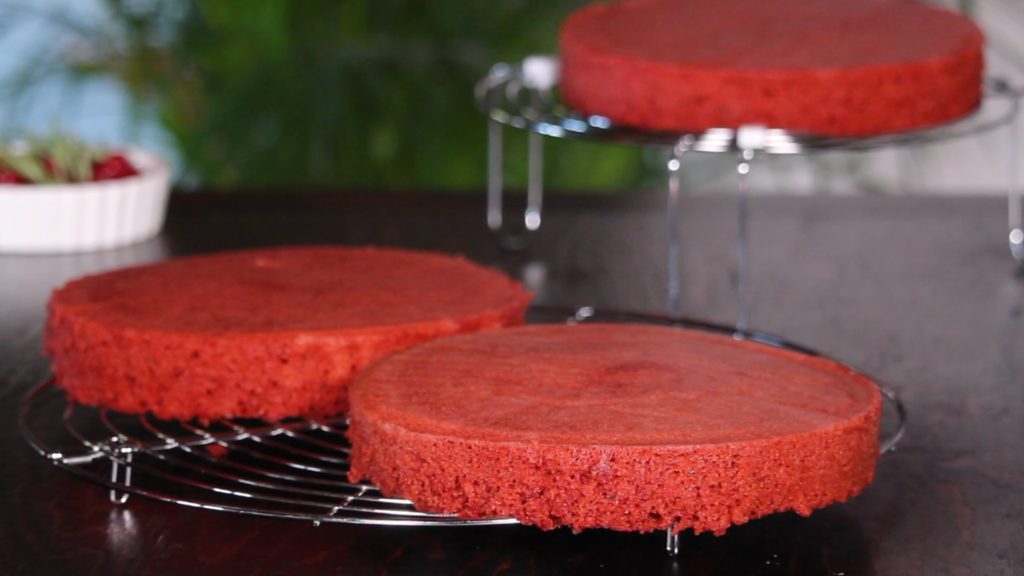 Every microwave is different, so check out your cake to know when it's done. Microwave cook fast and keep your cakes so moist and fluffy, more than traditional oven. Moreover, the cakes turn out very flat, perfect for layering!
But if you don't have microwave you can use traditional oven: I suggest no fan preheated electric oven, upper+lower heat, at 180°-350°F until a toothpick comes out clean (I suppose about 15 minutes for every layer).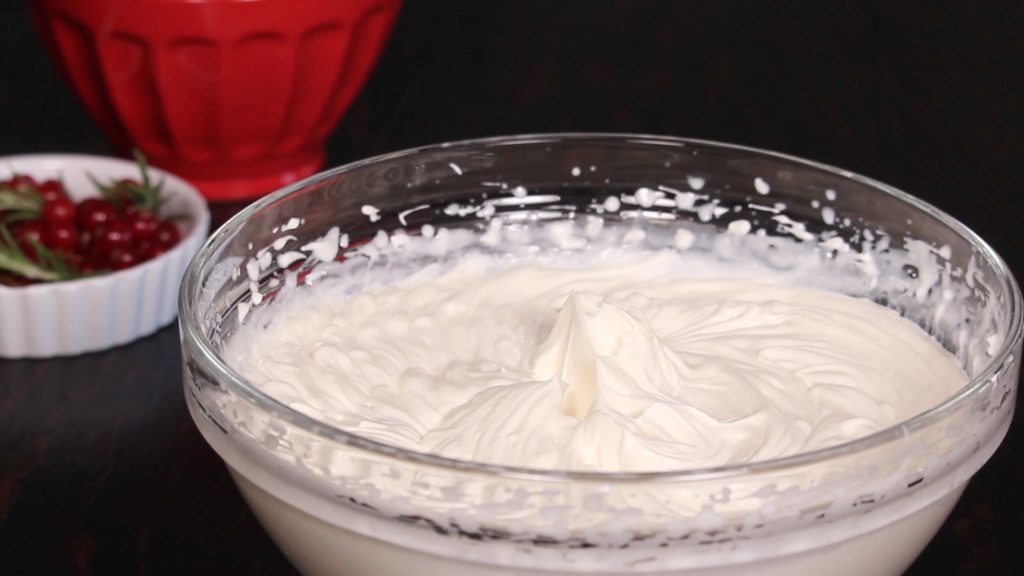 This Cream Cheese frosting recipe is incredibly quick and easy to make! You can use chilled ingredients right from the fridge, just mix them together with a hand mixer until fluffy and a bit thick (do not overbeat or the whipping cream turns into butter).
Don't worry if your cream cheese seems a bit lumpy when you start mixing, it's turning out soft, smooth and creamy just in few minutes mixing all the ingredients together with a hand mixer!