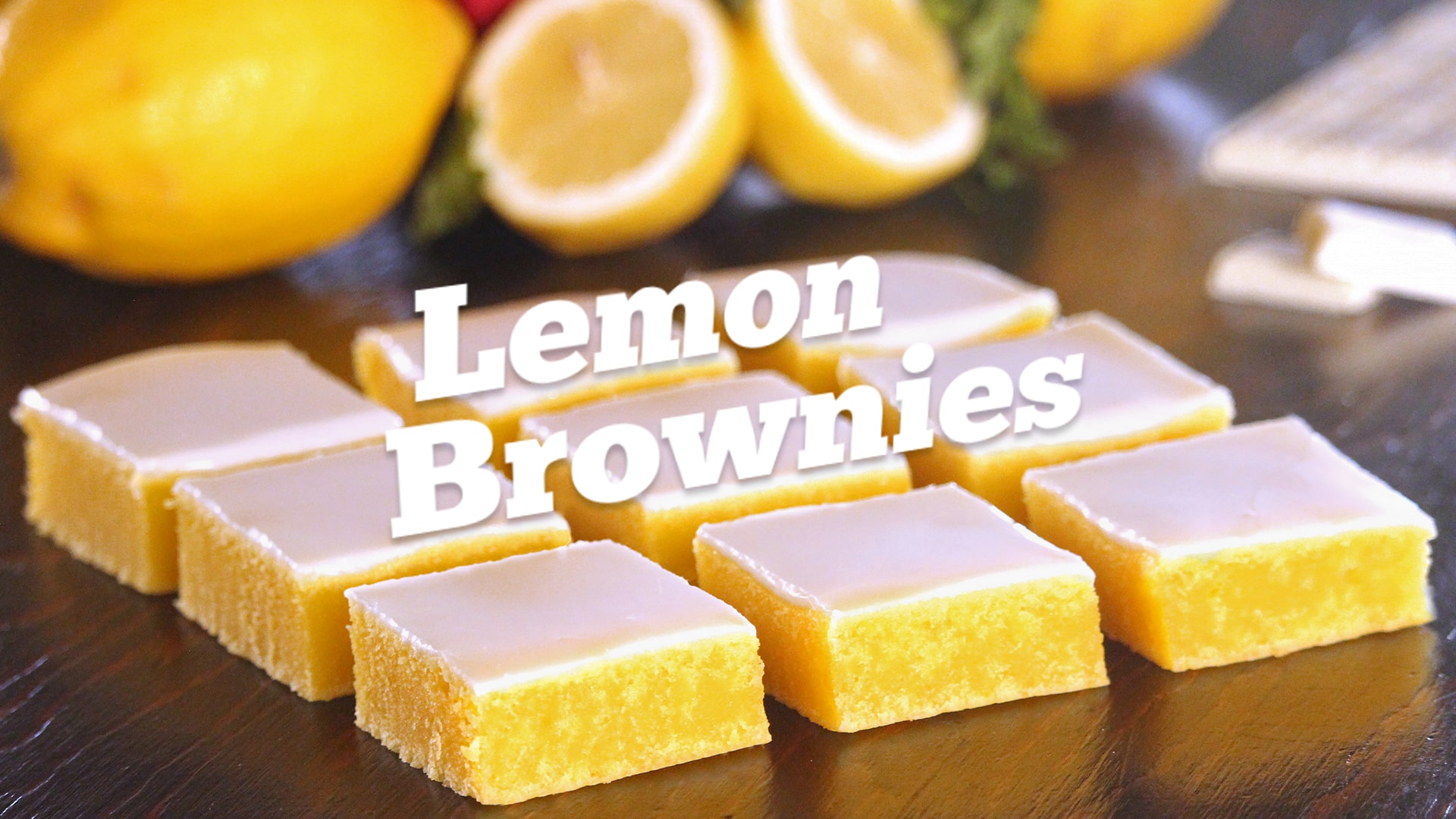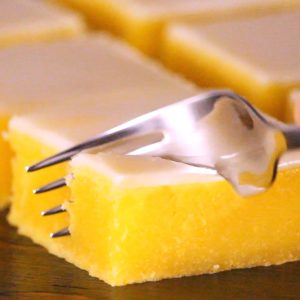 FUDGY LEMON BROWNIES - LEMONIES
The Best Fudgy Lemon Brownies ever! Moist and enriched with white chocolate, they literally melt in your mouth. Flavored with fresh Lemon Zest and Juice, they are the perfect refreshing Summer dessert! The Lemon Glaze on top is the perfect match for this irresistible treat.
I suggest to use fresh organic lemons for this recipe and pay attention when you grate the lemon zest: you have to use only the yellow part, full of essential oil, not the white one that is bitter!
Many people call the "Lemonies" because, well, they are not brown! But I love to call them "Lemon Brownies" because they have true fudgy browny texture thanks to white chocolate.
The match with white chocolate, so sweet and rich, with lemon, is perfectly balanched. They taste like sweet irresistible lemons!
Ingredients
Lemon Brownies
3

eggs, with very yellow yolks

room temperature

140 g

(2/3 cup)

sugar

The zest from 2-3 lemons

130 g

(1/2 cup+1 tbsp)

unsalted butter

60 g

(2 oz)

white chocolate

chopped

130 g

(1 cup)

all purpose flour

40 ml

(2+1/2 tbsp)

fresh lemon juice

from about 1+1/2 lemons
Lemon Glaze
125 g

(1 cup+2 tbsp)

powdered sugar

About 2-3 tbsp

fresh lemon juice
Instructions
Lemon Brownies
In a heat-proof medium size bowl, place butter, chopped white chocolate and melt over bain-marie or microwave. Set aside.

In a big size bowl, add sugar, eggs, lemon zest and whisk until foamy and well combined. If you want fudge and dense brownies, use a whisk and don't incorporate too much air; if you prefer cakey brownies, use a hand mixer and whisk at high speed for some minutes to incorporate air.

Add melted butter mix in the ggg mix and whisk hard until completely incorporated.

Sift flour in the batter, add lemon juice and whisk until well combined: don't overmix, even if you're using an electric mixer, or your brownies will turn out hard!

Transfer the batter into a lined and greased 20x20cm–8x8inch cake pan.

Bake in preheated oven at 180°C-350°F for 17 minutes. Don't overbake it: a toothpick will come out clean, but with moist crumbs.

Cool down slightly, then transfer on a wire rack to cool down completely.
Lemon Glaze
In a medium size bowl, add powdered sugar and add litlle by little the lemon juice until get a thick glaze. Be careful: don't add too much lemon juice or your glaze will turn out too runny; if you've used too much lemon juice, add more powdered sugar to get the perfect thick consistency.

Glaze evenly the top of the Lemon Brownies using a spatula.

Allow the glaze to set for about 30 minutes before slicing into 9 squares.
Video
Notes
You can store at room temperature in airtight container for about 3 days.
You can store in refrigerator for about 1 week: you can bring at room temperature before serve it.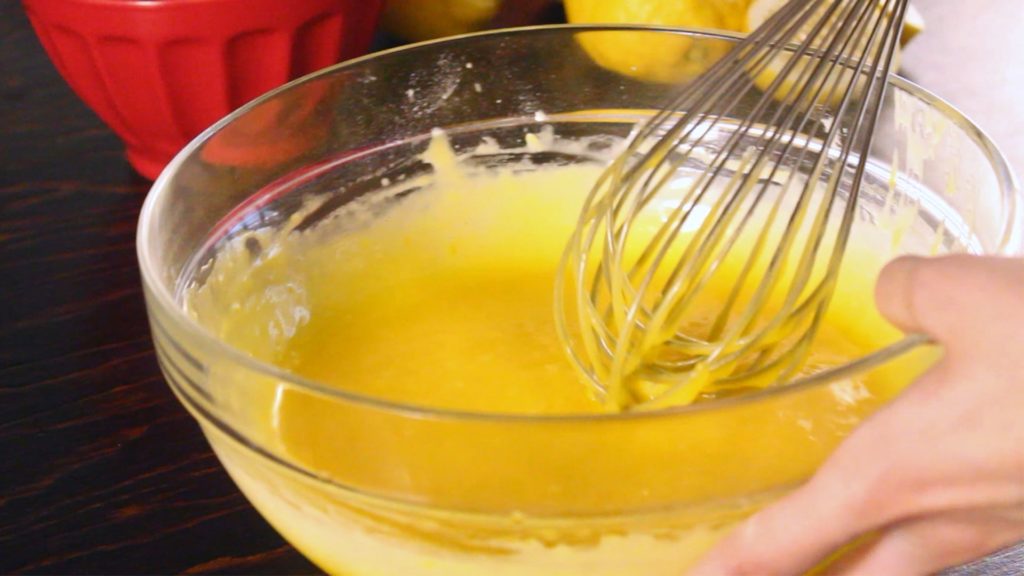 You can prepare your Lemonies batter using a hand mixer or a simple whisk, as I did. The final result will be different in texture: if you use hand mixer, you will incorporate air bubbles, so you'll get more cakey texture. If you use a whisk, you'll get more compact and fudgy texutre. I prefer fudgy and melt in your mouth Lemonies, that's why I'm using the whisk, but it's totally up to you!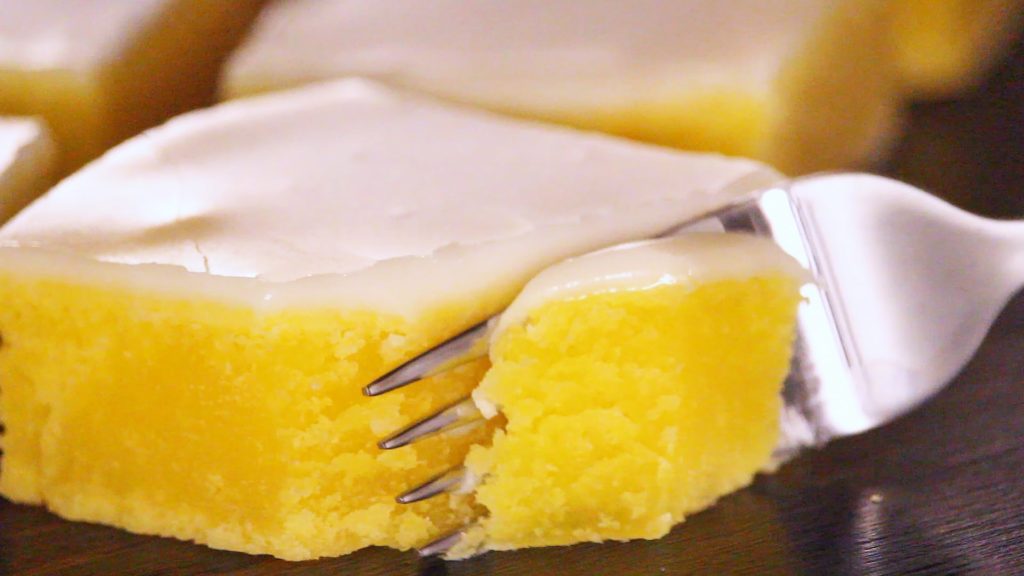 The fresh lemon juice used for making the topping glaze, gives extra lemony flavor to your Lemon Brownies, but you can also use water if you want a more delicate glaze. When you make sugar glaze, always remember to add your liquid little by little so you won't get a watery glaze but a thick one. If you add too much liquid, you can add more powdered sugar to get the perfect texture.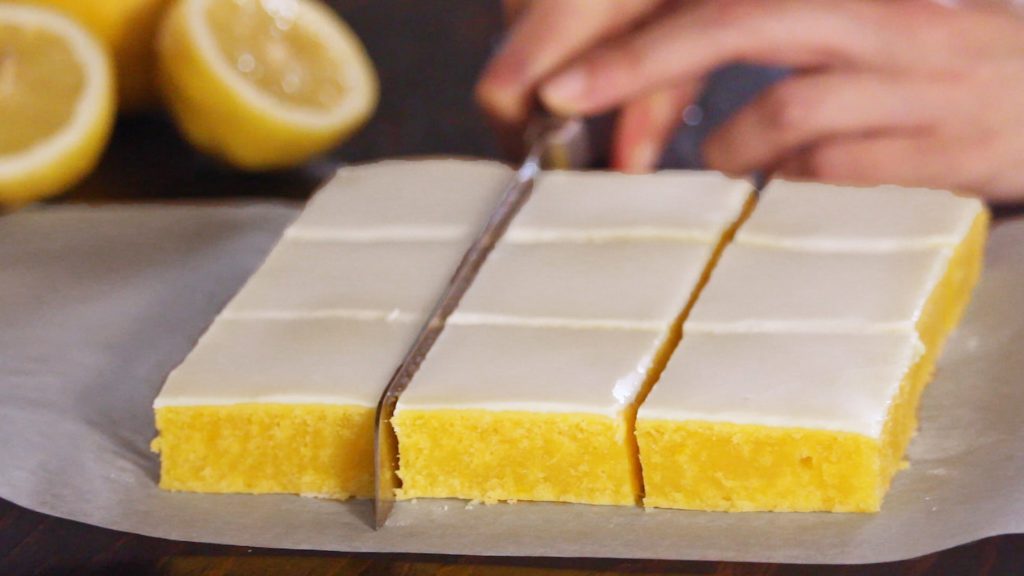 For perfect and  neat cuts, heat a stainless steal serrated knife over the stove top before making a cut and clean it after every time you make a cut. I've trimmed the edges and sliced in 9 squares, but you can also cut in 16 small squares, they will be perfect for a buffet!