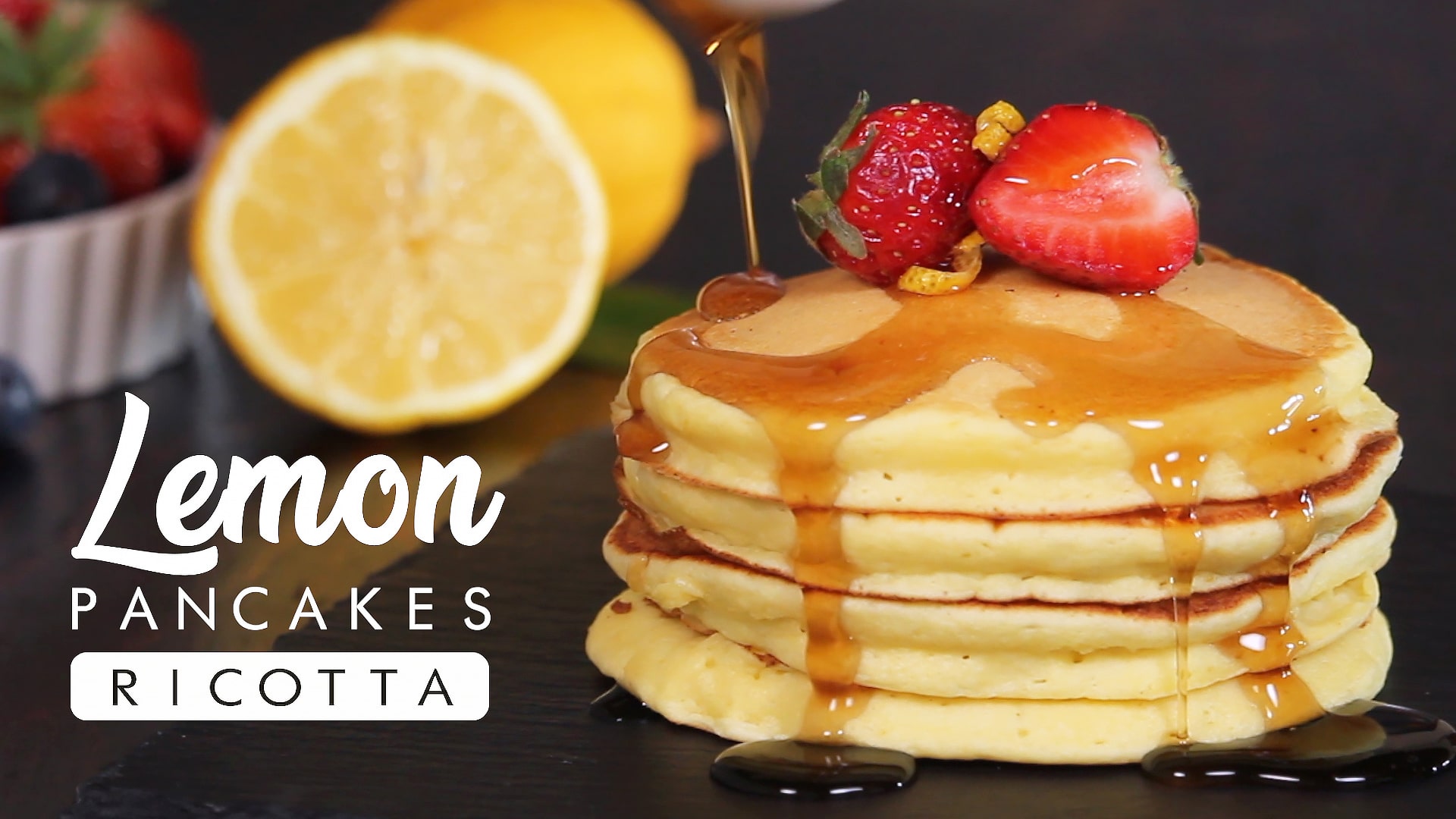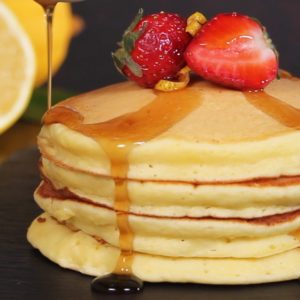 LEMON RICOTTA PANCAKES
These pancakes are incredibly moist and fluffy, with light air bubbles texture and they're only 75 kcal each pancake!
They features Ricotta cheese instead of butter or oil, so they're lighter but still rich and delicious! Flavored with true lemon zest and a splash of fresh lemon juice, they're absolutely irresistible!
These pancakes are perfect for a special occasion, I often made them for Mother's Day because my mom is a huge fan of Ricotta, but they're perfect as breakfast or yummy treat.
I whipped the egg whites in a separate bowl to give them a fluffy airy texture, but if you're in a hurry you can mix the eggs together and use only one bowl: in this case, use 2 tsp of yeast instead of 1+1/4 tsp.
They are low in sugar because they are perfect served with maple syrup or just sprinkled of powdered sugar. If you don't want to add any topping, you can increase the sugar amount in the batter according to your taste.
Ingredients
2

eggs

room temperature

50 g

(4 tbsp)

sugar

200 g

(7 oz)

Ricotta cheese

room temperautre

zest from 1 or 2 lemons

if you like the strong lemon flavor, use 2 lemons for the zest

1

tsp

lemon juice

125 ml

(1/2 cup)

milk

or buttermilk, room temperature

90 g

(3/4 cup)

all purpose flour

1+1/4 tsp

baking powder

1/8 tsp

baking salt
Instructions
In a large bowl, place 2 egg whites, lemon juice and start mixing with a hand mixer until white foamy.

Add gradually sugar and mix until firm and medium-stiff peaks form. Set aside.

In a medium size bowl, place Ricotta, 2 egg yolks, lemon zest, milk and mix with a whisk until well combined. It's pretty normal if you see some small lumps because Ricotta is not totally creamy like cream cheese.

Sift in flour, baking powder, salt and mix until combined: do not overmix!!

Gently incorporate about 1/3 of whipped egg whites into Ricotta mix.

Pour Ricotta mix into the remaining whipped egg whites and gently fold without deflating: do not overmix, don't worry if the mix is not 100% combined.

Cover and set aside few minutes at room temperature the batter until prepare the pan.

Heat a non-stick pan over medium heat for few minutes, then grease it with butter and absorb the excess with kitchen paper.

Place 1/3 cup of batter on the pan for each pancakes, cover the pan with a lid, low the heat at medium-low and cook for about 2 1/2-3 minutes or until the bottom become golden, the top still a bit runny but some bubbles appear.

Remove the lid, flip the pancakes and cook the other side (without the lid) for about 2 minutes or until golden brown.

Serve immediately with some fresh fruit and maple syrup.
Video
Notes
You can serve with fresh fruit or maple syrup on top.
You can store in refrigerator for about 2 days or in freezer for up to 2 months.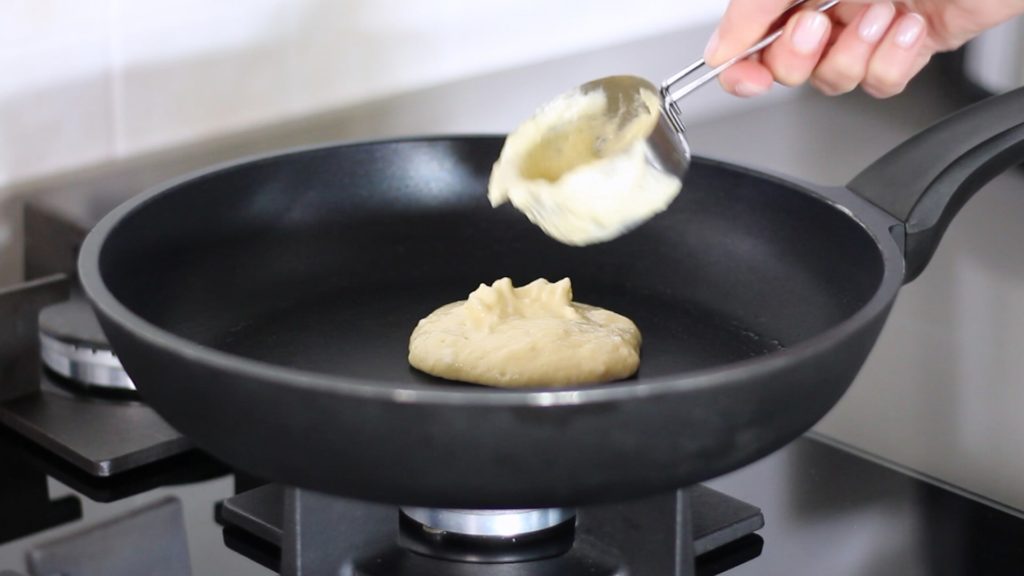 When you make pancakes, it's pretty important to handle your heat: if your pan and the fire is too hot, your pancakes will burn outside and won't cook at the center. 
I usually heat my pan on medium-low heat for about 3 minutes, then, when I place the batter, I low a bit the heat.
Since this batter is fluffy and thick, I used a lid to allow pancakes to well cook inside.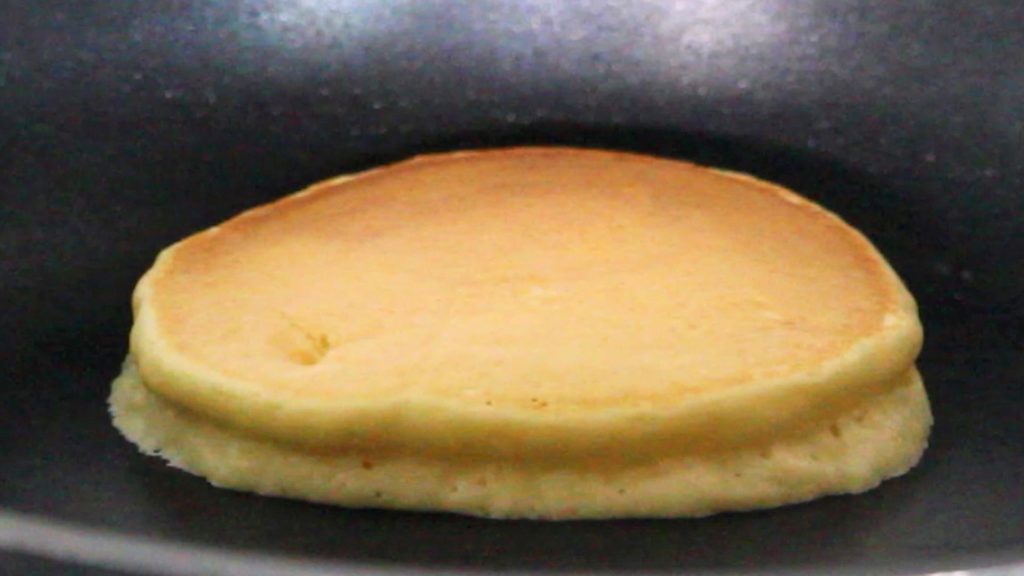 Even the flipping time is important to let them rise perfectly. It's true you have to flip them when bubbles appear on top and on the sides, but the main mistake you can make is to flip them when completely dry on top!
You have to flip them when slightly still runny on top. In this way, when you flip them, the runny batter on the bottom will stick to the pan and let them rise perfectly!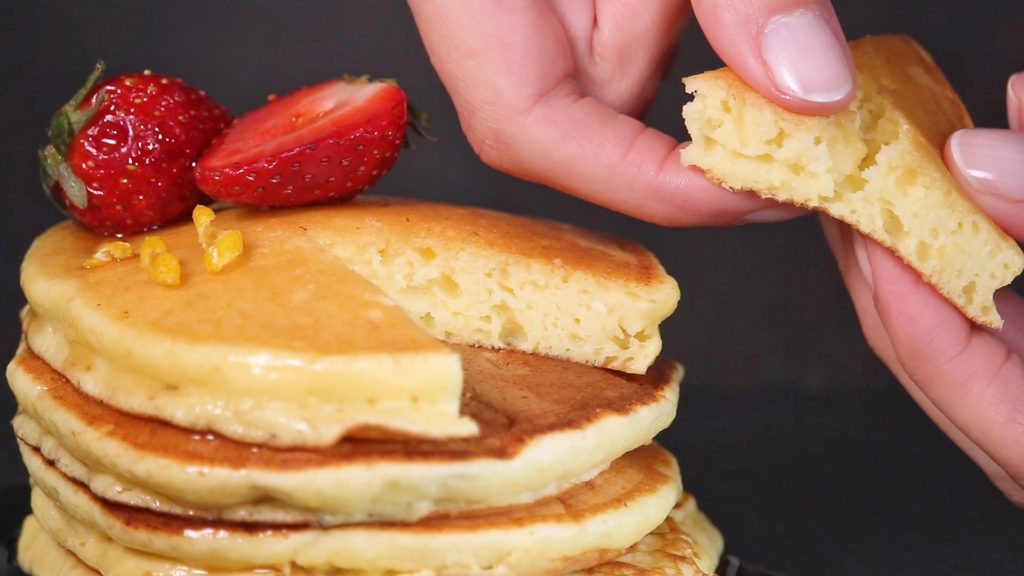 I didn't add too much sugar in this pancake batter, so they are perfect topped with Maple Syrup or other sweet topping.  If you prefer more sweet pancakes, increase the sugar amount according to your taste.