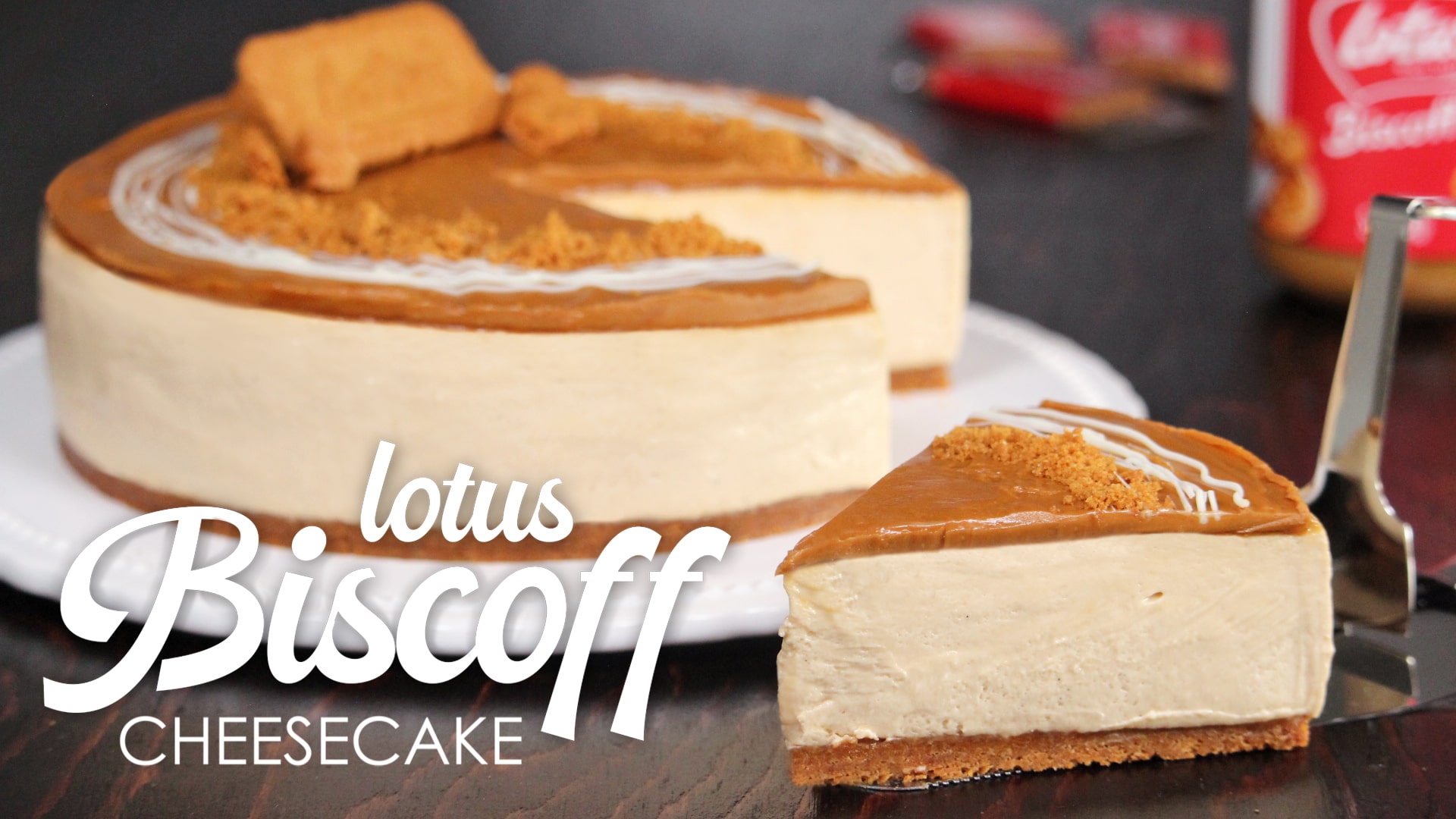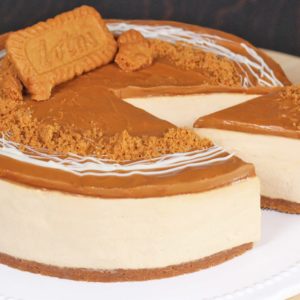 LOTUS BISCOFF CHEESECAKE
The most delicious no-bake Lotus Biscoff Cheesecake made without oven: creamy, smooth and decadent!
Made with the speculoos Lotus Biscoff cookies and spread, with their irresistible carmel cinnamon flavor, they give an unmistakable gusto to this no-bake cheesecake.
I made this cake with a small amount of gelatine so you can't go wrong and even if you live in a hot climate, the cake won't melt. The texture is aery and not jelly at all, it's like a mousse that melts your mouth!
Ingredients
Crust
150 g

(5,2 oz - 24 rectangular cookies)

Lotus Biscoff Cookies

70 g

(1/3 cup)

unsalted butter

melted
Cheesecake Filling
500 g

(1,1 pound)

cream cheese

Philadelphia type. It doesn't metter if you use it chilled or at room temperature.

175 g

(6,1 oz)

Lotus Biscoff Spread

75 g

(1/2 cup+1 tbsp)

powdered sugar

1 tsp vanilla paste

or vanilla extract

210 g

(3/4 cup+2 tbsp)

whipping cream

chilled

12 g

gelatine leaves

or the same amount of gelatine powder

20 g

(1+1/2 tbsp)

hot water

to dissolve gelatine
Topping
160 g

(5,6 oz)

Lotus Biscoff Spread

heated in microwave for about 10-20 seconds

1 tbsp

white chocolate

melted, for decoration (optional)

2

Lotus Biscoff cookies

crushed, for decoration (optional)
Instructions
Crust
Process Lotus Biscoff cookies until finely crumbs form. You can use a food processor, or place biscuits into a ziplog bag, close it and use a rolling pin to mash biscuits into evenly fine crumbs.

Mix biscuit crumbs with melted butter until evenly moistened.

Press the mix in the bottom of a 18,5cm-7inch ring cake. You can use a ring or the cake ring from a springform pan placed onto the serving plate and lined with acetate foil or parchment paper.

Put in refrigerator until the cheesecake filling is ready.
Cheesecake Filling
In a large bowl mix cream cheese, Biscoff Spread, powdered sugar and vanilla until well combined. Do not overmix. Set aside.

In a large bowl whip whipping cream until medium peaks form.

Gently fold whipping cream into the cream cheese mix until combined. Be gentle and do not overmix.

Soak gelatine leaves into chilled water for about 5-10 minutes, then squeeze it and dissolve it into 30 g of hot water (water doesn't need to boil, I just microwave it until hot). Mix until gelatine completely dissolves. If gelatine doens't completely dissolve, just heat the mix a bit into microwave for few seconds. If you use gelatine powder, follow the instructions to use it written on the packaging.

Slightly cool down gelatine mix and add about 3 tbsp of cream cheese + whipped cream mix into gelatine mix: mix with a whisk to completely dissolve all the cream cheese lumps into the gelatine mix.

When cooled down, gently fold the gelatine mix into the cream cheese + whipped cream mix until well combined.

Place the cream cheese mix on top of the crust and put it in freezer for about 30 minutes to accelerate the setting time.
Topping
Gently pour the warmed Lotus Biscoff Spread on top of the cheesecake and spread with a spatula to create some swirls (optional).

Put in refrigerator for about 6-8 hours or overnight.

Decorate the top with melted white chocolate and some Biscoff cookie crumbs (optional) and serve it.
Video
Notes
Store in refrigerator for about 5 days.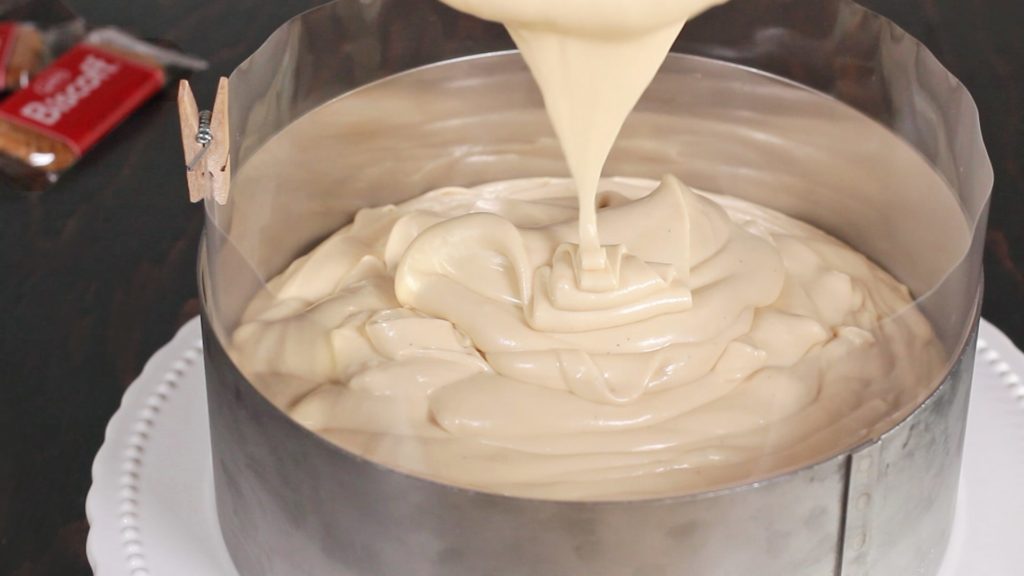 In this recipe I'm using a cake ring lined with acetate foil, but you can use a classic springform pan and lined it with parchment paper.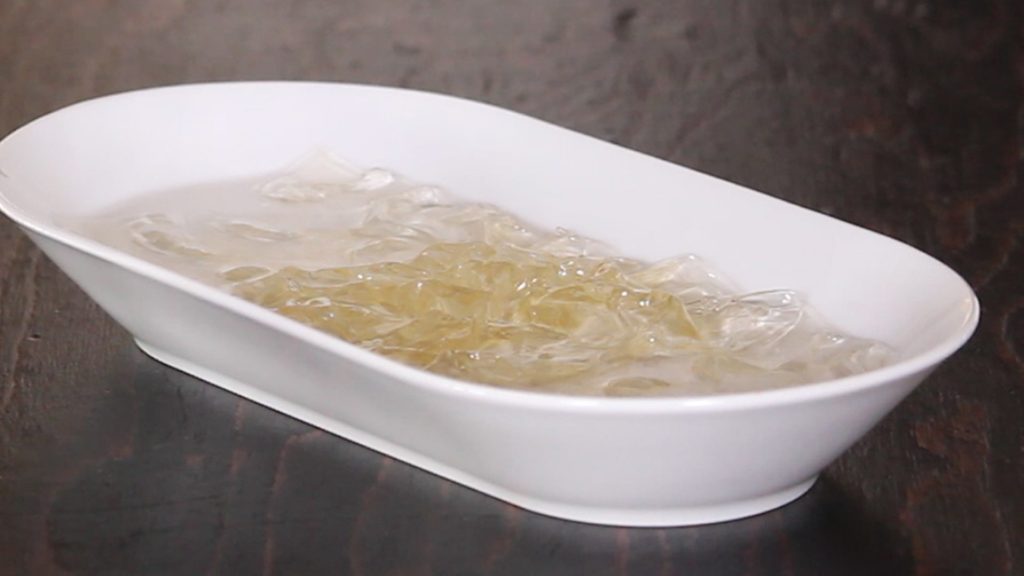 This recipe is pretty popular made without gelatine too, but I decided to use gelatine (leaves or powder) to get a more stabilized no-bake cheesecake you can enjoy in every season of the year, even if you live in a hot climate.
No-bake cheesecakes made without gelatine melts quickly if you live in a hot climate or if you leave them at room temperature too much. But if you use my recipe, you'll get a perfect stabilized cheesecake that always turns out perfect!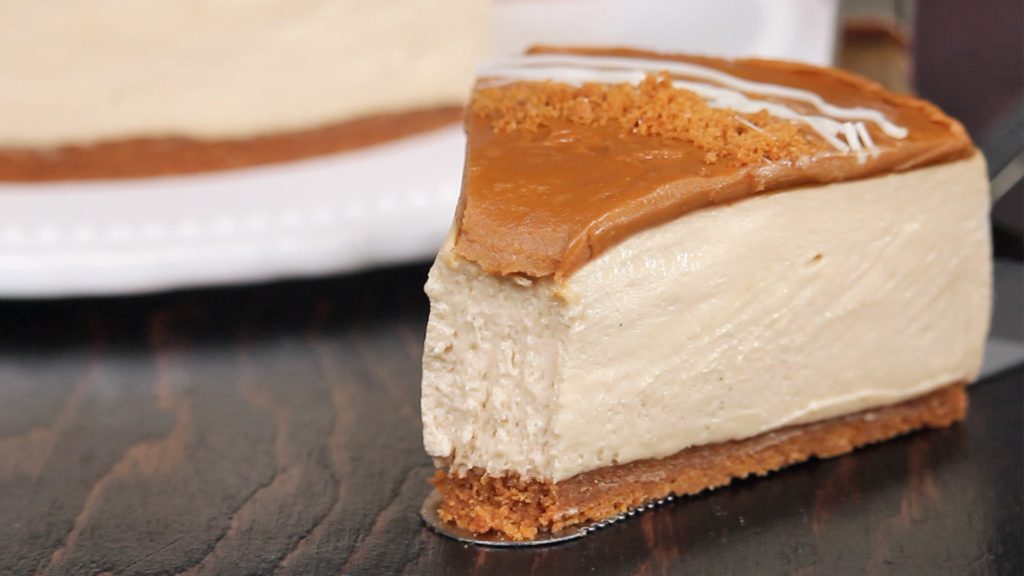 The texture is creamy and rich, not jelly at all, it literally melts in your mouth!
If you use gelatine powder, use the same amount, swell into about 1+1/2 tbsp of cold water then microwave it few seconds until completely dissolved.
Be careful to not using gelatine mix when still hot into your cheesecake batter: add few tbsp of cheesecake batter into your slightly cooled down gelatine, mix to dissolve completely until no lumps, then you can incorporate it into your cheesecake batter.