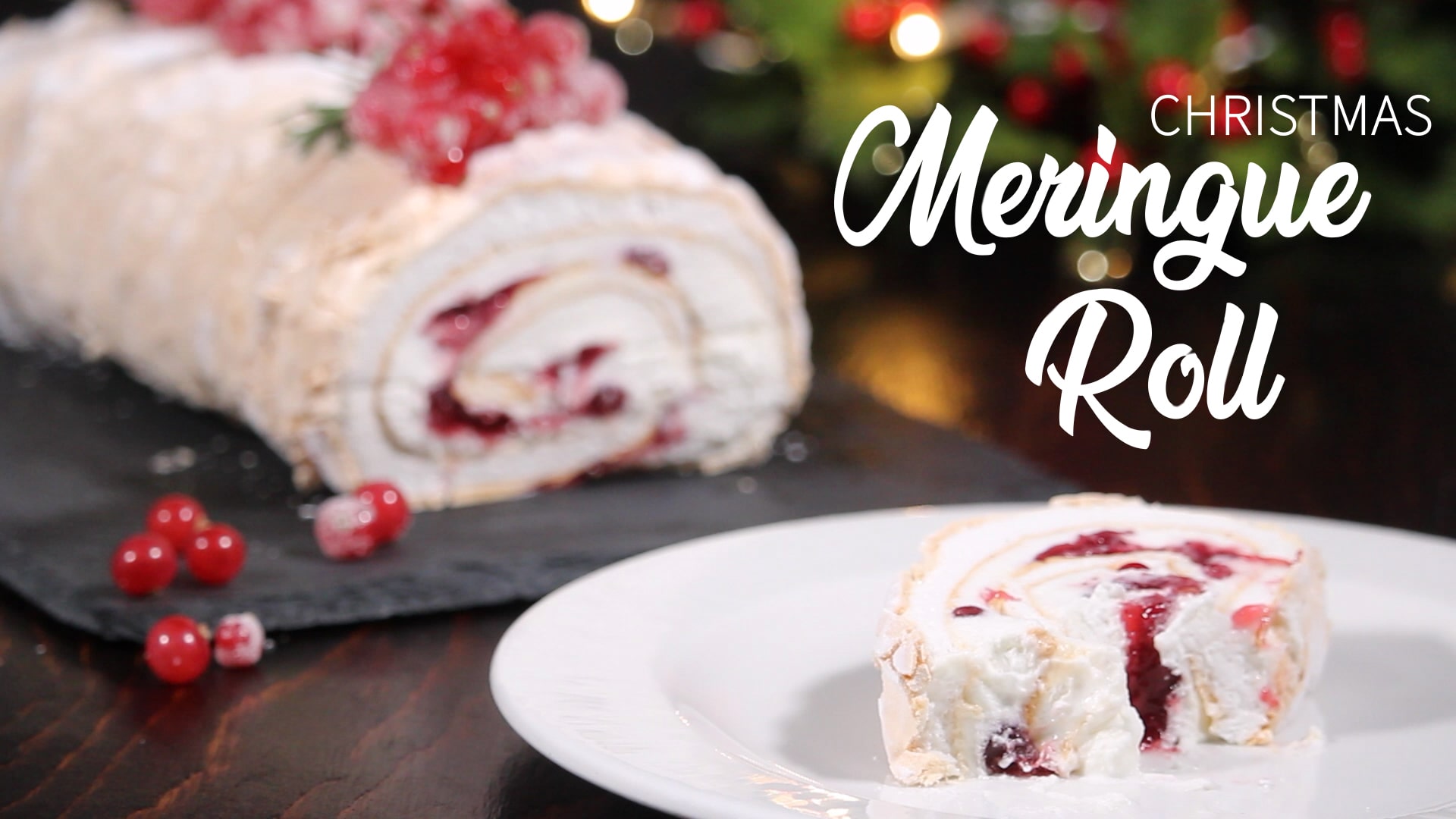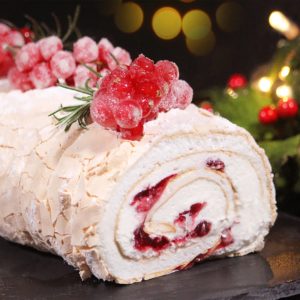 MERINGUE ROLL - CHRISTMAS BÛCHE DE NOËL
Crispy meringue outside and soft inside, filled with whipped cream and red currant compote, this Meringue Roll is perfect like Christmas dessert but even made in Summer using seasonal fruits, it's simply delicious!
Inspired to the French Christmas dessert called Buche de Noel (Yule Log), it is usually made with a stuffed sponge cake and it's common in all Europe; in this version it looks like a white snowy Buche de Noel made with meringue instead of sponge cake.
The sweetness of meringue is well balanced with a low sugar whipped cream and slightly sour red currant, so the cake is not too sweet.
In the recipe below I show you how to make the sugar frosted fruit decoration that is very easy and simply adorable for Christmas!
Ingredients
Meringue Roll
4

(135 g)

small egg whites

room temperature

180 g

(3/4 cup)

caster sugar

1/3 tsp

cream of tartar

or some lemon juice drops (optional)

1 tsp

vanilla paste

or vanilla extract

300 ml

(1+1/4 cup)

whipping cream

10 g

(1+1/2 tbsp)

powdered sugar

140 g

(5 oz)

cranberry compote

or red currant compote or raspberry compote

powdered sugar for dusting

rosemary for decoration
Sugar Frosted Fruit (decoration)
fresh cramberry or red currant or raspberry

washed and dried

some egg whites

caster sugar

or granulated white sugar
Instructions
Meringue Roll
Prepare a 26x35cm–10x14inch baking sheet: line with parchment paper, slightly grease with some vegetable flavorless oil and remove any oil excess with kitchen paper.

In a large bowl place the egg whites, cream of tartar and mix until white foam.

Start adding Caster Sugar little by little, vanilla paste and keep on mixing at medium-high speed until stiff peaks.

Spread evenly the meringue into the prepared baking sheet.

Bake in preheated fan oven at 160°C-320°F for 25 minutes (the top is dry but the center still a bit soft).

Meanwhile dust a parchment paper with some powdered sugar.

Let cool down the meringue into the pan for 5 minutes.

Invert the meringue onto the dusted parchment paper, peel off the lined baking paper and cool down completely, for about 15 minutes.

Meanwhile in a large chilled bowl pour whipping cream and whip until medium-stiff peaks.

Add powdered sugar and genlty combine.

Spread the whipped cream on top of the meringue sheet.

Evenly place with a spoon some spots of cranberry compote on top of whipping cream.

Gently roll the meringue into a log, helping with the sugared parchment paper under the meringue sheet.

Cover and refrigerate for about 2 hours or freeze for about 15 minutes.

Cut the edges, decorate with sugar frosted fruits, rosemary and dust with powdered sugar.
Sugar Frosted Fruit (decoration)
Wash and dry very well your fresh fruit.

Slightly dip the fruit into some egg white and remove the eccess with kitchen paper.

Let dry on parchment paper sheet for few hours.

You can prepare it 2 days before and store in refrigerator.
Video
Notes
Store in refrigerator for 4 days or in freezer for 2 months.
Prerpare it the day you want to serve it or the day before, because it becomes a bit soft if stored too much in refrigerator.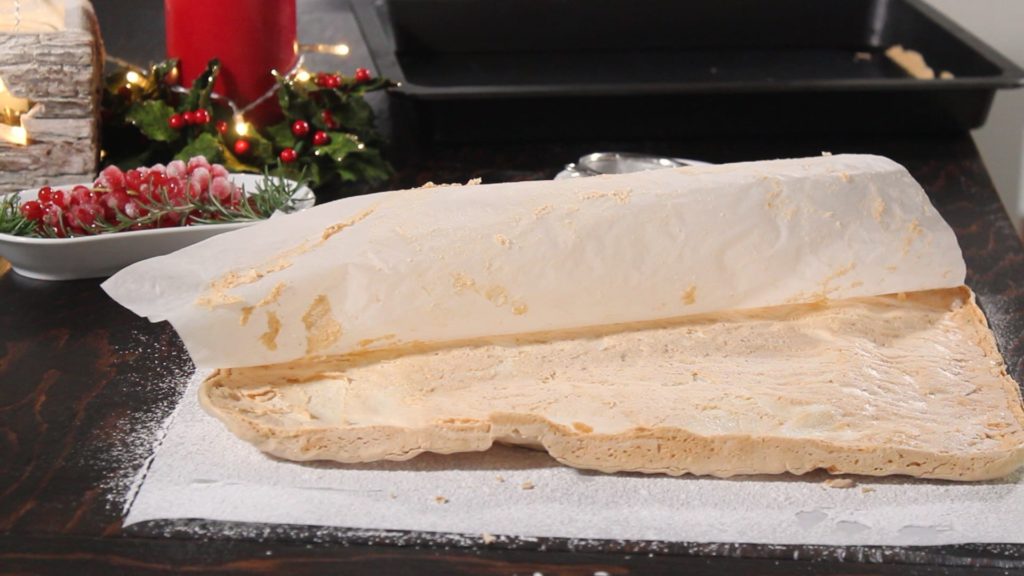 This cake is very easy to make and also pretty light (just 152 kcal for serving!). You just need to whip the room temperature egg whites until stiff peaks: you can use a hand mixer or a stand mixer.
Start adding the sugar gradually when the whites start to white foamy. The mix is ready when if invert the bowl, the whipped whites stand still without falling.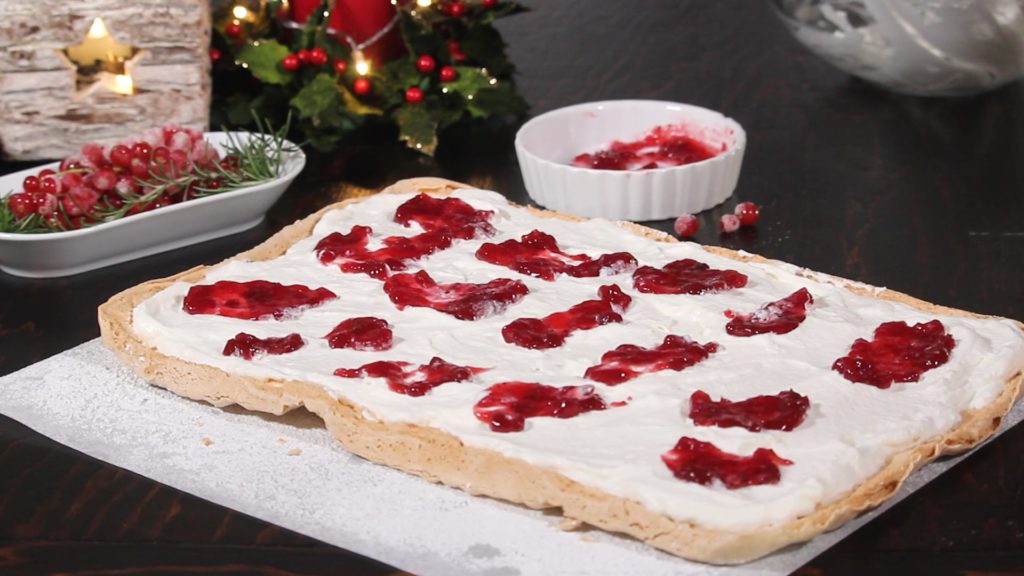 Merinuge is sweet, that's why I added only 10g of powdered sugar in whipped cream.
I also used cranberry compote that is sour and low in sugar, I think it's a great match with sweet meringue!
You can also use any kind of compote you like for the filling: I suggest some berry fruit like red currant or raspberry that are a bit sour and not too sweet, but it's up to you.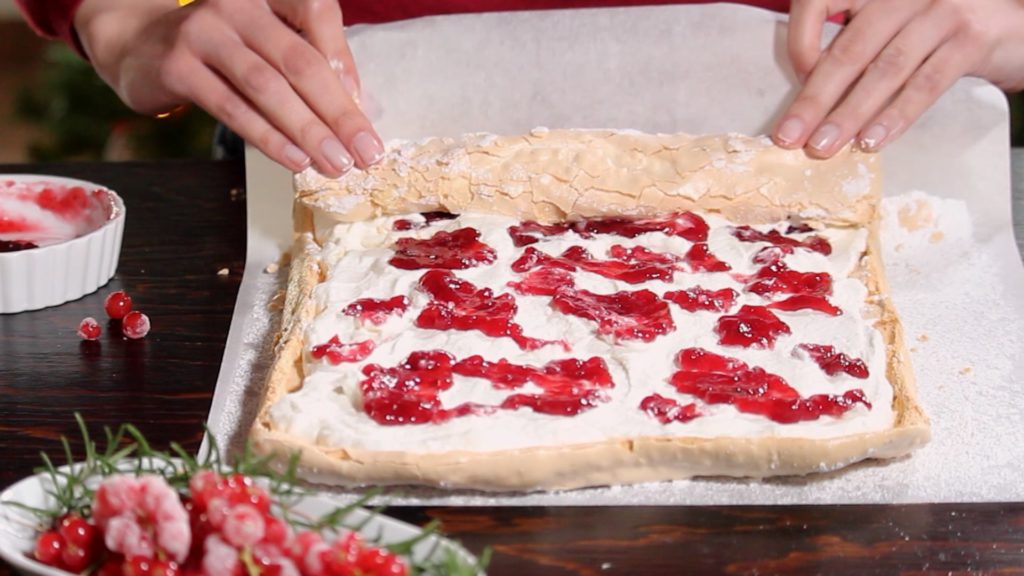 Rolling this cake is very easy beacause meringue naturally cracks on top, so you shouldn't worry to break it while rolling!
Just remember to sprinkle some powdered sugar on the parchment paper and use it to easily roll the meringue roll.