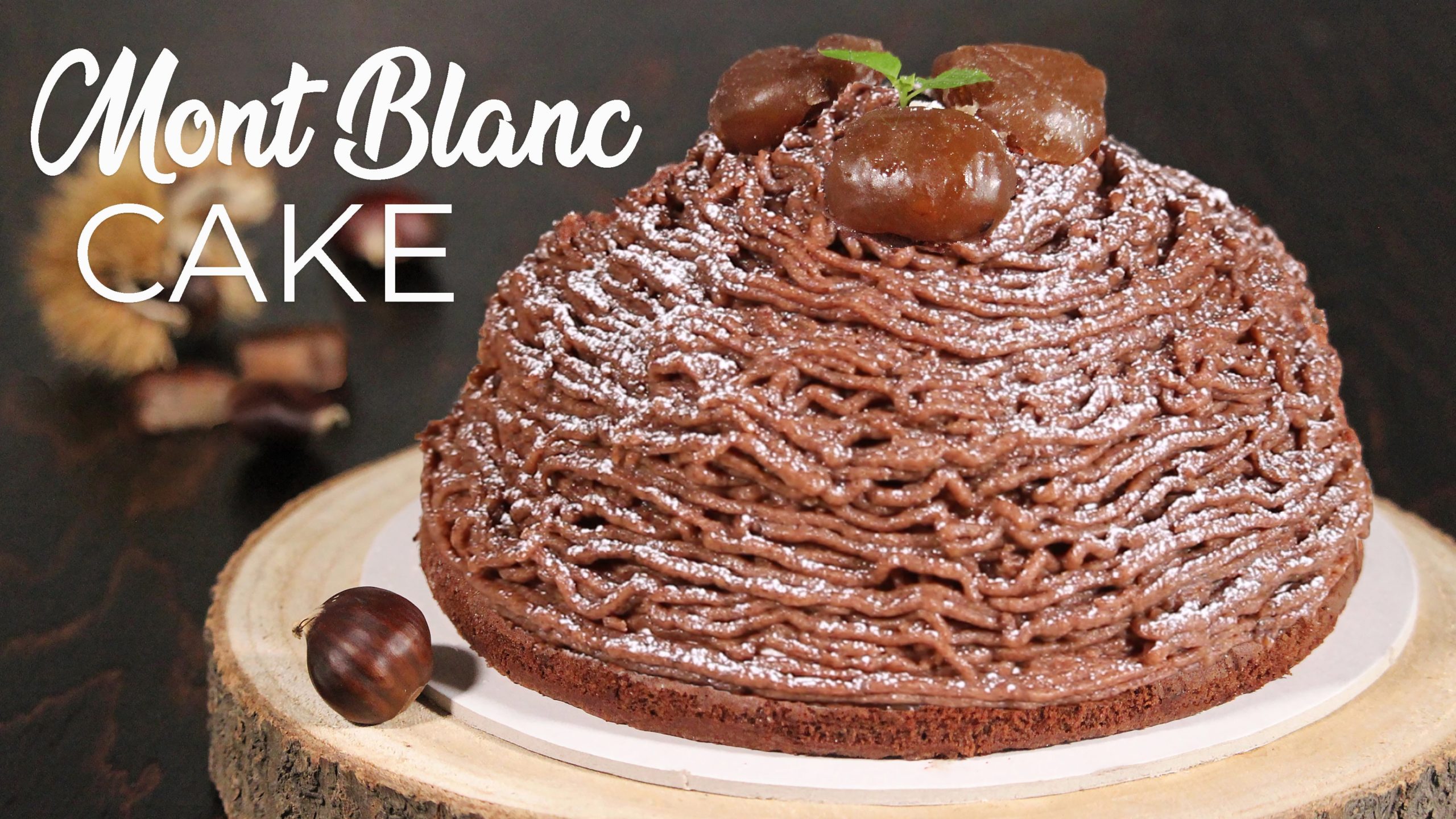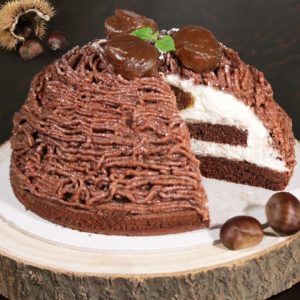 MONT BLANC CAKE
Mont Blanc (Monte Bianco in Italian) is the most delicious chestnut dessert you can ever taste and it comes from France and Italy.
The original dessert is not a cake but a spoonable treat made with a delicious chestnut cream covered with whipped cream (that's the reason of its name that celebrates the snowy highest mountain of the Alpes).
Here I turned this traditional dessert into a cake, keeping all the ingredients used in the classic recipe: chestnuts, cocoa, whipped cream and Marron Glacés (this last ingredient is not needful but add an amazing touch to this recipe!); I've added 2 cocoa sponge layer to the traditional recipe to shape this dessert into a cake, but keeping its spoonable soul thanks to the whipping cream filling made without adding any gelatine.
In the traditional recipe you start from scratch cooking raw chestnuts to make the Mont Blanc Frosting, but I've used a more easy method: I used Sweetened Chestnut Spread (also known as Chestnut Jam). If you can't find it in your Country, you can use the Chestnut Paste (unsweetened), but in this case you should add sugar to the Mont Blanc Topping and cut out cocoa powder because paste is thicker than the sweetened spread.
Chestnus spread or chestnunt paste is needful for this recipe, or you should make your own chestnut paste starting from scratch (raw chestnut cooked into hot milk and vanilla) but I warn you: it's an hard work 😀
Ingredients
Chocolate Sponge Cake
3

large eggs

room temperature

80 g

(1/3 cup)

caster sugar

60 g

(1/2 cup)

all purpose flour

15 g

(2 tbsp)

cornstarch

20 g

(3 tbsp)

unsweetened cocoa powder

1/2 tsp

baking powder

12 g

(1 tbsp)

water

25 g

(2 tbsp)

flavorless vegetable oil
Filling
100 g

sweetened chestnut spread

chestnut jam/confiture de marrons

500 ml

(2 cups)

whipping cream

chilled - after whipping, set aside 100 g for the Mont Blanc Topping

8 g

(1 tbsp)

powdered sugar

Marron Glacés

broken into pieces
Mont Blanc Topping
380 g

(13,5 oz)

sweetened chestnut spread

chestnut jam/confiture de marrons

100 g

(1/2 cup)

unsalted butter

room temperature

60 g

chocolate sponge cake leftover

crushed into fine crumbs

15 g

(2 tbsp)

unsweetened cocoa powder

100 g

whipped cream

from the filling leftover
Decoration
Marron Glacés

mint leaves

powdered sugar

add just before serving
Instructions
Chocolate Sponge Cake
Prepare two 20 cm-8 inch cake pans: grease with flavorless oil, sprinkle the sides with sweetened cocoa powder, line the bottom with parchment paper and grase the parchment paper with some flavorless oil.

In a medium size bowl mix together flour, cornstarch, cocoa and baking powder.

In a large bowl mix the eggs with sugar using a hand mixer until pale, thick and triple in volume.

In the egg mix add oil,wWater and mix just until incorporated (don't overmix).

Sift the flour mix into the eggs mix and gently fold with a spatula.

Evenly divide the cake batter in the two prepared pans.

Bake in preheated oven at 170°C - 340°F for about 15 minutes or until a toothpick comes out clean.

Let cool down completely at room temperature over a wire rack.

From one cake, cut out a 13,5cm - 5,5inch layer. You'll get two cake layers: 20 cm (8 inch) and 13,5 cm (5,5 inch).

Use your fingers to break the leftover cake into fine crumbs and set the crumbs aside.
Filling
In a large chilled bowl, whip whipping cream until stiff peaks.

Gently incorporate powdered sugar with a spatula.

Set aside in refrigerator until prepare Mont Blanc Topping.
Mont Blanc Topping
Mix together softened butter and chestnut spread with a spatula until creamy and well combined.

Add the cake crumbs, cocoa powder and mix until combined.

Incorporate 100 g of whipped cream (leftover from the filling).

Refrigerate until assemble the cake.
Assemble the Cake
Place 20 cm cake layer on the serving plate.

Spread the top with about 60 g of chestnut spread.

Place the 13,5cm - 5,5inch cake layer on top at the center.

Spread with about 40 g of chestnut spread.

Top with whipped cream and place whipped cream on the sides of the smaller cake layer.

Place some broken Marron Glacés on top.

Cover with whipped cream and give a mountain shape using a spatula.

Using a multi-hole potato masher or a multi-hole piping tip (N.236), place Mont Blanc Cream on top and cover all the whipped cream.

Refrigerate for at least 1 hour before serving. If you live in a hot climate, I suggest to add some gelatine to the Filling whipped cream.

Decorate with powdered sugar, 3 marron glacès and mint leaves (or canided violet if you can find it) just before serving.
Video
Notes
You can store it in refrigerator for about 3-4 days.
Remove from the fridge about 15 minutes before serving.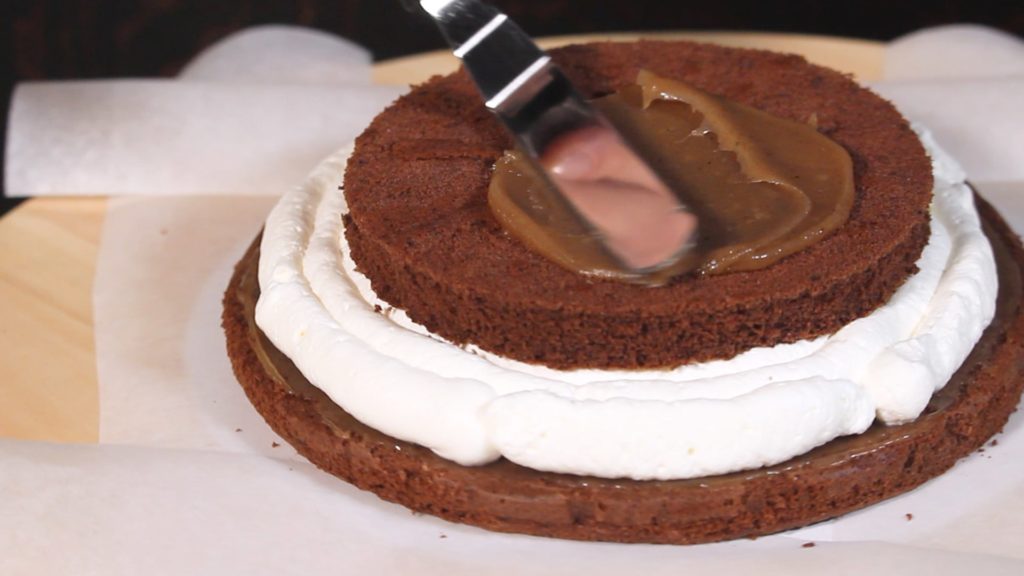 To make this recipe, you should start from raw chestnuts, cook them into milk and vanilla, then when become soft, drain them and mash into a smooth paste.
I skipped this step because is a bit expensive in time and I know many of you live in Countries where chestnuts are not easy to find.
I decided to use a sweetened chestnut spread (you can find it in glass jars like a jam), that is the low expensive and more easy to find ingredient, but you can also using chestnut paste that is more thick and dry, unsweetened, it's usually made only with cooked chestnut and vanilla and is stored in cans.
If you use pure chestnut paste, remember that it's unsweetened and very thick and dry, so you should need to add powdered sugar and some milk to make it more spreadable.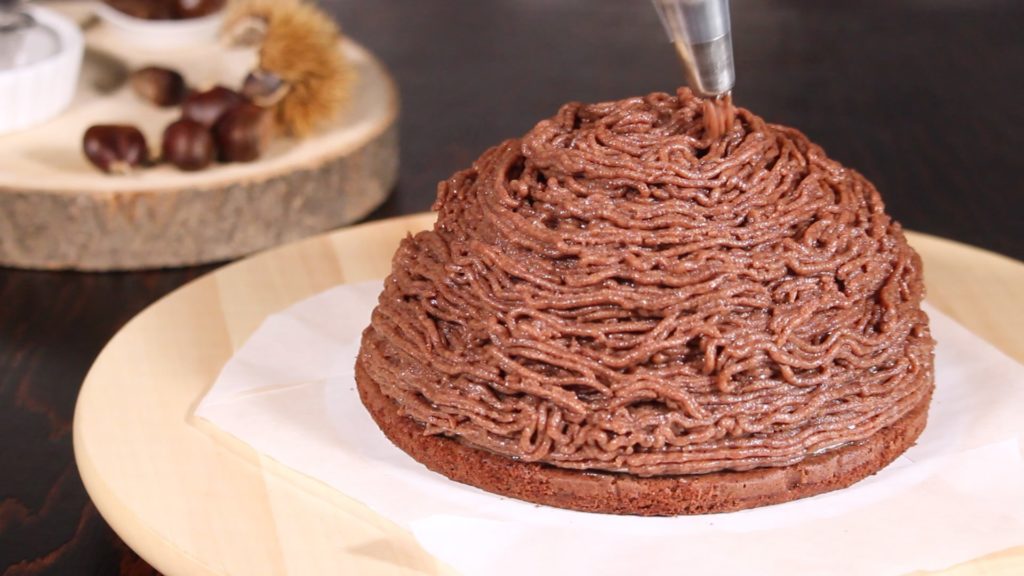 To get the classic Mont Blanc frosting shape, you can use a multiple hole tip (like the N.136) or a potato ricer (In Italy we always use a potato ricer!).
If you use the piping bag tip, pay attention to use one tip with pretty large holes because the frosting is a bit thick with crumbs cake inside.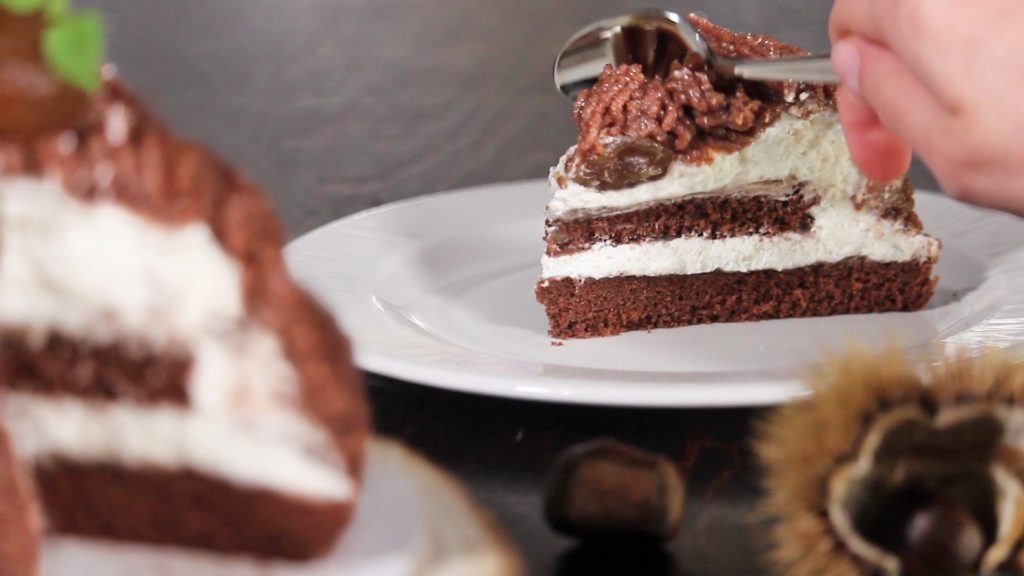 Since this dessert is traditionally a spoonable treat, I decided to use whipping cream without adding gelatine. So the cake turns out incredibly soft like the original one!
But if you live in a hot climate or prefer a more thick and firm consistency (and a way more elegant presesntation too, because the cake slices deflat a bit because of whipping cream), feel free to add a bit of gelatine to the filling.
To form the bread loaf, I divided the dough into 3 balls and make some folds to any ball.
Folding the dough (aka lamination method) is very important to get a tall bread and make it rising a lot, so don't skip it and follow all the instructions in my recipe video!