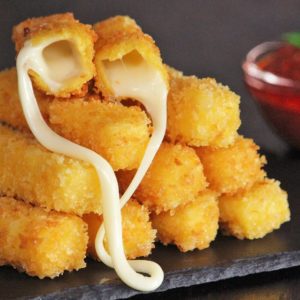 MOZZARELLA STICKS WITH MARINARA DIPPING SAUCE
How to make the best Mozzarella Sticks (dip fryed breaded Mozzarella cheese) at home with an irresistible homemade tomato marinara sauce for dipping!
These amazing sticks are made with Mozzarella cheese cut into sticks and rolled into a double breadcrumbs and panko bread coating, so they turn out incredibly crispy and crunchy outside with a gooey stretchy melted Mozzarella cheese center!
One of best snack, party treat, appetizer or side dish ever!
I also prepared a homemade tomato dipping sauce with homemade tomato puree, garlic, shallot, oregano, basil and a hint of chilli powder: it's optional but it matches perfectly with the sweetness of Mozzarella, so I suggest to try it out, it's unbelievable!
You can also store them in freezer: when you have unexpected guests you just need to pop them into preheated oven (or air fryer) and they will be ready in few minutes bringing happiness to your table!
Ingredients
Tomato Dipping Sauce
about 300 g

(10 oz)

tomato puree

basil leaves

about 2-3 tbsp

extra virgin olive oil

about 1/2

shallot

finely chopped

2

garlic cloves

salt to taste

oregano

red pepper chilli powder

optional
Mozzarella Sticks
270 g

(9,5 oz)

Mozzarella cheese

do not use fresh Mozzarella for this recipe

about 60 g

(1/2 cup)

all purpose flour

2

eggs

about 120 g

(1 cup)

fine breadcrumbs

about 120 g

(1+1/2 cup)

panko bread crumbs

salt to taste

peanut oil for frying

or other deep frying vegetable oil
Instructions
Tomato Dipping Sauce
In a medium size saucepan, place olive oil, finely chopped shaollt, 2 garlic clove and place over medium heat.

Fry and stir often until shallots become translucent (be careful to not burn it!).

Add tomato sauce, basil leaves and bring to a simmer.

Place a lid on top of the saucepan, low the heat and slowly simmering over low heat until thickening (at least 25 minutes). Stir occasionally.

When thickened and it's ready, remove the garlic cloves, salt to taste, add oregano, red pepper powder and remove from heat.
Mozzarella Sticks
Cut mozzarella into 7,5cm-3inch equal long sticks.

In a small bowl beat the eggs with salt.

Coat Mozzarella stick with flour, then dip into egg wash, roll into fine breadcrumbs, make a second dip into egg wash and coat with panko bread.

Repeat until coat every Mozzarella stick.

Heat penut oil at 175°C-345°F (watch my recipe video below if you don't have a thermometer to know when the oil is ready) and fry the sticks. they are ready very quickly (less than 1 minute), be careful to not leave them too much in the oil or Mozzarella will ooze out.

Drain out onto frying paper (if you don't have frying paper, you can use kitchen paper or drain onto a wire rack).

Serve immediately with the Tomato Sauce.
Video
Notes
You can store raw coated Mozzarella sticks in freezer for up to 2-3 months and fry directly when still frozen.
You can store deep fryed Mozzarella sticks in freezer for up to 2 months and defrost and heat them directly in preheated oven, air-fryer or dip frying.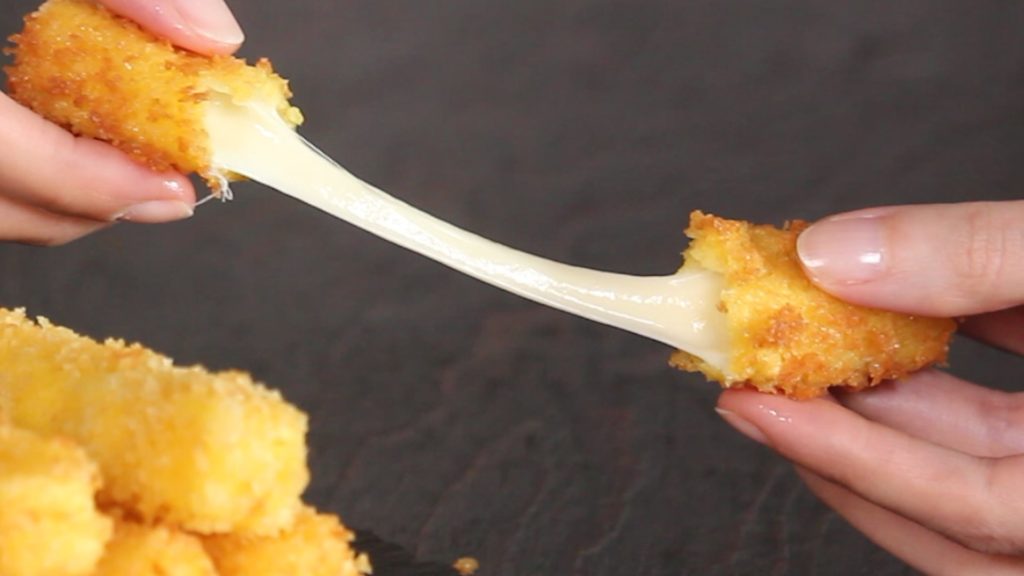 This recipe is incredibly easy to make, but you should pay attention while you bread Mozzarella sticks. It's very important you make a double coating with eggs and breadcrumbs, if you just make one coat, your Mozzarella would oouze out while frying.
So you should coat the sticks into flour, then into egg wash, into fine breadcrumbs, the second dip into egg wash and the last coating into panko (or fine breadcrumbs too if you don't have panko bread!).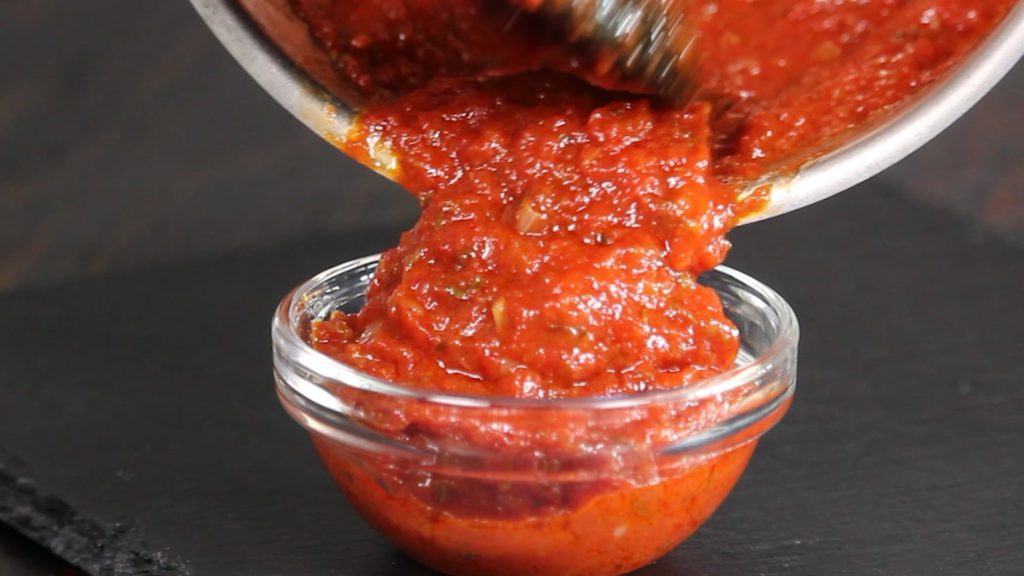 I've made the marinara dipping sauce using the homamde tomato puree my mom make every Summer with San Marzano fresh tomatoes. It's only made with tomato puree and fresh basil leaves. You can of course use any type of tomato puree, if you go for store-bought sauce, you can also consider to use canned tomatoes and puree them.
You can also adjust the ingredients amount like garlic, shallot and chilli powder, according to your taste. In Italy we are used to have delicate tomato sauce, we use great quality ingredients, so we don't want to cover our tomato taste with too much garlic or shallot, but this is up to you.
The texture of the sauce is rustic, if you prefer a smooth creamy marinara sauce, you can use a dipping blender to process it.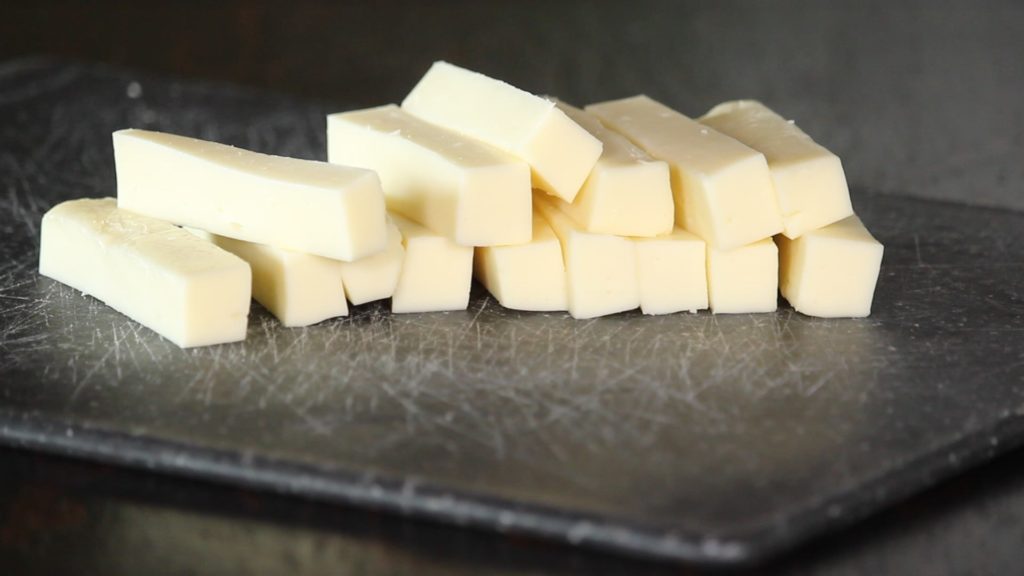 Do not use fresh Mozzarella for this recipe (I mean the Mozzarella soaked into its water), because it realese too much water for this recipe. In Italy we use the mozzarella block we call "Mozzarella for Pizza" because we usually use this kind of Mozzarella block for Pizza because it's dry and it doesn't release water while cooking/baking.
Cut Mozzarella into equal size sticks: with 270 g (9,5 oz) of Mozzarella I got 15 sticks, 7,5cm (3 inch) long and about 1,5 cm (0,5 inch) thick.